Oprah Shares The Keys To Unlocking Your Inner Power To Put Your Life In Focus On 2020 Vision Tour
"What in my life needs my full attention?"
"What areas should I focus on specifically to truly reach my dreams?"
"What makes me feel grounded, energized, centered, connected or empowered?"
2020 is not just another new year, it's the start of a new decade. Another chapter in your life to finally get those answers to fulfill your wildest dreams. With a brand new decade and another chance to realign your purpose, Oprah's 2020 Vision Tour: Your Life in Focus was the launching pad for dreamers everywhere to create their personalized action plans for attaining their 2020 goals. Recently, I got the once-a-in-lifetime opportunity to attend the tour when it came to San Francisco, CA.
The entire day felt like a one-day wellness retreat wherein Oprah Winfrey was our life coach taking us on a path towards wellness; or as she defines it, "all things in balance;" including mind, body, and spirit. The day also consisted of dancing to rhythmic beats and pop hit's like Whitney Houston's 'I Wanna Dance With Somebody' led by DayBreaker. The sounds of people clapping and moving filled the arena as we opened up our chakras and got our blood bumping and energy flowing. By midday, we practiced mindfulness with a meditation sound bath, as well as enjoying self-care stations including hair salons and hand massages, and more.
"Wellness for me is simply all things in balance. We long for a life without constraint. Free from conflict, fear, or judgment-where our health, relationships, career, and finances coexist in perfect flow with our spiritual center. This is the highest form of well-being." – Oprah.
Armed with my very own Oprah's 2020 Vision: Your Life in Focus workbook, I was pumped up and ready to begin the day-long journey of understanding my purpose, getting intentional, and rediscovering ways to recommit to my wellness journey.
"Let's make 2020 the year of transformation and triumph. Beginning first and foremost with what makes us well."- Oprah
Article continues below advertisement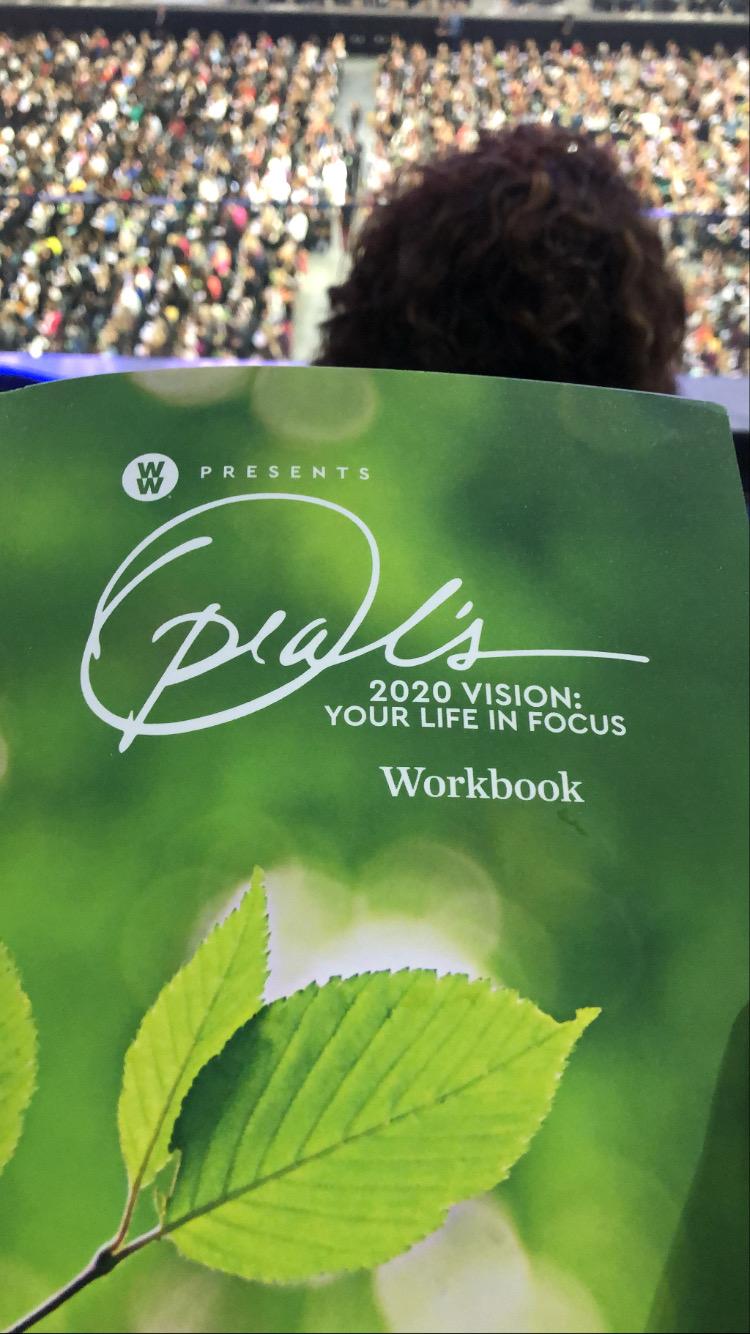 Here are key takeaways to unlocking your inner power to put your life in focus to fulfill your wellness goals.
Oprah helped us to see that we must do everything with intention, "Sometimes it helps to examine what hasn't worked in our life to find approaches that will." She shared…"You don't get what you want; you get what you intend." In order to get clear about our intentions, we must first look back at the past to find our purpose. Getting clear on your intention drives your purpose.
Once we can reflect on how we came to be, we can decide where we want to go and make changes to improve the chances of reaching our goals the next time.
Article continues below advertisement
Think about a goal you tried to accomplish–physical, career, personal–why didn't you achieve that goal? Were you doing it out of intention or just because you felt like it was something you "should" do? If you haven't been able to reach your wellness goals before, that's okay.
Decide To Commit To Yourself And To Your Goals
"The commitment to do well and to be well is a lifetime of choices that you make daily. The space to live in is not "I'll try." Not 'I want to.' Not 'I really want to.' It's 'I have decided.'"- Oprah.
Once we decide to intentionally recommit to ourselves and reaching our wellness goals, we can begin to declare our commitment to incorporating healthy habits. And healthy habits will lead us to a new path of wellness in reaching our higher purpose of all things in balance. As women specifically, it's easy to put everyone else before us. But putting yourself first isn't selfish. It's a necessity.
Article continues below advertisement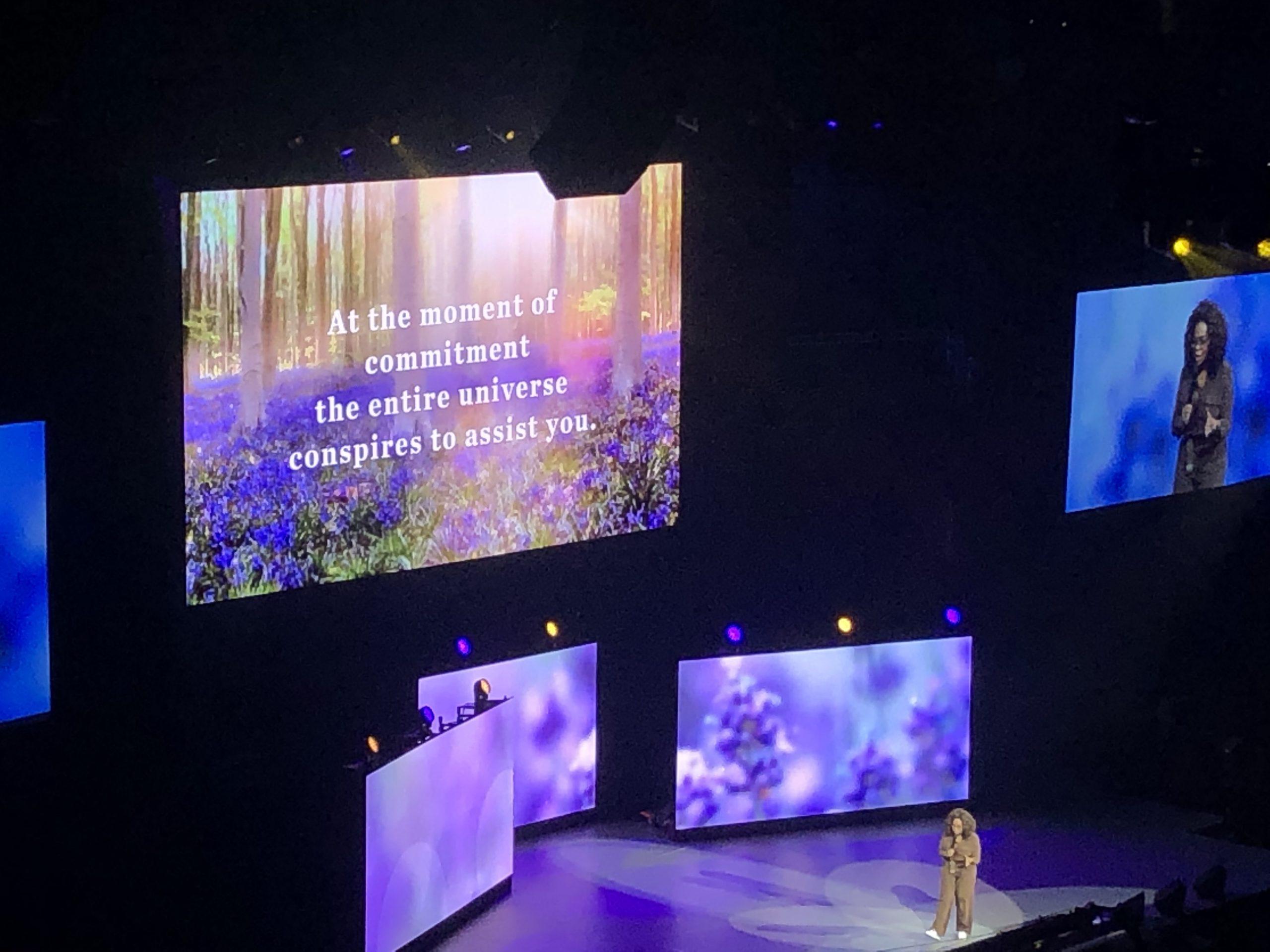 Manifest Your Dreams To Turn Them Into Reality
There were so many moments that resonated with me as Oprah continued to lead us through our wellness working session. She talked about how she grew up poor and saw people with porches in their front yard or two trees and a brick house. Oprah shared with us that she had never lived in a brick house and whenever she saw people who lived in homes with bricks, porches, and trees, she figured they were rich!
And so, from an early time, Oprah began to manifest her future reality. She promised herself that when she got enough money, she would live in a brick house, she would have trees and a front porch. And now today, Oprah has exceeded her wildest dreams. She has a porch in front of her home in Hawaii and she has over 3,000 trees in her home today!
Article continues below advertisement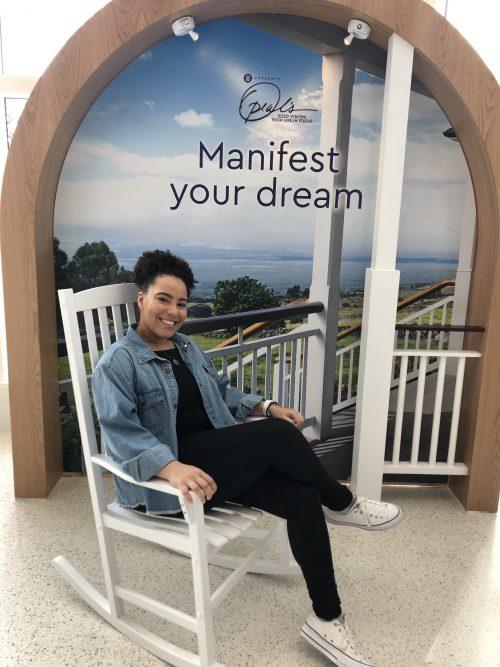 Oprah illustrates how we can speak things into existence while working hard toward reaching our wildest dreams. There was a Oprah's porch photoactivation at the tour, so I figured it would be a good idea to take a photo sitting in a chair on "Oprah's porch" to help manifest my dreams.
Once you have a purpose and a crystal-clear vision on how your intentions can manifest your reality, dreams begin to unfold.
Today, Oprah Winfrey is an accomplished and extremely successful American media executive, actress, talk show host, television producer, and philanthropist. But she wasn't always.
Article continues below advertisement
Oprah informed us all that from the very beginning of her journey, she was strategic and believed in herself. She shared a story about when she first began her career as a talk show host and settled a contract where she would make 50 percent. She knew that she could settle for 50 percent of profits because when she first started out, no one believed in her or knew she would be the "Oprah Winfrey" she is today. She told us that each year when she renewed her contract, she would ask for a little more, a little more and a little more. Eventually, by the time she ended her 25-year talk show career, Oprah had negotiated 93% of earnings from her television show.
Oprah bet on herself and believed that she could, even when no one else did.
By the end of the day, I found answers to all the questions above. It was a day full of awakening our chakras by renewing our sense of purpose and recommitting to a lifelong journey of wellness. Even in the sold-out Chase Center arena, I could feel the magnetic energy in the air, the sense of shedding the old and coming into the new; the new vision for all of us to reach our wellness goals. I felt recharged to strive towards living a better, happier, and healthier life!
If you want to get your life in focus, start with getting what you intend, manifesting your dreams, and investing in yourself.
If you want to hear more of Oprah's 2020 Vision Tour, she's posted several of the afternoon keynotes with celebrity guests such as Michelle Obama, Tracee Ellis Ross, and Kate Hudson on Super Soulful Conversations podcasts.