Ifill and Woodruff Become First Women To Co-Host 'NewsHour'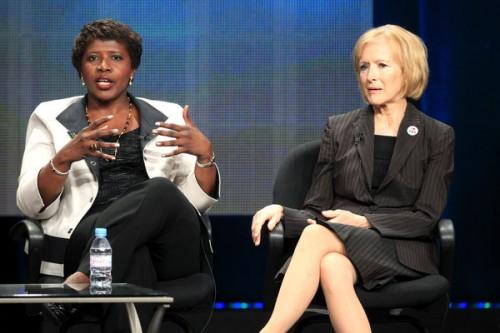 PBS announced today that Gwen Ifill and Judy Woodruff will take over as the new co-hosts of their evening news broadcast "NewsHour," making them the first female co-hosts in the broadcasts' 38 year history.
With this appointment, they become the first all-female duo to lead a nightly newscast. This is extremely exciting for women interested in pursuing careers in journalism, especially after Katie Couric made history 7 years ago by becoming the first female solo anchor of a major network nightly newscast when she began anchoring for CBS Evening News.
Both Ifill and Woodruff are aware of the impact they are making on society, especially today's youth.
"When I was a little girl watching programs like this — because that's the kind of nerdy family we were — I would look up and not see anyone who looked like me in any way. No women. No people of color. I'm very keen about the fact that a little girl now, watching the news, when they see me and Judy sitting side by side, it will occur to them that that's perfectly normal. That it won't seem like any big breakthrough at all," said Ifill in a recent interview.
Their new jobs are significant because they help to continue to establish a new normal in television, one where more women are obtaining more screen time, allowing for a wider variety of opinions and voices to be heard on a national level.
We salute both Ifill and Woodruff on this fantastic approval and congratulate them on their new positions!