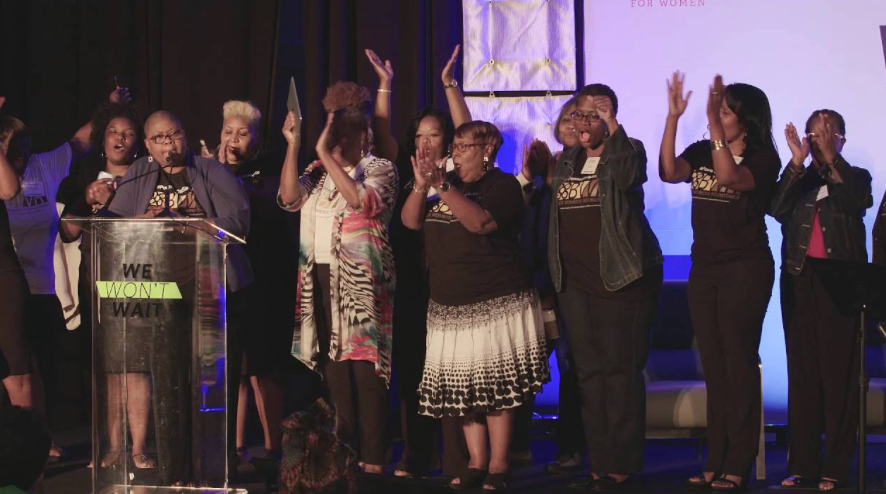 In The Fight For Reproductive Health Access Let Us Not Forget Economic Justice
By Michele Ko

Oct. 26 2016, Published 11:45 a.m. ET
#WeWontWait2016 photo via twitter
"Economic justice is reproductive justice," said Amanda Williams of the Lilith Fund when sharing her abortion story to the crowd of hundreds of organizers from across the country for the We Won't Wait 2016 National Summit in National Harbor.
The summit, born of a historic nonpartisan coalition of nine national groups, including Make It Work, National Domestic Workers Alliance, Caring Across Generations, Forward Together, Moms Rising, ROC United, Ms. Foundation, Black Women's Roundtable, and Family Values at Work, took place in September. The coalition amplifies the power of women of color and low-income women to advance a new economic security agenda, which includes workplace protections such as paid family and sick leave, immigration reform, criminal justice reform, trans liberation, voting access and rights and reproductive justice.
Article continues below advertisement
Planned Parenthood of New York City (PPNYC) stands in solidarity with We Won't Wait and its issue and policy platforms—because we know that economic justice is an essential component of maintaining a safe and fulfilling life. At PPNYC, we see over 64,000 patients every year, many of whom are women of color, low-income and poor, immigrant and undocumented, and young people.
Article continues below advertisement
As I listened to speakers and chanted "we won't wait," I was continually moved by the opportunity to hear directly from activists around the country. Their inspiring initiatives and stories illustrate the link between economic justice and reproductive health.