Israeli Women Entrepreneurs Stand #WithMerkel, Refuse To Be Left Behind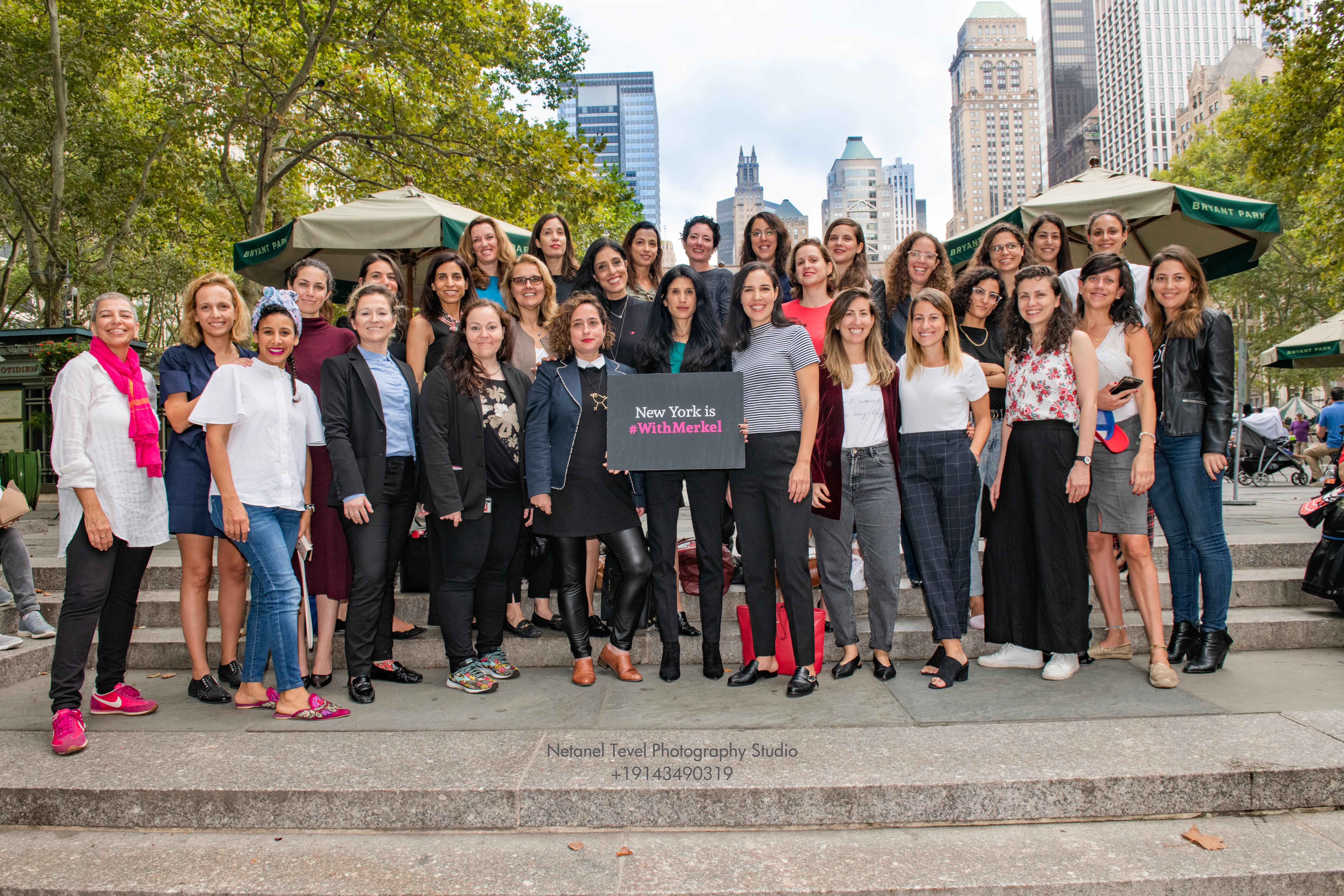 Dana Sinay showed her five-year-old daughter a picture of German Chancellor Angela Merkel's recent trip to Israel. She wanted to know what her daughter saw in the image.
"I see a woman in a red jacket," her daughter replied.
"What else do you see?" Dana pressed.
"I see a lot of men all around her," her daughter replied. Then Dana asked her,
"In Israel, there was a huge buzz around it…There are a lot of women, where, that's what they do (entrepreneurship). They were in shock. We are in 2018! That can't happen in 2018, come on!'" Dana, a resident of New York by way of Tel Aviv, and the founder of MaManhattan – a Facebook networking group for new mother's from Israel who live in Manhattan explains. Dana saw a post by a fellow member of the MaManhattan group on the group's Facebook page about the Merkel image, which immediately spawned a lively conversation on the 2,000+ member page between the women.
"In our blood, we needed to do something," says Dana, who says the women in the group discussed how the absence of women in the picture would influence their daughters – and their sons' – perception of women in the tech and startup industry. "We should not be silent when these kinds of things are happening."
The group decided that they needed to make a larger statement that could be echoed both on social media and outside of it. After all, these women knew that the issue of women entrepreneurs gaining visibility in the Israeli tech sector was much larger than even the infamous Merkel image let on.
Article continues below advertisement
Israel Women Entrepreneurs And Leadership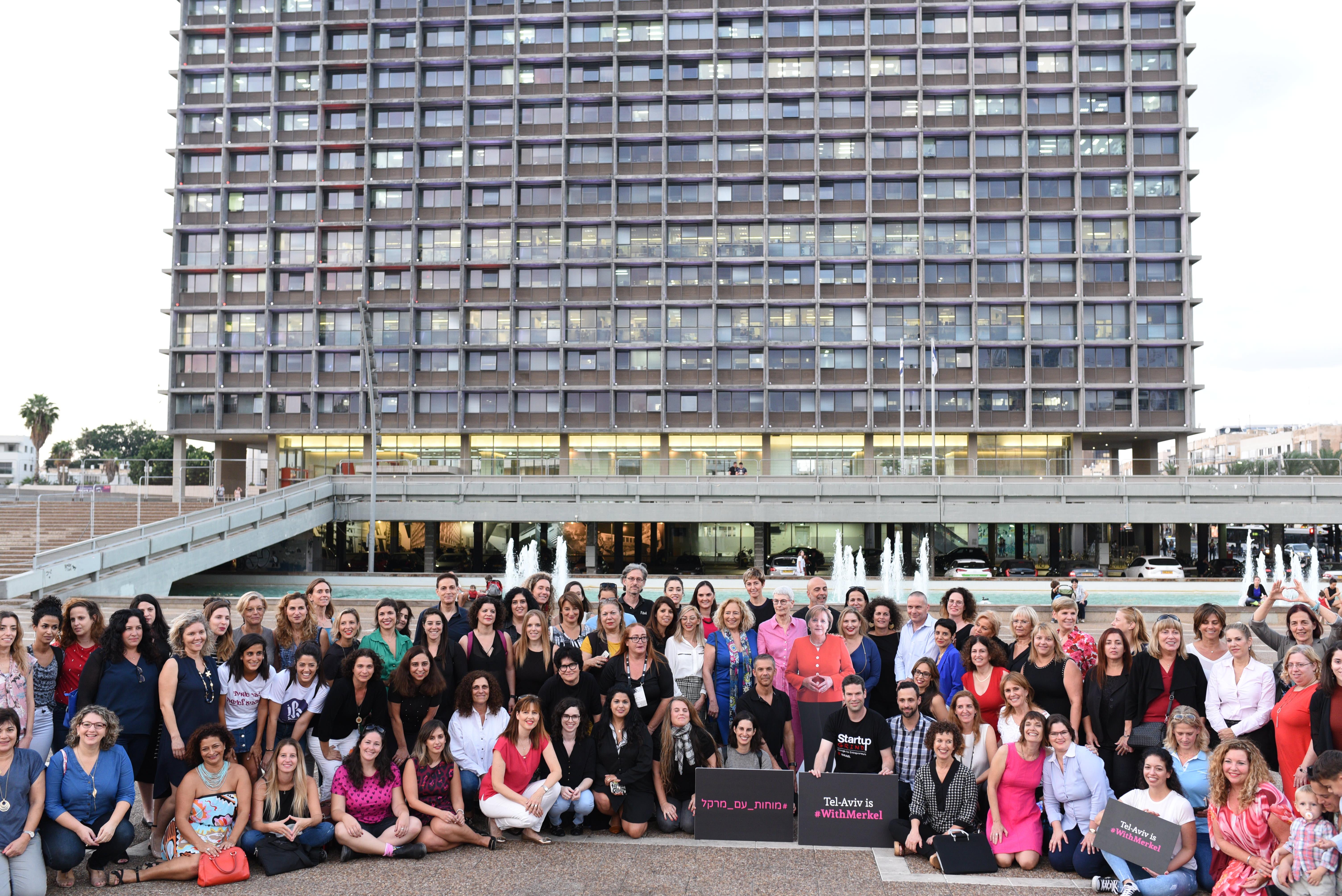 Women industry leaders are not uncommon in Israel. In other areas of Israeli industries- such as government, business, and law – those numbers are far, far higher. For example, 51% of all Israeli judges are women. In the financial sector, Israel's top five banks are all run by women. Impressively, more than 100,000 women work in Israel's Hi-Tech sector. If these numbers are indicators of any cross-industry success, then by all measures, the Israeli startup scene should be a place where women thrive, especially as Israel has the third most companies listed on the NASDAQ outside of the United States and China.
"In Israel, we have thousands of startups," Efrat Fenigson, Vice president of Tel Aviv based startup Airobotics, explains. "The startup nation tagline that was given to Israel is rightfully given because there are hundreds – and actually – thousands of startups in any vertical or industry that you could think of. Which is incredible, because Israel is the size of New Jersey. We're about 7 million people, and the tech industry is very big, relatively speaking."
Article continues below advertisement
Tel Aviv – Israel's capital – is, according to a new Dell study 2018 Best Cities For Women Entrepreneurs on one of the world's top 25 cities. Additionally, nearly 20% of startups in the city are women. Yet behind the surface of these numbers and across the country as a whole, lies a more stark reality. There are massive barriers preventing women entrepreneur's from being accepted as startup leaders.
"We have a lot of women working in tech, but it's very hard for women to advance past mid-management positions. They normally hit manager positions or director positions, but they rarely go up to vice president or CEO," Efrat explains. "The regulations and social environment in Israel make it difficult for women to advance because it is expected of women to raise kids…There is no support system in place to allow women to work more."
Although working American women endure a similar problem, in Israel, the situation is direr. For example, Efrat explains that in Israel, children come home from school around noon, and women are expected to be at home to take care of them. If children get sick, father's aren't expected to take care of children, but rather the mothers.
Article continues below advertisement
"In terms of women entrepreneurs and women CEOs, you see a very small number (across Israel). It depends who you ask. But its somewhere between 5-8% or 9% who are women CEOs or who are at the top of the startup or a company. So, it's a very low number," Efrat says.
Other extenuating factors make it difficult for women to rise in this industry. Similar to the US, VC's and investors tend to be male, which leads to unconscious bias in their startup investments, with preferences going towards other males. In fact, only 20 Isreali female-founded tech startups received any Series A, B, or C funding. Further, because most startups are founded by males, they tend to only select other males to come into the business at high leadership positions. Efrat explains that many male tech founders tend to hire friends or close contacts they have made through their mandatory time serving the Israeli army:
Article continues below advertisement
"Men form communities that are much closer – they bring their friends from the army to come work with them and help each other. With women…we also serve the army but it's not as tight or as strong as it is with men, so that's another element that adds onto the complexity."
The combination of all these factors means that women face pervasive barriers in tech, existing in a permeable space in the startup world where their presence is understood but easily overlooked or forgotten. In fact, it wasn't until Angela Merkel called out the lack of women at the tech panel, that everyone at the summit seemed to notice there were no women present.
"It would be better if next time," Merkel stated at the meeting, "(that) there was a woman among all those hopeful pioneers of the future."
Israeli Women Not Surprised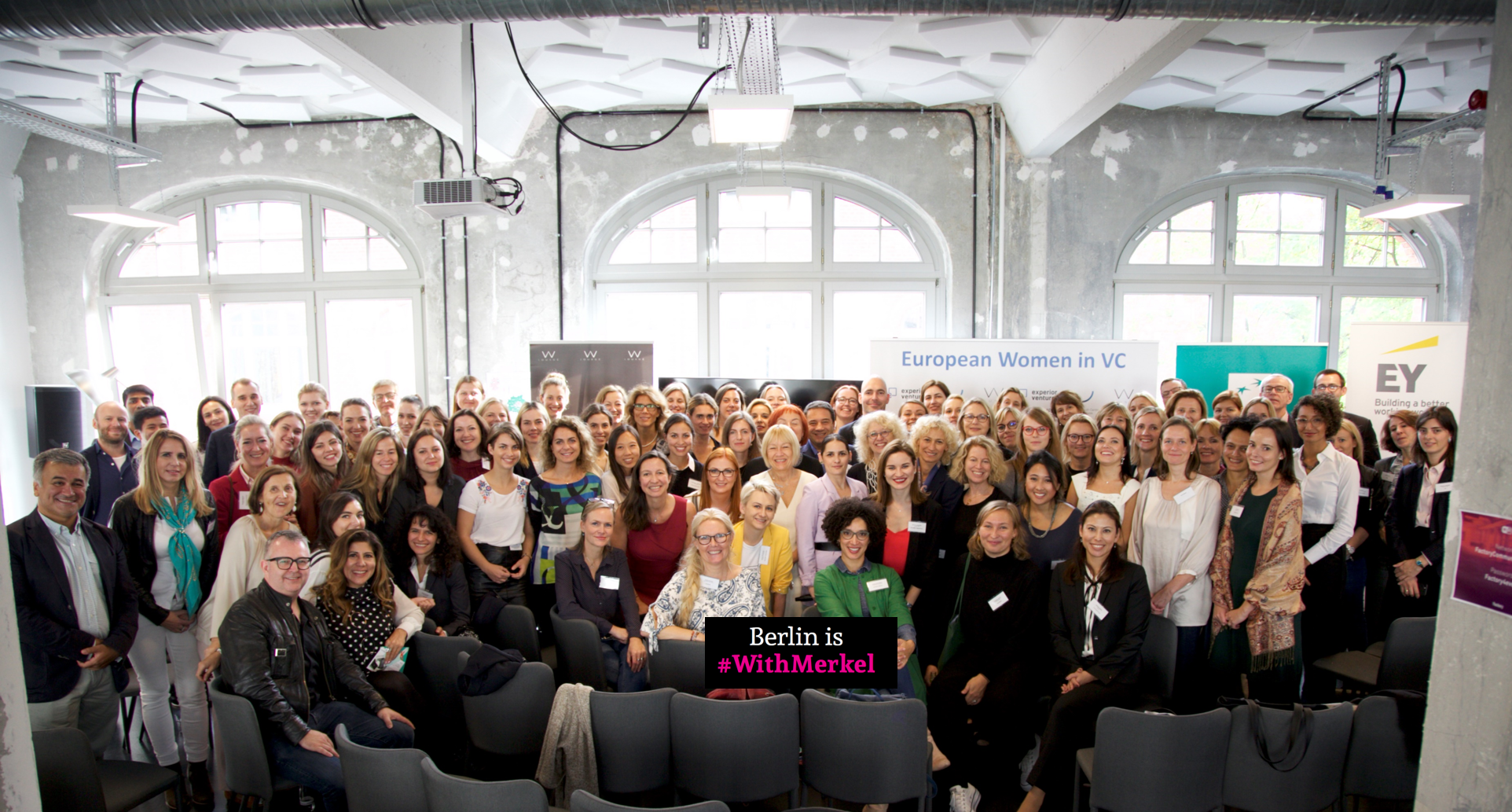 Keren Kay, is a former Chief creative director for Publics, Tel Aviv with over 20 years of advertising experience. Eventually, Keren left her seasoned career in advertising to start her own agency in Tel Aviv.
"Once I stopped working for others and started working for myself, I knew there was no way back from that. That was my first time," she explains.
Yet a series of similar Merkel-like situations early in her startup adventures led her to unexpectedly (co)found a woman-focused organization, SuperSonas, which is working to promote the female leaders of Israel's business world.
Article continues below advertisement
"I met a woman named Hannah Rado, Keren explains. Around three years ago, Rado – the Vice Chairperson of McCann – was outraged to learn the largest business convention in Israel had over 112 male speakers and only four women.
"She contacted the organizers," Keren explains. "And they answered– and this is still unbelievable for me – but, they answered there simply are no women."
SupserSonas was born from the experience or Rado, the other Supersonas partner. The organization focuses on female leadership and gender balance in all important functions in society, economy, and business. Supersonas profiles women from different verticals and industries, initially starting with 100 members but growing to highlight over 2,000 Israeli women. Amazingly, Keren informs us that just three years later, Israel's largest business conference went from featuring less than 3.5% of women business leaders to just around 50% as conference speakers.
Article continues below advertisement
Yet Keren and her co-founders quickly realized that the gender imbalance wasn't solely designated to the realm of traditional businesses. To meet the need of the underfunded Israeli women in the startup realm, the Supersonas cofounders created another company – Innovesta. Innovesta is a digital platform for early-stage investors to have an online, crowd-based, due diligence services.
"We know how much harder it is for women to get funded," Keren explains. "We (also) know that in the online space the numbers are much better." Though Innovesta is open to everyone, it brings a feminine perspective that seeks to unbias the investment process.
Though the superheroine trifecta of cofounders had made great strides forward in building leadership visibility for women in both the business and startup space, Keren was still rightfully outraged to learn that women were once again left out of the Israeli tech leadership meeting with Merkel.
"When I saw the famous picture with Angela Merkel, that was exactly what we were talking about," Keren states. "Its unheard of. It can't be done anymore in 2018."
Article continues below advertisement
Mobilizing A Movement Through Digital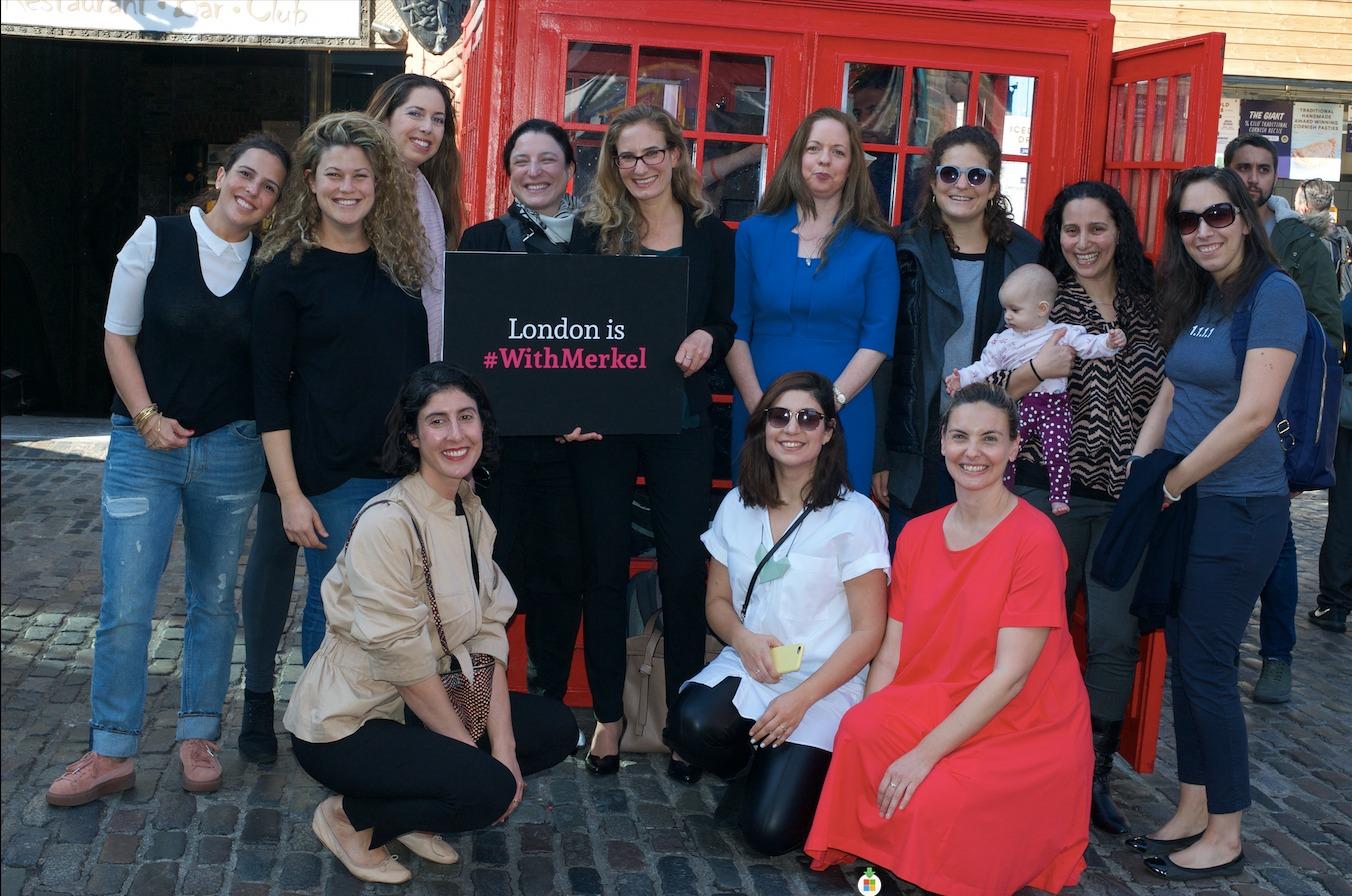 Dana and Karen – who are now both based in Manhattan – quickly mobilized through Dana's Facebook group, MaManhattan, discussing and planning how they could best create a conversation around the flopped photo.
"We decided to have this group picture with all the entrepreneurs in New York and the entrepreneur women in New York," Dana said. "Then I said, listen, I know all these other women from other communities around the world, like London, Toronto, and I would love …to tell them about these issues too."
Soon, they began receiving more and more interest from women in San Fransisco, Amsterdam, and Berlin amongst other locations. Organizations including Supersonas, as well as WMN, Directors Leading Change, ICON, Weact, Yazamiyot (Women Entrepreneurs), Parliament51, Internet of Sound, and OkkaOkka Blogging Group were just a few of the organizations who wanted to participate.
"In that moment, we understood we needed to create an international coordination for that," Keren explains.
Within 26 hours, what started out as an impromptu Facebook discussion turned into an organized global movement.
Article continues below advertisement
"In ten minutes we had a Whatsapp group from all over the world," Dana explains. The effectiveness of the group's ability to coordinate and delegate, the various dispersed groups to own and run each task contributed to the movement's success. "They all came with the understanding that it's something big."
"It was so extraordinary – without any ego," Dana adds. "Each one of us is an Alpha female. But we were very connected. Every one of us – if you needed something, we just did it. It was amazing."
The group came up with the hashtag, #WithMerkel, specifically for the occasion. They also coordinated the branding of the #WithMarkel signs so that every city had the same branded image.
"I wanted people to see that this is a whole organization and (that it) is branded and that it's organized," Keren says.
Then, the women coordinated when the shoot would take place in each city so that all Israeli women entrepreneurs around the world had to do was show up. Efrat and another woman were in charge of creating the media and press kits, running the PR and landing coverage by major publications including Reuters.
"From start to finish you're looking at about 4 days that we really arranged that," Efrat explains. "It was pretty incredible. I think that one of the reasons that helps us is the fact that we've developed a lot of communities in Israel for women to help and support each other, just because of the situation I described to you."
Article continues below advertisement
#WithMerkel Is Born (And Goes Global)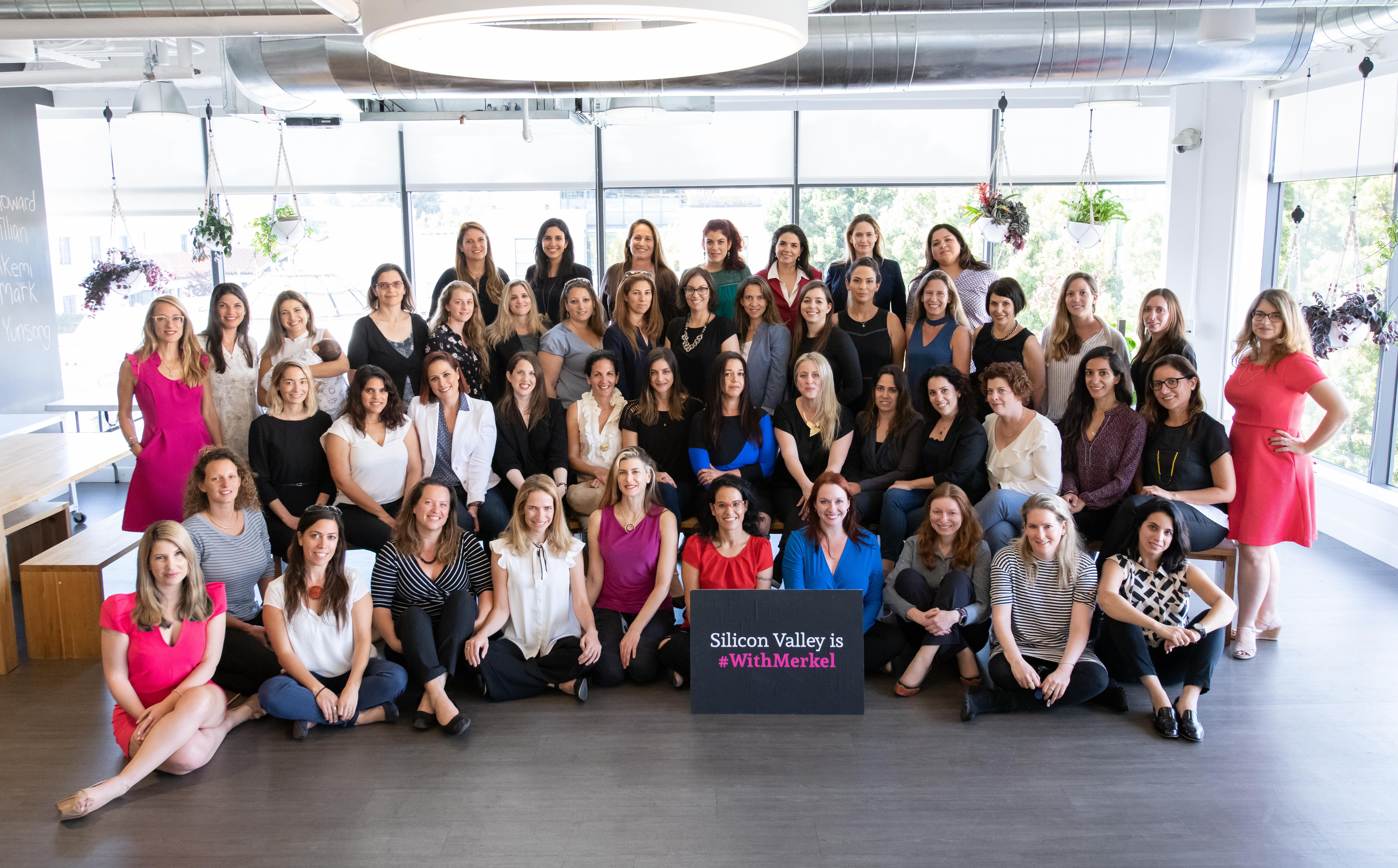 The reception of #WithMerkel was received well by both the Israeli people and quickly spread at a global scale.
"Berlin, London, Silicon Valley, of course, New York, and Tel Aviv. By now, in Israel, they are having more and more pictures of (women entrepreneurs) in different cities…It's amazing. I'm talking about it and I have goosebumps," Dana says.
The spokesperson of the Minster of Foreign Affairs in Israel launched an official response saying the absence of women involved in the Israel Innovation Authority meeting was a mistake. Other Israeli men – including men in the startup sector – have also been very supportive of the movement. Efrat mentions a fellow CEO friend who appeared in the original photo of Merkel at the Minister of Foreign Affairs meeting, and with whom she spoke with about the incident.
"He was very sincere and apologetic," Efrat explains. But the male CEO also took on the responsibility of pushing the #WithMerkel movement forward. When he was invited to speak at another event by the Prime Minister's office, the male CEO's response was to inquire if other female leaders in tech were present.
Article continues below advertisement
"The first thing he did was he asked the lady who invited him, 'which women are speaking there? Are there any women there? Because I want this to be balanced and I want women to be represented properly.'"
So far, the women organizing and participating in the #WithMerkel movement were thrilled with the reception.
"When they saw our reaction," Karen explains, "Which was grateful and elegant and…creative. I think they understood what we were talking about and that created an impact."
The women also valued how the experience built a strong sense of feminine community amongst each other at a global scale, something Keren says, is a valuable lesson for all women fighting for their spot at the table:
"I think that it shows – and it's a cliché – but it shows, again, how much power we have when we get together: for women in tech all over the world to understand that there are many of them and that together they can create change."
Article continues below advertisement
Passing It Onto The Next Generation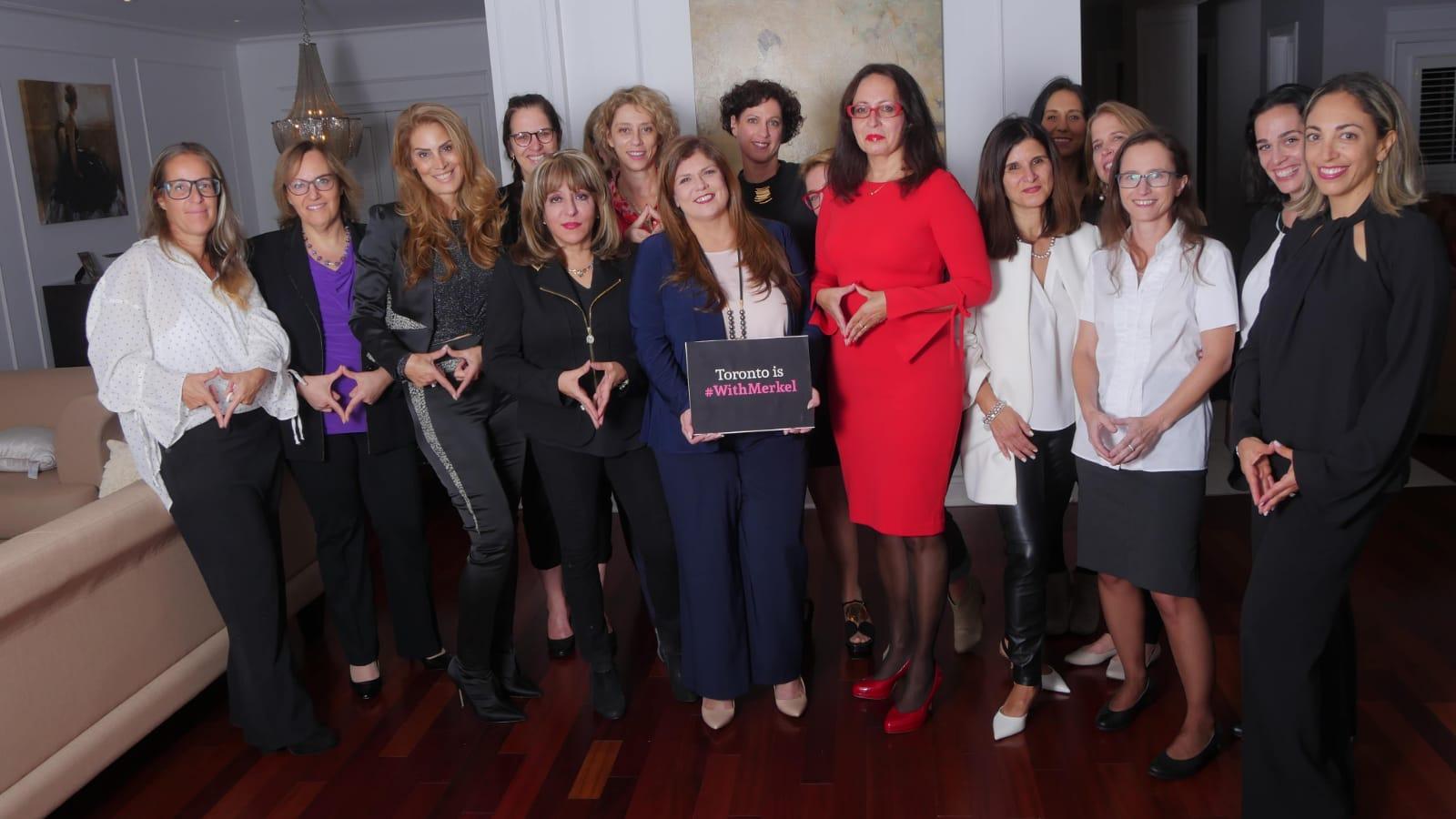 All three women interviewed here are mothers of daughters, and all three identified that having their daughters played an influential role in taking this conversation from Facebook to creating a movement in the real world.
"I took the picture that we took in Bryant Park and showed it to (my daughter)," Dana recalls.
"She said, 'Wow, Mommy, I see you there!', and I told her, 'This is what (the picture), should have looked like.'"