Ivanka Trump's Clothing Line Shuts Down, Responses Highlight The Extreme Divide
By
Regina Fontanelli
Aug. 6 2018, Published 9:49 a.m. ET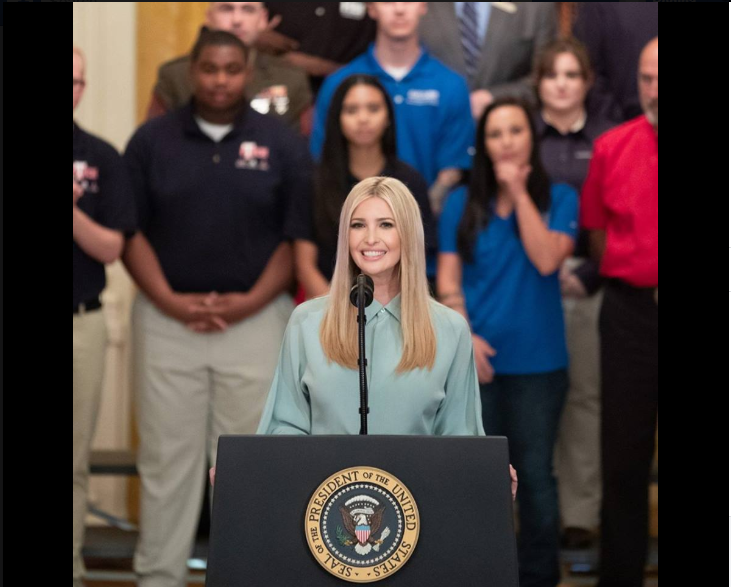 Women are supposed to support other women, right? But what if the woman we're supposed to be supporting is also a beneficiary of decades of nepotism and inheritance? This is exactly the controversy around Ivanka Trump's decision to shut down her clothing line, a brand that has claimed to be "by women for women."
Article continues below advertisement
While many on the left erupted into cheers after the announcement, some women on the right were left distraught. After releasing a statement on Tuesday that the company would be shutting down, Twitter movement #GrabYourWallet exploded in applause. Two years ago, marketing consultant, Shannon Coulter, started the hashtag to urge a boycott of companies carrying Trump products. The boycott hit Ivanka especially hard, with major clients, like Nordstrom and Jet, ending their relationship with the line. Coulter started the movement shortly after the leak of Trump's conversation with radio host, Billy Bush, where he infamously says to "grab [women] by the p—-y." Ivanka's merchandise was included on the boycott list, because of her lack of discourse and continued support of her father throughout the campaign.
Article continues below advertisement
Trump has also been criticized for the bulk of her merchandise being produced overseas. Like her father, she has been adamant that American companies should produce in the states, but her own line was produced in China. There's also the matter of how workers are treated in Trump's factories. Employees claim daunting production goals and such low pay that they can't afford to support their families. These are not the reasons the brand was boycotted, but are the reasons some choose to celebrate its end.
Then there's the other side of the spectrum – women who are sad that the high neck dresses and collared blouses will no longer be on store shelves. A post on Trump's Facebook page has hundreds of comments from women talking about how Ivanka has been an inspiration to them, and #BuyIvanka is circulating on Twitter. A general atmosphere of disappointment is felt among fans, some saying that a businesswoman has been unfairly ousted because of her father's politics.
Article continues below advertisement
It's interesting to look at the demographics of the women purchasing Ivanka's products. The majority are older, white women, a reflection on Donald Trump's female demographics. This may possibly be part of the polarization between Ivanka boycotters and Ivanka buyers since the buyers are unaffected by some of the proposed actions put forth in Donald Trump's campaign.
Whether you're #BuyIvanka or #GrabYourWallet, it's important to check why you feel the way you do about the brand. If you support the line and don't feel offended by the administration the way boycotters do, maybe take the time to check yourself and see why it may upset others. If you're ecstatic that the line is shutting down, maybe ask yourself if it's because of her unethical production, or simply because you can't separate the woman entrepreneur from her infamously problematic father.