Jasmine Jones On Thriving As A Founder In Her Own Lane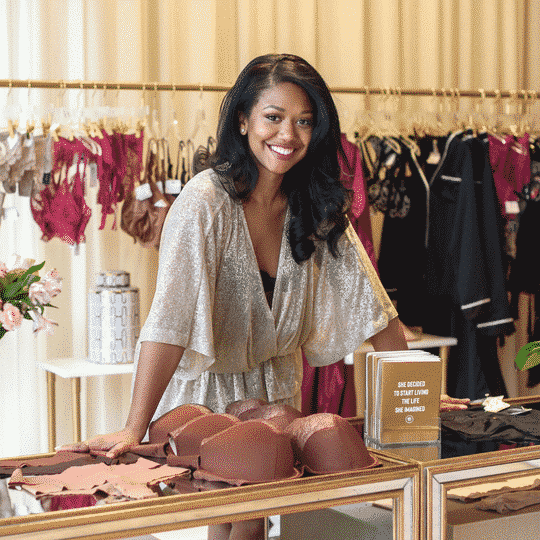 Jasmine Jones believes in the power of intimates, innovation, and inclusion. This makes perfect sense because Jasmine Jones is the founder and CEO of Cherry Blossom Intimates, a first-of-its-kind breast health facility, and intimates boutique. Jones, a Forbes 30 Under 30 Listmaker and former Miss District of Columbia USA, stopped by our recent Power Hour to share her experience as a Black female founder with the Her Agenda INSIDERS.
During the conversation, we had a chance to discuss her background as a pageant winner, her journey as a founder and all the lessons she's learned along the way.
Read a few excerpts from the conversation.
Jasmine on how pageant competitions aided in entrepreneurship:
I loved being Miss DC USA and Miss Black DC USA because I had the opportunity to get into the community and meet amazing people. My networking skills greatly improved. Imagine walking into a room where you know no one and you're the center of attention. All previous anxiety had to go away quick; I had to learn how to be engaging in one-on-one settings. It also helped to develop stage presence as it relates to entrepreneurship. My main source of funding was pitch competitions.
I recommend that first-time tech entrepreneurs look into if an accelerator would help their business. Techstars changed my life for the better. For pitching on stage, you want to really look into skills it takes to engage the audience. Stand out in a good way— I pitched in a hot pink minidress. It made me feel comfortable and I knew that when I felt my best, I'd do my best. My dress matched my deck that was on a huge screen behind me so it looked really tied together. I also practiced warming up my body/energy and practiced my pitch over and over. I recorded a perfect version of it and played it in my sleep. I was obsessed with nailing the execution.
Jasmine on inclusivity being a priority for her business:
Article continues below advertisement
When my grandmother was experiencing breast cancer, she shopped in a medical supply store for "nude" prosthetics. In that case, nude meant beige and she was a brown skin girl. I wanted every breast cancer survivor to feel like their nude wasn't out of the norm. We're focused on showing a lot of love to our customers. For me, that starts with acknowledging every skin tone and body shape. We offer bras in over 200 sizes and prosthetics in 36 skin tones.
On advice she'd give to others:
Purchase your first name and last name as a web domain. Protect your personal credit. Protect your company's equity. Everything is more expensive than you anticipate so always ask for more money than you need (whether from a bank or an investor). Be prepared to not have a life for the first 2 years or so until the business can stand on it's own. Don't try to do everything. I hired a housekeeper because I got bad at cleaning up at the end of the day when I was too tired and I don't like a messy house. Best investment ever.
Jasmine on balance and prioritization while building her business:
Article continues below advertisement
At first, I had to choose between life and business. I prioritized family and business so I didn't see my friends much. My real friends understood. I let my family know that I'm building something big and they understood. I once brought my laptop to a baseball game where my family was celebrating Father's Day. They understood and they're proud now.I'd recommend prioritizing you then family then business. Everything else will still be there in a few years once your business is okay.