Powerhouse, working mom, and fearless leader are just a few of the many ways to describe Jenay Alejandro. Serving as Hennessy's first Latina Communications Director Jenay leverages her 15 years of experience within the wine and spirits industry to celebrate and champion the diversity of consumers.
From an early start in the music industry at Atlantic Records to now leading the communications strategy for one of the most recognized brands in the wine and spirits realm, Jenay talks with us in-depth about her career trajectory.
In our interview, Jenay shares the inside scoop on how to effectively monetize your worth, her secret to successful mentorship, and how she leveraged her experiences to tell the story of a global brand.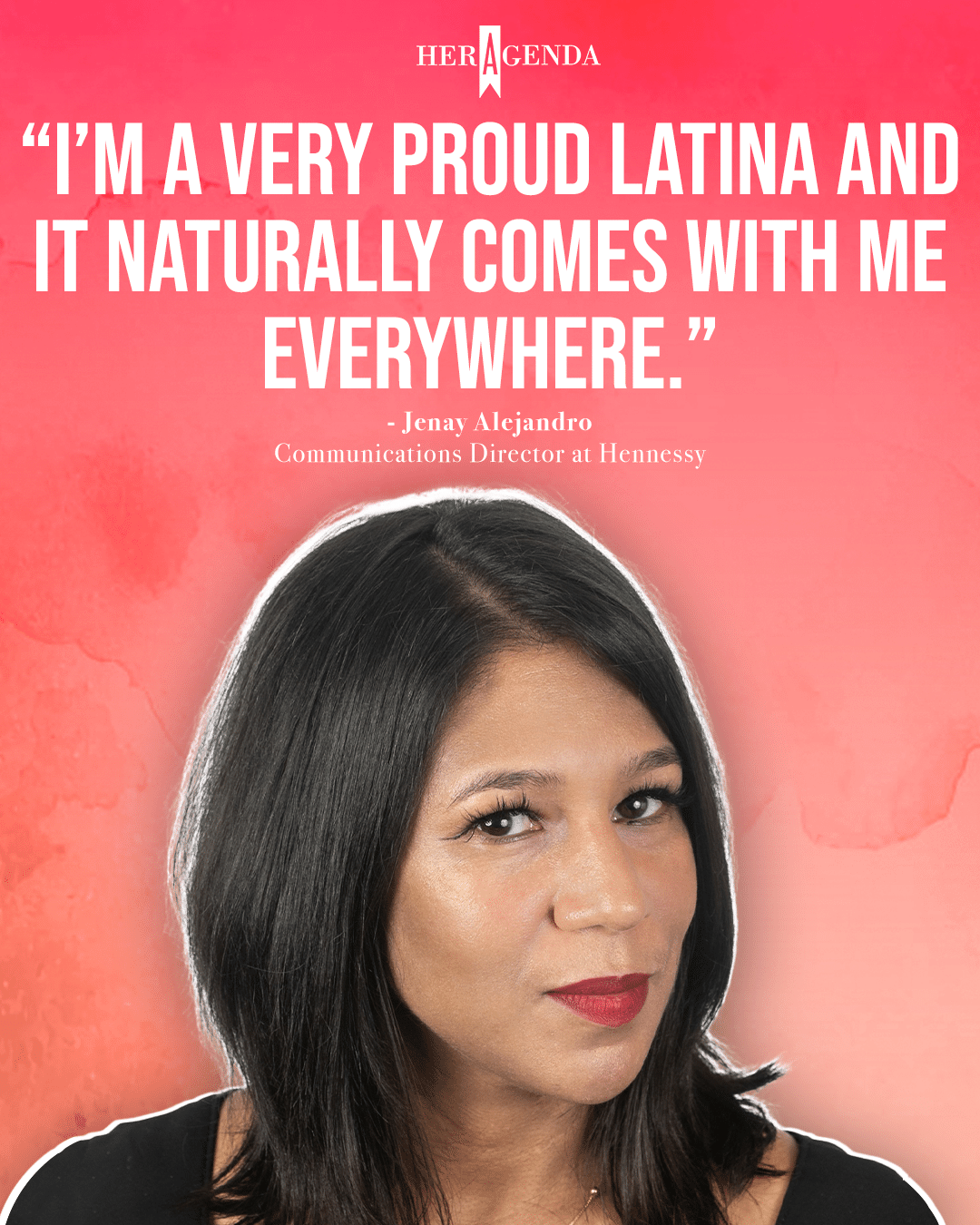 Her Agenda: Your role is a significantly groundbreaking first for Hennessy as the first Latina to function as the Chief Communications officer for the brand. How do you show up as Janay? Is there something you do that is unique to you?
Article continues below advertisement
Jenay Alejandro: One thing that's naturally happened is business culture has evolved. Companies now want to celebrate, and champion diversity. Over time that has allowed me to be a bit more of myself. Coming out of COVID, there was a refreshing honesty, about the realities of life as a woman as a Latina woman which helped change the work dynamic as well. However, for me, I always make sure when I speak about us, it's from a personal and wholistic base. I'm honest, I say and do things that help me best represent my culture and myself as a woman and working mom.
I had a new team member who asked me about Hennessey's company culture and if it was acceptable to wear their hair curly. I was really proud to say that those types of things are not only accepted but encouraged in our workspace, and I hope that other women who read this article find themselves in similar environments.
Her Agenda: According toBernard Arnault, CEO of LVMH, his long-term vision for the company is to cultivate the highest level of quality, not simply to maintain it year after year, but also to elevate it as we continually set even higher standards. In what ways are you elevating the minority community within your role while setting even higher standards for yourself and your team?
Article continues below advertisement
Jenay Alejandro: Wehave a drive to greatness at Hennessy. We are the brand that never stops, never settles. It's this idea of a continual journey to push the limits of your potential to the max. Within our philanthropic and CSR outreach, under my purview as communications director, we have fantastic programs like our Never Stop, Never Settle Society.
This is a program that was built in the spirit of the Tulsa Greenwood district, and the thought that Black Wall Street could be built across the nation. We wanted to showcase and highlight the Black experience beyond some of the stereotypical archetypes of a rapper or an athlete. I think that's a great example of how we push the community forward. Another program that I'm proud of that we accomplished this year was called our 75 days of moves in partnership with the NBA.
Article continues below advertisement
We partnered with local teams and picked 75 small businesses awarding each with $7,500 in celebration of the NBA 75th anniversary season. So again, here we're getting deep and connected with the communities and those local main streets and small businesses that support the neighborhoods that we live in and grew up in every day of our lives as people a part of the Black, Brown, and Asian diaspora.
Her Agenda: What communication tactics/strategies do you use to help tell the story of the LVMH brand while keeping inclusivity at the forefront?
Jenay Alejandro: Our brand's mission is to champion and celebrate cultural diversity. It's rooted in our mission to be present in the communities that support us. I keep this top of mind as I begin any program, partnership, or initiative. I'm proud to say that I do think we start from the right place, in terms of communication specifically for us, it's a mix, just as the brand is when you're dealing with such an iconic brand that's upwards of 250 years old.
Article continues below advertisement
A recent activation Hennessy did with Canelo Alvarez, a Mexican boxer, who was in a major fight on Mexican Independence weekend. As a brand, we make sure that we're celebrating the community while making boxing in Las Vegas a full cultural phenomenon. We pulled on this idea of grandeur that creates pop and excitement amongst consumers by working with traditional Mexican celebrities while still targeting a broader audience by inviting celebrities like Julia Fox who attract a different audience. We do this all while staying true and respectful of the Mexican community.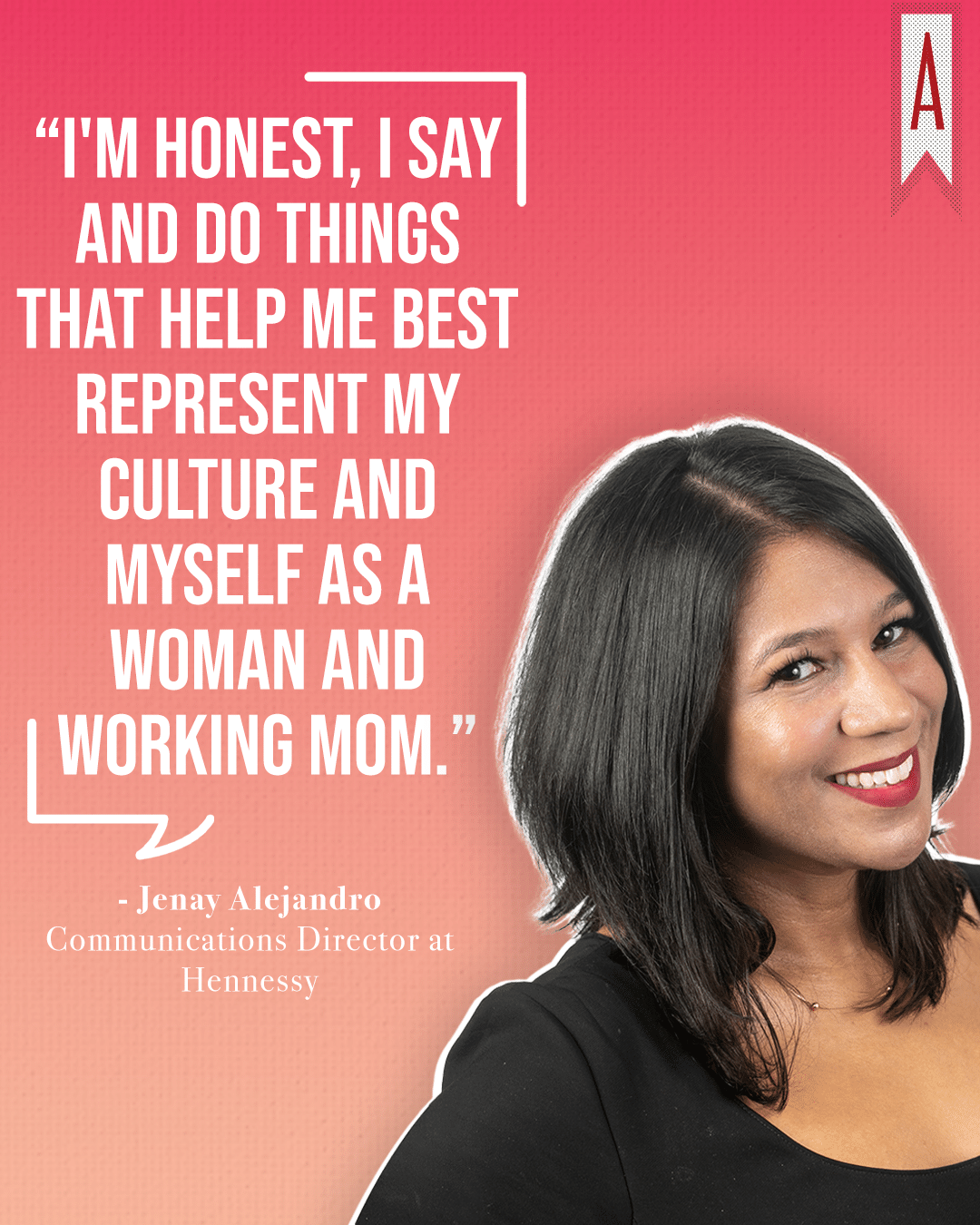 Article continues below advertisement
Her Agenda: Nelson Mandela has a quote it goes something along the lines of this "Do not judge me by my successes, judge me by how many times I fell down and got back up again." What did you learn from the biggest "screw-up" of your career?
Jenay Alejandro: I often ask this question in [job] interviews. I would ask them what their biggest mistake was or the biggest issue they had and how did they fix it? I've been at Moet Hennessy for almost 15 years and I have been fortunate to have a great run so far. [I've worked] in over three different areas of the business between corporate communications, brand marketing, and sales. [I've held] over six different positions at the organization. I always welcome a challenge.
There was a point in my career where I really wanted to get back on the brand marketing side, I felt with my profile and experience, now layered in the corporate comms and the commercial side, I had a lot to offer our marketing team. It took me quite a while to be able to find an opportunity, even just to get the door cracked, where I could kick through and show my talents.
Article continues below advertisement
It was a few years in the works before I was able to get transferred. There were a lot of disappointments along the way as I had this vision for myself and it took much longer than I thought to come to fruition. It goes back to kind of an old-school mantra, where, if you know, you can do it and you believe in yourself, don't stop. Be sure to recruit everyone to come with you. You'll start to see those opportunities arise. My circumstances were not always ideal. I made the best out of what I had to make sure the brand was delivering something compelling, and impressive. In that journey, I was able to reinvent myself at least three times over within this organization.
Her Agenda: You have a long-standing career within the luxury industry going on 15 years at the company working in various departments from Sales and Marketing to Communication. Why Hennessy? What about the company continues to drive your passion?
Jenay Alejandro: Hennessy only gets better over time. I've seen this brand come so far, not just from a sales and growth perspective, but also from a cultural perspective. What I've loved about working in the wines and spirits industry is how things, quite frankly, are applicable to almost every cultural outpost you could be interested in. Whether it's visual arts, culinary, sports, music, fashion, or design wines and spirits play a pivotal role in all facets.
Article continues below advertisement
The journey of marketing wines and spirits, for me, has always been a beautiful and enticing journey. Coupled with a continual journey of learning, not just the technical aspects of the product, but how to market it to consumers. The core of my brand may not be changing, but consumers do, and how we present the product does change. I have always loved that wines and spirits are one of the few things that you can market that truly encapsulate all five senses, taste, touch, sense, smell, and vision. It makes for some very, very cool marketing techniques that other products don't offer.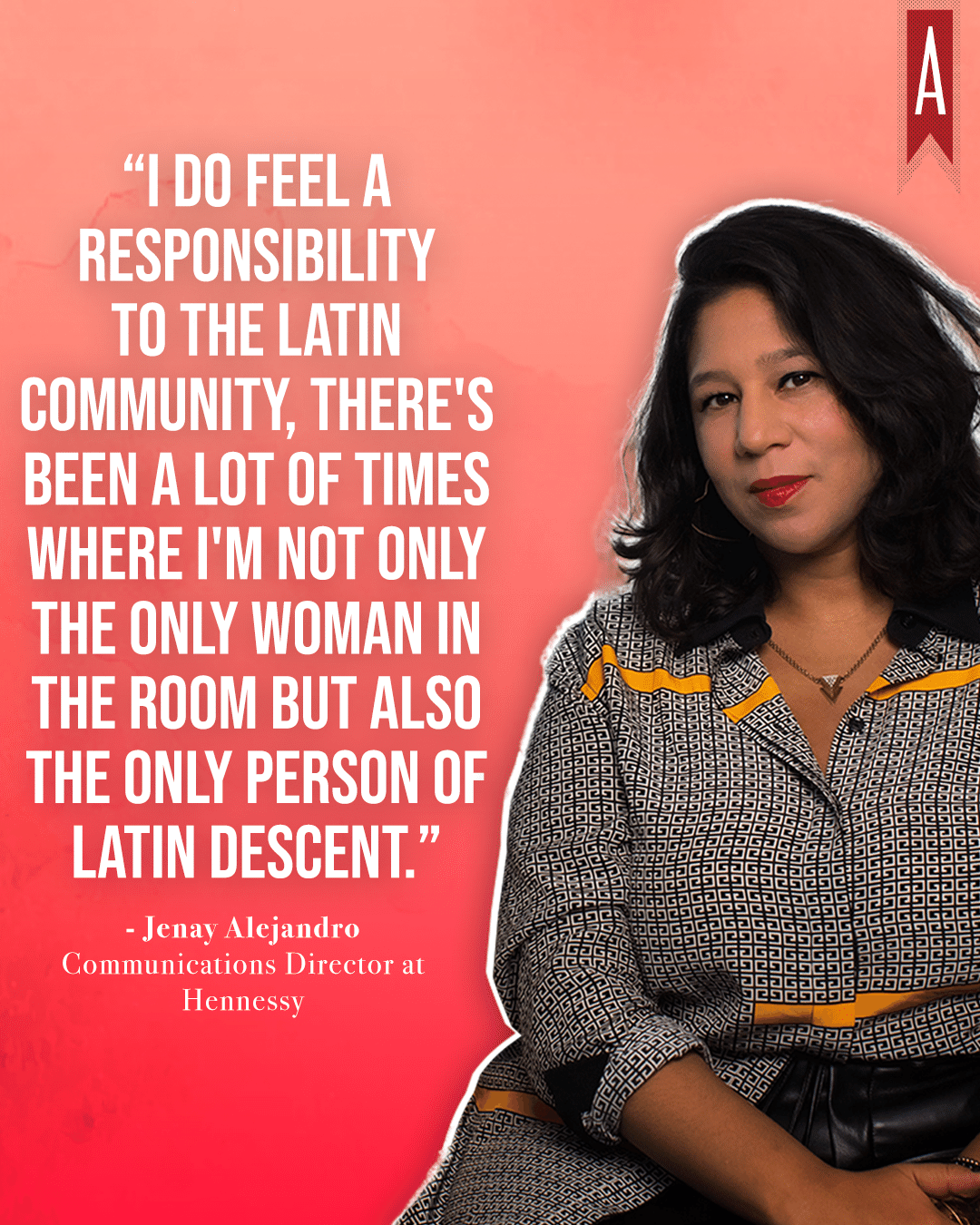 Article continues below advertisement
Her Agenda: Do you feel that you have a responsibility to the Latino community? Does this responsibility steer you towards particular goals you wish to achieve?
Jenay Alejandro: I do feel a responsibility to the Latin community, there's been a lot of times where I'm not only the only woman in the room but also the only person of Latin descent. My parents were instrumental and active in the community, particularly fighting for Latin rights.
My father was politically involved in our hometown of Springfield, Massachusetts. He helped to develop some of the voting rights and establish diverse representation for the different community wards. Even making sure Latinos were well represented, and people within our network were elected to higher ranking posts affects our community. I hold it on my back, I think about it a lot. I think about legacy a lot, making it easier for my Latinx co-workers, regardless of their country of origin.
Article continues below advertisement
When I do make my decisions, particularly for our nonprofit partners, as well as for our celebs and influencers, I ask myself how this is going to relate to and reflect on our community. I'm a very proud Latina and it naturally comes with me everywhere, whether it's our Canelo activation, the Maluma bottle that we recently released to being involved with the Hispanic Federation on their gala. It's something that comes through naturally, so I don't need to work on it too much, because it really is a major part of who I am.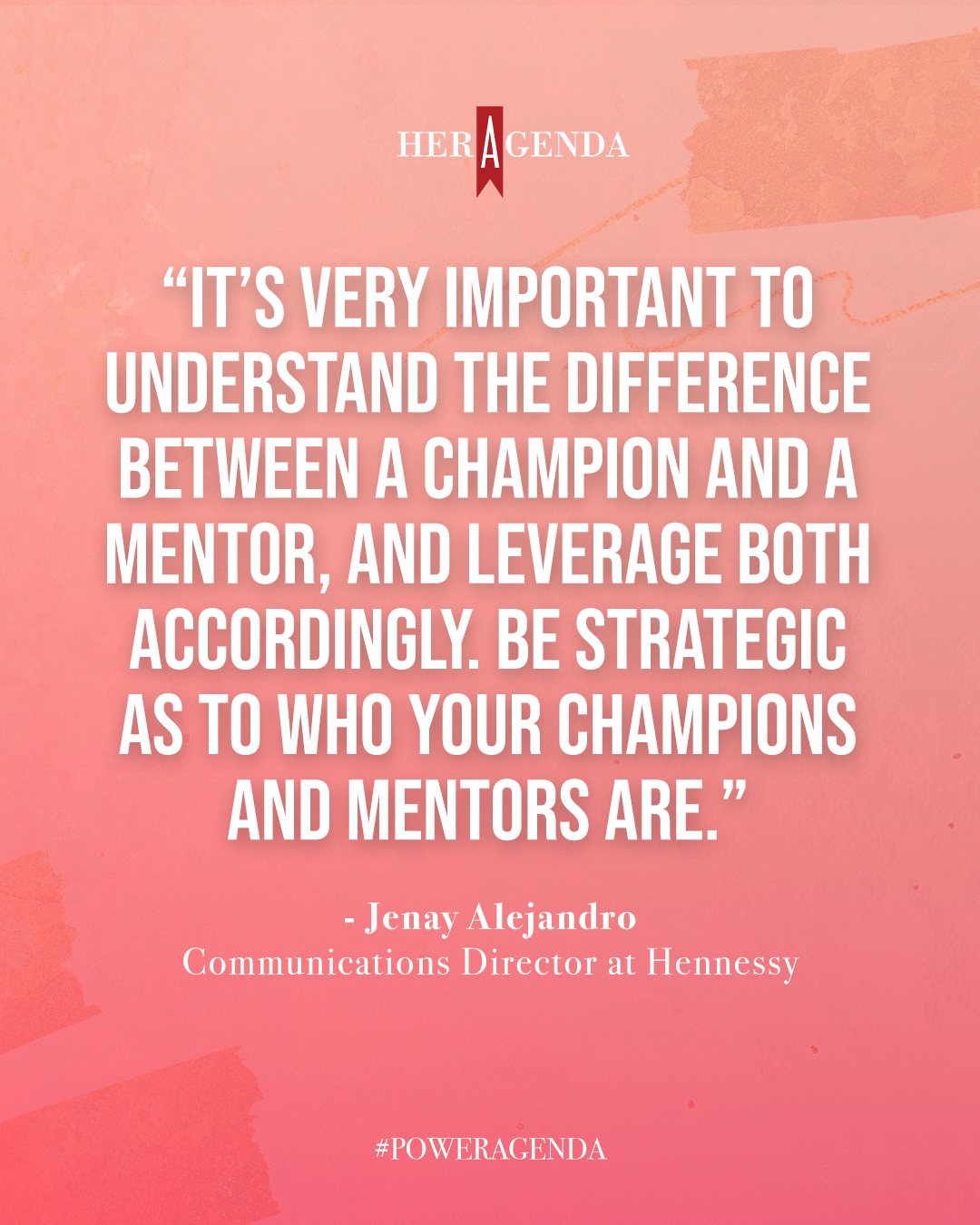 Article continues below advertisement
Her Agenda: You mentioned bringing others up with you. Everyone talks about the importance of fostering good relationships to grow your career. How has mentorship helped you personally? What steps did you take to establish good mentorship relationships?
Jenay Alejandro: I was looking to move into different areas of the business and new levels of my career, it really was mentorship and allyship that were the final push to get me to where I am, and I'm incredibly thankful for it. I think it's important to make time for the right connections. It's very important to understand the difference between a champion and a mentor, and leverage both accordingly. Be strategic as to who your champions and mentors are.
Look outside of your own community in order to achieve this. Granted we have a lot of work to do in America but any movement needs allies to be successful. For example, in the Civil Rights movement there needed to be a strong allyship in order to pass early bills in the1960s and beyond. I've been thoughtful with my personal mentorship to others, in learning and curating a team of mentors for myself. I look beyond those that have the same gender, race, and lived experience as me. Across the board, I could really learn and have a diversified lens and experience and utilize my mentors in the workplace. I encourage everyone to keep an open mind, look at people you admire, and make sure to diversify your search.
Article continues below advertisement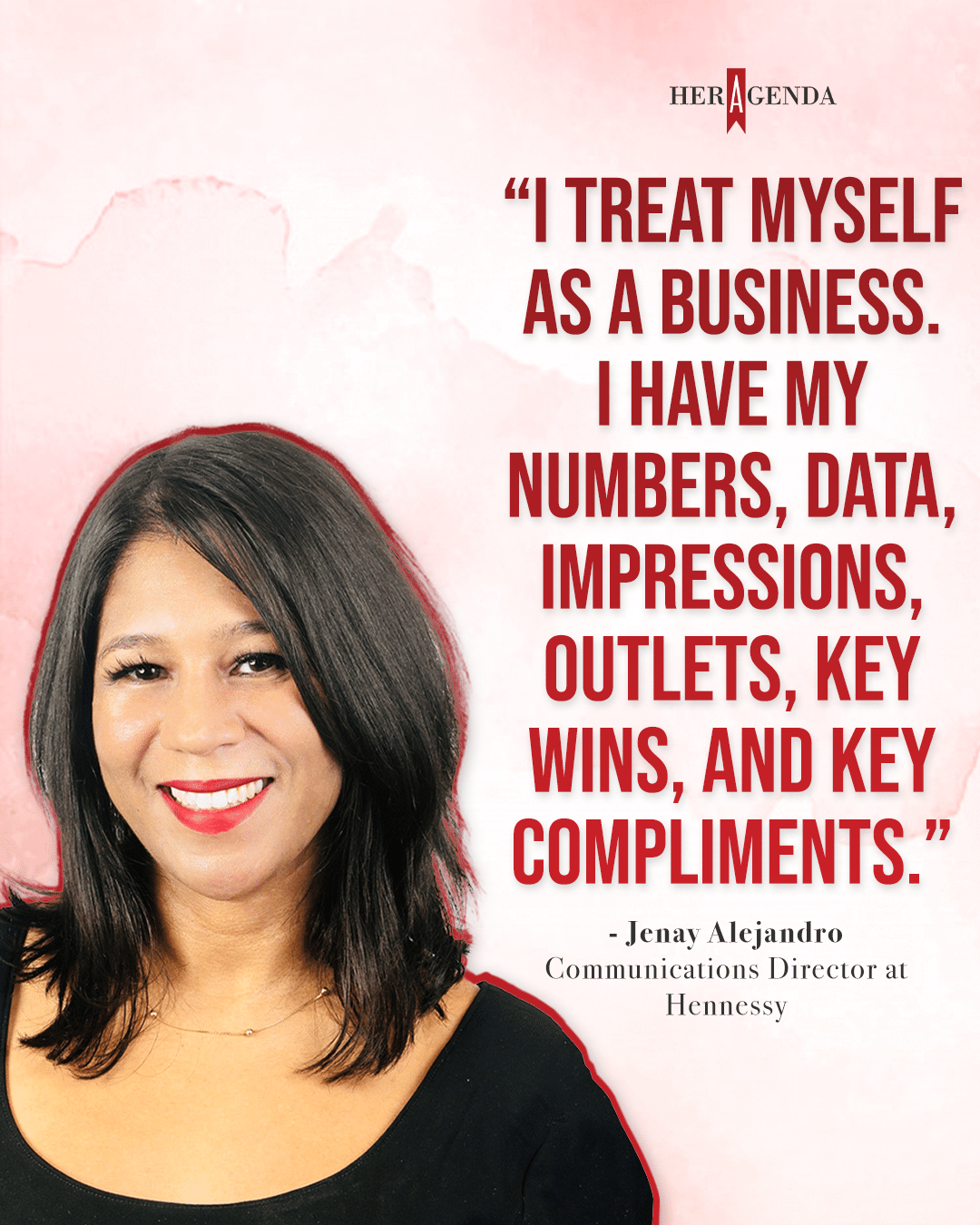 Her Agenda: What specific actions do you take to advocate for yourself from a monetary standpoint?
Jenay Alejandro: Number one is being prepared. You know yourself, your assets, and your worth to the business. Those are all kinds of broad terms that we utilize today as business people, and business women in particular but are we prepared to speak to it? Ask yourself, am I prepared in my industry, my area of expertise, to show the cost per impressions? For example, that Canelo cover is worth its weight in gold because it's an organic integration? If so, how do we talk about that, and monetize to show your worth?
Article continues below advertisement
A portfolio or a media kit of everything I've accomplished over the year is the easiest way to stay consistent. I keep a folder in my email, where I put different positive quotes and compliments that I've received from our leadership team, even my CEO. Then at the right point of the year, I give a recap of my work and the value it brings through tangible evidence. I cover my bases by showcasing what I've accomplished and how that translates to the bottom line. It's that dedication where the greatness comes in saying this is my work. Whereas earlier in my career, I had an idea of it. But I wasn't as pulled together in my presentation or recapping, as I try to be now. After every major program, I put together recaps, and I have my PR team compile quarterly reports. And then once or twice a year I pull from those and refresh myself with our wins. I prepare this typically for a mid-year and a final year review but I treat myself as a business. I have my numbers, data, impressions, outlets, key wins, and key compliments.
Never assume people know your work or your worth as well as you do. There are times when I even have to walk through the entirety of my experience to newer members of the team or newer leaders who had no idea that I started my career in government and nonprofit relations or no idea that I did corporate communications to give them a wholistic picture.
Article continues below advertisement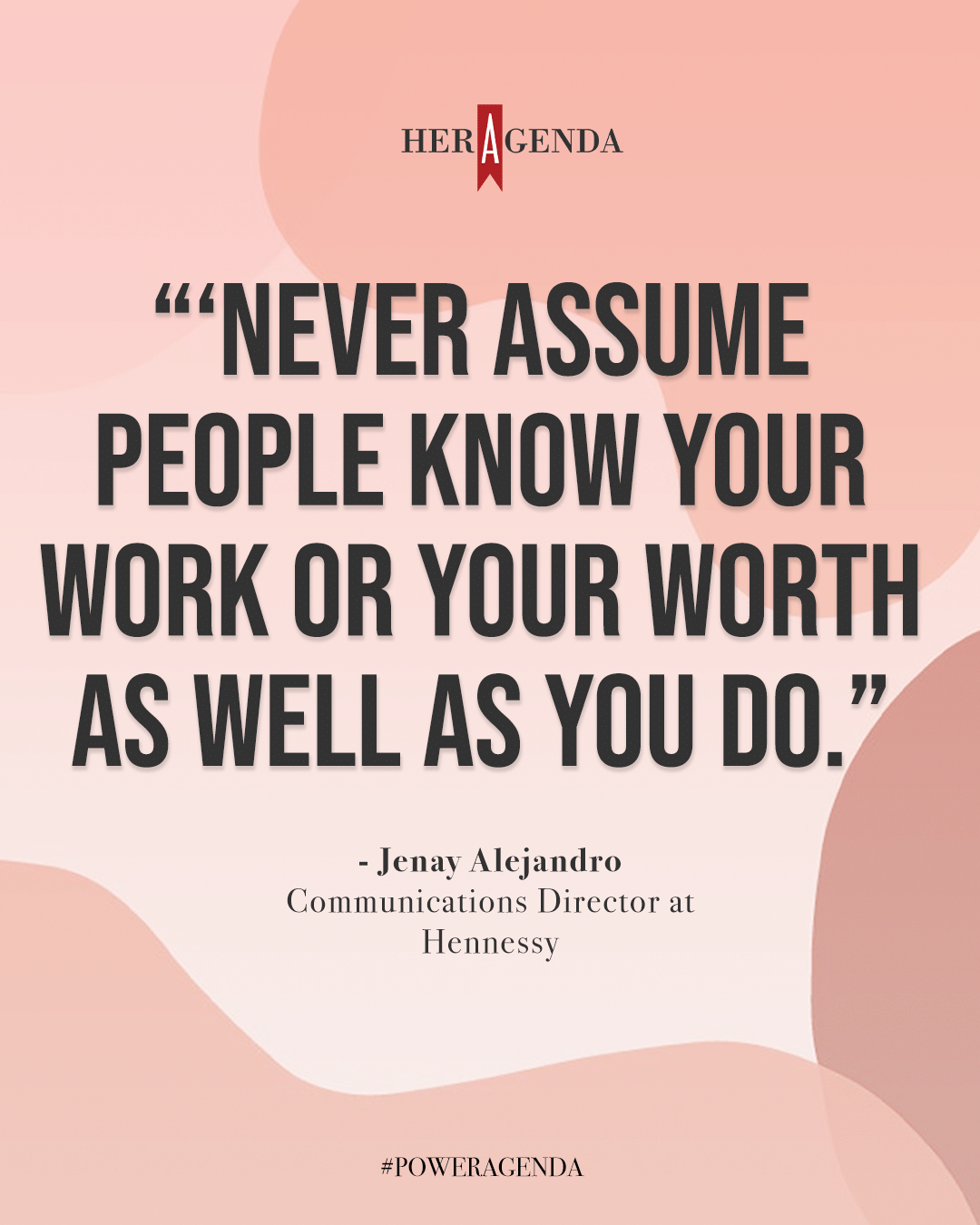 Her Agenda: What is one quote or motto that you live by?
Jenay Alejandro: "The big secret in life is that there is no big secret. Whatever your goal is, you can get there – as long as you're willing to be honest with yourself about the preparation and work involved. There are no back doors, no free rides. There's just you, this moment, and a choice." – Oprah Winfrey
[Editor's note: This interview has been edited for length and clarity.]