Kaleidoscope, which by its Greek origin loosely means beautiful shape to look at, makes perfect sense for Jesseca "Judy" Harris-Dupart. As a sought-after hairstylist, Jesseca has been a fixture on social media and the haircare industry since 2013. Launched in 2014, she's since evolved into the powerhouse behind the Kaleidoscope hair brand. With 2.9M followers and signature products like Kaleidoscope Miracle Drops, Jesseca leads a multi-million dollar empire, according to Essence. Her products are sold at major retailers such as Target, Sally Beauty, CVS, and Walmart.
With her New Orleans spirit and accent in tow, Jesseca spoke with Her Agenda on her beginnings as a teen mother, her upbringing, her relationship with her wife Da Brat, and of course, her entrepreneurial lessons and innovative approach to hair products.
Her Agenda: I have to start with: how are you loving your new addition to your family?
Jesseca "Judy" Harris-Dupart: I don't even know if I have words to describe it. I'm a mother of four now. My other three children are in their 20s so having a brand new baby my fear was that I wouldn't have enough time. Being a busy CEO and entrepreneur I [wasn't sure] how we were going to make it work. But it's been the opposite. This made me not necessarily slow down but pay attention to and appreciate [for instance] the seven minutes where he's smiling and giggling and laughing that we have or even when I might be on Zoom and I'm holding him, I feel like it's not necessarily a new lease on life but it makes me start to appreciate [it] way more than I ever did.
Article continues below advertisement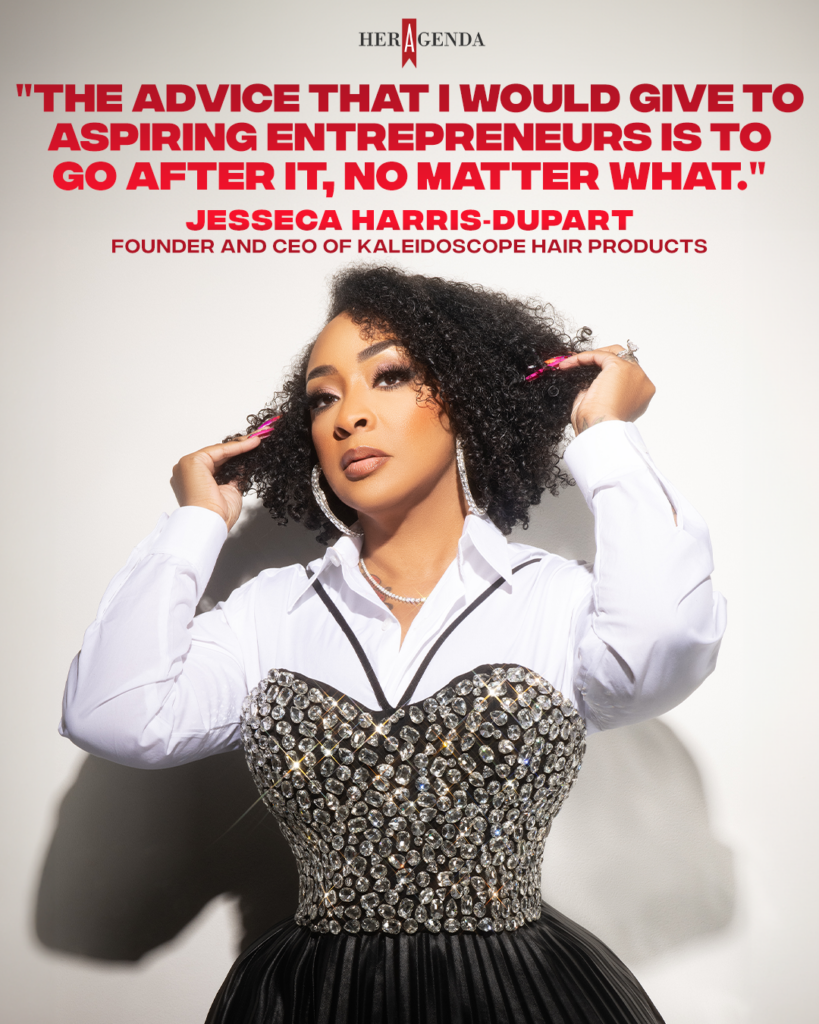 Article continues below advertisement
Her Agenda: Anybody I talk to who is a mother and an entrepreneur always talks about how they are working to [create harmony between] the two. But being an entrepreneur is a whole different world, what do you entrepreneurship is teaching to your children?
Jesseca Harris-Dupart: I was very young when I had my children, well, my three children who are now in their 20s. So I was growing myself, I was growing my business myself, I never expected to be where I am. As parents, we don't want to share things with our children like the struggle. You want to keep your children very protected. I can honestly say that's something that I wish I hadn't done because now my grown adult children, don't even know. That's the best way to put it. They don't know what it comes with.
Article continues below advertisement
They don't know the art of mastering budgeting, knowing when to and when not to double down or pull out. It's a lot of stuff that I feel like had I included them in versus keeping away from them, they would be better at as far as life, money management, knowing how to deal with situations when they don't go your way, and knowing that no is not the end of the road. I was just being a parent trying to provide the best life for my children, but also keeping out what it took to make ends meet or when I would take all of the money out of the bank and double down on inventory. For two weeks, I might not have been able to get my nails done and we might have been eating some of the stuff in the house versus eating out but I never told it to them.
Article continues below advertisement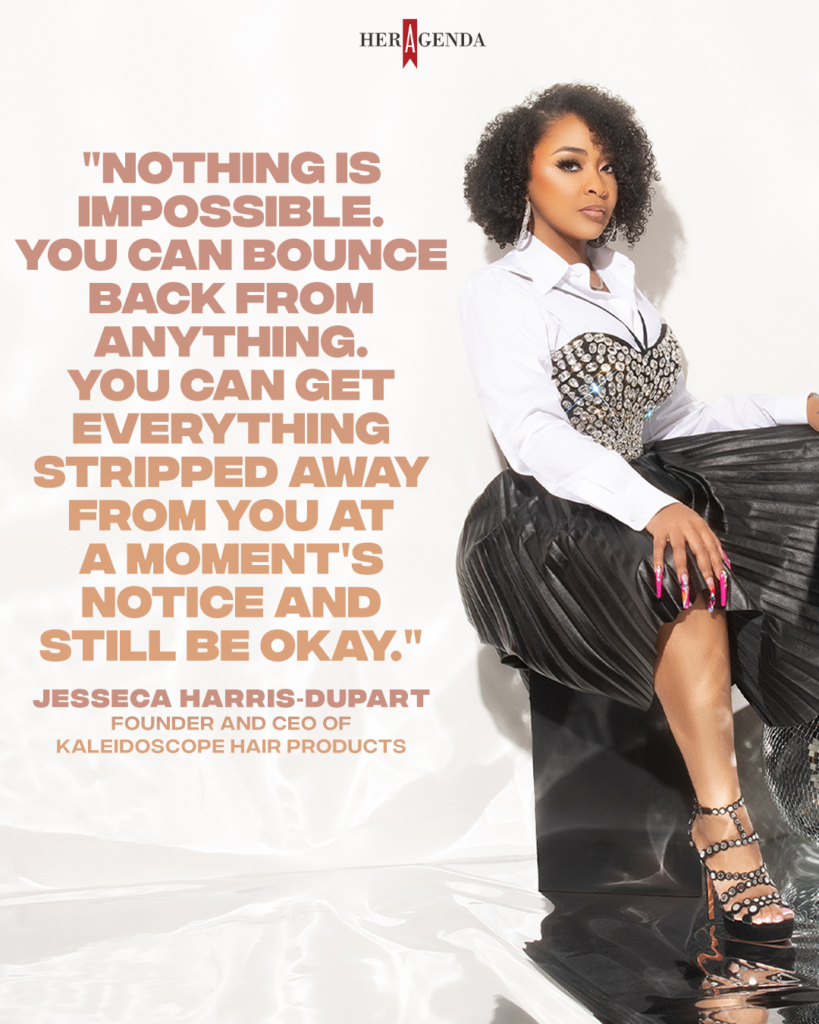 Article continues below advertisement
Her Agenda: Your profile, not only as a business owner, but pretty much a celebrity is being transparent online. I know you are one of the early entrepreneurs who really took social media to the next level as far as being super visible online. Can you talk about your relationship with social media when it comes to transparency as well as what made you want to even embrace it?
Jesseca Harris-Dupart: I honestly think that because of what happened to my children, I have been very transparent. I hate that so many things are glorified, but they don't tell you about the bad.
Article continues below advertisement
Yeah, I took a great picture in my warehouse with all of this inventory, but b**ch, excuse my language. On the other side of that, I got too much of this godd**n product because somebody I hired ordered five years' worth of the product. Why y'all not saying that? I'm like, that's a pretty picture. And it's cute. But let me give you the details behind it. I still have to fix the problem. But nobody in this world is problem-less.
Then the more you grow, the more problems you have. And if you don't identify how to be a problem solver when you make $1,000 a year, who's to say that when you make a million dollars a year you're going to be able to handle that?
Article continues below advertisement
Before [transparency] was a marketing [tool], I felt like if I'm a woman that got put out my mama's house at the age of 17, had my first child at 15, if I'm able to do this, I felt like y'all could do this too. And I don't feel like there's any amount of information that's too much. Because I think a lot of people are scared that if they give their "how-to" away somebody else is going to do it or take away from what they have. But I don't think nobody can take away from what I have. I don't think that there's a limited amount of resources, nor do I think that there's a limited amount of blessings that are able to be got. The more I sow into people, the more God sows into me. So I prefer to build millionaires. If I sowed into fertile, great ground, and I helped this person even if it was just me giving a word or listening ear, I feel like I'm going to get that back.
Article continues below advertisement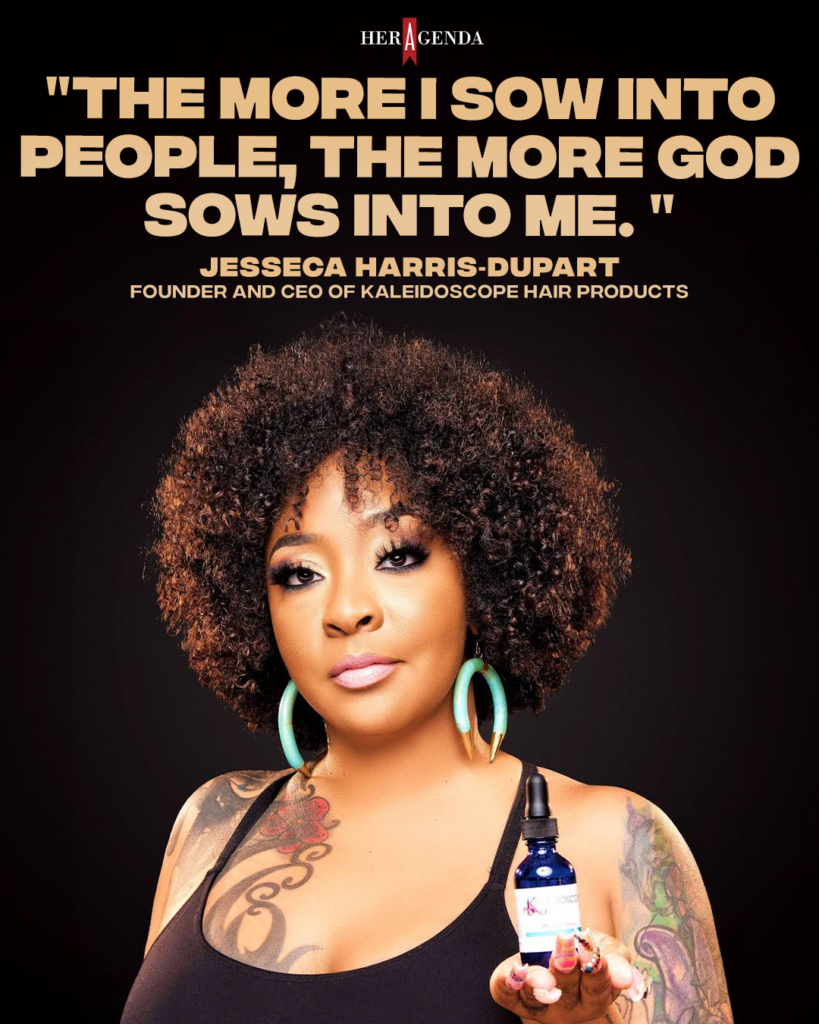 Article continues below advertisement
Her Agenda: I love these life lessons. I revisited your Wired interview from a couple of years ago. I thought there were so many good gems in there. I want to talk about something you said in that interview. You said that you weren't only doing good hair, but you were giving good customer service and that was a differentiator. Talk about how you were able to do that because the conversation that we often see online today as it relates to hairstyling is quite the opposite.
Article continues below advertisement
Jesseca Harris-Dupart: Oh my God. Oh my God. It wasn't anything that I was taught or that I read. I'm not saying, oh, I'm the smartest person in the world. Life was happening. And in the hair industry and the hair that I did, this was back with Marcel irons and spritz and hard hairstyles. My June and July would be slow because I didn't do braids. And people's kids would be off in the summertime, so their grocery bill would increase, so they would see me less. As a customer service practice, I would reach out to my regulars right around that time and give them a discount to make sure that I still had consistent money going. And if for some reason, like if somebody didn't like something, I was okay with fixing it. I don't know where we got this sense of entitlement. Well, I do. I think social media is the reason why we get the sense of entitlement, especially when it comes to [the] amount of followers, especially when it comes to all of the different things. All of that has value. I know that that has value, but it doesn't necessarily make you better than somebody. If you're in the servicing industry, you're still the service provider. I think a lot of people get that messed up. They're not doing their client a favor. They're servicing their client who booked and paid them.
Article continues below advertisement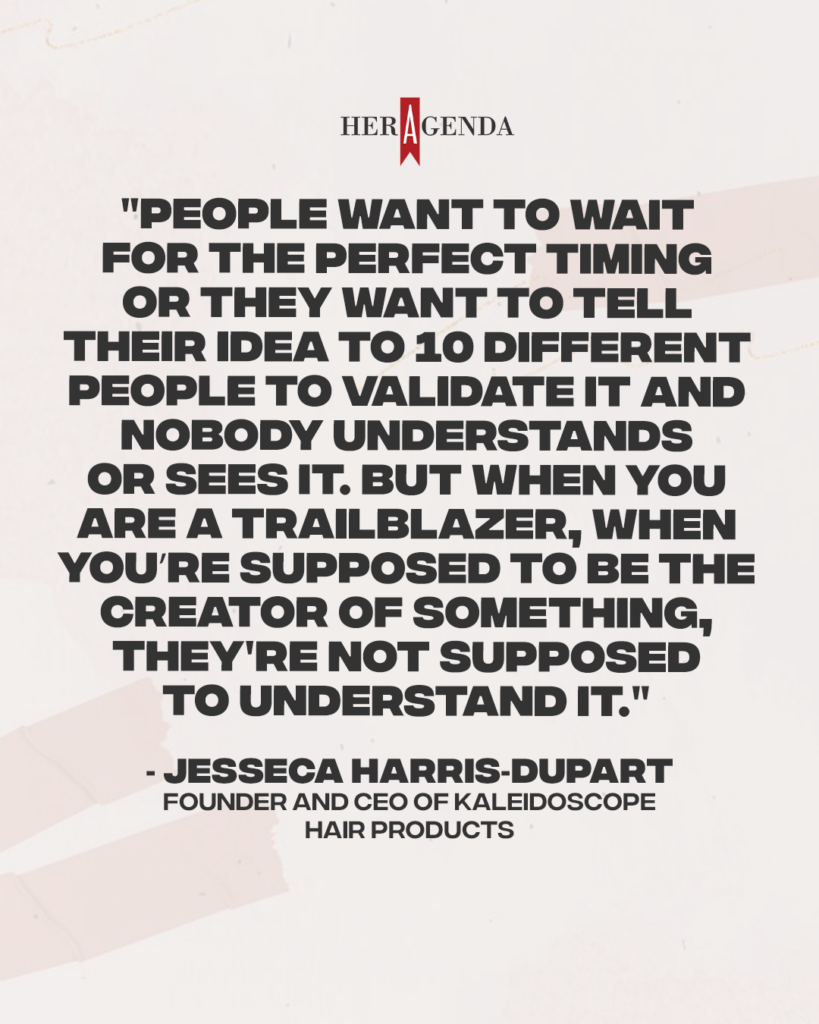 Article continues below advertisement
Her Agenda: As a consumer, I love that. I think everyone loves a good hairstyle, but there is definitely some balance in the relationship that has to happen where both parties really respect each other. I feel like we've just got away from that a little bit.
Article continues below advertisement
Jesseca Harris-Dupart: Yeah, but let me tell you something. That's making the people who sell multicultural hair care super rich because people are now doing their hair themselves. They would rather pay us for the products than they would to pay the hairstylist to do it because they don't want to go through the hassle of what it takes. My average consumer that I sell to is a woman that's probably doing her hair herself. Not because she can't afford to pay a hairstylist, but because it's more convenient, especially when the pandemic happened and people were forced to look at other stuff. Now she wants to do her hair herself. Now [she's] learning.
Article continues below advertisement
[She's] embracing my natural hair. She's learning how to do a twist out [and] watching YouTube videos on health and maintenance. Before the rudeness started happening, the first thing that started happening was the health of the hair was compromised. Then the rudeness started happening. Now we have an epidemic of not only some of the stylists not caring for the hair underneath the units and the wigs and the braids and the stuff, but then they also curse at you out.
Her Agenda: I know some of that was the reason that you created your brand, but can you talk about, why you felt like that was something you should do? Why did you feel a duty to do that?
Article continues below advertisement
Jesseca Harris-Dupart: Girl, I had a client cheat on me and she went to another hairstylist. I know how to do ponytails without using bobby pins to attach the track, and without using glue to attach the track. There was this trick that I used where I pulled a piece of the track, the weft of the hair, and used the rubber band method, right? So my client cheated on me, and went to a different hairstylist. This lady put a ponytail on her head, used bobby pins, and compromised her scalp. I realized I grew her hair to mid-back so when she came back to me. She had a circular bald spot, which was at the time a sore because she got the bobby pins. I felt responsible for bringing her hair back, even though I [didn't] cause it to come out because she shouldn't have cheated in the first place. And when she came back, I felt like ain't no way in the world I worked this hard to grow your hair this long and we got a spot.
Article continues below advertisement
So at that point, that made me feel like I [have] to do something about this. For me, when I first started selling hair products, it was to my clients. It wasn't until I had a grand opening of my salon that I realized how big social media was when we were posted about the grand opening. Then I was like, oh, maybe I can sell hair products on here too. But my main reason for selling hair products initially, in the beginning, was for my clients and knowing that there was nothing that I could just recommend to her to fix it. It was like, I don't even know what to tell you to do to fix this because you went around and went to Susan Q up the street and then the ponytail was ugly.
Article continues below advertisement
Her Agenda: I feel like something that's coming out in this conversation, of course, is your New Orleans roots. How do you think New Orleans shaped you as a person? What do you think about your personality says New Orleans?
Jesseca Harris-Dupart: The thing about New Orleans, is you have to be tough. I was living [there when] Katrina happened. So going through devastation, loss, tragedy, and then being okay…I didn't lose my life. I might have lost my material possessions, but I got them back. It's like it was a hard, uncomfortable, painful lesson to learn. But it made me feel like nothing is impossible. You can bounce back from anything. You can get everything stripped away from you at a moment's notice and still be okay.
Article continues below advertisement
When [Da Brat and I] had our wedding, I had a second line at the end of the wedding and to this day [she] tells me, [she] didn't even know what we were doing. We second line out of there and I didn't even get to mix and mingle with people. I said, well, Beautiful, when you second line, that's when you leave. We second lined to the car and drove off. She was like, I'm still traumatized. I thought we were going back in. No, you don't second line and go back in. You second line out. That means that's the end. That means it's over. That means we wrapping up.
Article continues below advertisement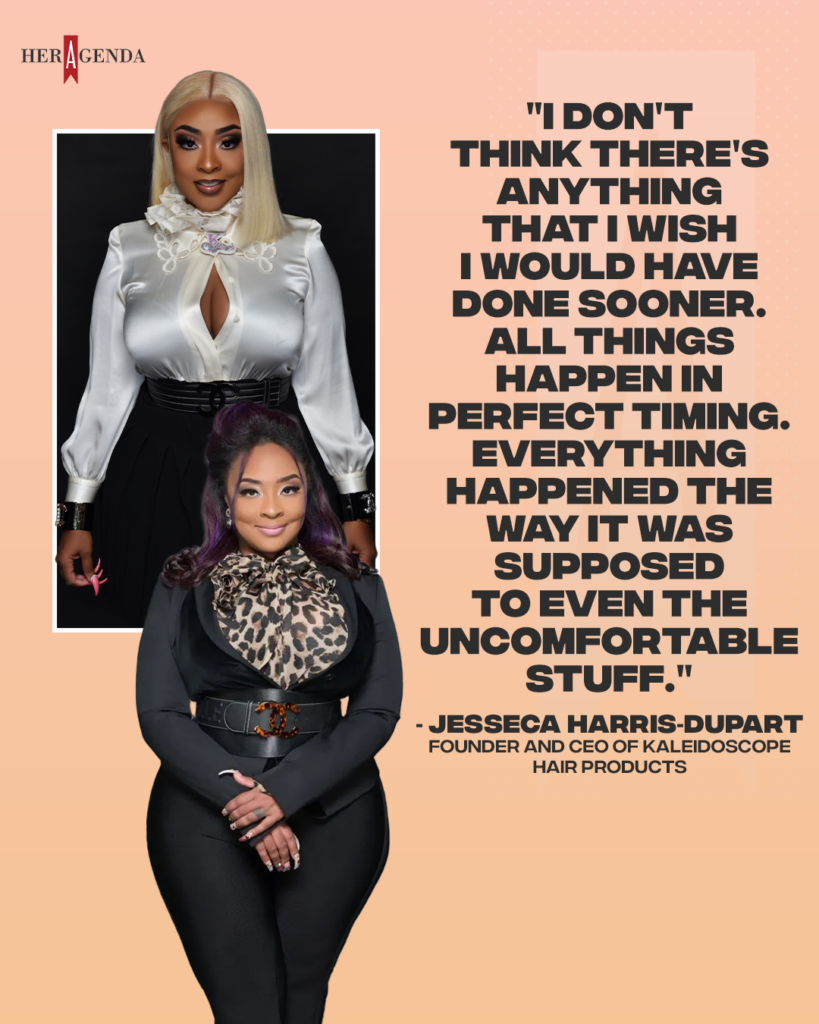 Article continues below advertisement
Her Agenda: Your wife is such a fixture in just culture overall from her early days of doing music to now she's a mainstay on a radio station. Talk about how you met because it felt like it was out of the blue for a lot of us. But I also feel like everybody loves it. We love to see you all on TV. We love the People magazine shoot. We love seeing y'all so what is your relationship like?
Article continues below advertisement
Jesseca Harris-Dupart: I actually was the aggressor in the situation. She is very shy. As aggressive as she is in her songs and that persona that she has, she is the most nurturing person that I have ever met. I will never forget [the first time I met her]. She burnt the hole in the seat at So So Def Studios that day. She dropped her drink. She missed her mouth, all of that. We were talking about different things that we like to do and what we were interested in. I said, well, I'm interested in you. Because for her, it came out of the blue.
Article continues below advertisement
I thought I was doing a Judy Dropping Knowledge tour. I was working with her. She was doing promo for me and she stopped by the tour to surprise me and say, let's shoot some videos. She said, hey, why don't we link later? But in her mind, she was like, oh, we could shoot some videos later. So I went and got cute, changed my clothes, and met her at JD Studio.
Article continues below advertisement
She was like, where are your people? Where is your team? I was like, what do you mean my team? I said, you said let's link. I just caught her off guard because one, she didn't know that I was interested in women, nor did she know I was interested in her. Long story short, for about a year or two, we were going back and forth. She had me fly to Atlanta a few times and didn't answer the phone. The nerve. The nerve. So I moved on with life. She would never let me live it down. Got a boyfriend. Moved on with life, and got into a relationship. The relationship didn't last. We wound up connecting after that and then it seemed like it was off to the races.
It's been a fairy tale since then. I think she realized at that time, oh boy, if I want to deal with her, I got to be ready.
Article continues below advertisement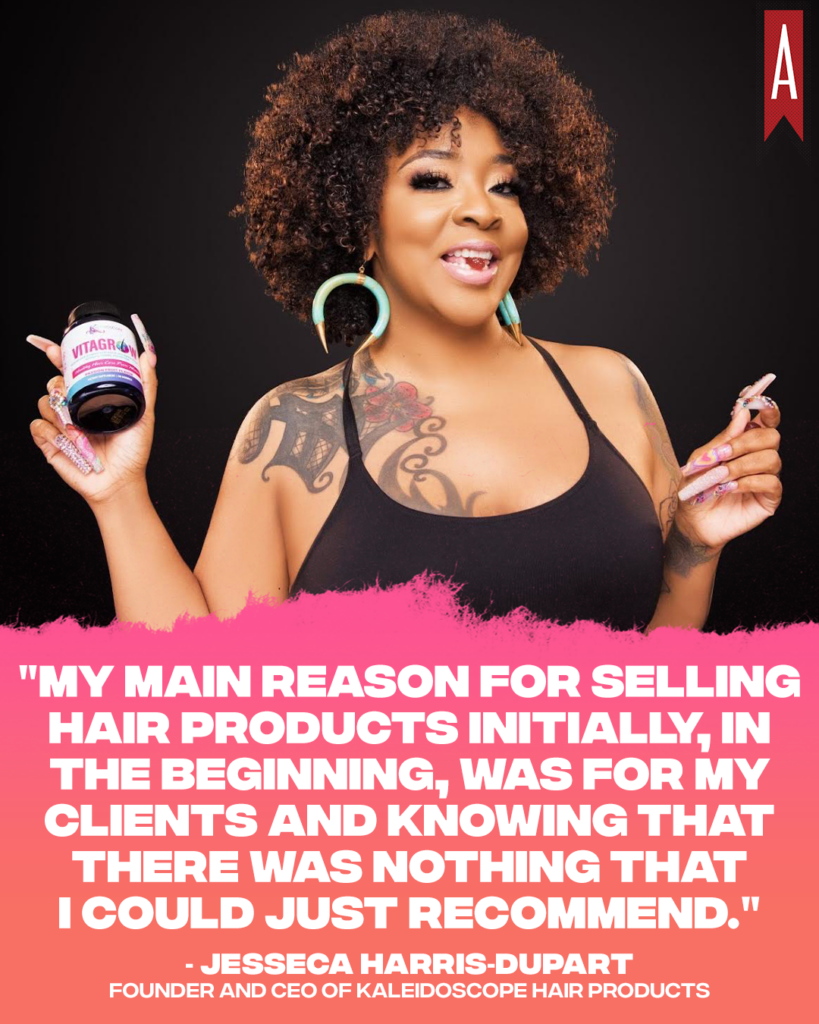 Article continues below advertisement
Her Agenda: Something interesting is that you all have a collab together now with Kaleidoscope, so how did that come to be?
Article continues below advertisement
Jesseca Harris-Dupart: First and foremost, I feel like if I'm getting in the bag, so should she. That's first. When we did this collection, I made her sign a contract with me where I was paying her for her likeness and her royalties, letting her know that her capability of her earning potential was far greater than she could ever imagine and that she's the queen of protective hairstyles. Anybody that knows Brat [knows her] for [her] braids, twists, faux locs. We already were thinking about coming out with a protective style collection, [and] they know her for that. First, it was going to be called the Spoiled Brat Collection, but we played with a couple of different things versions, and we landed on Kaleidoscope by Da Brat with her face on it. At first, I was like, I don't know if I want to put her face on it cause what if people don't even know her? They should just buy it. But we landed on that and I am happy that we did because it is a very, very, very successful collection. And I feel like she now has some inclination of what her earning potential really is. She is so chill. You know she does Rickey Smiley. She does Dish. She's been featured on The Chi. She does a couple of different shows, but I was like, girl, we can be getting to a lot of money over here.
Article continues below advertisement
Her Agenda: I'm glad to hear that's how that all came to be. I like that you actually saw something where you felt like this could really help her and push her further.
Jesseca Harris-Dupart: Right. I wanted it to be fair the same way I would pay any other celebrity for their likeness and their royalties or whatever. I wanted to make sure we did the same thing with us.
Article continues below advertisement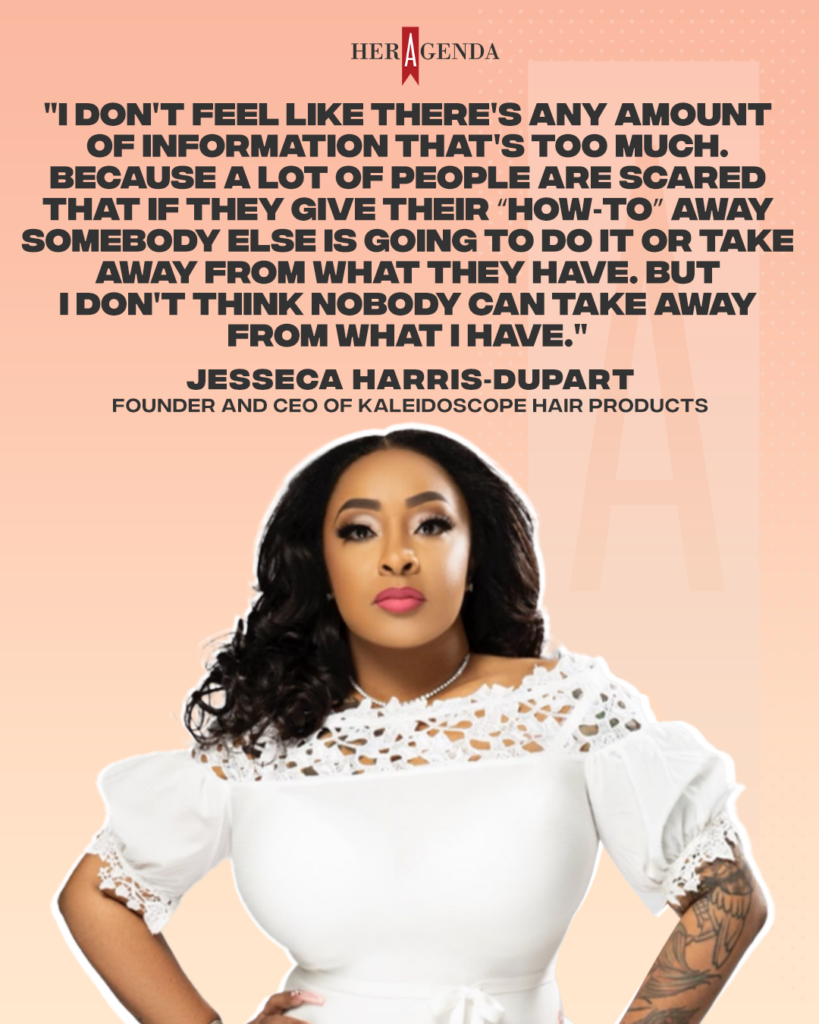 Article continues below advertisement
Her Agenda: My last question is twofold: what do you wish that you would have done sooner and then what advice would you give to aspiring entrepreneurs?
Article continues below advertisement
Jesseca Harris-Dupart: The advice that I would give to aspiring entrepreneurs is to go after it, no matter what. Oftentimes people want to wait for the perfect timing or they want to tell their idea to 10 different people [to validate it] and nobody understands or sees it. But when you are a trailblazer, when you're supposed to be the creator of something, they're not supposed to understand it. Anyway, a lot of people want, the perfect timing: when they have a certain amount of money in the bank when they have all of this, but I just feel like going after it no matter what, no matter what the circle, no matter if your boyfriend or girlfriend doesn't want to support it, don't believe in it, no matter if your mama told you not to do it, I don't care what it is. If God put it on your heart, I mean, He has a plan for it. He has a plan bigger than you ever imagined. Bigger than them, cause my mom and [past partners] didn't even want me to do hair. I retired my mom, I don't know, five, six years ago. So I just feel like go after the thing, whatever the thing is, go after it.
I don't think there's anything that I wish I would have done sooner. All things happen in perfect timing. Everything happened the way it was supposed to even the uncomfortable stuff.