Julia Pierson Becomes The First Female Director of the Secret Service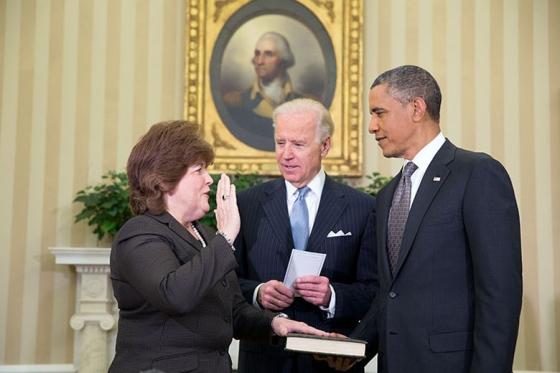 From working for Walt Disney to the White House, Julia Pierson has come a long way from her humble beginnings in Orlando, Florida. On March 27, 2013, Pierson was sworn in as Director of the Secret Service. This new appointment, one that does not require Senate approval, makes her the first female director since the creation of the Secret Service in 1865.
Pierson joined the Secret Service, an agency tasked with protection of political figures and currency fraud protection, in 1983 in the Miami area. Just 5 years later in 1988, she joined the Presidential Protective Detail. In 2008 she became the Chief of Staff to the Director, a position she held until her appointment to Director in 2013.
Many see this appointment as the perfect opportunity to restore the high standing of the agency, especially after it was hurt by the Colombian prostitute scandal in 2012 in which various Secret Service members were accused of soliciting prostitutes while President Barack Obama was visiting the country.
"During the Colombia prostitution scandal, the Secret Service lost the trust of many Americans, and failed to live up to the high expectations placed on it," Sen. Chuck Grassley (R) of Iowa said in an interview with Reuters. "Ms. Pierson has a lot of work ahead of her to create a culture that respects the important job the agency is tasked with. I hope she succeeds in restoring lost credibility in the Secret Service."
Article continues below advertisement
Pierson's appointment is rather extraordinary, considering that only approximately 10% of the Secret Service's 3,200 special agents are women. Many hope that her new position will help to change the long-standing masculine appearance of the agency.
President Obama has no doubts about the incredible work that Pierson is capable of doing with her new title. "Obviously, she's breaking the mold in terms of directors of the agency, and I think that people are all extraordinarily proud of her," Obama said just after Pierson was officially sworn in.
"We have the greatest confidence in the wonderful task that lies ahead and very confident that she is going to do a great job. So we just want to say congratulations."