It would be half-witted to discuss the importance of humanitarianism without mentioning the role that Justine Lucas has played in it. Since her college years, Justine has strived to establish a more equitable future for all. Now, as the Executive Director of the Clara Lionel Foundation, founded by superstar and mogul Rihanna, she is actively challenging global inequality on a daily basis.
Prior to our scheduled interview, Justine races home on the New York City G Train to find a quiet environment for our discussion. Being on the go, yet still making time to authentically connect with people is something that she appears to be a pro at. Despite playing an integral role in today's most influential, nonprofit initiatives including the Diamond Ball and Global Citizen Festival, Justine doesn't sound strained with responsibility. Rather, as we spoke, I could identify the passion for societal progression in her voice.
Her Agenda recently had the opportunity to speak with Justine Lucas about changing the world without money, finding peace, and pursuing a career in public service.
Article continues below advertisement
Her Agenda: You have been pursuing humanitarianism for quite some time. I saw that your master's thesis was on the intersection of humanitarianism and politics. Can you recall the turning point in your life that influenced you to pursue a career in public service?
Justine Lucas: I realized that I had a lot of little moments that I didn't realize until I started writing my book. But, one big moment that really influenced my career happened in Cameroon. I moved to Cameroon when I was 25 to work for a local human rights organization. I studied human rights as you mentioned and wrote a thesis on some of these issues. I specifically studied Cameroon but you can't truly understand these issues from afar. In looking for a job in that country, I didn't want a desk job, I wanted to be immersed, I wanted to learn. I came across a nonprofit founded by a Cameroonian in a province oppressed by the government.
Article continues below advertisement
A big turning point in my life was, one day, I was with my colleague Ebony, and we went to the police station because we'd heard an elderly woman was being held for bail. After a really long, superheated argument with the police officer, he interrupted me and held up his pen in the air. He said to me, 'Justine, who do you think pays for this pen?' and I answered him, 'The government?' And, he asked me how much money I thought he made per day, and I answered that I didn't know but I assumed a decent salary because he was a government official. He answered that he made about the equivalent of $1 a day.
He explained to me that he had to hold a certain number of people each month for bail or he couldn't afford pens, gas in his vehicle, or to feed his family. The money that was supposed to be supporting him and his staff somehow disappeared before it even reached him. That was the moment that I realized what a system of corruption looked like. I changed my perspective on nonprofits and the work that we do each and every day. I realized that so many nonprofits supply the pen or the book, and in a couple of months, the pen will be gone or the book will be borrowed. But, you really need to be solving the challenge of why there is no pen or no book. The system that is facilitating injustice is what needs to be solved, overthrown, or agitated against.
Article continues below advertisement
Her Agenda: I know you've met a lot of people around the world and I actually saw portraits you took of some on your Instagram. Is it possible for you to share an impactful story from someone you've encountered while traveling that you remember?
Justine Lucas: For the last portrait photo I took, we were in Salima, Malawi which is not too far away from Lake Malawi. I was drawn to this old woman who had a face covered in the most beautiful layer of wrinkles. Her name was Achiwira Vizi and she had no idea how old she was. But, she did know that she had over 20 grandchildren. I was so impacted by meeting her because she reminded me of my own grandma who lived until she was 96, or so we guessed. When she died, we realized that no one had ever written down her birth year, and we didn't even know if she was 96; she could have been 95. Both this woman I met in Malawi, and my grandma, shared this commonality of a beautiful face of wrinkles and being born at a time when these things weren't checked.
Article continues below advertisement
Her Agenda: From reading an old birthday post you made on Instagram, I read that you've been able to have a lot of alone time during the pandemic. What has this solitude brought to your attention?
Justine Lucas: That's a beautiful question. During the pandemic, I have been writing quite a lot. It's a creative practice that I started pre-pandemic but it's been so wonderful to have an outlet to serve everything we've all collectively been going through during this time. I live in Brooklyn, which is not the most nature-filled place, so there have been moments where I've learned that I need to escape and immerse myself in more nature. That's where I feel most grounded.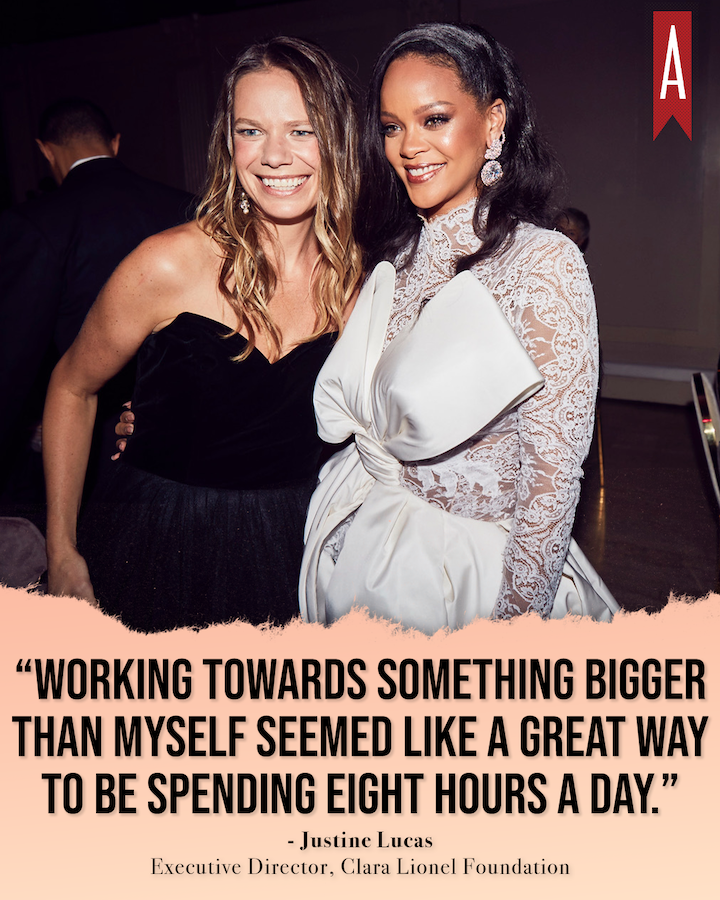 Article continues below advertisement
Her Agenda: I was reading an interview that you did with Garage, and you mentioned that it's just as hard to raise $25,000 as it is to raise $1 million, which I had never even thought about. What's something else about working in the nonprofit space that you think would surprise people?
Justine Lucas: I know that we're in a time where people are looking for more impact in their careers, especially from coming out of such a tough time in the pandemic. I often get asked why I even pursued a career in nonprofits in the first place. And, I speak to students often about what it's been like for me. I'm not sure, looking back if it was the most conscious choice. It came down to how I spent my time. Before I was 20, I worked as a locker room attendant, worked the night shift at a book factory, as a rock climbing instructor, as an administrative assistant at an HR company, and as a telemarketer.
Article continues below advertisement
I did all these for-profit jobs but I had also been an activist. As I was finishing college, I saw that the nonprofit jobs were not paying much different than the jobs I had before. And, working towards something bigger than myself seemed like a great way to be spending eight hours a day. As an activist, [you're] using your career as an opportunity to advance something that you care about. I have felt like it has been the greatest privilege to be brought into contact with some of the most truly inspiring humans. That's the special part about working in nonprofits.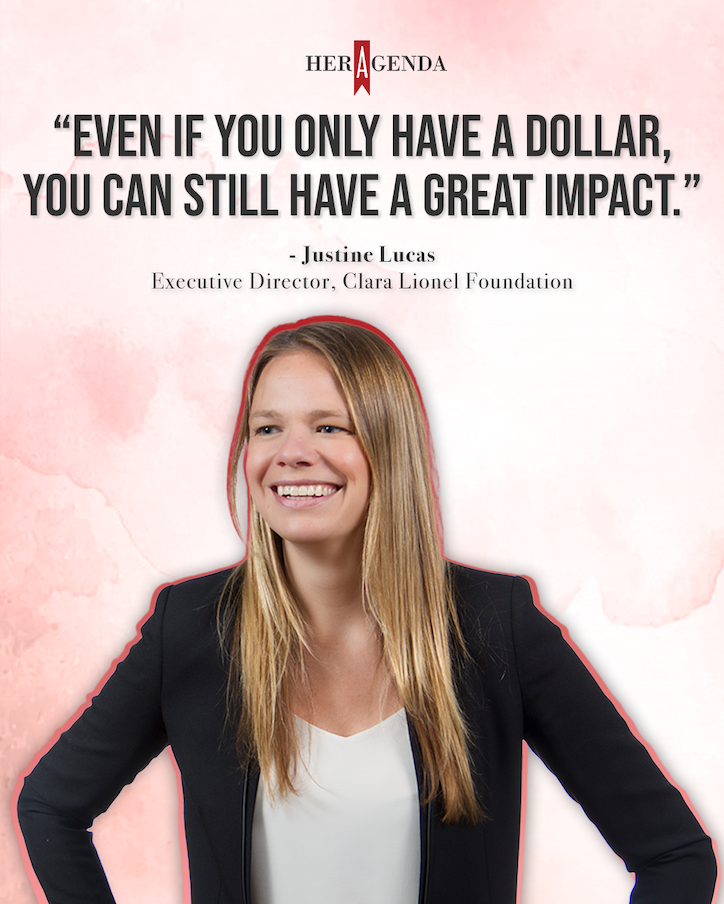 Article continues below advertisement
Her Agenda: How can people change the world even if they don't have money?
Justine Lucas: I always like to reference, that when our founder [Rihanna] won the Harvard Humanitarian of the Year Award, she famously said, 'If you have a dollar, there's plenty to share.' It's something that we feel so strongly about. Small-dollar donations can have a big impact on small organizations. Even if you only have a dollar, you can still have a great impact. Here in New York, I find local volunteer opportunities through New York Cares. [You can use] your time and energy to give back to your community. Then, most importantly, you can use your voice. So many platforms like Color of Change or the ACLU, make it very easy to sign petitions or call your congressperson. Even if you leave a voicemail, that can really matter because congressional systems are tracking that. There's a lot you can do.
Article continues below advertisement
Her Agenda: There is a lot of fear in the world right now and I know you work very hard. Is there anything that you do to find peace or express gratitude?
Justine Lucas: I, 100 percent, find my peace through nature and exploration. I was just recently in Hawaii and a friend and I were wandering around in the jungle. We couldn't seem to find the trailhead, but we kept climbing and going deeper into the woods until, of course, we became lost. And then, we found a riverbed and thought 'Surely, this will flow back to the ocean.' We followed it and found our way. That kind of exploration, being surrounded by green, and having no cell service is magic to me. That's the most peaceful I will ever be.
[Editor's note: This interview has been edited for length and clarity. Additional photos provided courtesy Justine Lucas.]