Kawana Jefferson Is Offering Unique Culinary Experiences With Lost Borough Ice Cream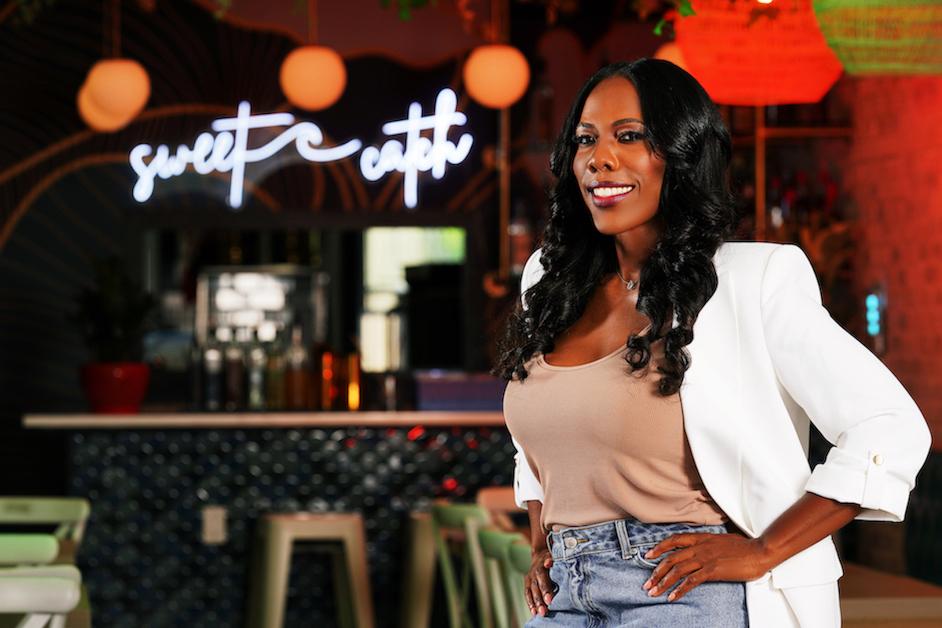 Kawana Jefferson is a New York City native, born and raised in the Bronx, with a passion for people, hospitality and good food. After 10 years working in every part of the restaurant industry, from hostess to cook, she decided to pivot to become a restaurant entrepreneur with Sweet Brooklyn Bar in 2016. She is also the co-owner of Lost Borough Ice Cream in Yonkers, N.Y., and Sweet Catch BK, a southern seafood restaurant in Brooklyn celebrating Black cuisine.
Her Agenda talked with Jefferson on her journey from a school psychologist to a full-time restaurant owner, and how Lost Borough Ice Cream offers a taste of inner-city Yonkers culture to the world.
Her Agenda: Can you tell me more about your journey working in the hospitality business?
Kawana Jefferson: I started off as a school psychologist, and during that time I bartended and hosted in the nightlife industry. It was clear that one day I would go on and become a restaurant owner.
I went to Virginia State, and they were extremely supportive of my first business venture, Sweet Brooklyn Bar. From there, I had an idea to open Sweet Catch BK, but COVID-19 happened and we had to pivot.
Article continues below advertisement
However, I'm an overachiever and serial entrepreneur, so I had an opportunity to create a new business with a close friend of mine. I was sold when I heard the inspiration behind the ice cream concept, Lost Borough Ice Cream. Yonkers is known as the lost sixth borough, and more than anything, there was this need for Black and brown representation in small business. So I was all in.
Her Agenda: Where did your passion for being a restaurant entrepreneur came from?
Jefferson: I worked in the industry for many years. Naturally, I'm a people person, and I come from a family that loves people.
The restaurant industry is a hospitality industry, especially on this level where people are supporting you as an individual. It's such a people-driven industry, and that spills into being a leader too.
Another reason why I felt like the restaurant industry was for me is because I love dining out. I ended up eating out a lot in boils and seafood restaurants, and I found a lack of representation. Having two sons and being a single mom, I felt motivated to journey on as an entrepreneur and add diversity to an area of cuisine that's frequented by so many minorities.
Article continues below advertisement
Her Agenda: I was looking at the Lost Borough Ice Cream's ice cream options— Yonkers Blackout, Taro and other flavors you wouldn't see anywhere else. Did you create that menu?
Jefferson: Somy partner is Patrick Cruz, and he's the one who makes all of our gourmet recipes in the shop. We brainstorm and come up with ideas because we want to be unique and offer flavors that you can't get at the corner store. That's what sets us apart, including the quality. My favorite ice cream flavor is the peanut butter and jelly. We have a grape nut flavor, which is well-known in the Caribbean, and a coconut and mango sorbet that tastes like you're eating the fruit.
Her Agenda: You wanted Lost Borough Ice Cream to represent the neighborhood of Yonkers. Tell me more about that.
Article continues below advertisement
Jefferson: In 1898, Brooklyn and Staten Island voted to become New York City's fourth and fifth boroughs, while Yonkers voted to remain an independent city. That was meaningful for us, because Yonkers is so close to New York City's boroughs, so it has such a vibrant, city-like feel.
That's why we wanted to bring a product with a trendy, identifiable facet, like Yonkers Blackout, which is the reverse of cookies and cream with chocolate ice cream and golden Oreos. In the shop, you'll see that we have a big mural of Yonkers that points out and highlights the city's different landmarks.
Even though we're not New York City, Lost Borough Ice Cream is definitely giving a city vibe. If you came into the store, you would see all these little intricacies representing Yonkers in a way that has yet to be done so far.