Keila Strong Is Giving New Life To A Black Hair-Care Staple With Her Artwork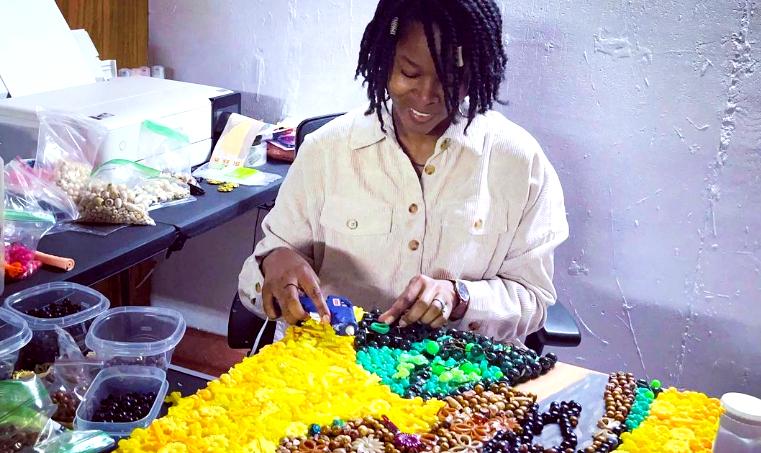 Artists are continuously pushing different limits in art to challenge the belief of what it can be. Keila Strong, a Chicago-based artist, has done so by creating portraits of Black women and children entirely made out of a Black hair staple: the barrette. Through her work, the visionary tells stories inspired by Black culture to empower, celebrate, and shine light on the community. Her most popular mosaic, "Picture Day", went viral on Twitter, evoking emotions of sweet childhood memories and exposing more people to her art.
After realizing beadwork was a medium she's never really experimented with, the visionary gathered her materials and let curiosity move her into creating pieces she is proudly known for today.
Her Agenda reached out to the talented artist to learn more about her artistry and her creative process.
Her Agenda: How did you choose your medium?
Keila Strong: I'm a visual artist here in Chicago. I have been painting since I was a little girl and I've been on this journey of expanding and growing as an artist and sort of experimenting. I teach a drawing and painting class at a high school. I was teaching a lesson on unconventional ways to make art and we were looking at different artists. I don't know if you've ever heard of this artist, but his name is Harold Caudio. He makes these amazing portraits out of Skittles. I introduced my class to him and to substitute the Skittles, we used beads and the projects came out really good. I realized before the assignment, I had never done beadwork or experimented with beads or anything like that. So after that class, I went home and tried it myself. It started with beads, then grew into barrettes and other hair accessories. That was the start of it for me.
Article continues below advertisement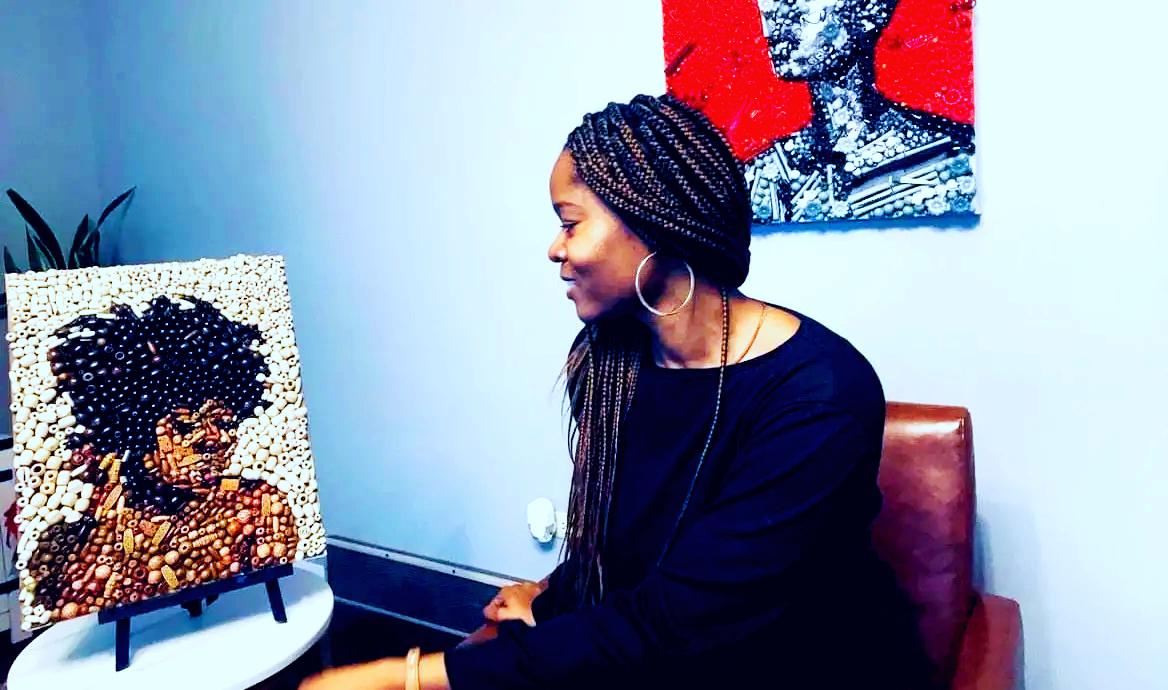 Her Agenda: I know you've mentioned that you've been creating art since you were a little girl. Overall, how long would you say that you've been working in the arts and creative space?
KS: Because it started out as a hobby but it has to be twenty years. But more professionally? I'm going to say about eight — six to eight years.
Her Agenda: A couple of your mediums have gone viral. Why do you think those in particular did?
Article continues below advertisement
KS: Well, just the way my pieces have a way of bringing you back to moments, particular moments in time. I think that the pieces that happen to go viral day reminded people of their childhood or their innocence or just a happy moment in time. You know, like,"bubblegum, bubblegum in a dish." We don't see a lot of those childhood games being played anymore. So when a lot of people saw that and it resonated with them. As for the barrettes and the mosaics, little girls are still wearing [laugh], this iconic hairstyle, this hair, jewelry to this day. So just to put it all together in one, it reminded people of, even women, adults of their own childhood. when we used to wear the barrets and everything, the school. It just had a way of speaking to people just because it reminded him of particular moments in time.
Article continues below advertisement
Her Agenda: It definitely did! I know that when I first came across the piece, I was taken back to when I was five years old. The smell of your mom running the grease through your hair and then putting the barrette!
Her Agenda: Honestly, I looked at it kind of as a beautiful homage to my upbringing as a young black girl getting her hair done. So beautiful! Can you talk us through the process of creating each art piece?
KS: I start with an idea or maybe a sketchbook. I have my sketchbook and I do a sketch. I have different approaches to the picture. Like, that piece that went viral. I wanted to capture that hairstyle. So I would start with a sketch of that hairstyle and sort of work through colors and everything in my sketchbook. Then from there, I would do a light painting on canvas. I use the painting as sort of a guide. It's not strict. I can tweak it and change it as I go, but it's just giving me a guide of where to place the barrettes and what colors to consider when placing the barrettes. After the painting is dry, I go ahead and I start applying the barrettes to it. After that, I seal it with some spray, give it a little shine [laughs] and get it framed. And it's finished!
Article continues below advertisement
Her Agenda: Yes! Giving it the real effect! [laughs]
Article continues below advertisement
KS: Giving it the real effect! But then I also have other pieces that are portraits and that approach well, similar approach in the sense of– I sketch a face, draw it, paint it, and apply the barrettes. So yup, the same approach for the most part! But I do have a picture of a little girl, then portraits of women to show the evolution of black women. The children mosaics are more full of barrettes. Well, as I get into the portraits, we begin to see more of me introducing other accessories. I got combs in there, I got rollers, I got wooden beads and different types of beads to show the little girl growing up. And it also has barrettes too, but it's just a mixture of more accessories. I use the accessories to show growth or the evolution of women.
Her Agenda: What are you doing now to expand your work and purpose after the photos have gone viral?
Keila: Well, creatively, I'm just continuing to stretch myself. I am working larger, I am experimenting with different ways to use the barrettes, different approaches. I have some stuff that's still in the beginning stages, I don't really like to speak too much when it's very, very fresh in my mind. But from a creative standpoint, it's just continuing to challenge myself as an artist and to push the limits a little bit more and see what I can do there.
Article continues below advertisement
With a growing platform, and unwavering support, that's not all what the visionary has in store for herself. She's mentioned that in the coming years, she would love to have her portraits in museums, to be seen and known by more people, and to take her teaching abilities to higher heights by creating a mentorship program to educate aspiring artists the foundation of how to run an art business and hopes to become an inspiration in teaching them the blueprint in creating unconventional art.
To find out more about Keila Strong and her artwork, head to her website KeilaStrong.com.