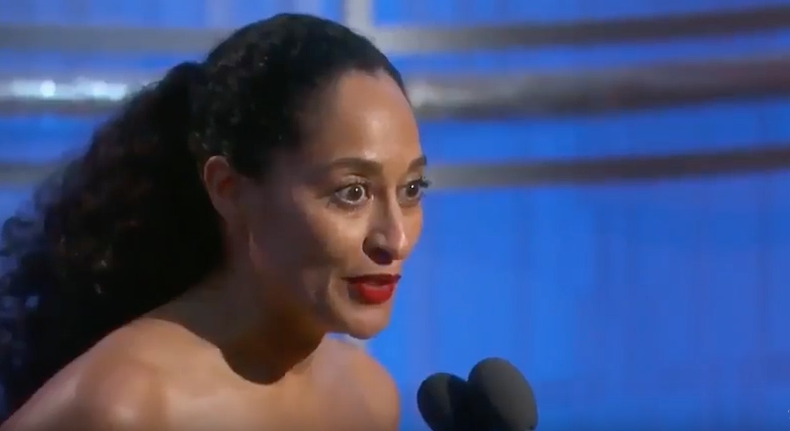 Last Night's Golden Globes Were Lit Thanks to These Leading Ladies
By Shanthi Blanchard

Jan. 9 2017, Published 7:42 a.m. ET
Last night's Golden Globes were lit.
Okay, let's start this again.
Last night's Golden Globes were lit in some ways more than others. The best parts came from an impressive slew of speeches made by some very powerful women, who used their platform to talk about important issues facing our country. These moments were jaw dropping/amazing/Oh-My-Gawd/I-Can't-believe/this-is-incredible, moments, and left everyone in the room, online, and watching the television with more feels than we know what to do with.
Article continues below advertisement
If you somehow missed any of the buzz around last night's show, the Golden Globes were without a doubt, everything 2016 's movie award season wasn't (#SoLongOscarsSoWhite). Not only did the award's show start out with a promising set of diverse and acclaimed nominees, it delivered hilarious presentations, well-deserved winners, and jaw-dropping, inspiring speeches that left the internet aflame.
Meryl Streep was without a doubt, a big star of the night. She delivered a 6-minute, grueling speech while accepting the Cecil B. DeMille award, blazing president-elect Donald Trump for his attack on a disabled reporter earlier last year and the larger implications for his  problematic style of leadership:
"This instinct to humiliate when it's modeled by someone in the public … by someone powerful, it filters down into everyone's life because it kind of gives permission for other people to do the same. When the powerful use their position to bully others, we all lose."
Article continues below advertisement
Viola Davis delivered an equally compelling speech for her win as best actress in a drama (Fences). Fences is a play-turned-movie originally written by renowned American playwright August Wilson. It tells the story of the evolving racial experience of one African American family and more specifically, the family's patriarch Troy and his struggle within this world.
Article continues below advertisement
In her speech, Davis stated of her late father;
"…to the original Troy, Dan Davis. Born in 1936, groomed horses, had a fifth-grade education, didn't know how to read until he was fifteen. But you know what? He had a story. It deserved to be told. And August Wilson told it."
"Are you still conscious?! Because I'm not. I'm writing this column from a puddle of tears that evaporated and went directly to Heaven."
With charm and enthusiasm, Tracee Ellis Ross smashed a 35-year-old category record, becoming the first black woman to win a Golden Globe in a TV comedy (Black-ish) since Debbie Allen. Like a beautiful rainbow of pure awesome, she dedicated her win in the most intersectional and inspiring way possible:
Article continues below advertisement
"This is for all the women, women of color and colorful people, whose stories, ideas thoughts, are not always considered worthy and valid and important, but I want you to know that I see you. We see you."
Article continues below advertisement
But the night also suffered from the absent mindedness of Hollywood daftness, proving that the industry – though admittedly having taken big strides this past year – has major gaps in its awareness loop that need trouble-shooting, asap.
Article continues below advertisement
Is that tasteless? Poorly planned? You be the judge.
The dangers of living in a post-enlightened world, is that we think one night of success dismantles the long legacy of history, privilege, intolerance and more aptly, subtle hostilities and power plays that that one night's success fought to overcome.
As Streep said, "We have to remind each other of the privilege and the responsibility of the act of empathy."
And one we should continue to dismantle one day at a time. So go forth, and act with the awareness of Ross, the grace of Viola, and the conviction of Streep.
Full List of  Women Golden Globes Winners Below
Best actress in a TV series (musical/comeday): Tracee Ellis Ross, Black-ish
Best actress in a miniseries or TV movie: Sarah Paulson, American Crime Story: The People v OJ Simpson
Best supporting actress in a motion picture (drama): Viola Davis, Fences
Best Actress in a TV series (drama): Claire Foy, The Crown
Best actress in a film (comedy/musical): Emma Stone, La La Land
Best actress (drama): Isabelle Huppert, Elle
Find the full list of Golden Globe winners here.