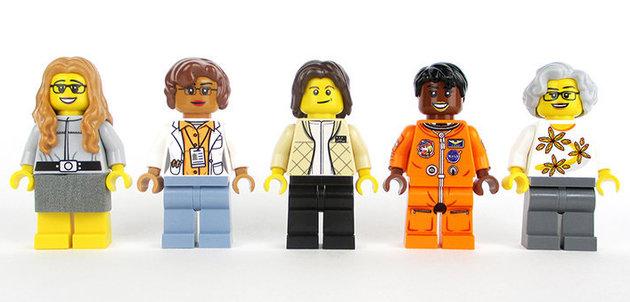 New Lego Set Proposal Honors Women of NASA
By
Anna Tingley
Aug. 1 2016, Published 3:30 a.m. ET
In 1978, NASA made history when they selected their first class of female astronauts. Among them, Sally Ride became the first American woman to fly into space in 1983.
Ever since, they've pioneered the movement towards gender equality in the workforce, garnering 71 female astronauts in their history of space exploration. In a time when women in STEM fields were extremely rare — and almost non-existent —many of NASA's missions were spearheaded by women.
Ride, now says "people don't even notice there are women going up on Space Shuttle flights anymore. It's happening all the time."
But despite the in-depth work women have done for NASA — from those that have flown in space to the cosmonauts, analysts, researchers and engineers that work behind the scenes — they don't get the credit they deserve. While Neil Armstrong and Buzz Aldrin have much deserved fame for their treks to space, their female counterparts aren't household names.
So Maia Weinstock, deputy editor of MIT News and a Lego fanatic, stepped in and proposed a new Lego set.
By creating figurines inspired by the most prominent female NASA astronauts, Weinstock hopes to encourage a belated appreciation for the work they've done.
Article continues below advertisement
Acclaimed NASA scientist, Margaret Hamilton, is most famous for her work during the Apollo 11 Mission to the Moon. By coding a system software that included error detections and recovery mechanisms, her team was able to prevent an abort of the Moon landing. Just recently, a photo of Hamilton alongside her massive books of code spread across the internet, revealing her huge part in the iconic 1969 mission. Now, a figurine of Hamilton is included in Lego's new NASA set, replicating the viral photo.
Article continues below advertisement
The Lego set also includes four other NASA pioneers: Katherine Johnson, Nancy Grace Roman, Mae Jemison and Sally Ride.
Roman, also known as the "Mother of Hubble", was part of the Hubble Space Telescope invention, and Jemison became the first Black woman to fly into space in 1992.
Weinstock isn't the only one proposing innovative ideas to Lego. Their site, Lego Ideas encourages users to come up with their own ideas for sets. Other proposals have similar feminist roots, such as a female lab scientist, an Amelia Earhart mini-figure, and a Girls in STEM set.
If a proposal gains enough supporters on the site, they are then mass-produced for sale. So show your support for Weinstock's proposal here and you may be able to see mini Hamiltons, Jeminsons, Rides, Johnsons, and Romans in an aisle of your local department store.
[Editor's note: This headline has been adjusted to more accurately reflect the story.]