Ever since picking up a spiral notebook as a toddler, L'Oreal Thompson Payton has always felt that writing would be in her future. Now, she's an award-winning journalist and author of her forthcoming memoir 'Stop Waiting for Perfect', a pocket-sized pep talk for any Black woman or woman of color prone to doubting their abilities.
She's also a health and wellness reporter at Fortune, where she covers women and wellness in the workplace. Prior to joining Fortune, L'Oreal was the senior mental health, wellness, and lifestyle editor at YR Media, a national media nonprofit for young people. Her words have also appeared in outlets such as Bitch, Bustle, Essence, SELF, and Well + Good, among other publications.
L'Oreal talks with Her Agenda about her inspiration for her upcoming book, why she pivoted away from her childhood dream of becoming editor-in-chief, and her go-to strategies for managing perfectionism.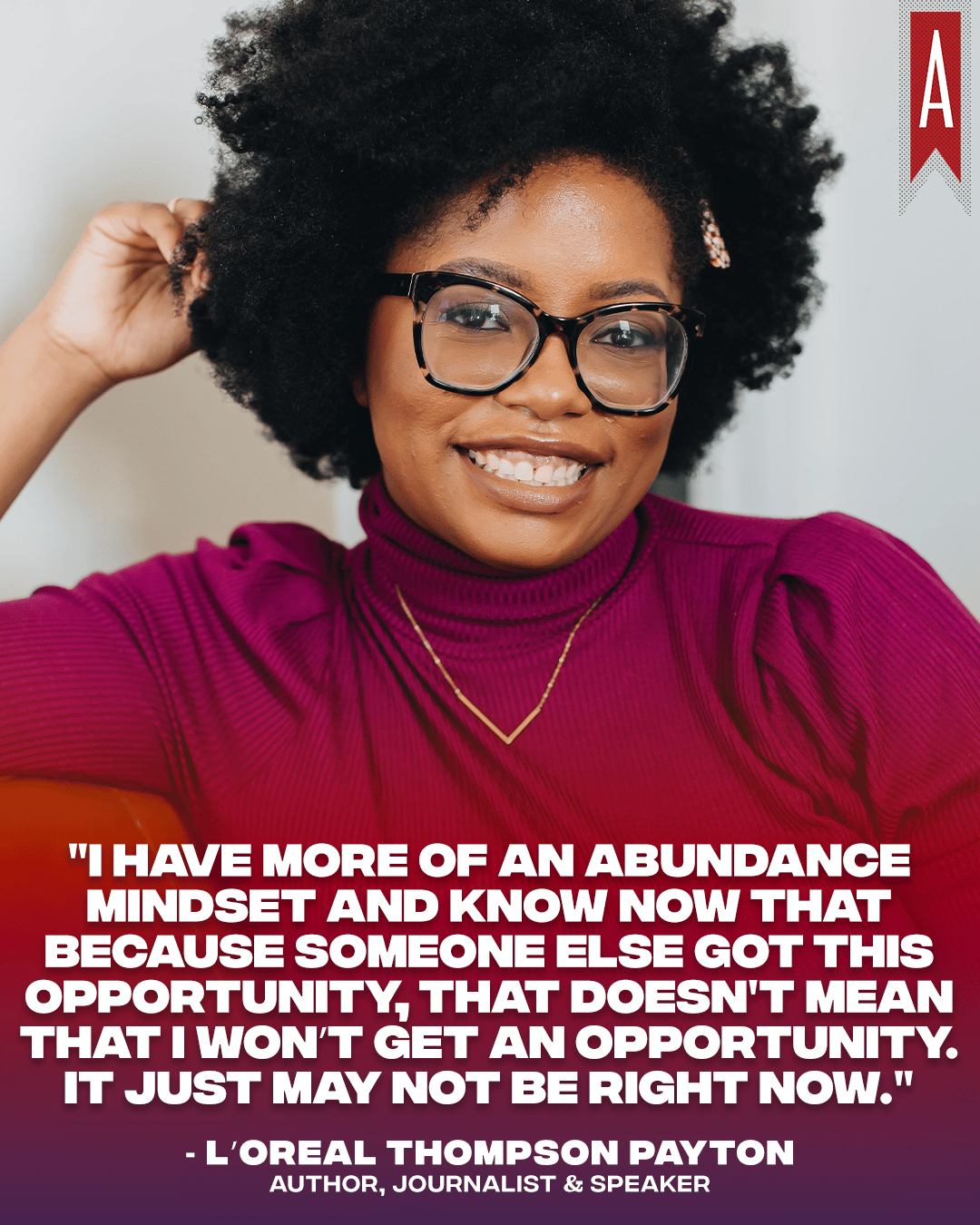 Article continues below advertisement
Her Agenda: I read on your website that you've always wanted to be a writer. Now that you've accomplished your dream as a journalist, what setbacks have you encountered that you didn't expect?
L'Oreal Thompson Payton: The biggest one is being a Black woman and having to work twice as hard to get half as much. A lot of times I've had to fight and claw my way to the top to get the same thing that my white colleagues have. There's also knowing at the end of the day that I am doing a good job, even though sometimes I'm trying to detach my worth from my work. But it can be very discouraging at times to be busting your ass and look around and think, 'Well, how come I haven't gotten a cover story?'
Comparing yourself to your peers and social media makes judging yourself easy, but it's also very dangerous because you can lose track of your purpose. We're all human, and sometimes we get jealous of other people and their career strides and accomplishments no matter how far we get ourselves. For me, I'll achieve a goal, and then immediately I'm on to the next one. I don't really take the time to celebrate or relish all that it took to get me there. I'm trying now at this part of my career to celebrate those wins, whether they're big or small. I have more of an abundance mindset and know now that because someone else got this opportunity, that doesn't mean that [I won't get an opportunity]. It just may not be right now.
Article continues below advertisement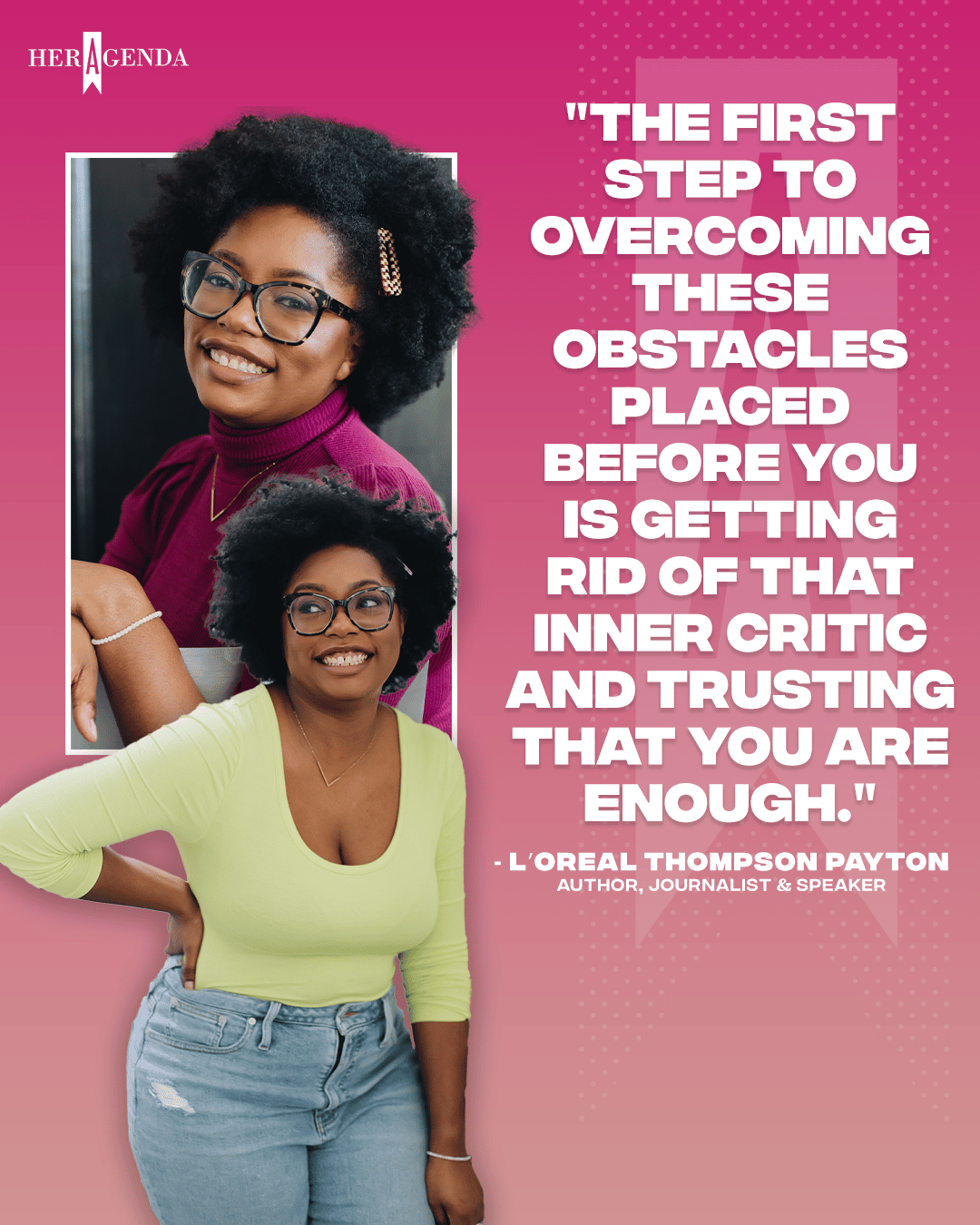 Her Agenda: Can you list out an example of when you had an obstacle in your career and overcame it?
L'Oreal Thompson Payton: In the summer of 2014, I remember vividly the weekend that Michael Brown was murdered. At the time, I was working at Jet and covering police violence against Black people. That weekend, I was supposed to be going out on a double date with my husband, his friend, and his partner, but I had to immediately pull out the laptop and get to work. And so I thought to myself, okay, I now work on the weekends. I didn't have the tools that I have today in terms of self-care and taking care of myself and my mental health. So I wasn't in therapy. I didn't have the rituals in place that I do now. So, I became burnt out.
Article continues below advertisement
That wasn't even the reason I got into journalism. I was obsessed with teen magazines, and I wanted to be editor-in-chief to help young girls feel less alone and represented because I didn't feel those things when I read those magazines. I had this Oprah 'aha!' moment where I was like, this ain't it. These murders were continuing to happen, and it was taking a toll because I was becoming numb and desensitized to it. So I switched industries and did five years of nonprofit PR first with Girl Scouts, and then went to an education nonprofit. It was scary to change careers because journalism was all I knew.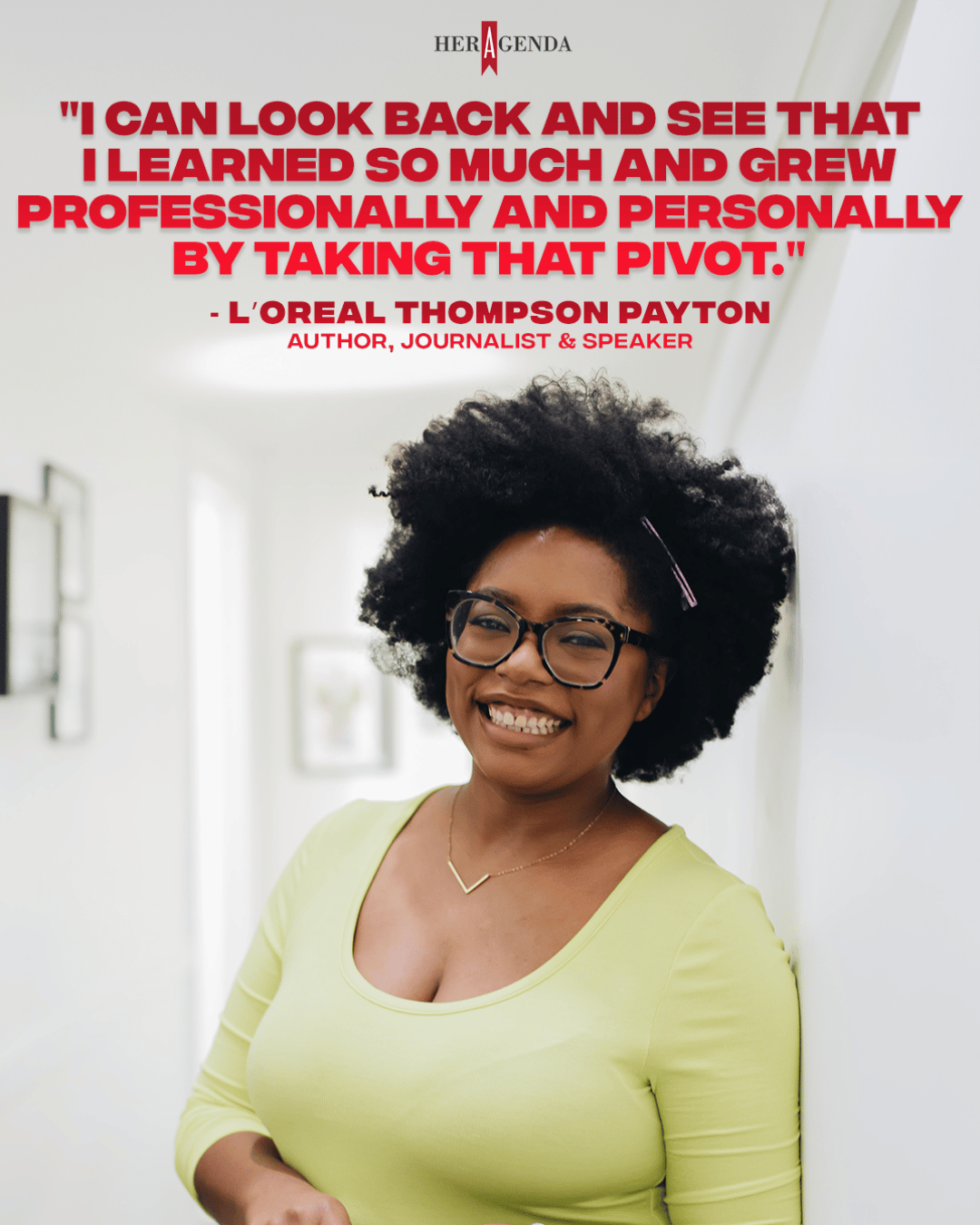 Article continues below advertisement
The whole journey was very daunting. I felt at the time like I was giving up on those media dreams that I had as a 16-year-old. Now, I can look back and see that I learned so much and grew professionally and personally by taking that pivot. When I was growing up, it was very much like the goal is to get to the top. What I found was that the closer I got to the top, the more that I was like 'This ain't it'. Writing has always been my love and passion. So I left the education nonprofit and did freelance writing full-time before landing at Fortune, but it was all to get back to that purpose and my mission of being a writer.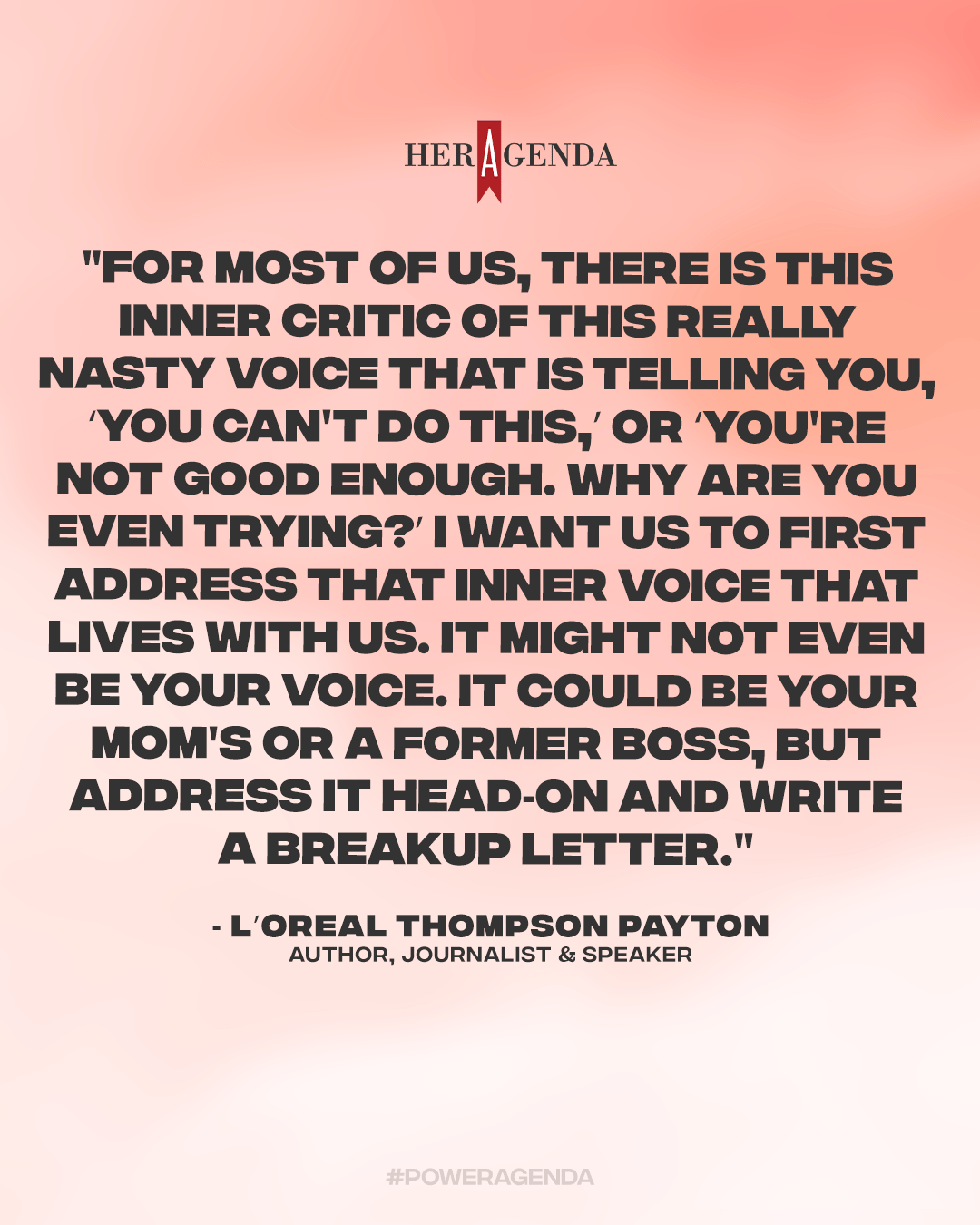 Article continues below advertisement
Her Agenda: Can you tell me more about what's in your upcoming book, 'Stop Waiting For Perfect'?
L'Oreal Thompson Payton: I like to call 'Stop Waiting For Perfect' a pocket-sized pep talk. It's essentially a book I wish I'd had before every job interview, speaking engagement, or anything outside of my comfort zone that feels scary, audacious, and challenging. These are the tips and tools I've used to help navigate those moments. This book was really a masterclass for me to unlearn perfection. So my hope is that it'll help other people do that as well.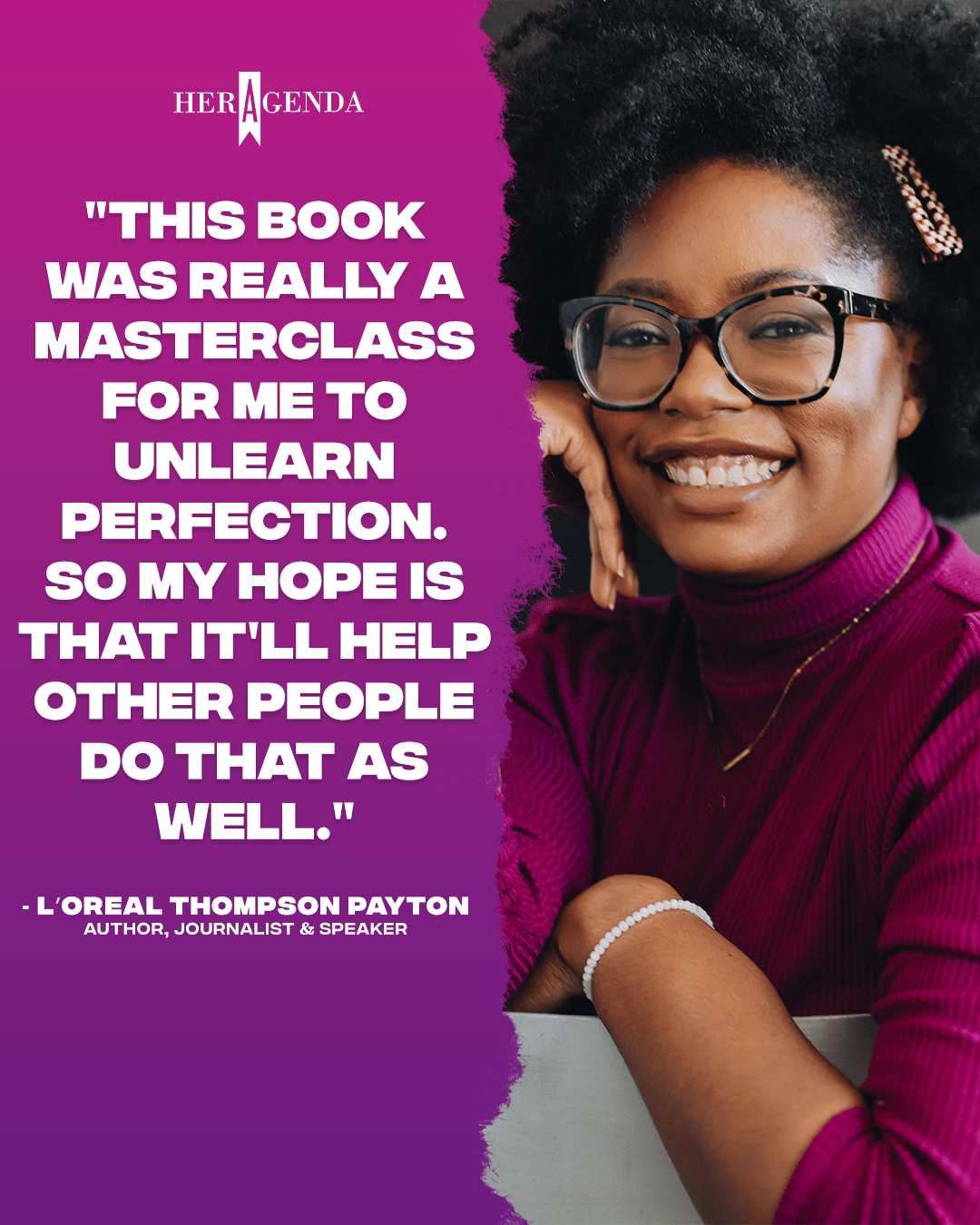 Article continues below advertisement
Her Agenda: Can you give me some examples of advice you include to Black women and women of color in this book?
L'Oreal Thompson Payton: One of my favorite ones is naming and addressing your inner critic. For most of us, there is this inner critic of this really nasty voice that is telling you, 'you can't do this,' or 'You're not good enough. Why are you even trying?' I want us to first address that inner voice that lives with us. It might not even be your voice. It could be your mom's or a former boss, but address it head-on and write a breakup letter. It sounds very cliche and woowoo, but I found it to be a very powerful exercise because you're reclaiming your power. It's telling this voice, 'Hey, you know, I appreciate that.' This is the critic's way of protecting you, so it serves a purpose.
Article continues below advertisement
I feel like it's applicable in personal and professional settings going into job interviews or negotiating for a higher salary or promotion. I'm very big into pep talks for myself and listening to hype music before anything that scares me. I'm listening to Beyonce, songs like Formation and Diva. I'm hyping myself up, and you need to do that for yourself. It can feel very unnatural, but I find that it has been really helpful. So, I think that the first step to overcoming these obstacles placed before you is getting rid of that inner critic and trusting that you are enough.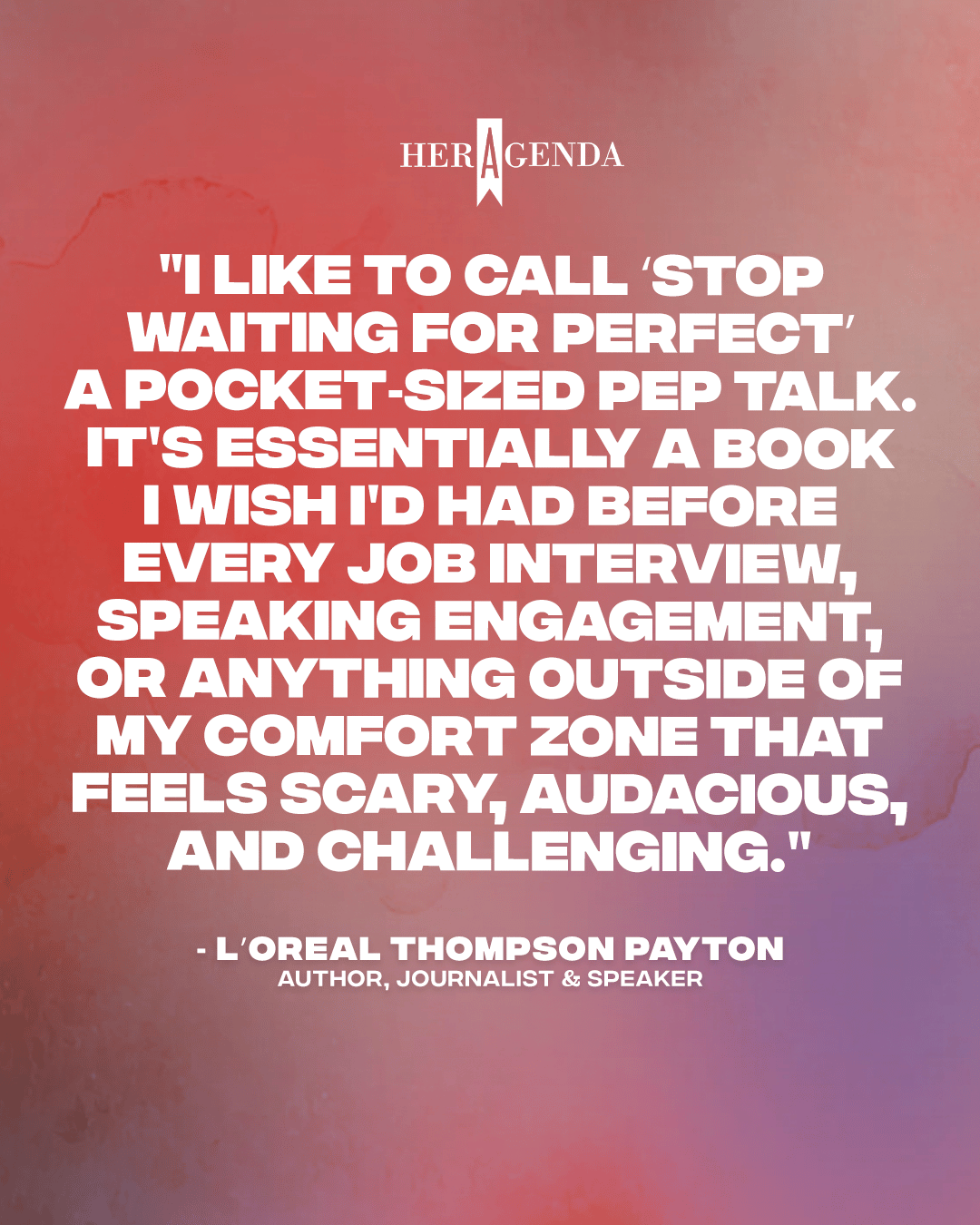 [Editor's note: This interview has been edited for length and clarity.]