Lorelei Williams attributes her early interests and passion for public service to her 80s upbringing in Harlem. She recalls riding the bus from her Harlem neighborhood as a student into a different world that opened her eyes to the complexities of race, class, and gender in society.
During her 20 years as a philanthropic strategist Lorelei supported fundraising, program development, and social justice in both the nonprofit and for-profit sectors. In 2021 Lorelei was appointed as Warner Music Group/Blavatnik Family Foundation Social Justice Fund's first Executive Director. She oversees the grant strategy that invests in local and international organizations on the front line of social justice.
During our interview, she shares her insights on the importance of language, and solidarity in our community through her own personal journey to help create a better world.
Her Agenda: Throughout your 15 years of experience there is a common theme around philanthropic and community work. What was your motivation for choosing this career path?
Lorelei Williams: It's a two-part answer. The first part comes from growing up in Harlem the way I did in the 80s. It wasn't the Harlem we have right now. My twin sister and I were raised in theprojects. It was always a shooting, drug use, and just a lot of violence in the neighborhood. I got an up close and personal view. However, my environment began to change after my twin sister and I received a scholarship to Prep for Prep.
Riding the bus to this private school, we would watch the whole landscape change from the crack addicts and liquor stores and then you'd be on Fifth Avenue. I would see my classmates rolling up in town cars and limos. I started to understand very quickly the ways race, class, and gender informed what life choices and chances that I had. Through this experience, I began to get involved in activism and organizing as a high school student. This later carried forward to college. I was often involved in nonprofit spaces and was tasked with having to raise money for these organizations. However when I got a Fulbright scholarship and went to Brazil I founded a youth leadership program. In the midst of that hustle, I said, you know what, I don't want to ask anybody for another cent, I want to be on the other side of the table.
Article continues below advertisement
Her Agenda: How did your collegiate experiences at both Harvard and Yale impact your definition of community and philanthropy?
Lorelei Williams: Yale to me was similar to an HBCU. I know people will think that is a crazy thing to say. While at Yale I was the head of the Black Student Alliance, and ran the Urban Improvement Corps a Black tutoring program that all the Black students at Yale participated in to connect with young people in New Haven. I was in the gospel choir, I went to the Black church at Yale. Everything I did I was surrounded by people who looked just like me. There was a sense of community that made building your own so easy. My sister and I later went on to become founders of a movement called the Black Solidarity Conference where we brought Black students across the country together. Yale was a place where I was able to feel and grow my passion.
Article continues below advertisement
At Harvard my experience was quite the opposite, I found the community was just in survival mode.Harvard gave me a degree and made me very strong. I knew I could overcome any challenge after that experience.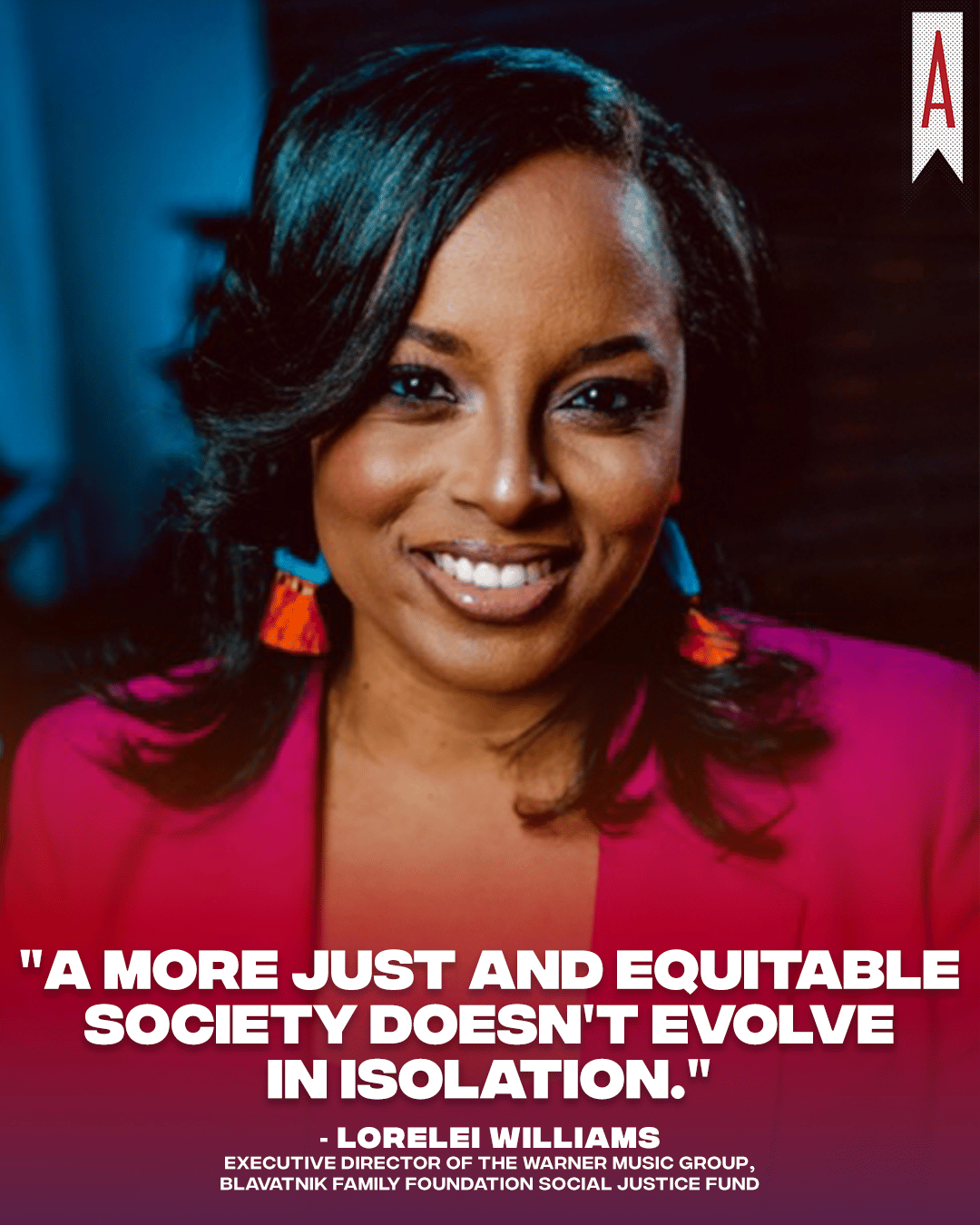 Article continues below advertisement
Her Agenda: What is your best piece of advice for readers who want to take the leap into social justice philanthropy?
Lorelei Williams: You do this work because you love it; because you believe in it.
People have this misconception that giving away money is easy and that working at a nonprofit is not as difficult as working at a for-profit/corporation. I've done both and I can tell you, particularly at the level of work that we're doing there's a lot of thoughtfulness and strategic planning that comes with this work. For me, it's the love for Black folks, and also the love for conviction around social justice and racial justice.
It's easy to get deterred from your path. It's easy to get co-opted. So you have to know why you're here and you have to have that vision for the long term. For me, like so many of the nonprofit leaders and social justice folks, you have to know that you would do this work if they paid you or if they didn't pay you. You need to have that type of love for it. And I do, that's why I've been doing it for 20 years.
Article continues below advertisement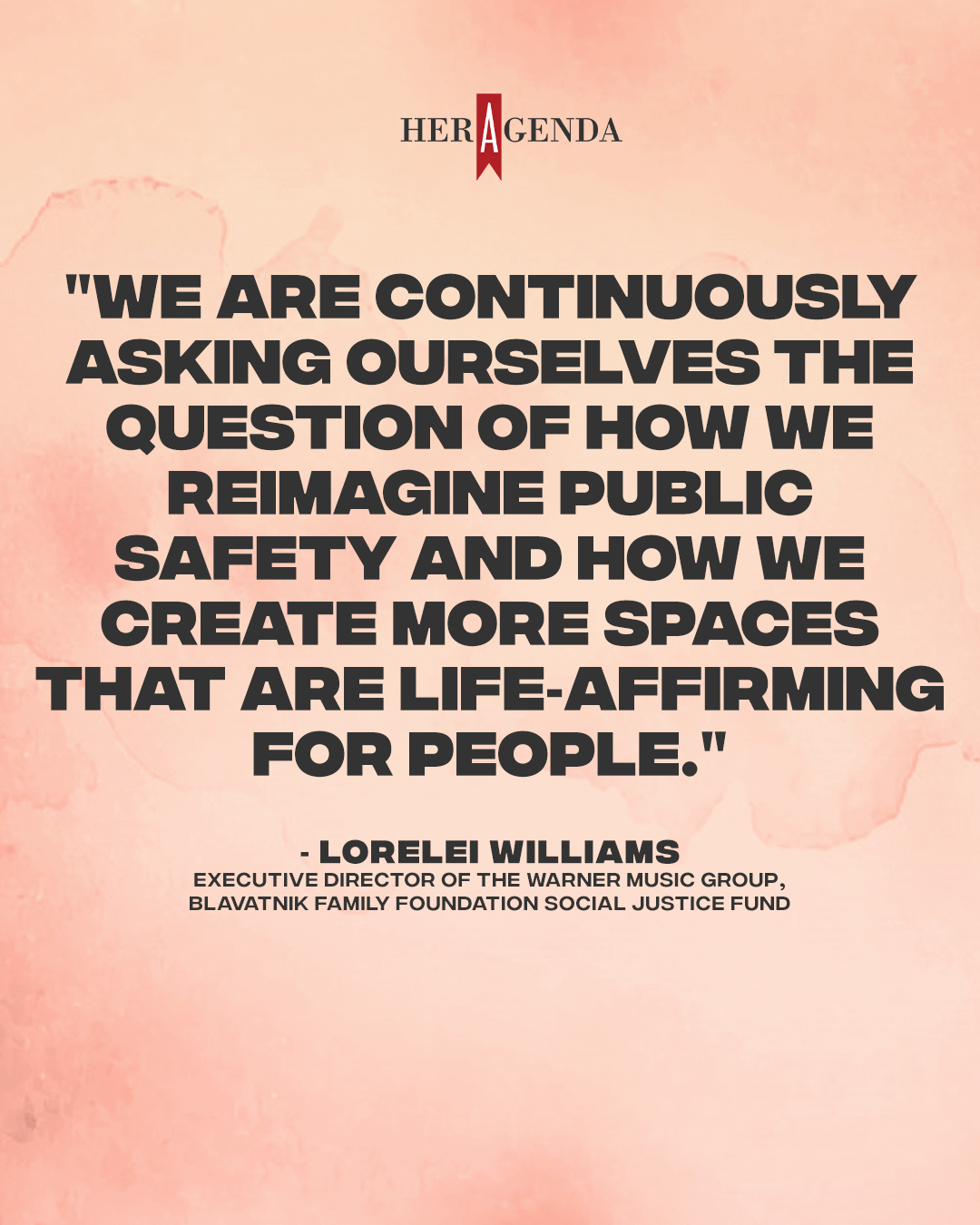 Her Agenda: The mission of the social justice fund is to invest in global organizations that are aiding in creating equitable communities. Why was it important for the mission of the fund to focus on global impact in addition to local community impact?
Lorelei Williams: Two fold, Warner Music Group is a global company in 48 different territories. When everything was happening in 2020 around police brutality naturally the company got feedback from their employees and their artists globally, to do something about it.
Article continues below advertisement
We have to step up. This was a mandate that came about in a way not just from the US, but from all entities of the company. For someone like me because I wasn't part of the founding, I came a year after; what attracted me to the fund was that they had a global vision and the diaspora at a vantage point. You can't talk about Black liberation in the United States without talking about what's happening in other multinational countries, right? A more just and equitable society doesn't evolve in isolation.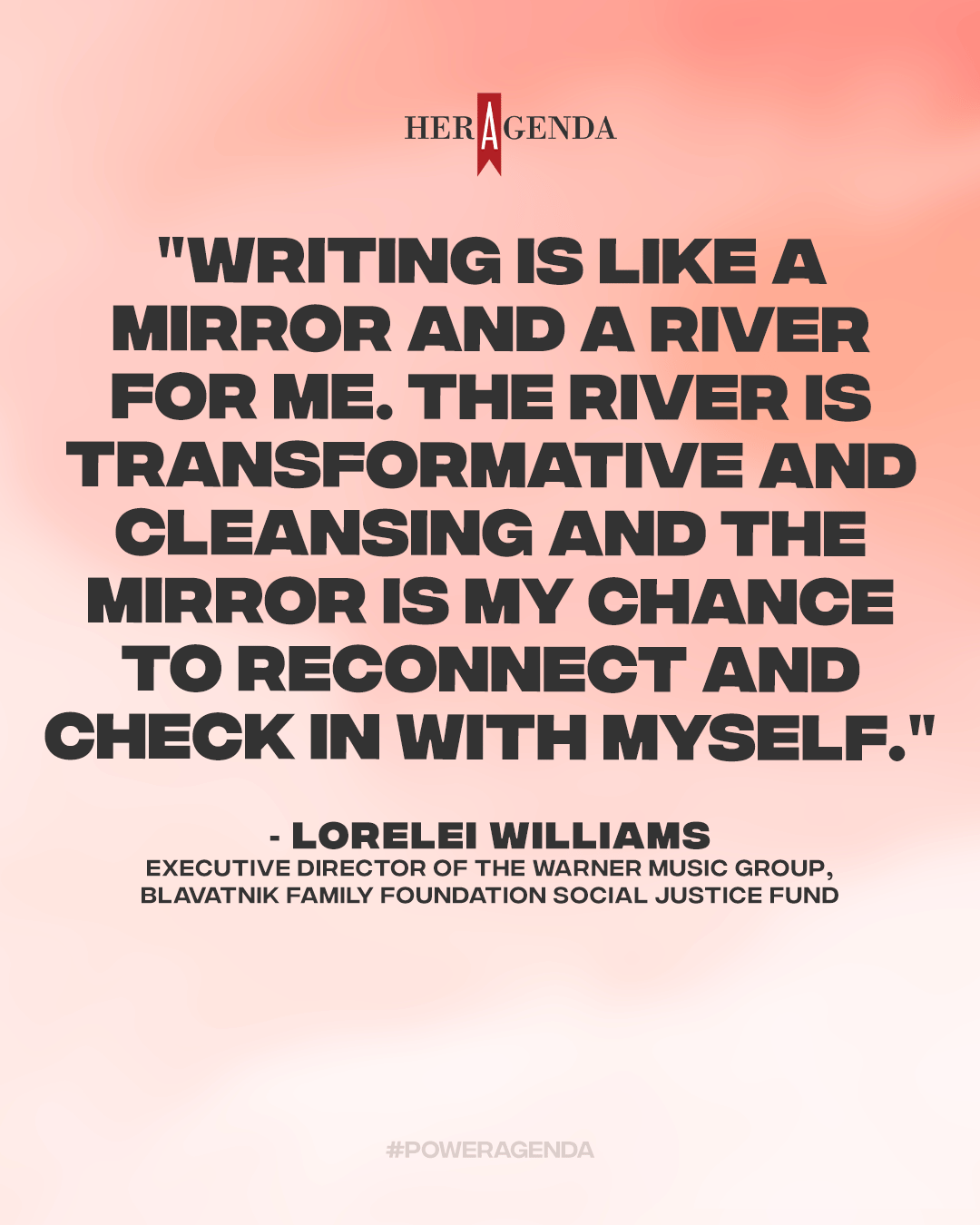 Article continues below advertisement
Her Agenda: There is a total of 107 HBCU's located across America. What inspired the decision to financially support the establishment of the Warner Music/Blavatnik Center for Music Business at Howard University?
Lorelei Williams: This was one of the first grants, a flagship grant of $5 million over five years and it came together before I became Executive Director. However one of the major motivations was that there is a large network of Warner Music Group & Atlantic Music employees that are Howard Alums. The network was pre-existing.
It's the natural connection and that HU love. Howard plays a pivotal role both as an HBCU but also as an American University. The level of scholarship, the standard of Black excellence as a tradition at Howard, and just that sense of anchoring in the nation's capital. We wanted to ensure a real pipeline, not just an infrastructure being created for training. We want to give and connect them with internships and mentorship opportunities that translate to jobs. This is a longer-term longitudinal plan that we have with this particular grant and relationship.
Her Agenda: Let's talk about the Board of Directors. I noticed the board is not the typical norm you see within a corporate space. Was that their intentionality?
Article continues below advertisement
Lorelei Williams: The board came together before I joined but this fund was born from people who cared most about the issue [of racial justice] and spoke up. At the time, the former CEO was attuned to this issue and listening to Warner Music Group people who were speaking up and who were particularly engaged in this work before the fund was born. This led to natural alignment when establishing a board of directors. It's created an interesting composition: we have representatives from Warner Music Group; from the Blavatnik Family Foundation and a team of external advisors. It's a nice mix of different viewpoints, people who bring external expertise, and those who are intimately connected to the music industry. It's a sense of bridging aspects of community, industry, and engagement on the board.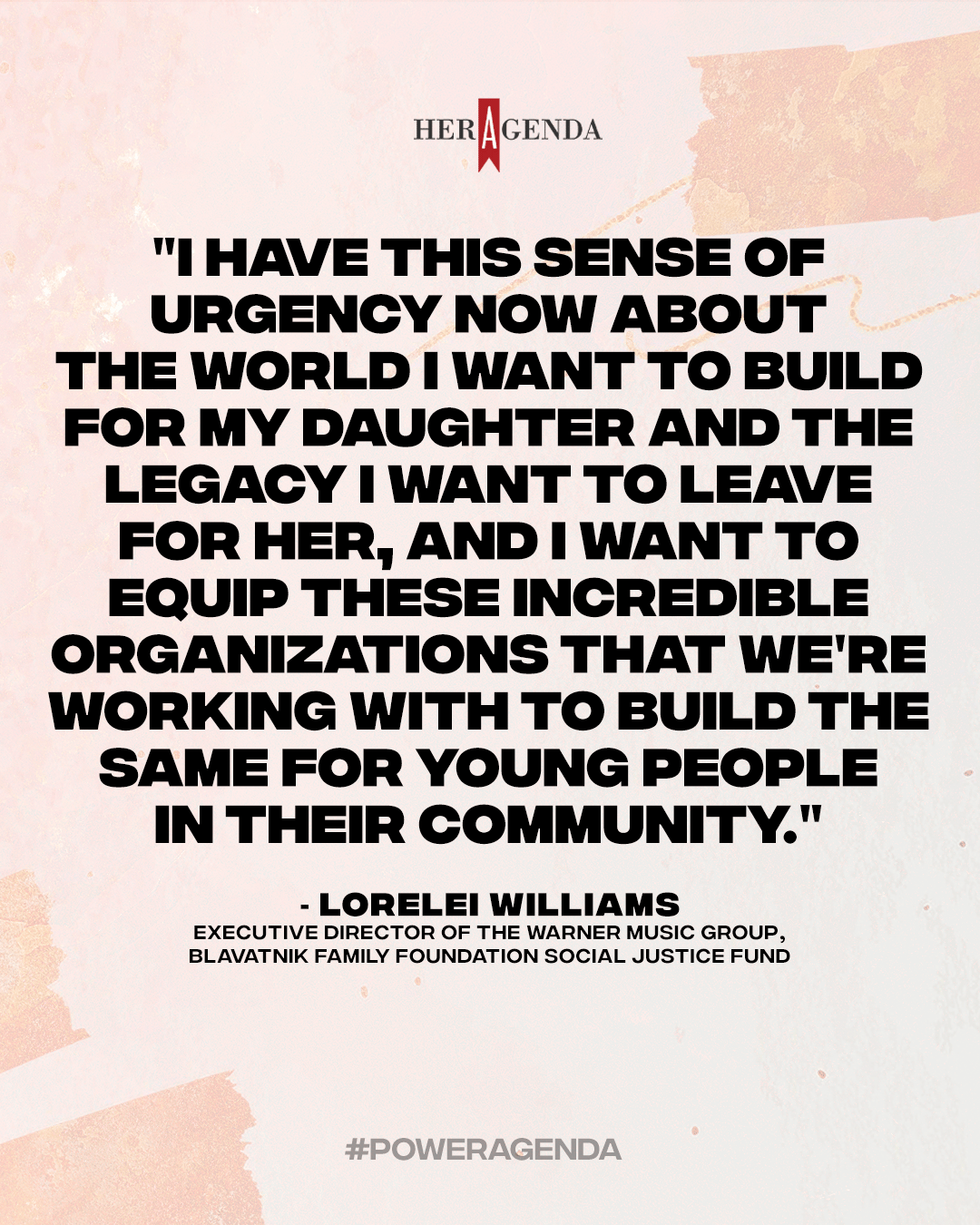 Article continues below advertisement
Her Agenda: The WMG/Blavatnik Family Foundation Social Justice Fund was founded during the pandemic at the height of George Floyd's murder. How is the fund addressing police brutality?
Lorelei Williams: It's a huge priority for us. One of our core partners in this work is the Communities Transforming Policing Fund housed at Borealis Philanthropy. Through that work, we're supporting about 40 different organizations that are working on issues surrounding police brutality all across the country. The organizations span from the policy level to community organizing.
The first key piece of that work is reframing the definition of public safety.The main focus is how do you keep Black people safe. That's really what's at the heart of it and continuing to think through how we can invest in the public safety of marginalized communities more broadly – by resourcing community-led approaches to policing, mental health supports, ending the school-to-prison pipeline and legislative reforms to reduce the number of deadly encounters with the police, among other strategies. Overall we are continuously asking ourselves the question of how we reimagine public safety and how we create more spaces that are life-affirming for people of color."
Article continues below advertisement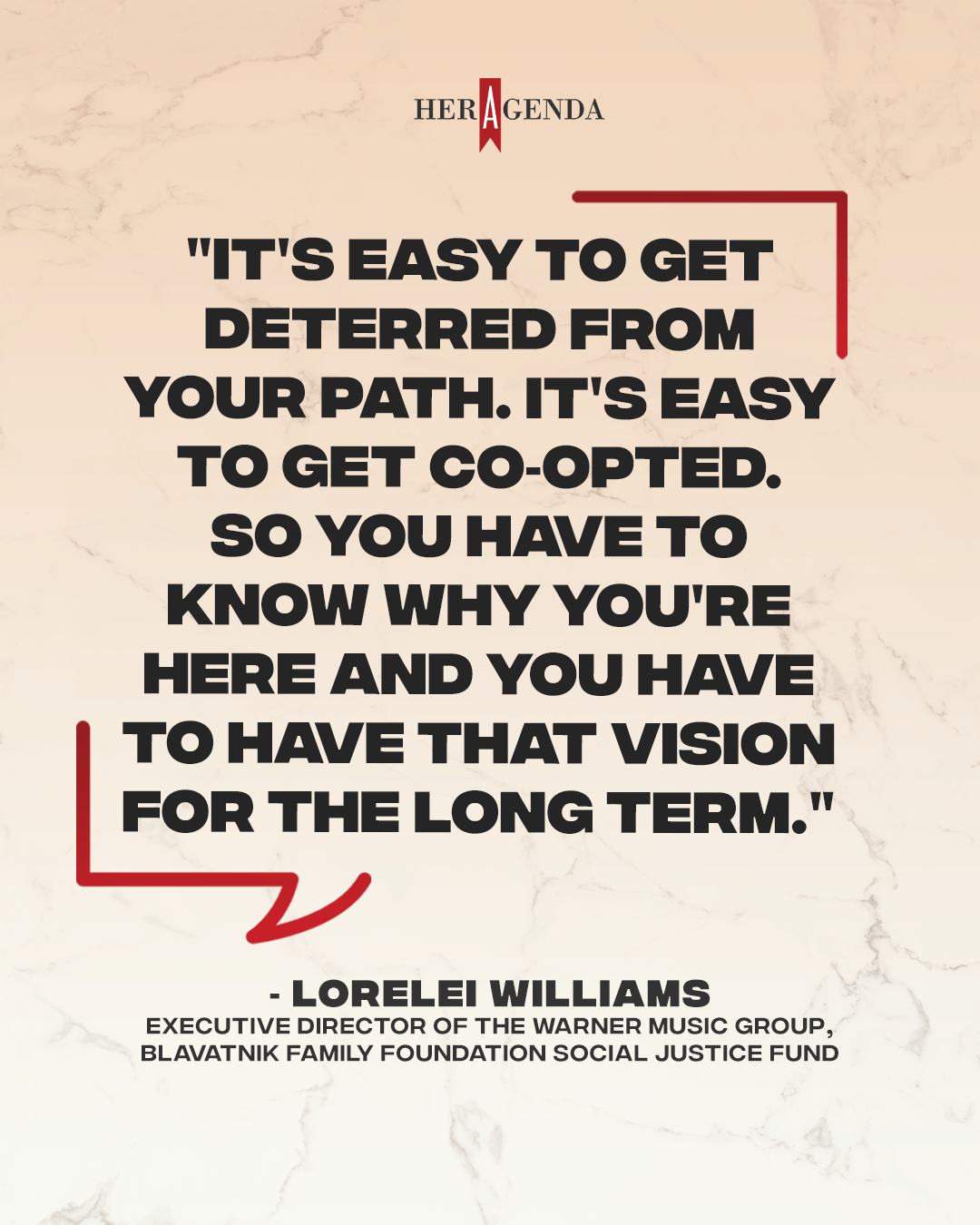 Her Agenda: Having partnered with brands such as Ford Foundation WK Kellogg Foundation and Season Fund for Social Transformation. What is your strategy for garnering such prominent partnerships throughout your career?
Lorelei Williams: Integrity is the key piece and having a consistent north star which for me, is racial/social justice. Beyond the integrity piece, it's about relationships. Relationships have been the catalyst to every one of the next subsequent opportunities throughout my career. I've never been strategic; it evolves naturally and organically.
Article continues below advertisement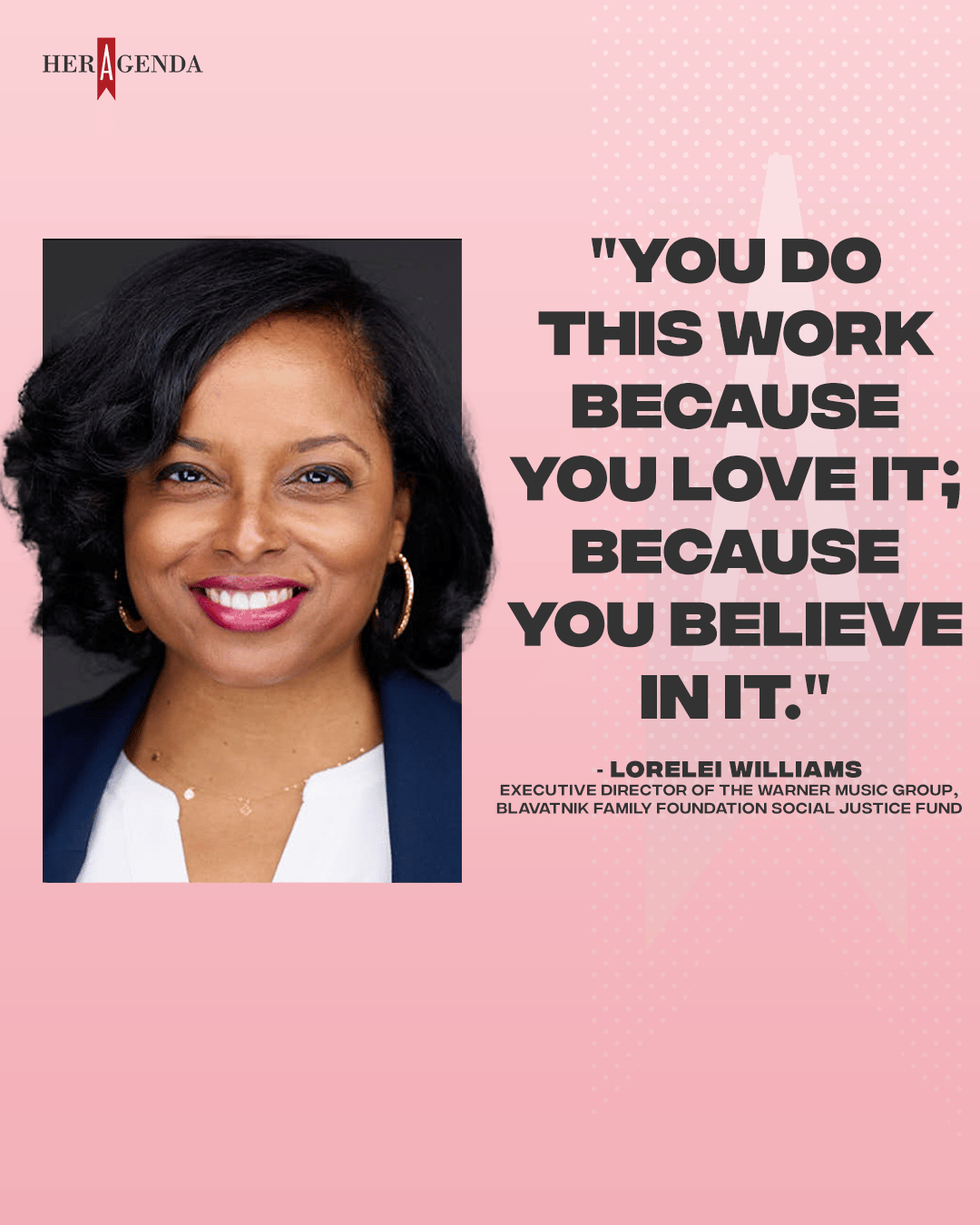 Her Agenda: Outside of serving as an executive director you have a deep love for writing. In your own words, you mentioned it being your first love. How has writing helped with your self-care?
Lorelei Williams: Writing is like a mirror and a river for me. The river is transformative and cleansing and the mirror is my chance to reconnect and check in with myself. I'm a single mom, I'm in a relationship, I'm a caregiver, I do extensive work through my job. I move quickly, it's a balance. Sometimes you don't get a chance to really see yourself and understand how and why you're moving in the world in certain ways. Writing has been important for me to process everything going on around me. Writing allows me to be vulnerable and connect with myself on a deeper level in the midst of it all.
Article continues below advertisement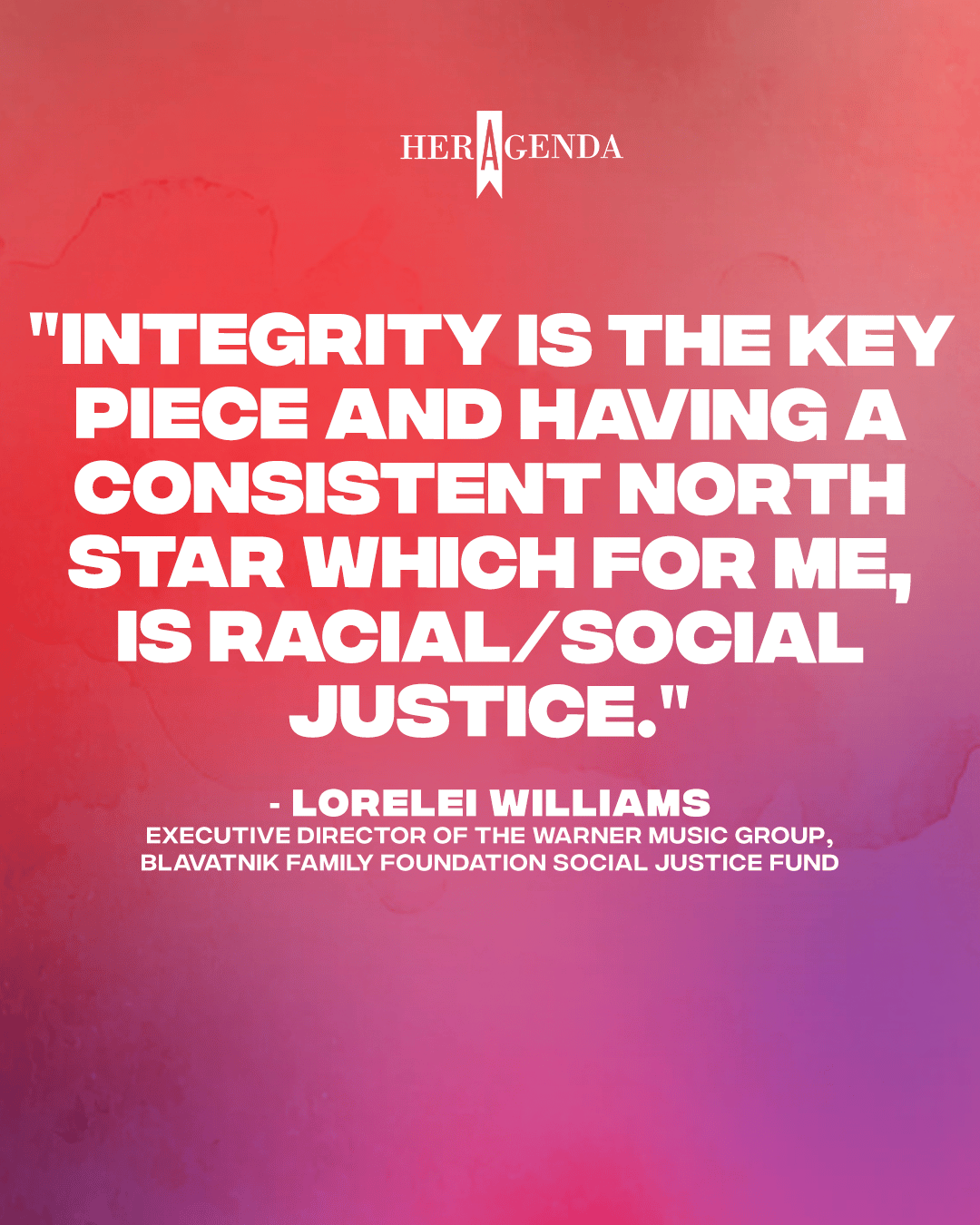 Her Agenda: How has being a mom allowed you to lead with intentionality throughout your career?
Lorelei Williams: My daughter has taught me flexibility, patience, and understanding. I have a great sense of appreciation for the ways that people move in the world differently. Everybody's not built the same. I have more of a curiosity about why people move and work in the world the way they do. Becoming a mom made me not have time for nonsense. My life is busy and demanding.
I'm not a flowery person even though I'm a poet, I'm pretty straight to the point. Having a child has made me disciplined. I have no choice but to be disciplined if I want to get things done. I have this sense of urgency now about the world I want to build for my daughter and the legacy I want to leave for her, and I want to equip these incredible organizations that we're working with to build the same for young people in their community.
[This interview has been edited for length and clarity.]