Entrepreneurship runs through Meagan's genes.
After growing up and witnessing her grandfather run a successful business, Meagan was inspired to embark on the same journey and follow the steps of her elders. Along with her grandfather's entrepreneurial grit, Meagan was also inspired by the women in her life; her mother and her grandmother who strongly demonstrated what courageous, compassionate, and empowering women look like. Inheriting the entrepreneurial spirit, Meagan felt destined to create a life that aligned with her passions, her intentions, and her purpose - and she did just that.
During college, Meagan continued to create and pursue business which ultimately landed her the opportunity to work with the US Embassy as a Public Speaker. Since then, Meagan has created a woman-owned branding agency and network for entrepreneurial women, called Creatively Flawless. She has also created FEMOLOGY which was the first-ever female-focused co-working space in Detroit! However, due to the pandemic, Meagan and her team had to close their brick-and-mortar location. But being the intelligent and resilient entrepreneur she is, Meagan didn't let the pandemic shut down her business. Instead, she chose to pivot and continues to provide support, resources, and education to help women become their best selves.
Continuing her mission of female empowerment, Meagan also runs The Powerful Women campaign which is a movement highlighting the powerful women in the city of Detroit.
Not only is Meagan Ward an entrepreneurial force to be reckoned with but she is also an inspirational leader that you want to connect with - and we had the opportunity to connect with her to talk about her business, her journey, and what she's currently creating.
Her Agenda: First of all, what inspired you to become an entrepreneur!?
Meagan Ward: Growing up, during my childhood, I was truly inspired to be a leader. I was born and raised on the west side of Detroit and grew up with a really strong Black family who instilled a lot of values centered around entrepreneurship and independence within me. My grandfather was the first entrepreneur in our family and he ran a really successful business out of our family home. He had a meat packing business and I would just watch him from day to day, whether it was packing meat or storing inventory, or meeting with his employees. I would just be in the midst of it all and observed everything over my childhood years. By the time high school and college came, I was well into entrepreneurship. I remember putting signs out for lemonade stands and all that good stuff. So, as we fast forward to today, I always say it's divine alignment. You know, every door that opened, opened up a bigger opportunity or an opportunity that allowed me to gain more experience.
No matter what everyone's always going to have an opinion about what you say, whether it's good or bad. When it comes to changing the world and doing good, we have to be open to that type of criticism.
- Meagan Ward
Article continues below advertisement
Her Agenda: 100% right and I believe life and even business is all about experimenting and experiencing. I love that you went through this journey of just being able to tap into whatever you felt called to do at the moment. Since you did a few different things as an entrepreneur, how did you finally tap into your niche, and what was that journey like for you?
Meagan Ward: I would say from the beginning, I've always honed in on my passions. Since day one, I've always been a creative. When it came time to curate my skill sets, I was just translating everything and asking myself, 'How can creativity be a skill set?' Then the journey answered the question for me as I was able to get into design and explore the different areas of design, whether it was designing logos or crafting websites, and even the business end of things. Reflecting on questions like, do you like business? Do you like creating these portfolios and decks? Do you like meeting with clients? I started out really just exploring all of my abilities - and for me, the [guiding] light was creativity.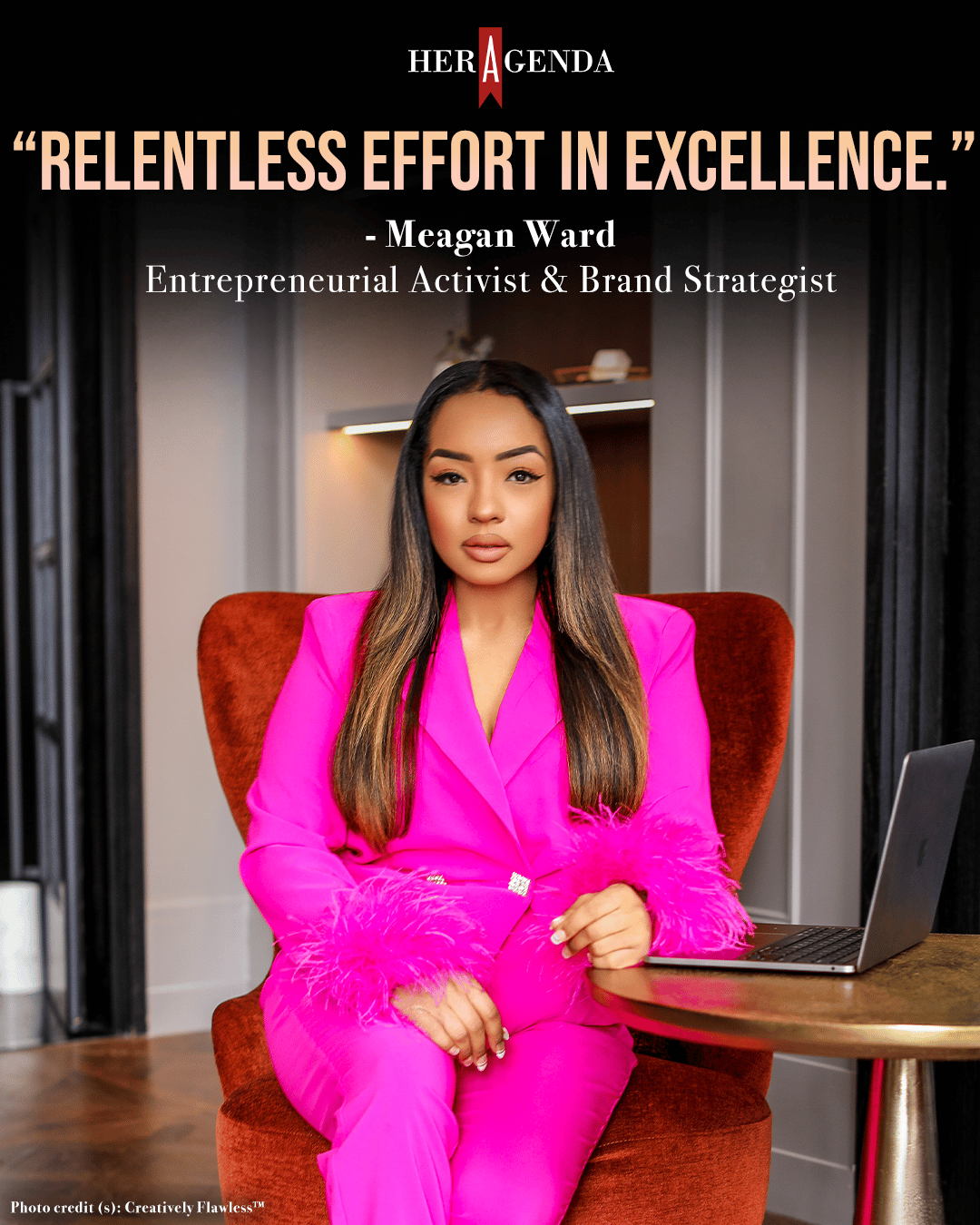 Her Agenda: That's such an interesting way of putting that your niche was creativity. Most entrepreneurs look at niching like it has to be a title such as 'an author' or that they're in tech or something along those lines. But I love how you put that. So speaking of your business, I noticed that you mainly focus on women. What made you want to support women specifically?
Meagan Ward: I had a single mom growing up, and she was the first person in our family to go to college. My grandfather was the first person [in my family] to be an entrepreneur, my mom was the first person to go to college, and then I was that next generation. So it was kind of like, what are you going to do? I wouldn't say that I had a lot of pressure on me, but I knew that my journey would be impactful. I knew that it would trailblaze me into becoming the next generation, and so my journey and really finding myself really came through necessity.
I remember in college, I was majoring in business because business is what I wanted to do. But at that time, I remember my mom losing her job, and out of that, I started a business. So out of necessity, I was able to truly form these entrepreneurial ventures. My first business was a branding company for women entrepreneurs and alongside that, I was very passionate about women. Just from seeing my mom growing up, we would go to the mall and she would always compliment women. She would always empower them from the slightest thing to the biggest thing. Whether it was their smile or they had nice shoes or she just said hello. That truly imprinted on me that all women essentially are the same. We want to be empowered. We want to help each other and that really defined my foundation of women's empowerment.
Article continues below advertisement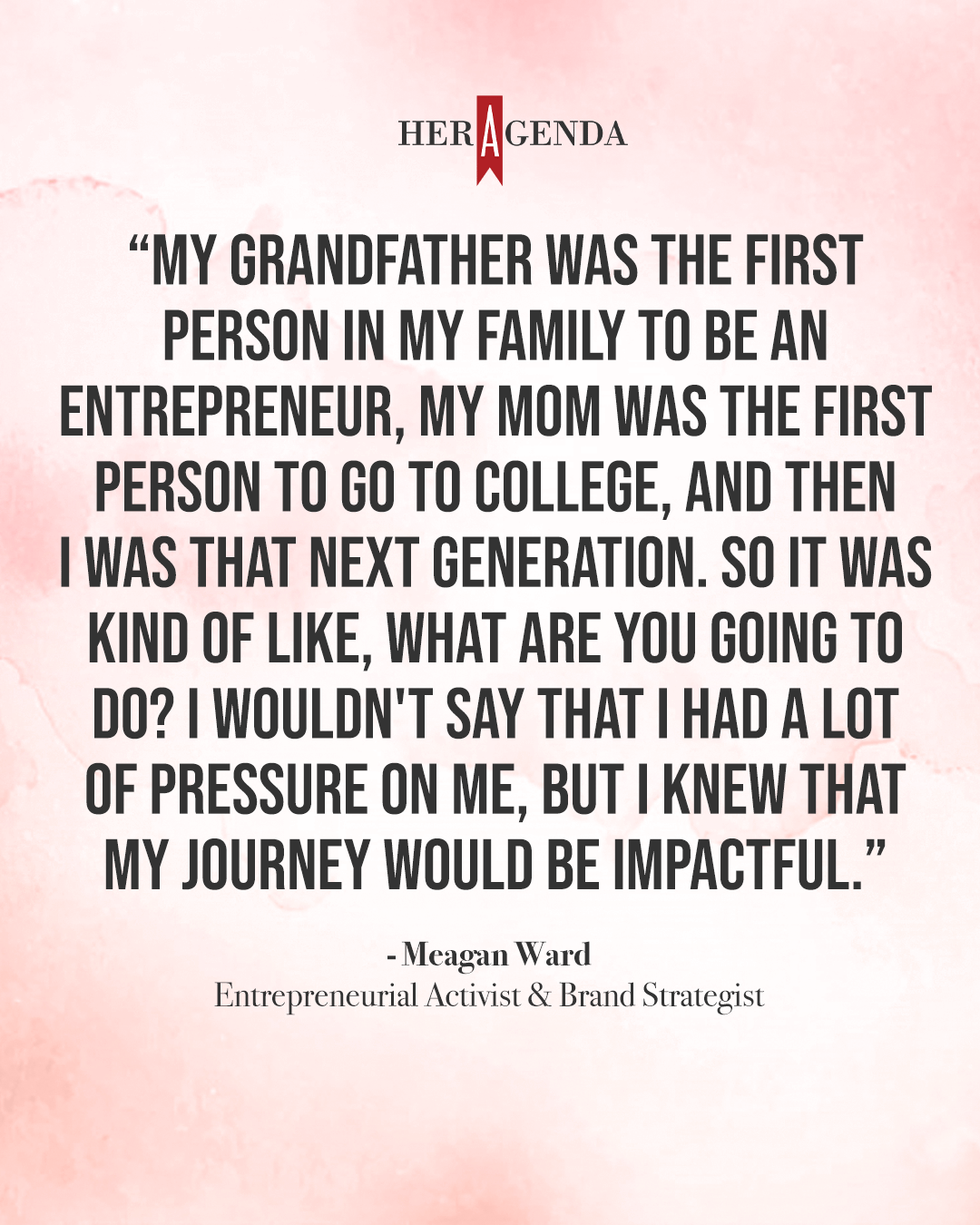 Her Agenda: That's powerful. Now, being a 'Mompreneur' as they call it, what is it like being a mom entrepreneur? And do you have any advice for other moms who are building their brands and businesses?
Meagan Ward: I'm here smiling as you say this. The life that I live today, I would have never imagined. It's one of those things where you build on top. When I had my first son, I was questioning schooling. Did I want to homeschool him or did I want him to go to a traditional school? Public or private? There were so many factors to think about rearing a child as I'm building a company, right? And in a sense, it's almost like you have two babies, right? You have this one entrepreneurial baby, and then you have this real baby, this human that you created and I remember in the early days of motherhood, I remember thinking of what type of life I want to be imprinted on him. Because those young years are so impactful and so I just knew that I wanted to homeschool him and since I was starting this career of international speaking, I knew I wanted him to go everywhere with me. Then, after speaking with my husband, we said, okay, we will ingrain travel and culture into our family values. Now we travel every couple of months and go on speaking engagements together. But it's very much a group experience. It's very much our career. My kids are very much integrated into the day-to-day life of entrepreneurship as well as my husband, and everyone does their part.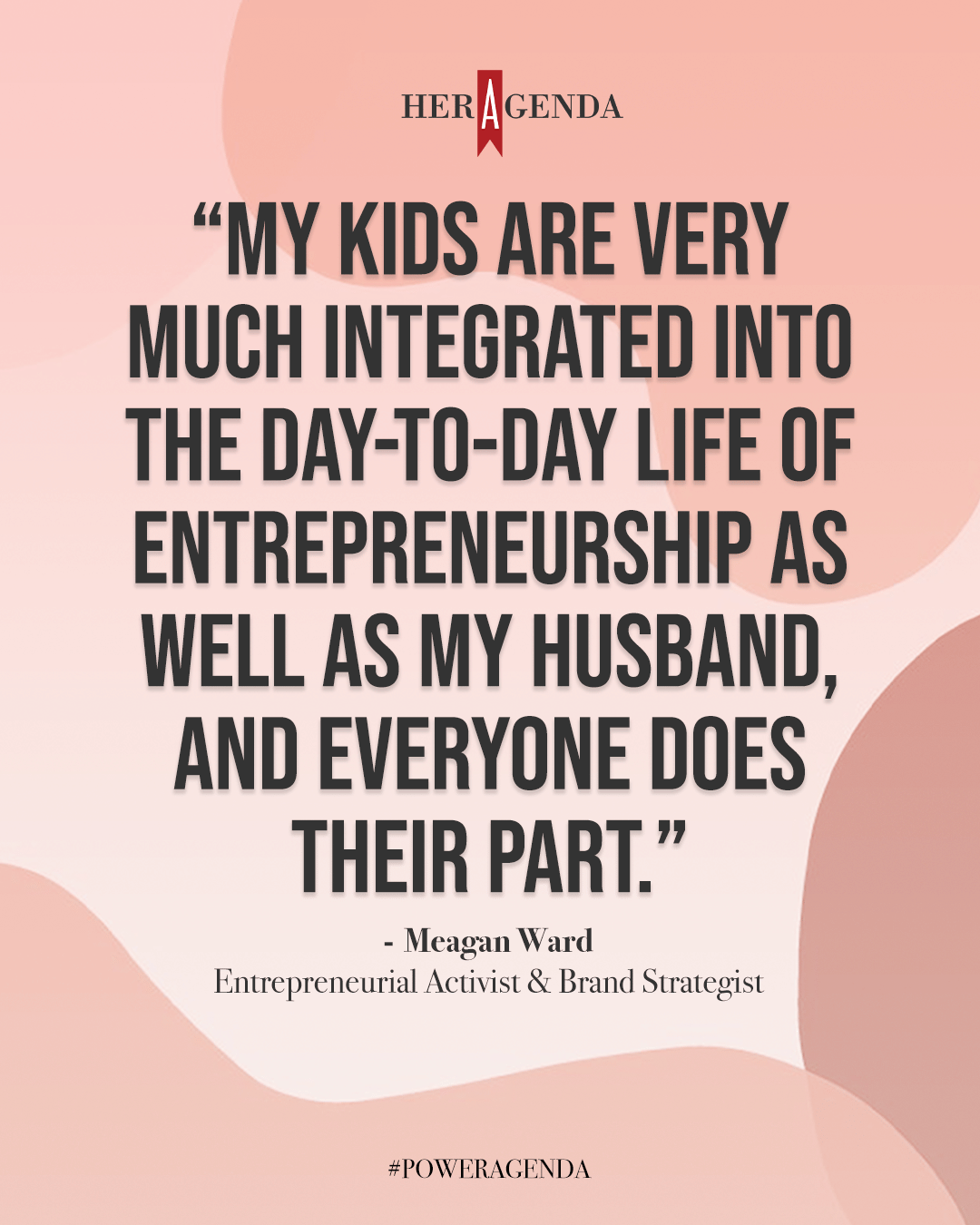 Her Agenda: Wow, that's amazing that you're able to create a lifestyle on your terms! On the topic of you being a business owner; You created the first ever woman-focused co-working space in Detroit. What was that like and what was the biggest challenge that you had to overcome when bringing that to life?
Meagan Ward: Well, anytime that you have a vision, that vision is going to be challenged, especially if it's innovative. So bringing the first woman-focused coworking space to Detroit was something that I had to have a relentless effort about - and relentless effort is the theme in our household moving into 2023. Last year, it was gratitude and discipline. But relentless effort is about seeing a vision all the way through, no matter how many detours you experience. So it's really about this challenge of resiliency and overcoming. I would definitely say that defines the experience of launching FEMOLOGY. It was one of those things where I had the vision in my mind, but then when you look at the landscape of society, I see all these challenges, I've seen all these real-world problems, and I really had to think of how am I going to trailblaze through these things? And really, ultimately, I just had to do it versus overthinking and creating these massive strategies. I really had to put one foot forward and take on the challenges as I could. But even for one of the challenges, the PR campaign that was surrounding the launch, I remember getting a heap of controversy from men that were all over the country saying that they didn't think it was right that FEMOLOGY was a female-focused coworking space. So that was my first time experiencing not only national recognition but recognition from people on all levels, whether it was good feedback or not-so-good feedback. But truly, that experience helped shape me as a leader.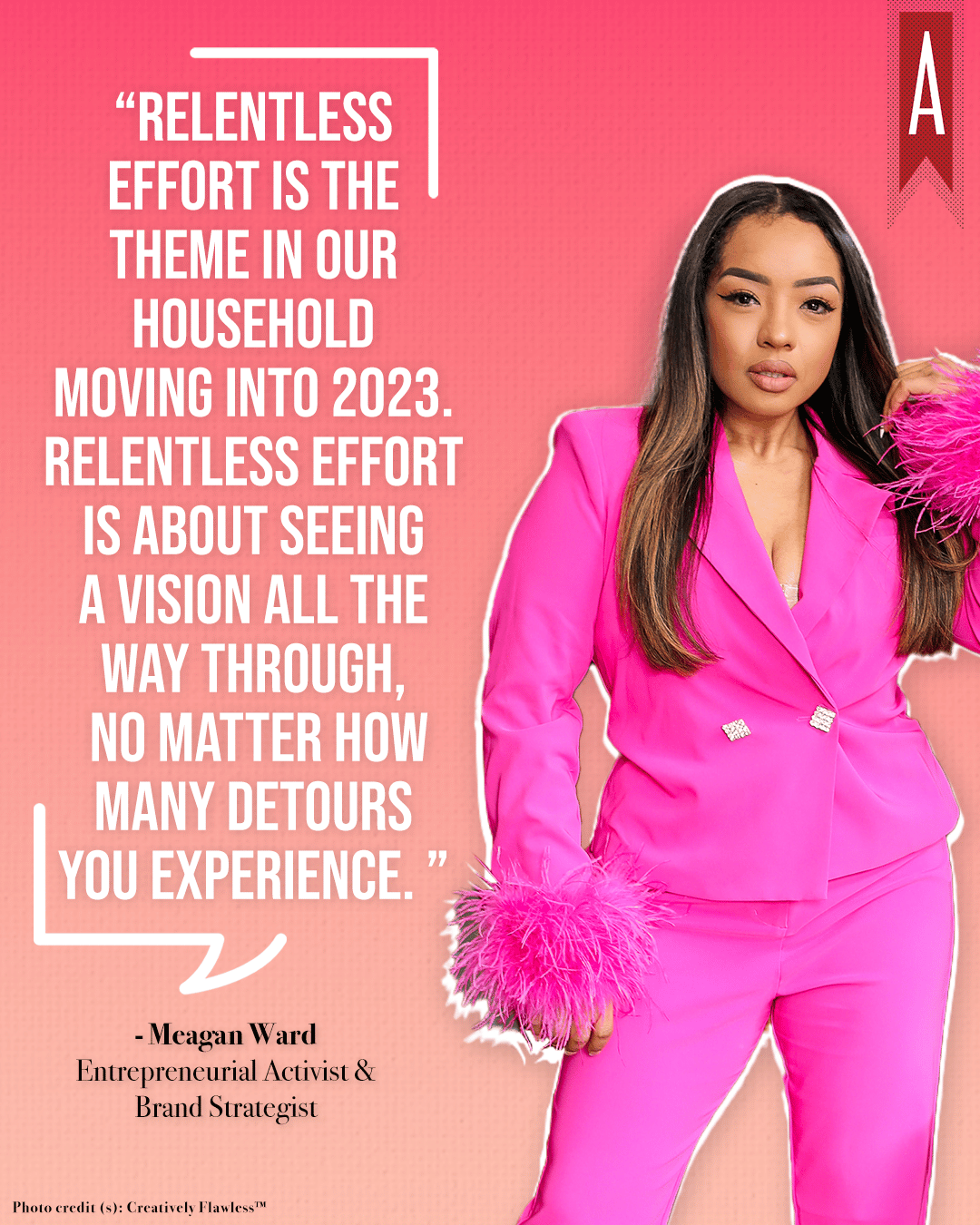 Her Agenda: Listen, I'm a strong believer that if God gave it to you, it's meant for you! So my last question for you is… What is your personal motto right now?
Meagan Ward: My personal motto is, 'Relentless effort in excellence.' We live in a day and age of social media, and sometimes social media is masked with surface-level impact work, and it can be very much smoke and mirrors, right? And I think especially for entrepreneurs, it's our time to show up in excellence. It's time to have relentless effort in what we're doing. No matter what everyone's always going to have an opinion about what you say, whether it's good or bad. When it comes to changing the world and doing good, we have to be open to that type of criticism.
Based on this quote I heard, I would always ask myself, ''Where does a woman or man stand in the midst of controversy?' Because we see a lot of things in the media and online, and it's like, someone could be doing all the goodness in the world, right? And I remember when I was doing FEMOLOGY, I'm like, oh, this work is so hard trying to bring women together. But it was one of those things where you have to be up to the challenge, you have to commit, and you have to have this relentless effort and excellence. That's what comes up when I think about my motto and how I got here today. I'm just coming off of a Japan trip where I got to speak to CEOs, and leaders. But the reason why I was in Japan is because they're one of the countries that rank lowest on the totem pole in terms of women's empowerment. And so I went into that country to talk about strategies on how women and men can work together to empower women to be business owners there. So, again, the work that I do, it's not just flowers, candy, and teddy bears, right? I'm having some really tough conversations and that relentless effort and excellence has really given me that extra push to go to the next level.
[Editor's note: This interview has been edited for length and clarity.]