Meet Her Agenda's NYC Event Curator: Alyssa Reid
Her Agenda has officially launched a local event curator program. We are looking for women who are in the know, to contribute to our database of events, conferences and panels focusing on their local communities. If you are interested in joining, or learning more, fill out this form.
Alyssa Reid
New York City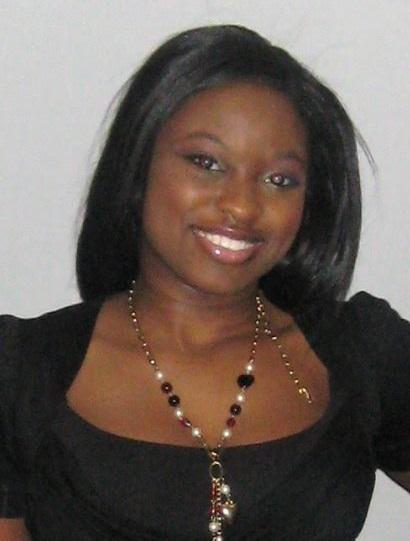 After graduating from New York University with a B.A. in Economics and Spanish, Alyssa Reid had a hard time finding work. However, it wasn't because she didn't have any work experience; Alyssa had such an impressive resume that several employers actually told her that she was overqualified. By her junior year of college, Alyssa knew that she wanted to pursue Entertainment Law. Working with companies such as Goldman Sachs, The Davis Firm, and MTV, Alyssa's hunger for experience has led her to many opportunities in the entertainment industry. Today, Alyssa currently works in the Programming Department at Food Network where she plays a key role in the management of programming contracts and budgets, acquisition planning, and negotiating license deals. In the future, she plans to attend law school and start her own non-profit arts foundation for young adults. If you don't think Alyssa has stayed busy enough, she has also strives to be a successful, role model for son, Bryson.
Article continues below advertisement
Read in on my chat with Alyssa and learn the reasons behind the unique path she has chosen:
Her Agenda:What motivated you apply to the event curator position?
Alyssa: I kind of fell into being an event curator. I've known Rhonesha since middle school, so I've also always known and loved Her Agenda. Whenever I saw an interesting event coming up, I would email Rhonesha, tell her what the event was about, and let her know if I would be there. Eventually, she suggested that I apply for the event curator position, and I said, "Hey, why not?" I was always sending events anyways.
Her Agenda: Can you give us a breakdown of what your typical workweek looks like?
Alyssa: Every other Monday, I have a meeting with the legal team and all of the executives that program shows for the network, to discuss the status of certain deals and agreements- where we are with them, whether we're going to move forward, and what their budgets are. On Mondays, we also have a department meeting where we discuss the status of all our shows in development. It's these meetings on Mondays that set the framework for where the rest of my week is going to go. If a deal is in limbo, I have to follow up and I make sure that my records and budgets are on track, and by Wednesday, I have to submit them to accounting.
Article continues below advertisement
On Fridays, we have a team meeting where we screen shows- either shows from our network that our executives have worked on or shows from our competitors' networks- where we just like to take a look and see what's going on in the media world. It's also a chance for us to have time to unwind, have free lunch, and just talk about TV.
In between the week, we do this thing called "deal memos," which are like bullet points of what goes into a contract. After our legal and business affair team drafts a deal memo, they send it to me, and I submit to our president/general manager of the network for approval. It's that approval that basically leads to the creation of a show; it says that saying we're ok with the budget or terms or contract or concept, and we want to move forward with making that show. It's very fulfilling to see our work played out on TV, and it's exciting to see a show do well. Especially, when you know the executive who created the show and the work they put into it on a day-to-day basis.
Article continues below advertisement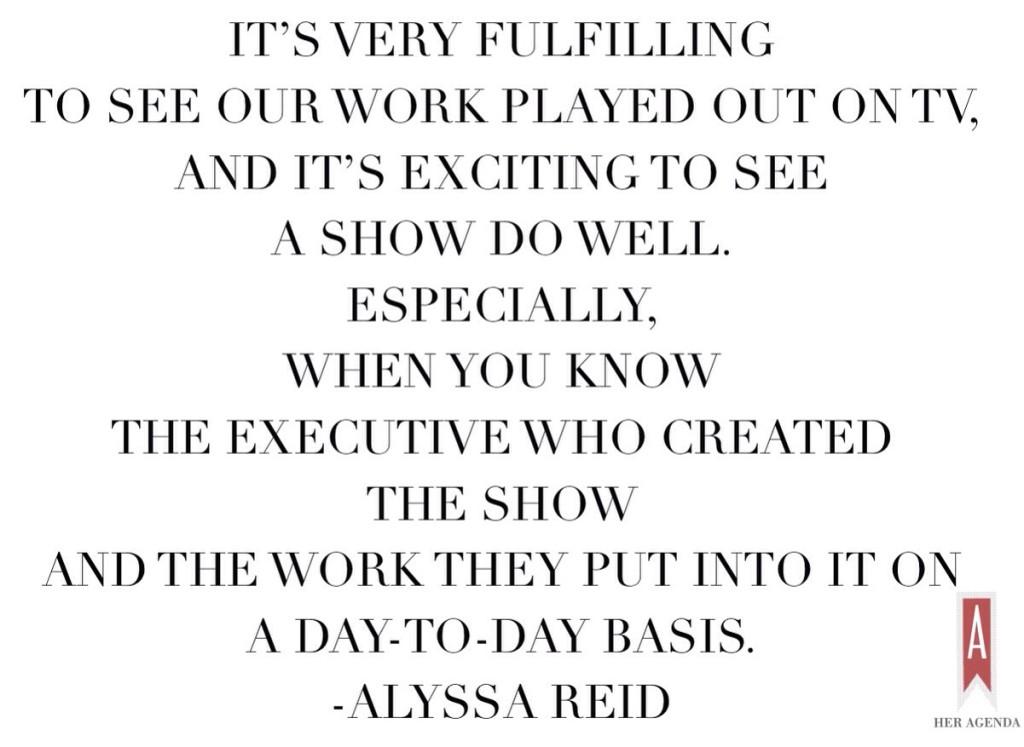 Her Agenda: What influenced your decision to gain work experience before going to law school?
Alyssa: I knew I didn't want to go straight into graduate school. I intentionally chose to enter the workforce, because I wanted to learn the industry from the bottom up. I thought I could be different than the student that went directly from college to law school and still doesn't know what he/she wants to do. In a way, I will have an advantage over other students and bring something unique to the classroom.
Article continues below advertisement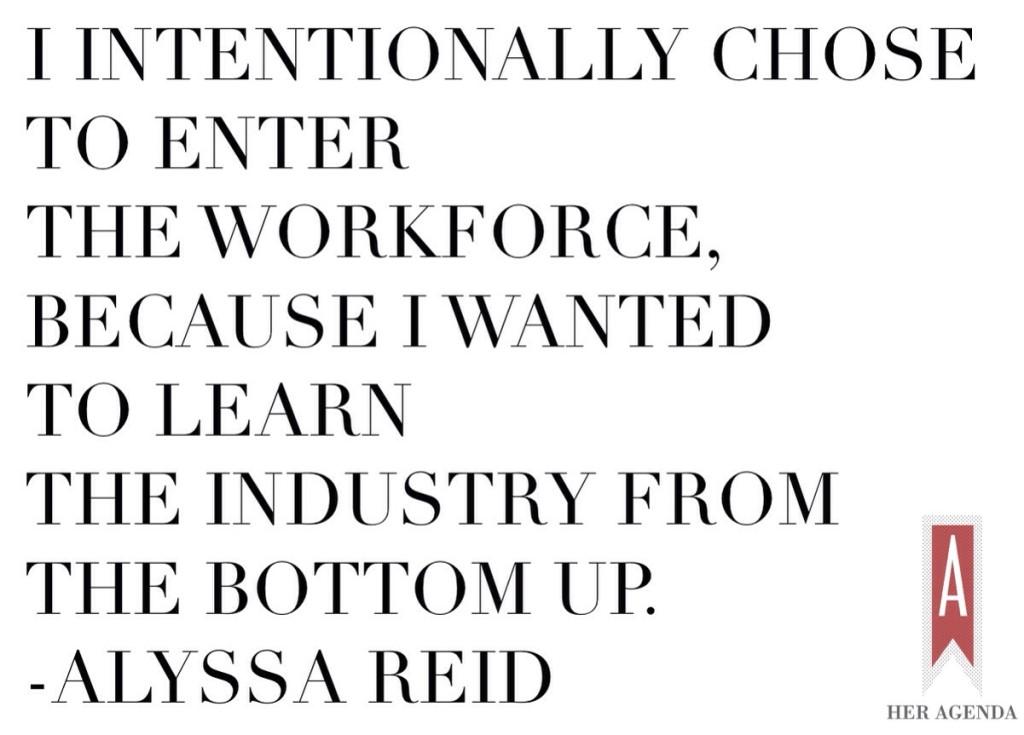 Her Agenda: What inspiration/motivation lies behind your desire to obtain a degree in law and start your own non-profit?
Alyssa: Growing up in New York City can be rough, because it's very competitive. There really aren't a lot of outlets where kids can explore what they enjoy doing and then go on to make a career out of it, so I would love to start a young adults' arts foundation that focuses on confidence and career building.
Article continues below advertisement
I went to a middle school geared towards art, so I've always been into the arts. I looked forward to going to school every day because of dance class. I know that being in the arts helped me educationally, and I know that it helped me to focus on school. I think that's what my desire to create a non-profit has stemmed from. Especially in a place like New York City where there are a lack of programs like the one I was a part of- I want to take part in creating opportunities for young people who wouldn't have that opportunity otherwise.
My desire to practice law- I honestly don't even know where it stems from, because I've always wanted to do it. But as I grew older and learned more about intellectual property and protecting those rights, I became interested in that side of the media industry.
Her Agenda: What has been your experience as a working mom?
Alyssa: One of the biggest rewards is the knowledge I can bring home to my son. I can look at the accomplishments I've made this far and know that I haven't been held back in any way. Yes, it will be hard to attend school with a child and still work full-time, but I know it's not impossible. I really look forward to accomplishing my goals and saying, "I've done it." I want to show my son that he can also achieve anything.
Article continues below advertisement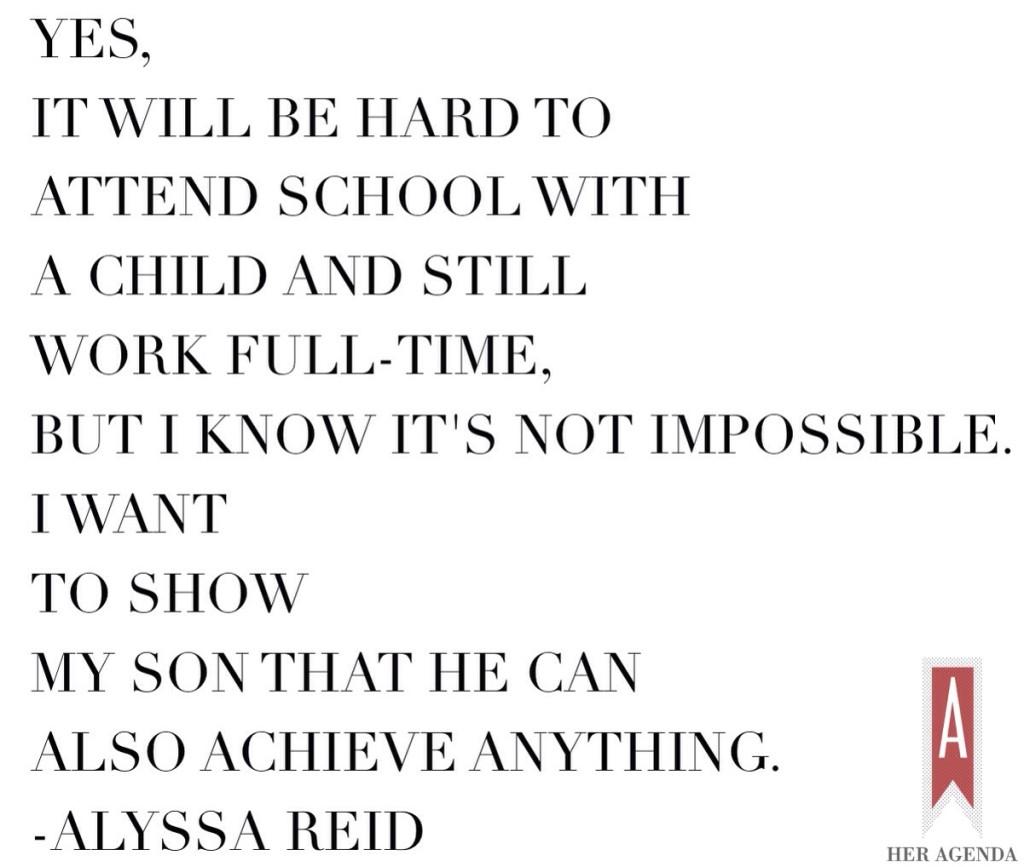 Her Agenda: Her Agenda's motto is "no one ever slows her agenda"- what is your personal motto/mantra?
Alyssa: My personal motto/mantra is "you'll never get anything if you never ask." I wouldn't tell someone to do something that could risk their job, but I do believe in taking risks. I believe that if you never push forward for something and never take that first step, you'll never arrive at your destination.
Article continues below advertisement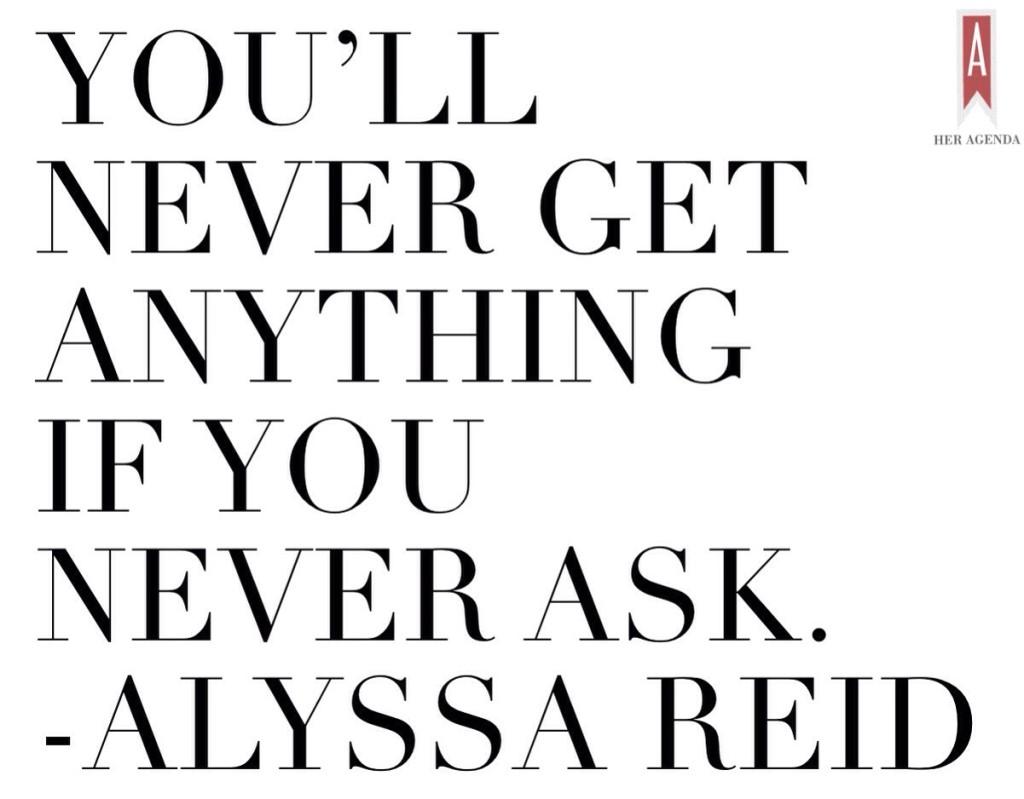 Interested in becoming a local event curator? Fill out this form, and we'll be in touch with more details.