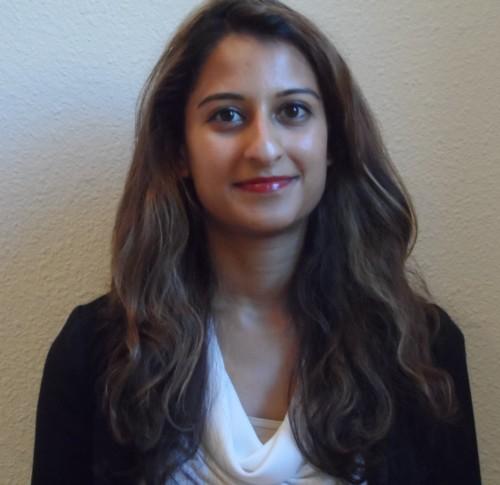 Meet Her Agenda's San Jose Event Curator: Vishakha Gupta
By
Sydney Love
Jul. 10 2014, Published 12:44 p.m. ET
Her Agenda has officially launched a local event curator program. We are looking for women who are in the know, to contribute to our database of events, conferences and panels focusing on their local communities. If you are interested in joining, or learning more, fill out this form.
Vishakha Gupta
San Jose, CA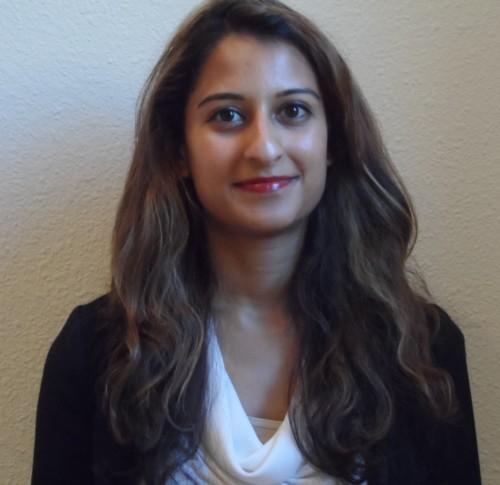 Article continues below advertisement
Combining her skillsets in Psychology and Business, this California girl discovered her niche in the world of marketing. A recent graduate of University of Puget Sound in Tacoma, Washington, Vishakha Gupta is now back in her hometown of San Jose, CA. She currently holds a marketing coordinator internship at a cyber-security company in Silicon Valley. In her free time, Vishakha enjoys catching up with her friends on Tumblr and updating her professional blog on fashion advertising. She's also working on novel that she hopes to someday publish.
Read on to learn more about Her Agenda's first California event curator!
Her Agenda: Your current position hones in on your degree in Business. Where does the Psychology play in?
Vishakha: I went into college wanting to be a therapist, but my first internship as a high school educational counselor was very emotionally draining; I wasn't sure if that was something I could do my whole life.
Article continues below advertisement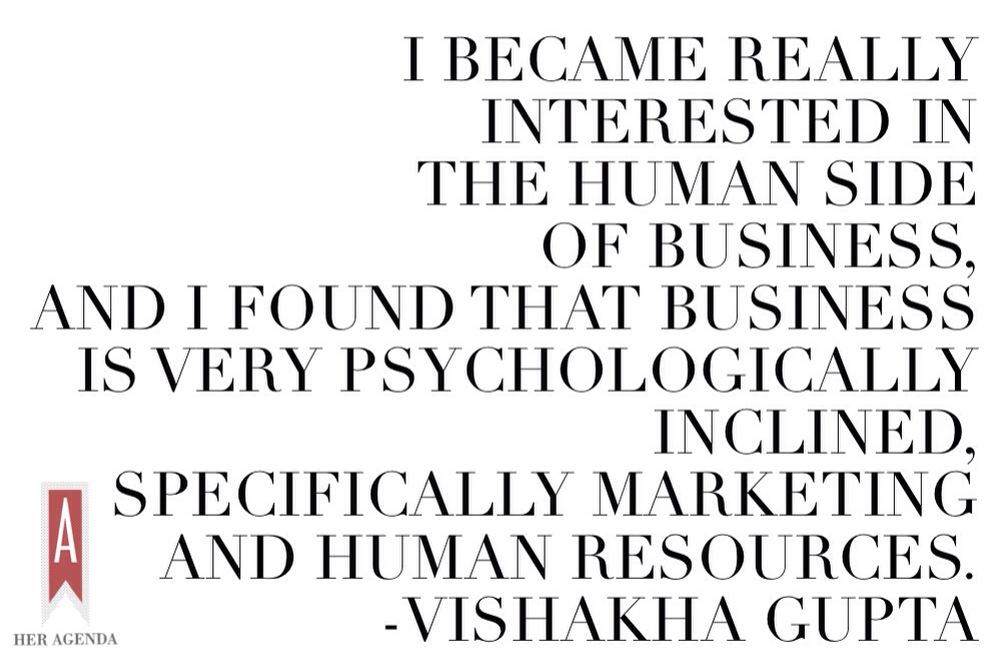 I became really interested in the human side of business, and I found that business is very psychologically inclined, specifically marketing and human resources. There's a lot of new fields of psychology, like organizational culture and consumer psychology, that are really geared in understanding people in organizations and how they interact. I ended up just falling in love with the world of marketing. Yeah, it's more in the business sector, but marketing is so much about understanding people that you really do need that psychological aspect of it to do a good job.
Her Agenda: What motivated you apply to the event curator position?
Article continues below advertisement
Vishakha: I just moved back to San Jose after being in Washington for four years, so I really want to go out to more events and meet other like-minded people. I started searching for resources that could tell me about the events happening in San Jose, and I couldn't find anything!
I previously wrote for a website called Life2PointOh, and I really enjoyed it, so I was looking to be involved in something like that again. I was on the Forbes website reading about the top websites for women, and I stumbled upon Her Agenda! The event curator program just seemed like the right thing to do.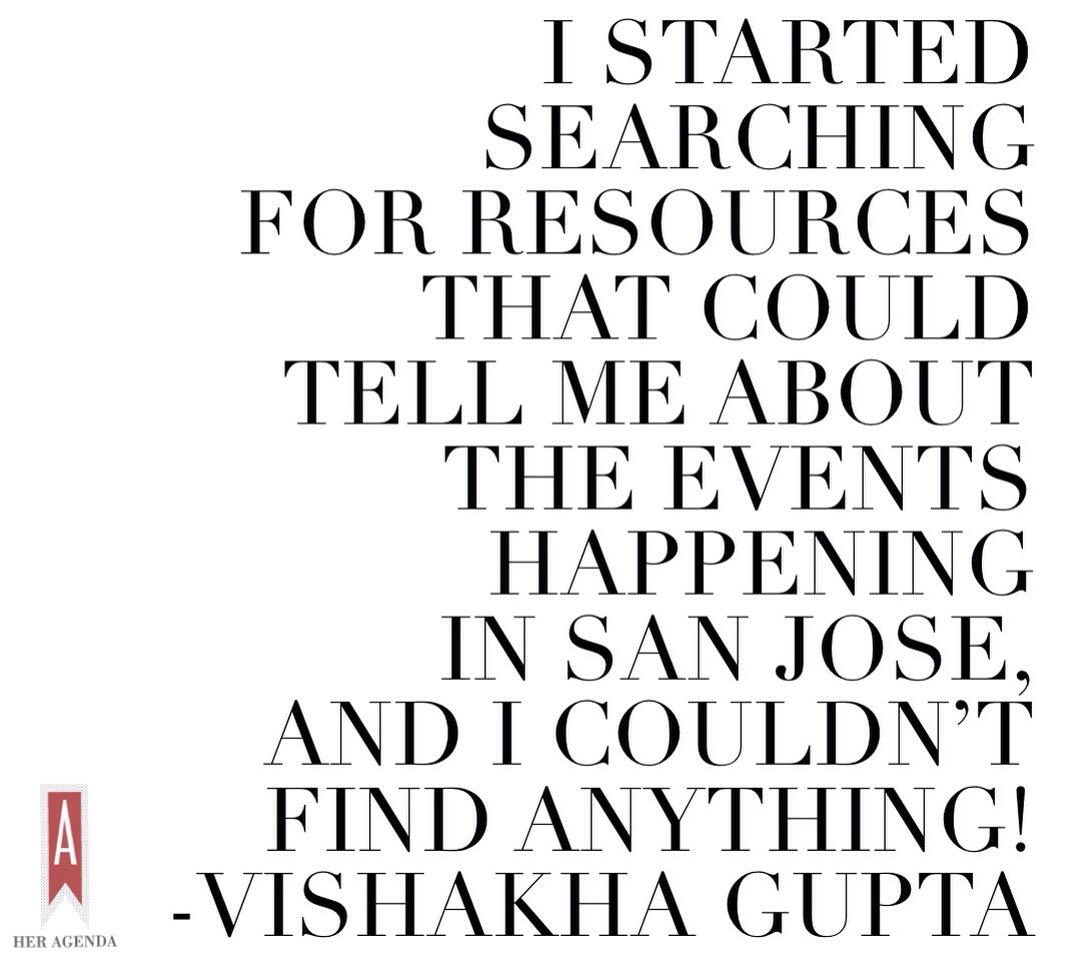 Article continues below advertisement
Her Agenda: What is one of your favorite hangout spots in San Jose and why?
Vishakha: On Santana Row, there's this place called Cocola, and it's little bakery/coffee shop along a beautiful, outdoor strip mall. It's just the most wonderful place to people watch. During the nighttime, it turns more into a restaurant and bar scene. I love it, because I can shop, eat, and go out all at the same place.
Her Agenda: Her Agenda's motto is "no one ever slows her agenda" – what is your personal motto/mantra?
Vishakha: Whenever something is getting me down, one saying I try to remember is this quote by Elizabeth Taylor. It says, "Pour yourself a glass of wine, put on some lipstick, and pull yourself together." I think it's important for women not to reinforce the stereotype that we're emotional creatures that don't have our stuff together. It's a great way to put things into perspective.
Article continues below advertisement

Her Agenda: What inspired you to create your own blog?
Vishakha: I really wanted a forum that would allow me to share my thoughts and also share with my friends what I was doing, so me and my two best friends actually started it as a means of communication. Whether it was a new internship, a new purse I'd bought, or some new friends I'd made, I'd share it on the blog. Over time, I ended up adding more to it. I got really interested in putting up pictures and short stories that I was writing. Also, I now do "Munchy Mondays" where every Monday, I will post a recipe or food adventure that I've been on. (To check out Vishakha's blog, click here.)
Article continues below advertisement
Eventually, I found myself posting more and more about my interest in fashion advertising. My friends were like, "You know Vish, this is interesting, but we're really here for something else!" So that then spurred me to create a more professional blog that is catered towards that. (Check out Vishakha's professional blog, "The Wonderful World of Advertising.")
Her Agenda: Have you ever experienced an "aha" moment after leaving an event/panel or conference? What was that feeling like?
Vishakha: During a gender studies class that I was taking my very last semester, we had alumni come in and talk about women in the workforce. There was one, specific woman that was easily thirty to forty years older than me sharing about her experience as Head of Human Resources for the Seattle Mariners and life balance. Hearing her talk about how supportive her family was with her career, I left that panel thinking, "If women were able to accomplish this fifty years ago, this is something that should not be a challenge for women our generation." I felt very free after that.
Article continues below advertisement
My gender studies class really made me question the idea of unfairness for women in the workforce. There might be some people out there that disagree with me, but I think that the world that we live in is equal. I don't feel as though I'm held back as a woman.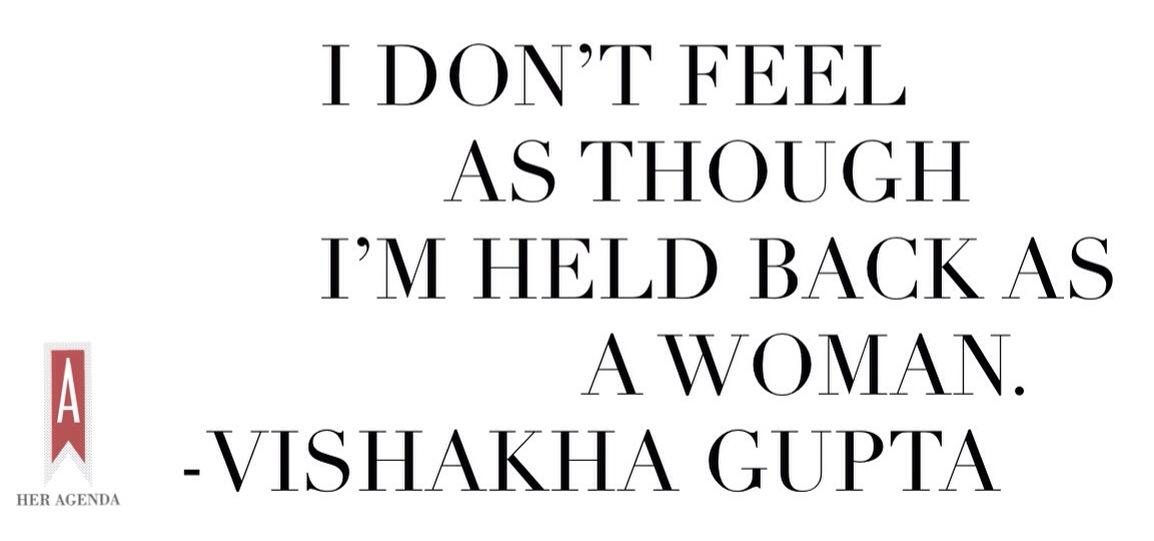 Interested in becoming a local event curator? Fill out this form, and we'll be in touch with more details.