Meet Her Agenda's Tallahassee Event Curator: Masani Bailey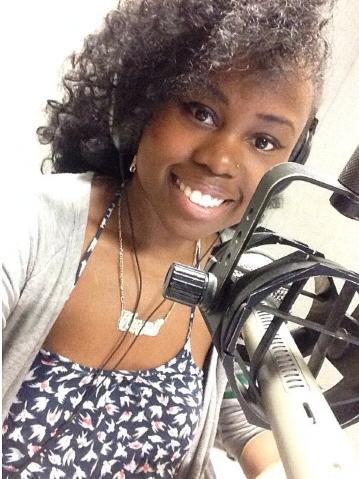 Her Agenda has officially launched a local event curator program. We are looking for women who are in the know, to contribute to our database of events, conferences and panels focusing on their local communities. If you are interested in joining, or learning more, fill out this form.
Masani Bailey
Tallahassee, FL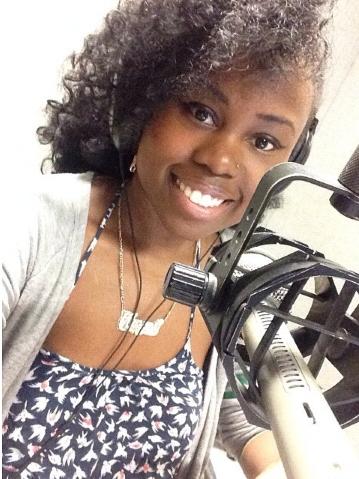 While it's common for millennials to have their own blog or website, this millennial has taken her passion to the next level- she has her own radio show! Masani Bailey is a senior at Florida A&M University, majoring in Public Relations and this summer, she is interning for Cumulus Radio in Tallahassee. She's also fueled by an interest in journalism, leading her to publish articles in The Famuan, Journey Magazine, and the national publication, HBCU Campus Magazine. When she's not running her show on WANM 90.5, you can find Masani writing about the latest in entertainment on .
Read on to find out more about Her Agenda's latest event curator:
Her Agenda: What does your typical work day look like, and what have you enjoyed most about your internship?
Article continues below advertisement
Masani: What I do day-to-day varies. Yesterday, I was shadowing one of the On Air Personalities for a station whose niche market is adults over the age of 40, and another day, I was shadowing the gospel AM station. Other days, I assist with commercial writing, sales meetings, setting up events, and voiceovers for commercials.
I have definitely enjoyed shadowing the On Air Personalities. Observing them and speaking on their shows has given me hands-on experience that will help me to do better on my show. I 've also enjoyed working with the sales representatives. Getting leads for new businesses requires some investigating, and it's exciting to see which businesses I can get. Not only does it help build our company up, but it helps theirs as well. I've learned that I like the business side of radio as well as the entertainment.
Article continues below advertisement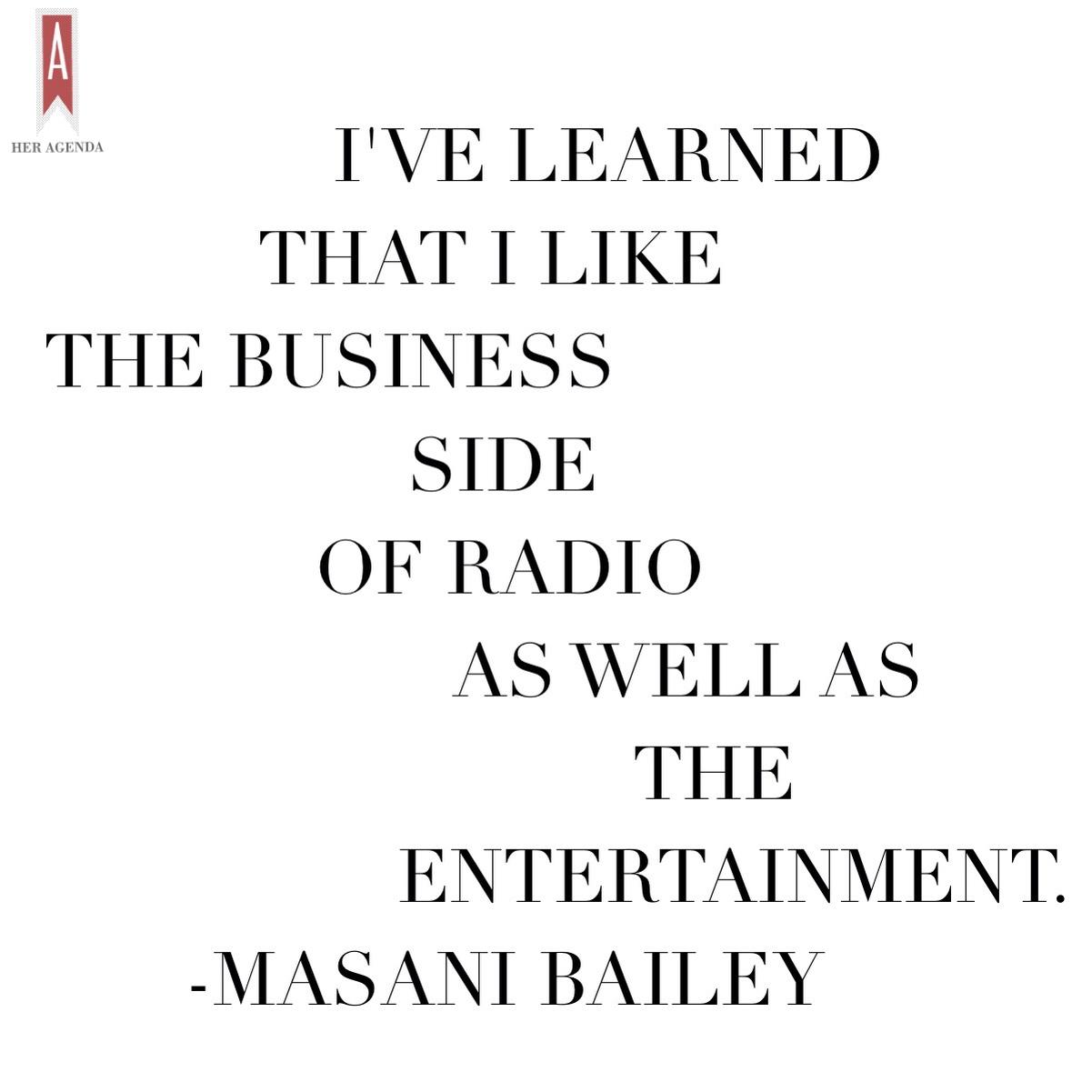 Her Agenda: What led you to major in Public Relations?
Masani: I was a Business Administration major my freshman year, but I felt like business didn't allow me enough creativity. I already had a history in journalism, so with my history in journalism and desire to be in business, Public Relations was a good avenue to go down.
Her Agenda: How did you become involved in radio, and what can listeners expect from your show?
Masani: I went to an informational meeting on campus, and after learning some more about it, I went ahead and took the test, auditioned, and fell in love with it. I've always had an interest interviewing, investigating, and reporting, so I can do all of that on my radio show while still playing music.
Article continues below advertisement
Since it is a school-run radio station, I like to touch on things, such as entertainment, social media trends, and world issues- topics that 20-somethings would care about and would want to listen and know more about. Also, in honor of woman crush Wednesday, we dedicate Wednesday nights to the ladies, and on Thursdays, we do throwback Thursday jams from the 90s.
To check out Masani's radio show, tune into WANM 90.5 on Wednesdays from 10pm-1am and Thursdays from 7-10pm! For those not in the Tallahassee area, download TuneIn Radio on iTunes and search "WANM 90.3," or listen on the WANM 90.5 website.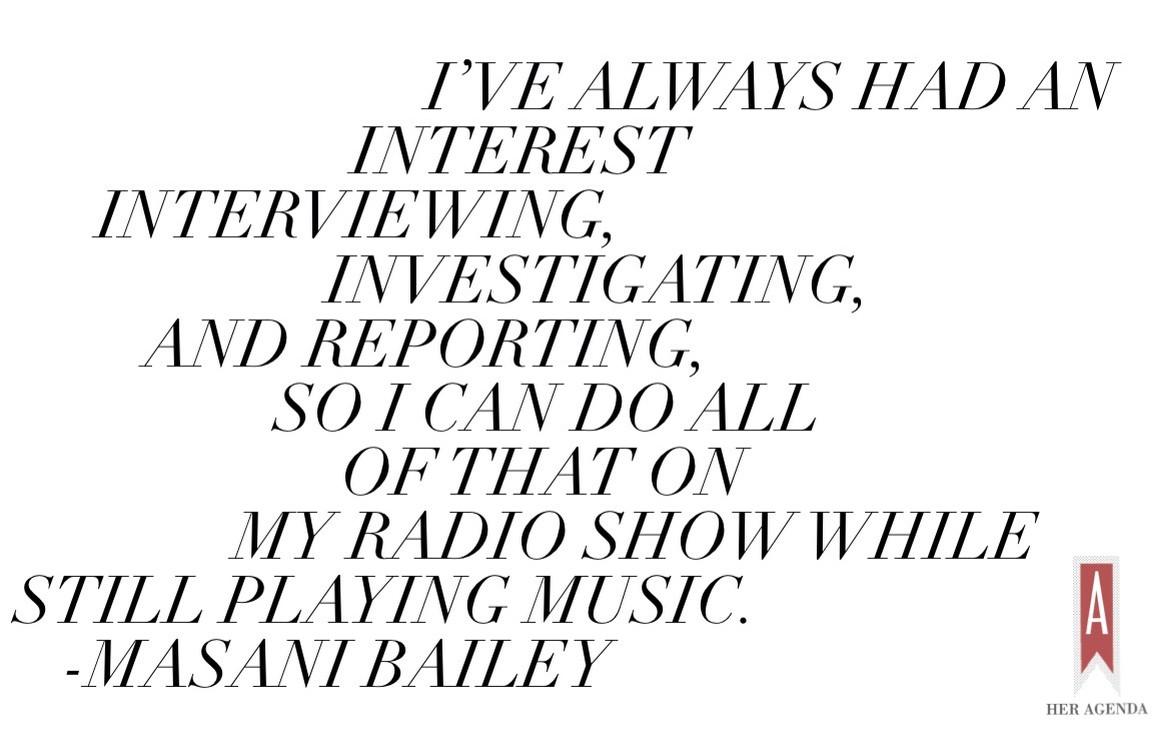 Article continues below advertisement
Her Agenda: What makes Tallahassee, FL a unique city?
Masani: Tallahassee houses three different colleges- one is a historically black college, one is a state college that is really big in sports, and one is a community college. Even though they each have different types of students, we can all come together for an event/cause and have fun. Also, because of its location, Tallahassee it attracts a lot of different people. It's like one, big melting pot. Everyone's here to pursue the same thing- an education- but they bring their culture with them.
Her Agenda: Have you ever experienced an "aha" moment after leaving an event/panel or conference? What was that feeling like?
Masani: There was a recent event on campus hosted by Arian Simone. She talked about her experiences in public relations and how she had to keep persevering to reach her goals and how it wasn't easy and how there will be downfalls and failures but at the end of the day she kept going and she remained focused on her goals and became the success that she is today.
I took the information she shared as something that I should live by. Things don't always go our way, but we shouldn't let that discourage us; more so, it should be motivation to keep going and to keep pursuing our goals. So in that way, her words were like an "aha" moment for me. Everyone has trials and tribulations that they have to get through, but it makes it worth it in the end.
Article continues below advertisement
Her Agenda: Her Agenda's motto is "no one ever slows her agenda"- what is your personal motto/mantra?
Masani: My personal motto/mantra is "what you seek is seeking you." I came across this quote a year ago when I was in a different place in my life. I didn't really know what I wanted to do, and I also wasn't going the extra mile to figure out what I wanted to do. This quote, "what you seek is seeking you"- I feel like you can apply it to any part of your life. If you're seeking negative things, like drama or trouble, that's what you're going to get. But if you're seeking success and opportunities to help better yourself, then you put yourself in a place where you can become who you want to be. The universe will give that back to you.
Article continues below advertisement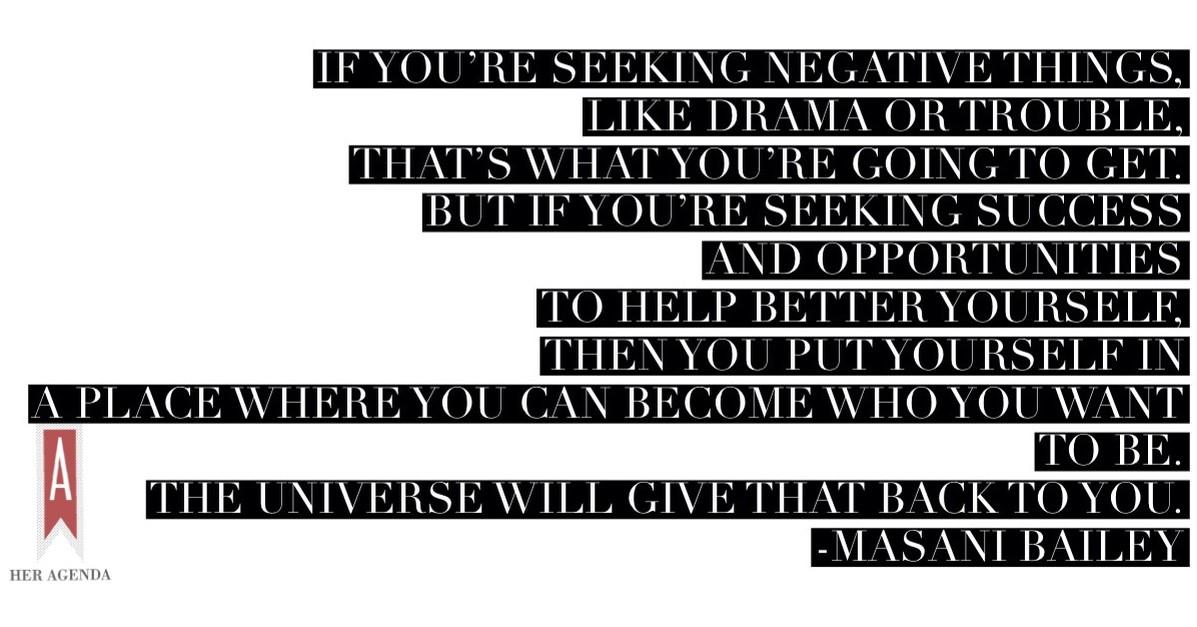 Interested in becoming a local event curator? Fill out this form, and we'll be in touch with more details.