Growing up, Brooklyn native Mika Pryce was enamored with the entertainment industry. When the TV Guide would come with the Sunday paper, she would read – and re-read – it so often her grandmother nicknamed her "TV Guide." While following a pre-med education track at Cornell University – a path that was highly encouraged as a first-generation American – she started exploring cinema and realized she wanted to follow a different path. After interning for documentary filmmaker Morgan Spurlock and film production company Screen Gems and working at an investment bank to make ends meet, she took the leap into the entertainment industry and moved to Los Angeles.
Mika is now a Senior Vice President of Production at Paramount Pictures, where she leads feature projects such as the live-action remake of Your Name, the recently announced Vertigo remake, and the film adaptation of Tomi Adeyemi's bestselling novel, Children of Blood and Bone. Mika joined Paramount from Don Cheadle's production company, This Radicle Act Productions, where she served as head of development.
We sat down with Mika to explore her journey, her experience as a Black woman in the entertainment industry, and the work she is doing to create space in the film industry for those underrepresented voices.
Her Agenda: What was the transition from the world of pre-med to the entertainment industry like for you?
Mika Pryce: My parents had very high hopes for me and I remember vividly telling my dad that I was going to take time off and, if at the end of two years, I felt like I want to go back into medicine, I would do a post-bacc and take the MCAT and then I'd go back to it. I felt that, strategically, it's hard to start medicine and then figure it out after that. With movies, I can always start over because it's a series of internships and apprenticeships. I ultimately decided to go to graduate school for film in Los Angeles and gave myself a certain amount of time to figure it out and make inroads. My grad school took in only 25 people a year so we got very close. Even though I moved across the country and was living by myself, I had a core group of people around. When I was in school I met as many people as I could: I had internships during the day and attended classes at night. Having interned and worked in New York kind of didn't matter when I moved to LA. I was 25, on the older end of assistants, who are typically right out of college, and I needed to figure it out because my parents were not supporting me. I realized I could not afford to not work during the summers so I was one of the first people in my class to get an internship at WME [one of the largest talent agencies].
Article continues below advertisement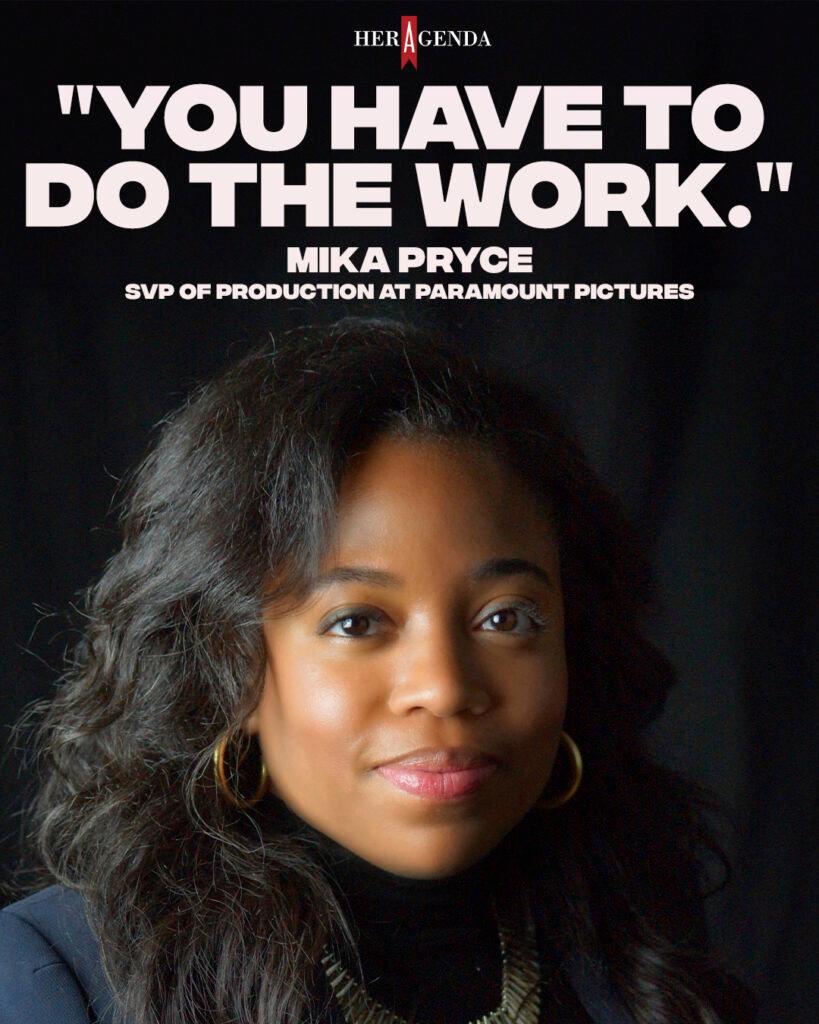 Her Agenda: When it comes to shifting gears – whether it's within a specific industry or into a new one – what are the things you consider when deciding whether it's time to make a move?
Mika Pryce: I certainly understand folks who are reluctant to pivot into their dream thing because they're worried about where that next paycheck is going to come from or how they're going to sustain themselves. I tried to strategically think: how can I do both? For me, it was a question of: am I learning and growing? Am I being best utilized in this position? If not, then I should look elsewhere or should move on. There were certainly jobs that I liked, but I felt like I wasn't getting mentored or encouraged in the way that I might have wanted by my bosses.
Article continues below advertisement
The other thing I tried to think about, especially in those early years, was how to educate myself as much as possible about the state of the business. This was during the 2008 economic crisis and the state of the movie business was shifting. Folks were relying a lot more on foreign sales for movies, you couldn't just finance these huge movies on your own, and studios were – sort of similar to now – making less movies.[The state of the entertainment industry] was something that I saw a lot of folks, especially older folks who grew up with the business moving a certain way, were very worried about, so I wanted to learn about that. I wanted to buttress my knowledge with more than just understanding story and understanding how to sort of parse a script.
Her Agenda: What challenges did you face throughout your career and how did you overcome them?
Article continues below advertisement
Mika Pryce: There are lots of times when it's tough being a woman, and also a woman of color, in this business. Even a few short years ago before these DEI arms came up at studios — that's when I was a junior executive — it was less acceptable – whether it was said or not – to articulate how one might feel othered or siloed. I recall being the only Black face there and certainly the only Black woman there and that was the case at every company until I started This Radicle Act Productions with Don Cheadle. There was also reticence to articulate that feeling because it wasn't something folks talked about. Feeling like "the only" can sometimes be a very tough place to be. You always need folks in your corner to remind you that you're not crazy or to bounce ideas off of. I feel as a woman, and sometimes as a woman of color, you feel like you can't take up space. Finding those people who believe in you, and who can articulate how you should be doing things differently, is helpful.
Article continues below advertisement
Her Agenda: You speak about needing to take up space – how does your experience tie into the work you are doing now to create space in the film industry for those underrepresented voices?
Mika Pryce: When I was presented to start [This Radicle Act Productions] with Don [Cheadle], I didn't know that I necessarily felt like I could do it. I spoke with Don for many months, very actively about what the role was what the position was, and what the ethos of the company would be. I think that helped in terms of us being on the same page when we ultimately pulled the trigger, but I realized at some point that some of that was me being afraid. I was 34, maybe 35, years old and was sort of afraid of what it might mean for me to step into the role of development. The ethos of the company was also utilizing his platform as an incredible person, a well-liked, accomplished actor, and utilizing that platform to give a platform to up-and-coming historically marginalized peoples. That, for me, was incredibly exciting because it was very much where I was in that place in my life. I understood how we might put it all together such that buyers, whether you're at a network or a film studio, might feel comfortable with these younger and newer names in a package. For example, having first-time showrunners packaged on a show that Steven Soderberg is also producing. Don and I would often talk about how we would hide the medicine in some of the stories that we were putting together. We asked ourselves: what's the message and how do we make it not feel like vegetables? How does it not feel like homework for someone to show up and also be entertained by this thing, but also be getting these other things from it?
Article continues below advertisement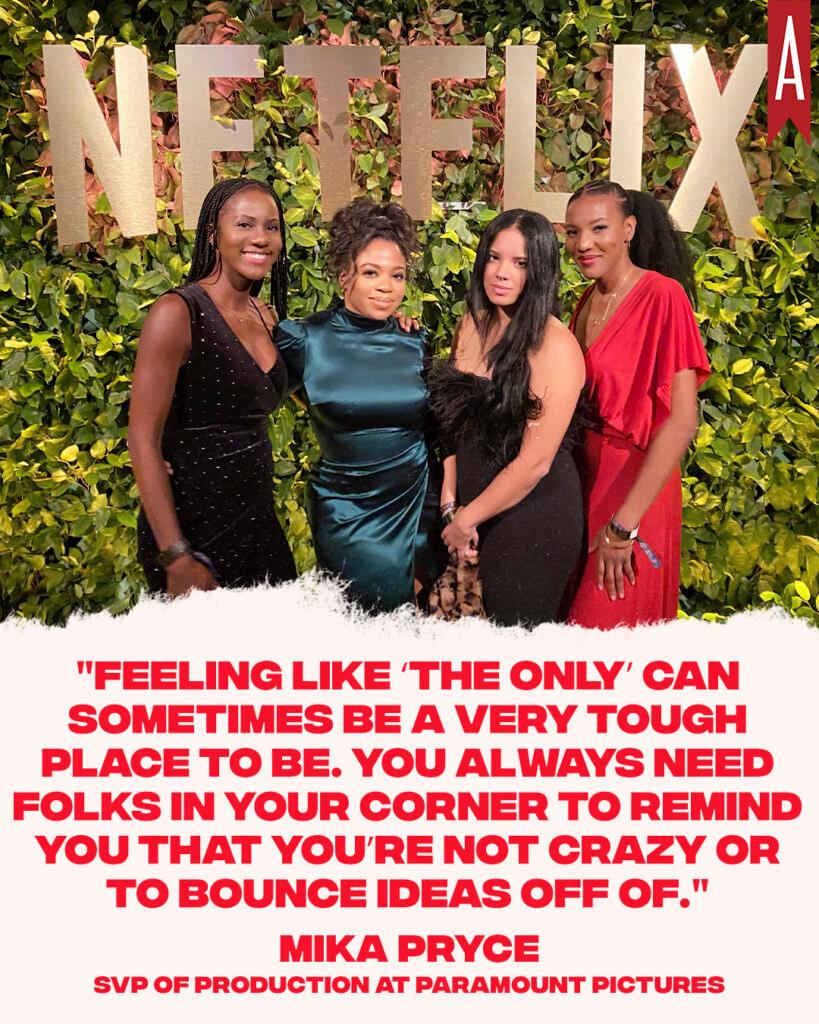 Her Agenda: What are you most excited to be working on now?
Mika Pryce: In moving from Don's company to Paramount, some of the reasons I did that was to take that same personal mission and have a bigger platform with which to also tell diverse stories. Not every story's makeup is going to be inherently that, but much of the reason I left this thing I had been building and moved to this bigger company was because it felt like it was an even bigger platform in which to tell those stories and perhaps reach even more individuals.
I'm working on "Children of Blood and Bone" right now, which is an Afro-futuristic series based on the wildly popular book series and it is something that we hope to make for a few years from now. It's incredibly dear to my heart because to make a story like that and have the push of a major studio behind it will have more eyeballs on these sorts of stories, but pushed through a commercial lens.
[Editor's note: This interview has been edited for length and clarity.]