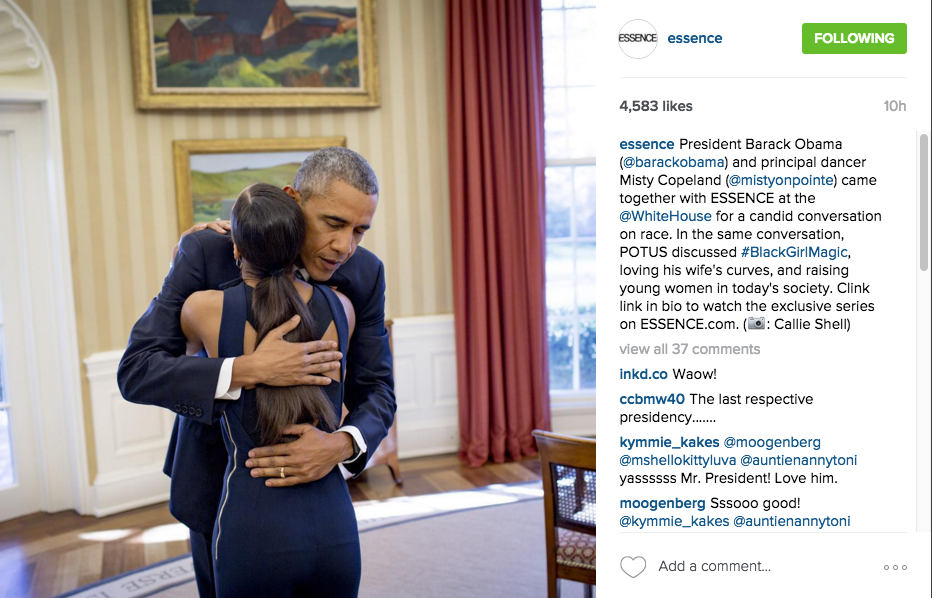 President Obama and Misty Copeland Talk Success, Breaking Barriers, and #BlackGirlMagic with Time + Essence Magazine
By
Asha Boston
Mar. 14 2016, Published 2:42 p.m. ET
On February 29th, President Barack Obama and principal ballerina Misty Copeland sat down for a candid conversation on Black identity and the power of perception.
The interview conducted by Maya Rhodan, explored the intersections between Misty and the President's paths. Not only do they share the accolade of being the first African-American in their respective fields, they also share a passion for empowering women of color through their influence and platforms.
This is not the first time they've sat down to discuss influence and progress. In April of 2014, the President invited Misty to join the White House's Council on Fitness alongside Rachael Ray, Jason Collions and several others.
However, their most recent discussion, shared on TIME and ESSENCE showcased a different conversation on health and well being. President Obama shared personal experience of growing up and understanding his identity as well as his revelations while raising two daughters in the social media age; noting that there's a constant pressure to be perceived a certain way, especially for young Black women.
He shares, "I mean when you're a dad of two daughters you notice more. When I was a kid I didn't realize as much, or maybe it was even a part of which is the enormous pressure that young women are placed under in terms of looking a certain way. And being cute in a certain way. And are you wearing the right clothes? And is your hair done the right way. And that pressure I think is historically always been harder on African American women than just about any other women."
Article continues below advertisement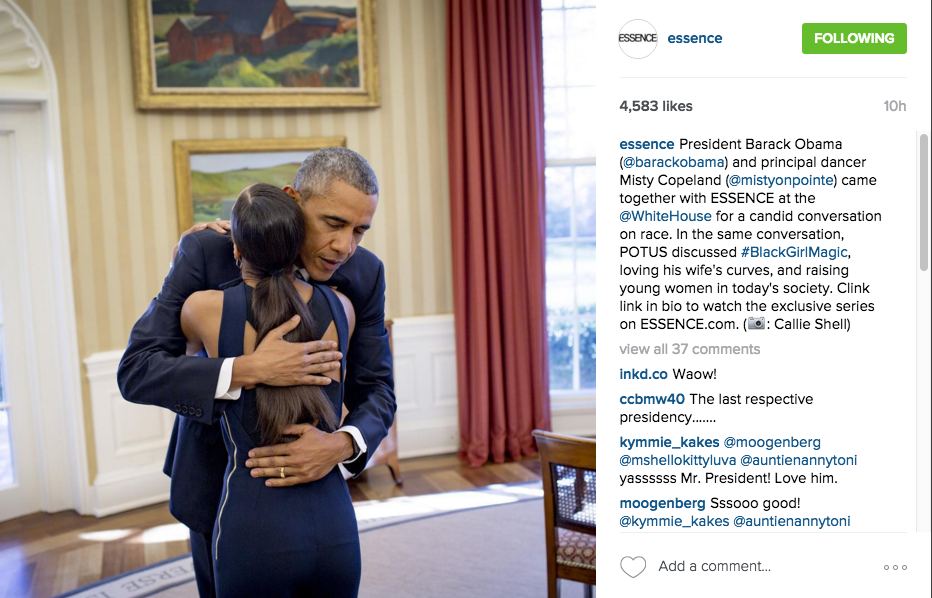 Misty agreed, highlighting the importance of using social media platforms to share messages of positivity for young women of color. "To have movements like Black Girl Magic, I think it couldn't be more positive for a young black girl to see that it's okay to be yourself, it's okay to not have to transform and look like what you may see on the cover of a lot of magazines," she shared.
Along the lines of elevating positive messaging there was a portion of the conversation that spoke to the importance of visibility and role models.
"You know, as the father of two daughters, one of the things I'm always looking for are strong women who are out there who are breaking barriers and doing great stuff," shares Obama.
Article continues below advertisement
"Misty's a great example of that. Somebody who has entered a field that's very competitive, where the assumptions are that she may not belong. And through sheer force of will and determination and incredible talent and hard work she was able to arrive at the pinnacle of her field. And that's exciting."
Her Agenda believes in the concept of you can't be what you can't see, so visibility and shining a light on role models is important. However, Obama also points out that it's deeper than simply showcasing examples.
"[W]hat we also have to remember is that the barriers that exist for them to pursue their dreams are deep and structural. And so it is wonderful that the potential dancer can see Misty and say, I can do that. But if there's no dance studio at all in their neighborhood, and if their schools don't offer any extracurricular activities at all, or if their school is chronically underfunded, then it's going to be a problem," he explained.
Watch the full conversation in the video above. Read the full transcript on TIME's website.