Nancy Redd wears several hats as a New York Times and USA Today best-selling author, former Miss Virginia, seasoned and award-winning on-air host, loving mother and wife, and a dynamic businesswoman to name a few. With inspiration from her own family, Nancy became a success in children's literature publishing The Real Santa, a Christmas story depicting a Black Santa Clause, and Bedtime Bonnet, the first-ever picture book to celebrate durags, bonnets, wave caps, and other Black hair nighttime rituals.
Nancy is also a bestselling health and wellness author having published BODY DRAMA, DIET DRAMA, and PREGNANCY, OMG! to show real-life photographic accounts of people navigating wellness and motherhood. Nancy serves as the New York Times health and beauty expert and also provides knowledgeable commentary on the best products for children. Nancy has been in conversation with the likes of Queen Latifah, Steve Harvey, Wendy Williams, Sesame Street's Oscar the Grouch, and many others.
Her Agenda caught up with Nancy to discuss her approach to her career, motherhood and how she continues to break barriers around topics of inclusion and diversity.
Her Agenda: Can you talk about your early childhood and how it inspired you to have specific conversations around inclusion?
Nancy Redd: I grew up in a small town in Southern Virginia called Martinsville Virginia. The only way that I could connect with the outside world and larger cities was through television, media, or magazines. I didn't see a lot of people who I personally related to like Southern girls dealing with weight issues, being African American, and I just wanted to fit in. At some point, I feel lucky that the shift went from me wanting to fit in to me creating things where others like me felt like they could fit in.
Article continues below advertisement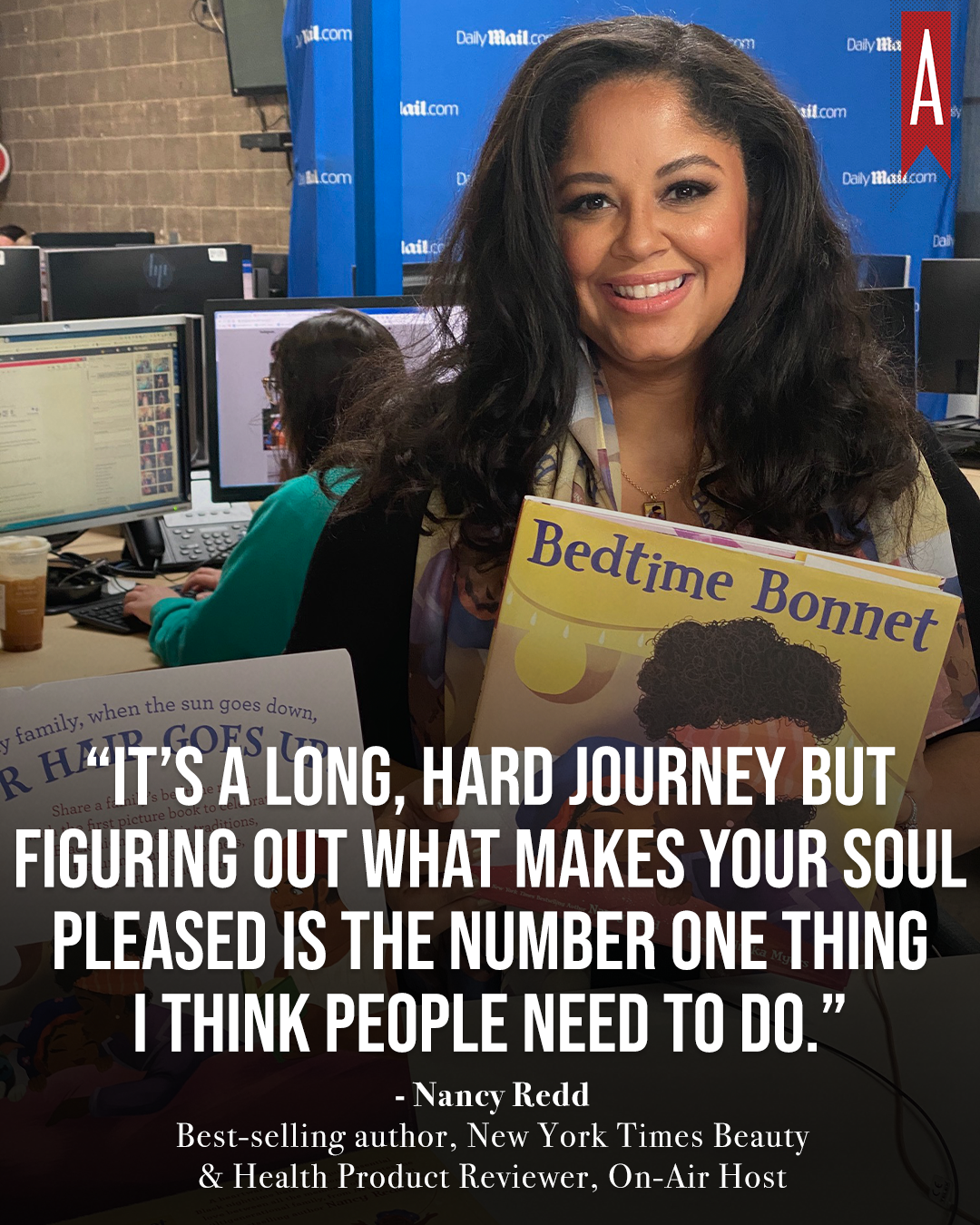 Her Agenda: Since writing BODY DRAMA and DIET DRAMA, what tips and tricks have you held onto that help you maintain a healthy relationship with her body?
Nancy Redd: Happiness has nothing to do with the vessel that your soul lives within. It just doesn't. It's a long, hard journey but figuring out what makes your soul pleased is the number one thing I think people need to do. Sometimes part of that is doing the most you can with the superficial but recognizing that that is a tangent. Recognizing that's not going to fix what's on the inside, fully.
Article continues below advertisement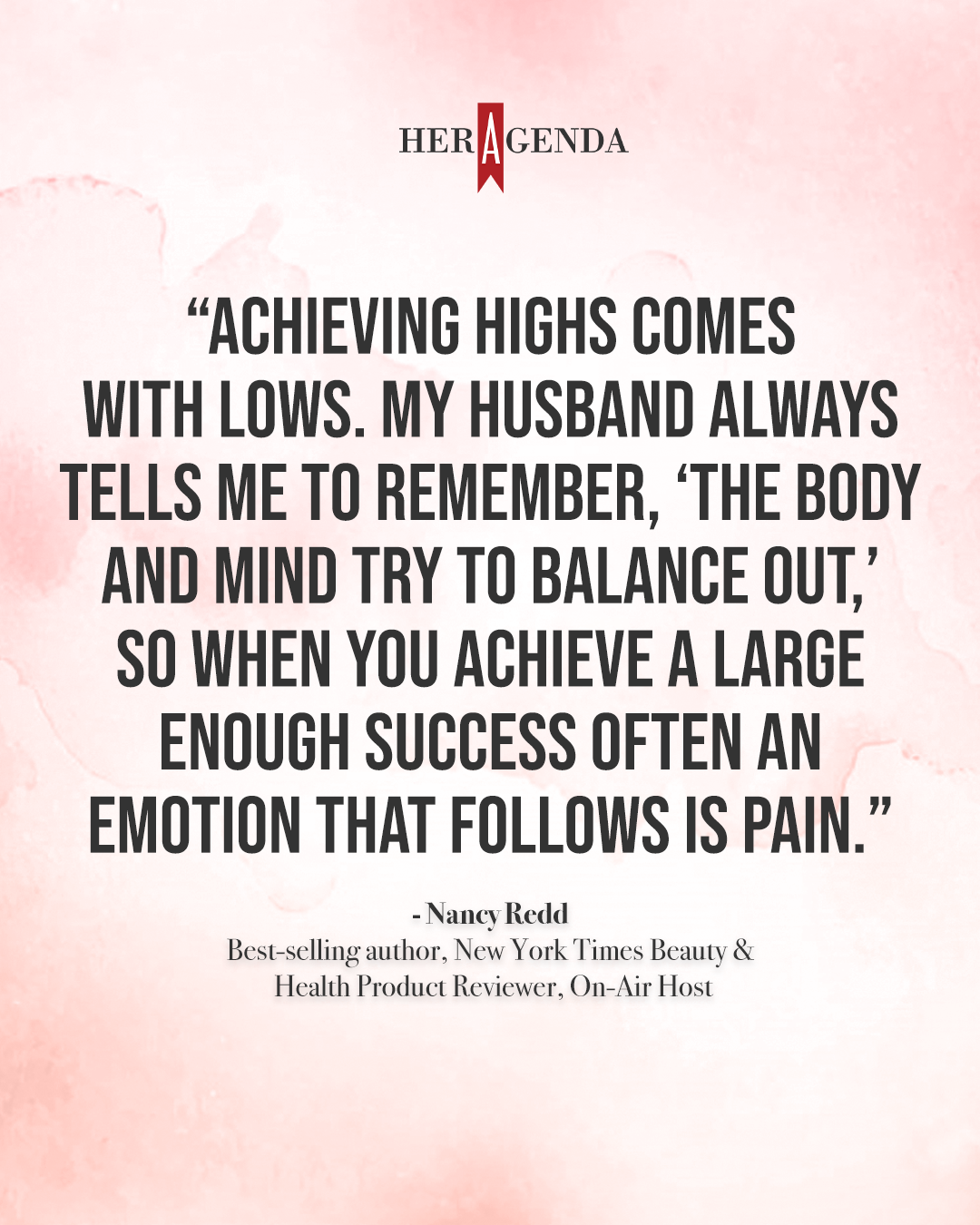 Her Agenda: How did your experience in pageantry as former Miss Virginia contribute to your success and knowledge as a health and beauty expert?
Article continues below advertisement
Nancy Redd: That is such a loaded question right now especially with the announcement of the horrible tragedy of Former Miss USA [​​Cheslie Kryst]. Achieving highs comes with lows. My husband always tells me to remember, "the body and mind try to balance out," so when you achieve a large enough success often an emotion that follows is pain. Sometimes we give it names like inferiority complex and it's important to realize that. My experience in pageantry was my first intense experience with a lot of success and pain. I was fortunate to have a very strong support system. This was before Instagram and TikTok so you had to get on actual TV and the number one way people could [get on tv] was through pageants. As a generally bubbly person with self-esteem issues, when you're in the limelight seeing how quickly people tear apart pieces of you and then putting those parts back together and rearranging them really helped me to see what was important to me in my life.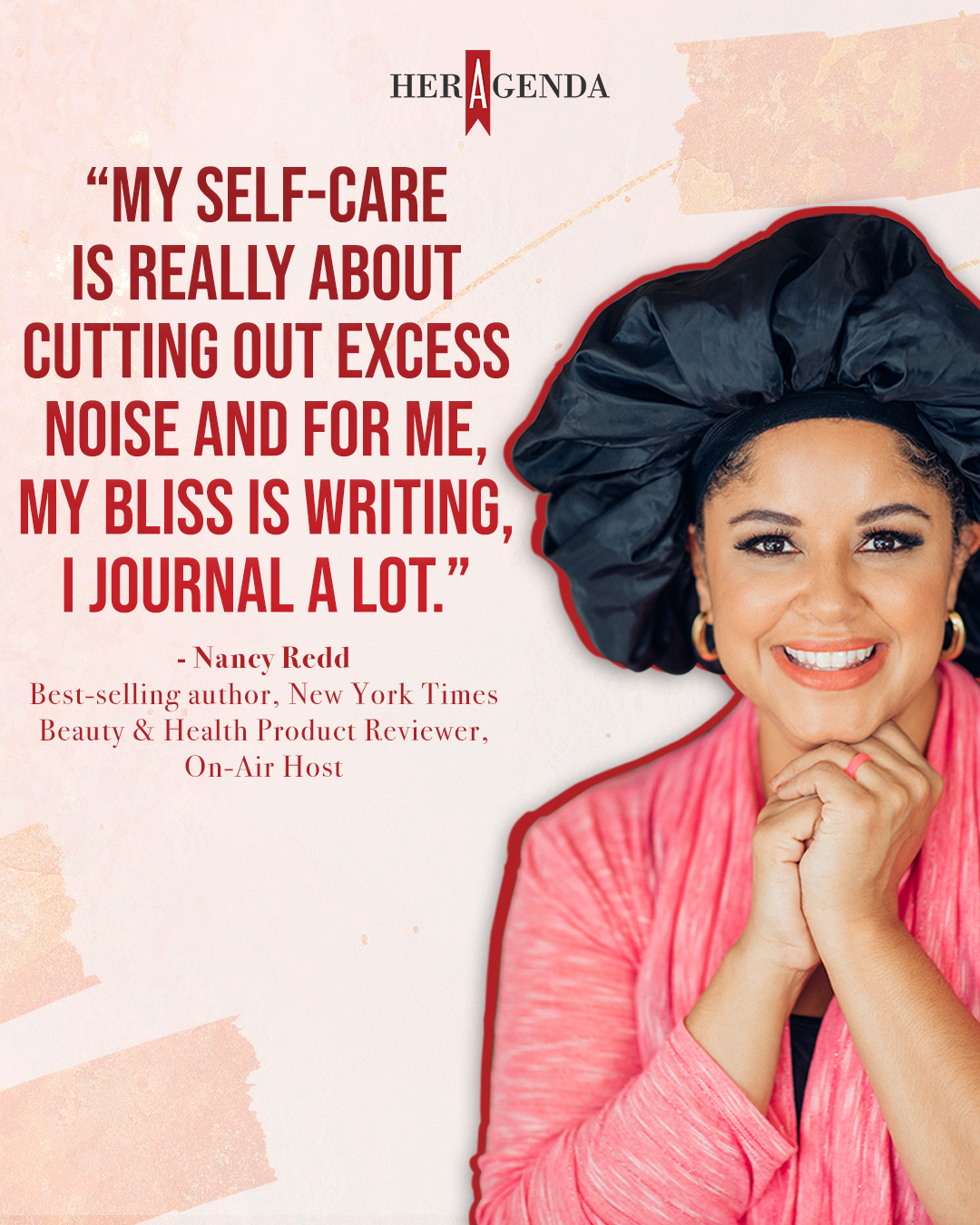 Article continues below advertisement
Her Agenda: What does your self-care routine look like and what is your approach to prioritizing it while balancing your career and motherhood?
Nancy Redd: I am very fortunate that I curated an amazing group of friends and I have a very supportive family that understands my idiosyncrasies because I am an ambivert, which means I'm an extrovert in these streets but I'm an introvert at home. When I'm at home I just like to be here in my bonnet. My self-care is that of minimalism unless I have to physically show my face for something. I think not having a mask with the people who love us is very helpful. I think curating a life with people who love you for you and help you recognize when it's game time, it's game time, and when it's not it's not. My self-care is really about cutting out excess noise and for me, my bliss is writing, I journal a lot. My family knows I set my boundaries; I'm a wonderful mommy and wonderful wife but I also have my rules and personal needs. My mom always said to make sure you are taking care of yourself. I know you're shopping for the children but are you also shopping for yourself? I'm lucky to have a self-care role model in my mom.
Article continues below advertisement
Her Agenda: You created Bedtime Bonnet for children to understand the importance and beauty of having a nighttime hair regiment. After the book was published, how has it impacted your relationship with your natural hair and your daughter's relationship with her natural hair?
Nancy Redd: It's great. My husband is Indian American and I am African American. We both love our cultures very much but I wanted to create resources for my children to see the beauty in Black people and everything they do. When it came time for my daughter to wear her bonnet around preschool, she was like 'only you and grandma wear the bonnet.' She thought bonnets were for older people and that's the mindset a lot of children have. I love all the reviews I receive when parents say their child didn't want to wear the bonnet but after reading the book they're part of that bonnet life. If you can see it you can be it, so for me, it changed my relationship with my daughter because now her hair is popping.
Article continues below advertisement
Her Agenda: What has been the most rewarding feedback you've received from your audience and readers regarding The Real Santa.
Nancy Redd: The smiles on little children's faces are so rewarding. I always thought why is there not a mainstream book that featured a Black Santa? I'm so happy that I am a part of this evolution and change. The response has been great, I feel so happy that Santa hopefully will evolve in the same way that all types of magical creatures do where they look different, and there isn't just one version of them. Writing the book taught me the importance of being your own authentic self even if no one is doing it because eventually, the world catches up. It is better to be a part of that and that's why I encourage so many people to go after their own projects and businesses because if you don't someone else will. Even if you both do it at the same time, why not work and partner together?
Article continues below advertisement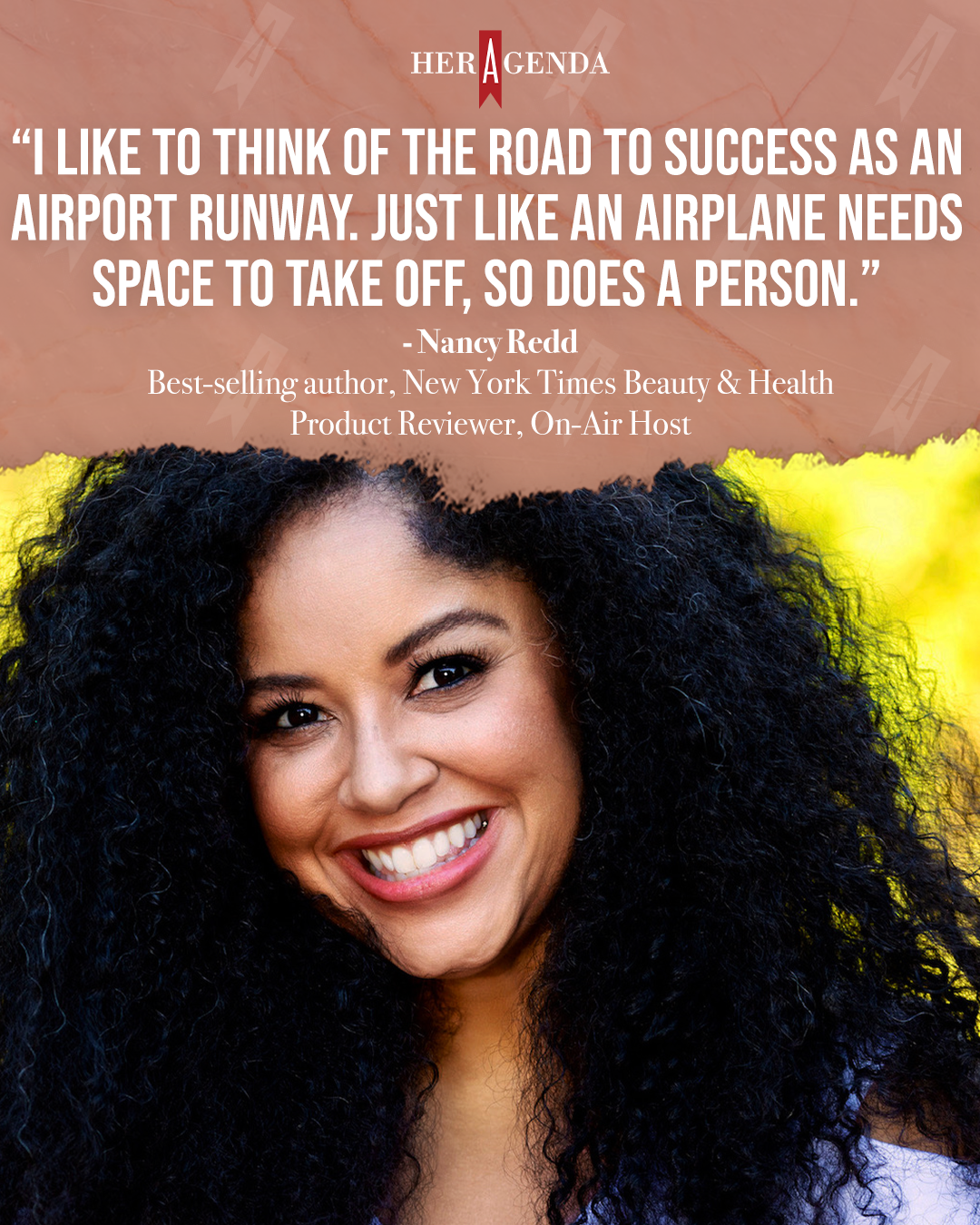 Her Agenda: Where did you see a gap in the conversation of motherhood and pregnancy in literature and how did that inspire you to write your books around those topics?
Article continues below advertisement
Nancy Redd: I am a huge fan of visuals. For many of us, it's easier to digest text through illustration. When I was growing up and when I was pregnant there just weren't a lot of pictures. I wanted to do a photographic guide so more people would be able to see themselves. All my non-fiction books are photographic and they always have a bevy of beautiful women of all shapes, sizes, backgrounds, and ethnicities. In my pregnancy book, I included all kinds of couples that look very different. Not only does it normalize this but it's inspiring when you see somebody who looks like you. All health books prior to Body Drama, which I released in 2008, were illustrated or just text and almost all of them are still that way. Being able to see cellulite and see ashy skin on people makes you feel a little bit better about those topics.
Her Agenda: What advice would you give to mothers trying to balance their careers and motherhood, all while exploring new ventures?
Article continues below advertisement
Nancy Redd: You might get slowed down. As long as whatever is rolling doesn't fully stop, it's easier to speed back up. My advice is to be aware of your runway and always make sure it doesn't end. I like to think of the road to success as an airport runway. Just like an airplane needs space to take off, so does a person. When I first started my career, I wasn't aware of the amount of runway a person needs to make their professional dreams come true. There are two types of runway a person needs: emotional runway and financial Runway. Emotional runway to weather all the no's because it gets really hard. It can really be discouraging and make you want to stop what you're doing but you can never come to a full stop. You have to make sure you're still carrying on slowly until you can get your speed back up. You also need a financial runway to hold you down which can also take forever because I think oftentimes we see many overnight successes and that doesn't work for everyone. Niecy Nash gave me this piece of advice years ago and she said "you're gonna drop the ball every now and then, just try not to drop the same ball twice." Nobody's perfect but you can't just keep dropping the same ball in the same field, but if you pick it up and brush it off everything stays in the air.
[Editor's note: This interview has been edited for length and clarity.]