In 2008, amidst a culture of hair relaxers, silk presses, and bi-weekly blowouts, Nikki Walton birthed her blog, CurlyNikki – an act of radical self-love. Growing up, Nikki often saw brown women who resembled her on TV sitcoms, stylish magazine covers, and glamorous red carpets. Despite the media's diverse representation, the superstars she admired always had straight hair. The time-consuming process of straightening her hair, which began at age 7, left her lost in college, causing her to rewrite her personal narrative.
Over the past 14 years, Nikki has altered the word "influencer" to leverage her growing platform while uplifting women. After spending years dedicated to meditation and reflection, Nikki is the current host of a podcast, GoOD Mornings with CurlyNikki, on Spotify and her first-ever live meditation show with Spotify, Meditation with CurlyNikki. The woman who once struggled to find beauty within herself is now teaching others how beauty can manifest through a calm, centered mind.
Her Agenda recently caught up with Nikki Walton to discuss finding your zen, accessing your creativity through peace, and good hair.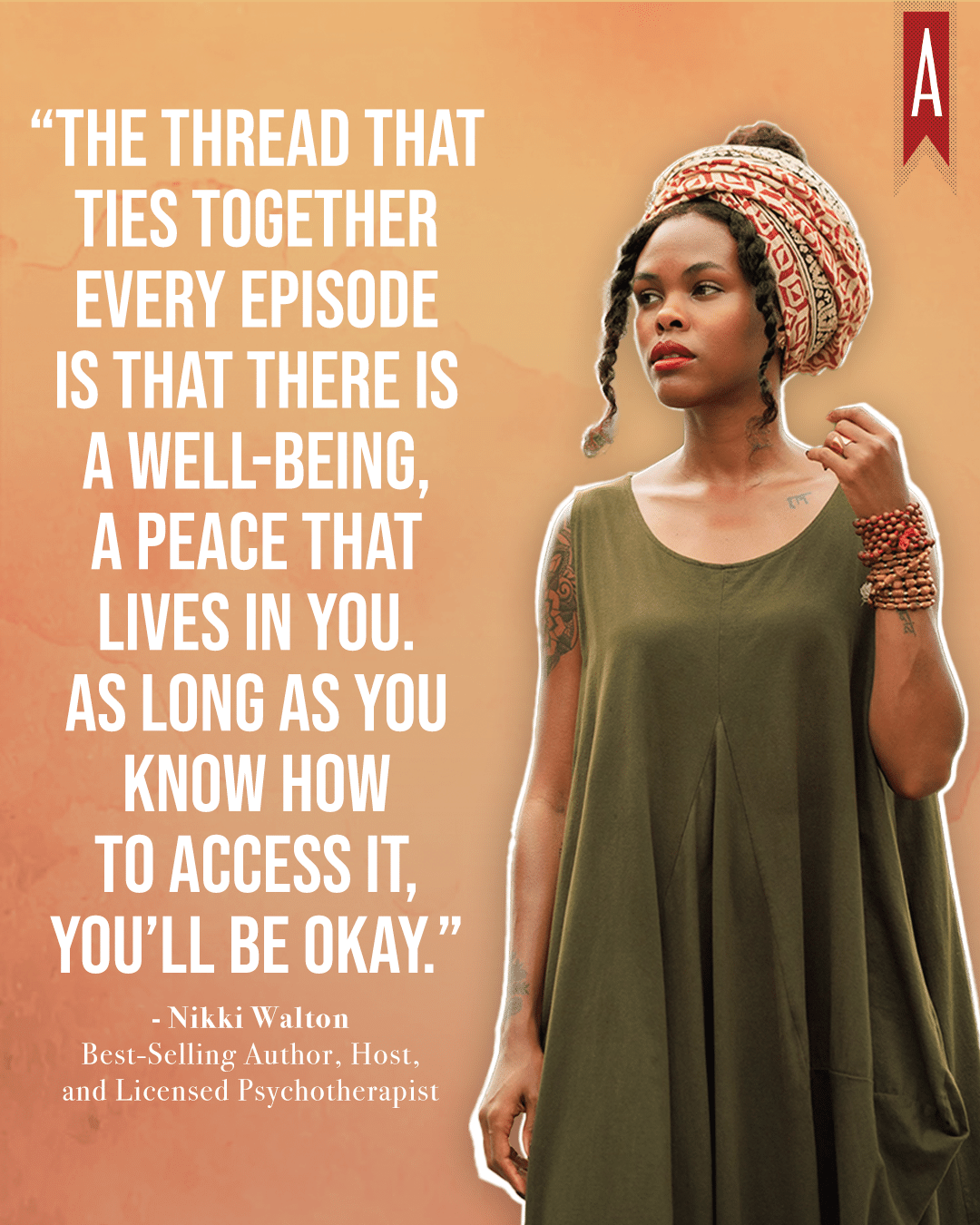 Article continues below advertisement
Her Agenda: GoOD Mornings with CurlyNikki is literally every day, like I don't even think you've skipped a day and you even do it on the weekends. Do you find it challenging constantly coming up with creative ideas on a daily basis?
Nikki Walton: I was just having this conversation about an hour ago. When the idea came, a few months before I started, which was June 2021, I thought 'There is no way I'm gonna have something to talk about every single day.' But, I don't necessarily have something new to talk about. It's the same thing, [but] it's coming out in different ways, words, quotes, and practices. The thread that ties together every episode is that there is a well-being, a peace that lives in you. As long as you know how to access it, you'll be okay.
Yes, there's a lot of creativity that goes in every morning. But, it's almost like I show up at the mic. All I have to do is show up, which means getting up at 5 in the morning, [which is] hard but as long as I show up, am sitting at the microphone, and close my eyes, I go into my own meditation and the words come. They come beautifully and whenever it feels hard, it's because I'm pushing [and am in] the way. It's like the words come effortlessly [and have] every morning for a year.
Article continues below advertisement
Nikki Walton: Meditation with Curly Nikki is live once a week, for an hour every Tuesday at 7pm EST and that's necessary because I want people to have that live component. I want them to be able to engage with me, ask questions in real-time, and also for us to be able to take our time. On the daily show, [I'm trying] to get people in and out, living from that peace, within five to ten minutes every day. For our weekly live show, we have 45 minutes to an hour, so we can really take it slow and make sure we are not skipping anything. If someone gets stuck, I can walk them through it in real-time. It's a necessary deeper dive every week.
Article continues below advertisement
Her Agenda: One of your GoOD Mornings with CurlyNikki episodes is called, 'Meditation: The Answer To All Your Problems.' And, I read that the podcast's purpose is to help listeners find their zen. But, how did it end up helping you find your zen?
Nikki Walton: I started meditating regularly in about 2013. Between 2013 and 2017, I meditated for about four hours a day. And when I wasn't meditating, meaning formally sitting on a mat, eyes closed and secluded, I was not happy and wasn't in a good mood. I could see [that] the division between normal life and spiritual life was becoming a problem. The more I practiced, the more I noticed that the peace that I was accessing in the formal meditation, was completely accessible no matter what I was doing. Even if I was washing the dishes or walking the dog or on the treadmill, that same peace was there, I just wasn't paying attention to it. With knowing that and switching your attention to real time, meditation moves from a state of being to what you are. You are meditation.
Article continues below advertisement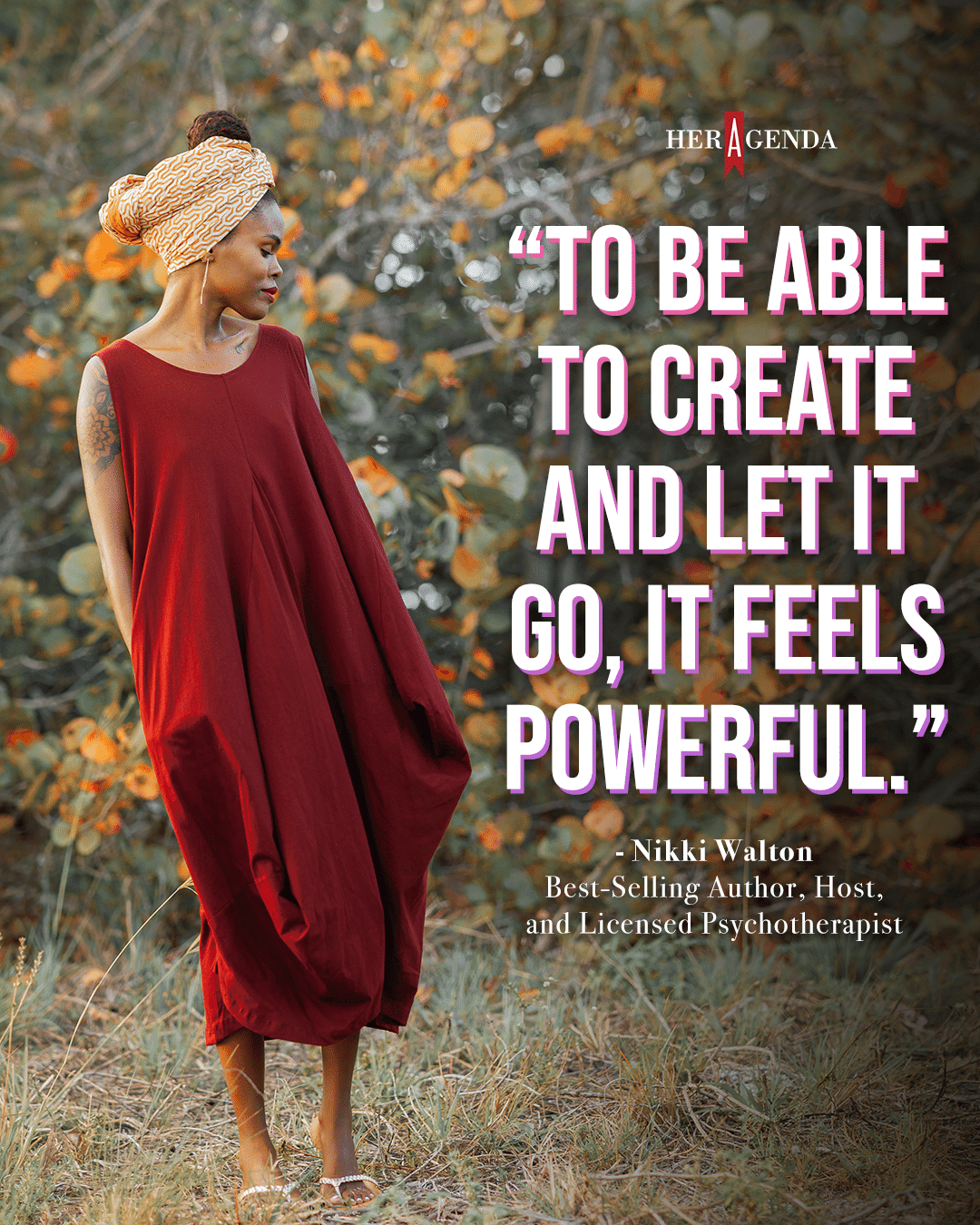 Her Agenda: As a creator and a podcast host, is it hard not to get wrapped up in the likes and streaming numbers?
Nikki Walton: It's always a challenge when starting a project because you want everything you do to be successful. I had my biggest week for GoOD Mornings with CurlyNikki last week [despite] the whole year it's been in existence. I feel like it's because I've let go of the checking [and] the need for it to be the best. For every episode, once it's done, for me, it's dead. That was a moment in time, I released it to the world, and moved on. To be able to create and let it go, it feels powerful.
Article continues below advertisement
Her Agenda: I call this my Oprah question of the interview. I was watching something you did on the Breakfast Club a year ago and you spoke about beauty standards. Do you remember when you realized that you did not fit America'sbeauty standardsand whenyou realized that you didn't care?
Nikki Walton: I don't think it was until I got to college that I came face to face with it. Up until college, my hair was never relaxed with chemicals, it was always heat styled. By the time I got to college, I wasn't able to keep it straight. That was the first time in my life where I was away and I was in moments and situations where my hair didn't look perfect because I didn't have access to a hair stylist to keep it straight. I could see [that] I didn't feel comfortable in my skin and hair, [which] was not good. It took a couple of years away at school for me to start experimenting with products. And, actually washing my hair with my own hands for the first time because I used to go to the salon twice a month. It took me a while to learn to love my curls. But when I did [in about] 2010, there was no way you could get me to straighten my hair. My curls are more than appropriate.
Article continues below advertisement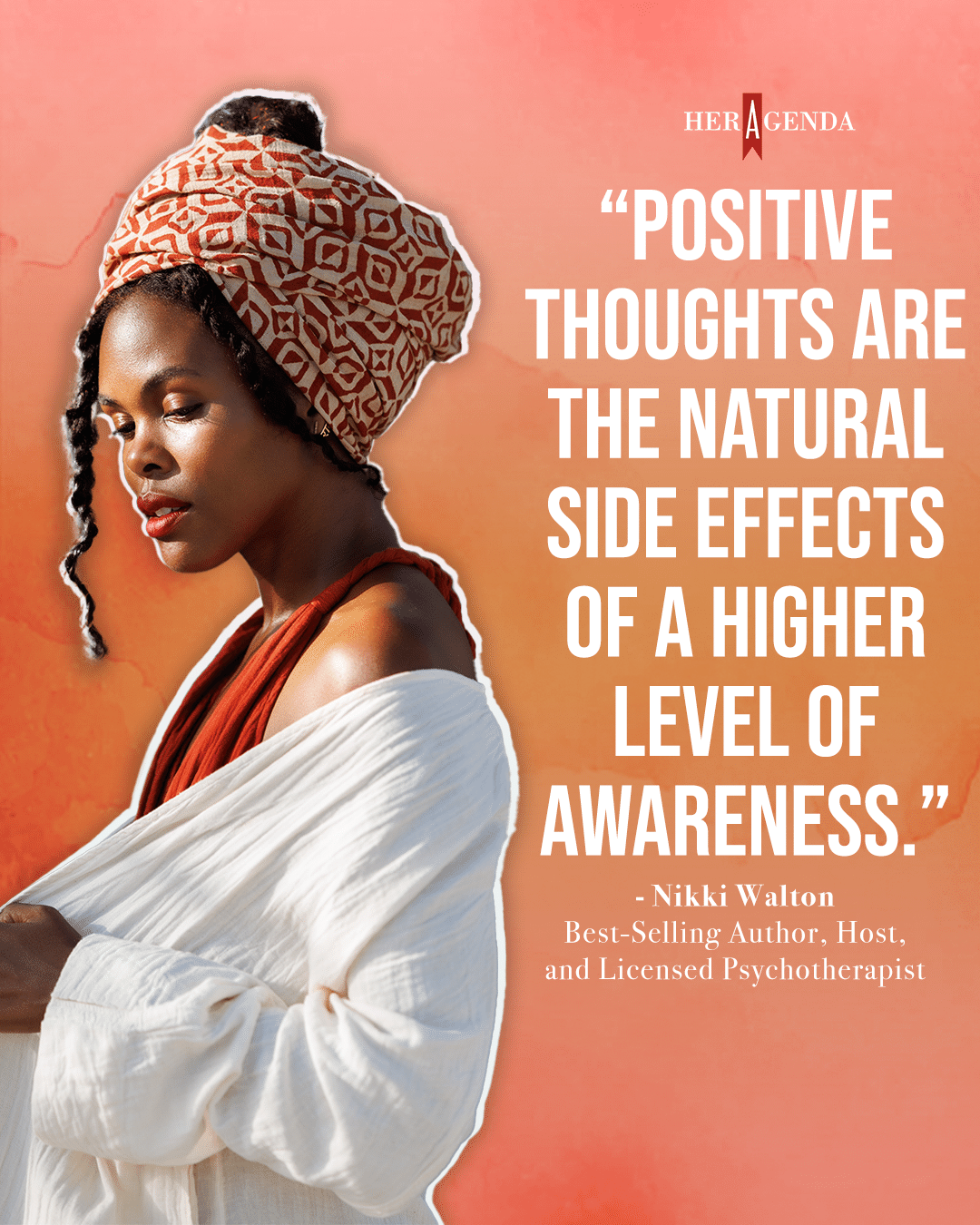 Her Agenda: I've noticed that your brand connects spirituality, healthy eating, and hair. What would you say is the one thing that ties them all together?
Nikki Walton: Awareness, I think would be the main tie in for all of them. It took awareness for me to [see] that I didn't like my hair. It took awareness to recognize that I wasn't peaceful within. It takes awareness to pay attention to what you're feeding yourself [and] your mind. You have to be present in the moment, and then from there, better choices can be made [as] more positive thoughts are the natural side effects of a higher level of awareness.
Article continues below advertisement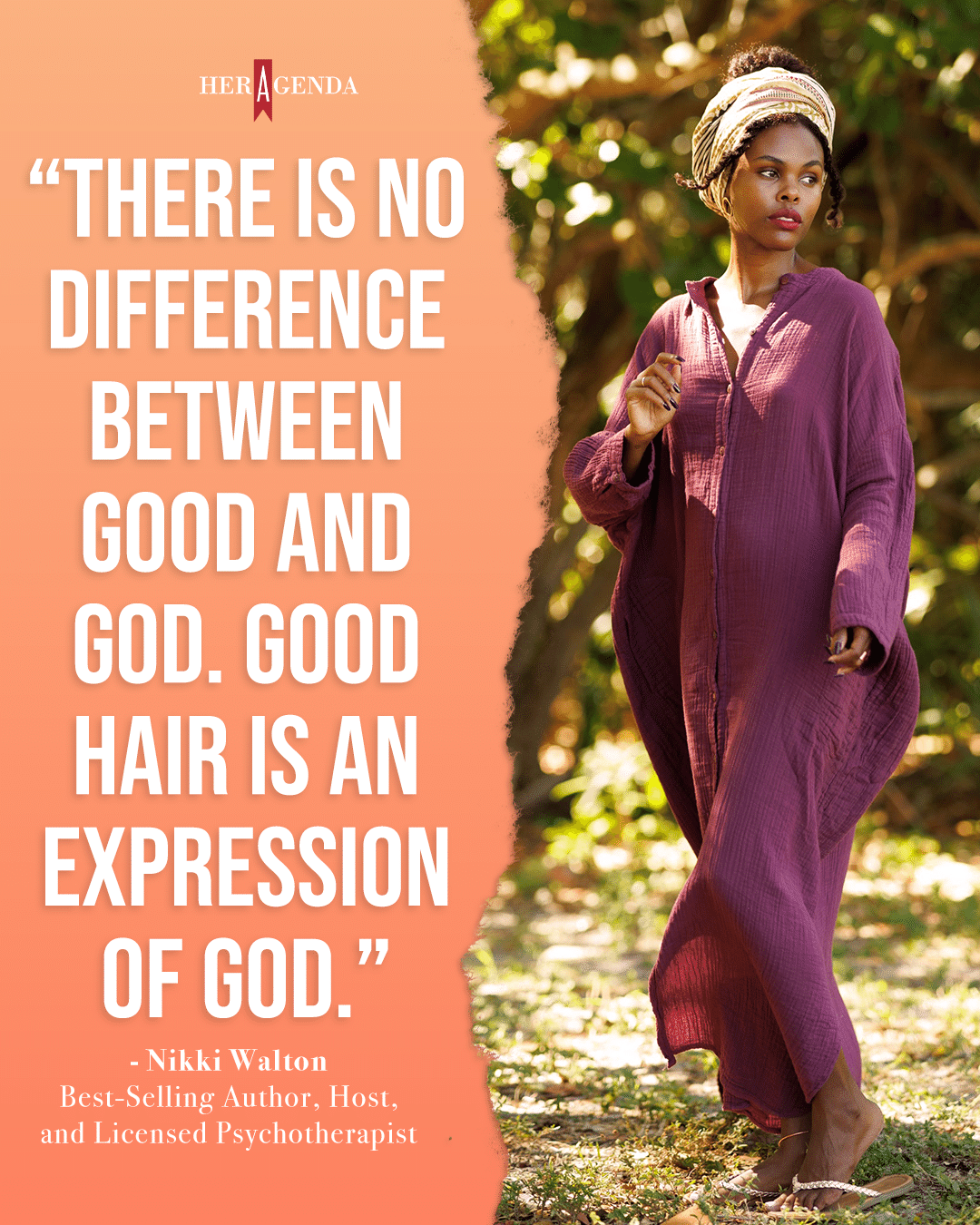 Her Agenda: In the Black community, it's still common to hear the phrase, 'good hair.' In your own words, can you please define what 'good hair' means to you?
Nikki Walton: If you were asking that question, back when I wrote my book, I would tell you it means your healthy hair. The healthiest version of your hair that is well loved, well cared for. What I didn't notice until a few months ago, was that my first book is called Better Than Good Hair: The Curly Girl Guide to Healthy, Gorgeous Natural Hair!, my second book, When Good Hair Goes Bad, my podcast is called GoOD Mornings with CurlyNikki. That word has followed me. The reason I use "GoOD" in the podcast is because the second "o" is optional. There is no difference between good and God. Good hair is an expression of God. It's one form God has taken, your hair.
[Editor's note: This interview has been edited for length and clarity.]