Nina Simone, The Jazz Singing Legend That Changed The World Of Music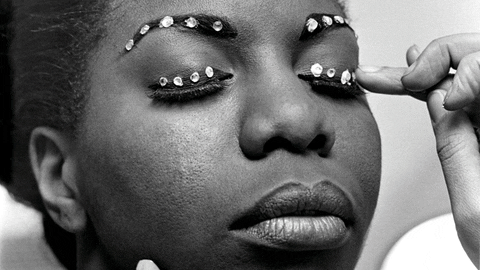 Today is the inspirational Nina Simone's birthday. She was born on February 21st, 1933. Music always played a role in Nina's life. Early on she taught music and later she used music to talk about racial injustice in the south.
Nina was born with a love of music. Nina also said when describing her interest in music, "I didn't get interested in music. It was a gift from God." She started playing piano and singing at her church at three years old. There was no denying the talent Simone had. After high school, Nina attended the illustrious Julliard School of Music. Later, she continued her love of music by teaching piano and playing it throughout her school years. After being rejected from the Curtis Institute of Music because of the color of her skin, Nina decided to change the genre of music she played. She entered the world of jazz and blues, playing at nightclubs in Atlantic City.
Nina Simone's real name was Eunice Kathleen Waymon. She created her stage name "Nina" from the Spanish word "Niña" which means little girl and "Simone" from a French actress Simone Signoret. Simone made a major impact on society from her personality to her music and activism. She became a spokesperson for many people. When describing her position in music and activism, "I was always a politician from the day the civil rights people chose me as their protest singer." In 2015, two documentaries were released showing Simone's life behind the scenes.
Article continues below advertisement
Simone's Position In Civil Rights
Nina was known for being outspoken. According to Nina, the worst thing about that kind of prejudice… is that while you feel hurt and angry and all the rest of it, it feeds you self-doubt. You start thinking, perhaps I am not good enough. During the civil rights movements, she released songs like "Mississippi Goddamn" and "Four Women" addressing racism and other injustices. Nina later became the leading voice of the civil rights movements describing the experiences of the African American community in the 1960s. "Mississippi Goddam" was written after the assassination of Medgar Evers and the bombing of a Birmingham church that resulted in the murder of four little girls. "Four Women" emphasized the struggles and suffering of black women through the eyes of four different black women.
Article continues below advertisement
Nina Simone's impact was not limited to the United States; she expanded her fan base when traveling throughout the world. In the 1960s, Nina decided to leave the United States because of its racist policies and traveled the world. Nina Simone was never afraid of leaving circumstances that weren't treating her right. She once said, "You've got to learn to leave the table when love's no longer being served." She traveled to a variety of places like France, Switzerland, Liberia, and England. Later in life, she decided to reside in the south of France.
Sadly, Nina Simone passed away on April 21, 2003. She lost her battle with breast cancer. She left an incredible musical and activist legacy behind. Nina's daughter, Lisa Simone Kelly is following in her mother's footsteps. She is a performer who has appeared in the Broadway musical Aida.
Though Nina Simone is gone she will never be forgotten. Her songs will forever move us, telling stories of anger, despair, and hope. Her impact on society and the music industry has never been duplicated.