Like most children, Nkechi Okoro Carroll spent most of her free time using imaginative play as her form of escapism and entertainment. Little did she know, it would eventually transform into her overall life's mission.
Raised in Nigeria, Cote d'Ivoire, and England, Nkechi's worldly view led her to earn a B.A. in Economics and French from the University of Pennsylvania and then a Masters in International Economics from New York University. She went on to work for the Federal Reserve where she managed the reserve position for the U.S. Banking system all while still writing and producing plays for the NYC scene.
In 2012, Nkechi decided to step away from finances and tap into her passion for screenwriting full time. She landed her first staff writer gigs on shows such as Bones and The Finder which led to a co-executive producer role for drama series The Resident and Rosewood.
Nkechi made her inner child's dreams come true when Greg Berlanti selected her as showrunner for the popular hit series All American, a series inspired by the life of professional football player Spencer Paysinger. Four seasons later, the popular CW series recently debuted its spinoff, All American: Homecoming now following a female lead as she ventures off to an HBCU.
Her Agenda caught up with Nkechi to discuss her pursuit of building the successful All American universe, future content under her exclusive overall deal, and how she uses mentorship and love languages to leave a lasting legacy through her production company.
Article continues below advertisement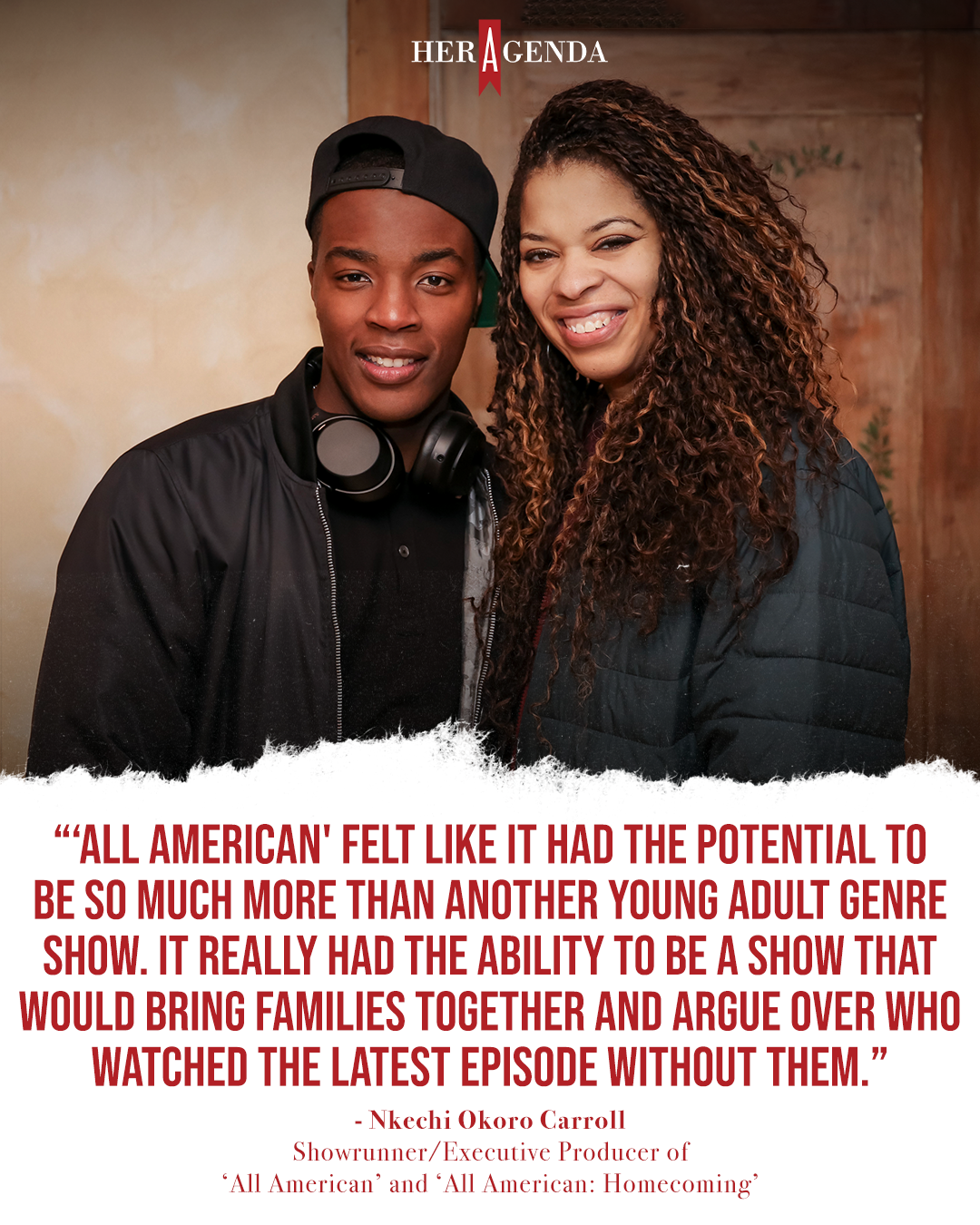 Her Agenda: What first attracted you to the All-American pilot?
Nkechi Okoro Carroll: Anyone who knows me, knows I love young adult content; I love everything from the original 902010, Buffy the Vampire Slayer, Dawson's Creek, One Tree Hill. You name it, I love it, especially if it had some young teens fighting over a love triangle. When I read the script for All American, I really loved that it had a lot of those same elements in it but it featured kids who looked like me. It felt like it had the potential to be so much more than another YA genre show. It really had the ability to be a show that would bring families together and argue over who watched the latest episode without them.
Article continues below advertisement
The real final 'nail in the coffin' of why I had to be involved with this show was when I watched the pilot episode. My gosh, it was just magical. Daniel Ezra (who plays lead Spencer James) is an incredible talent. All of a sudden, I was sitting in Greg Berlanti's office, weeping, jumping up and down on the sofa, just throwing a bunch of ideas at him. The fate was sealed at that point. I just knew I had to be involved with it.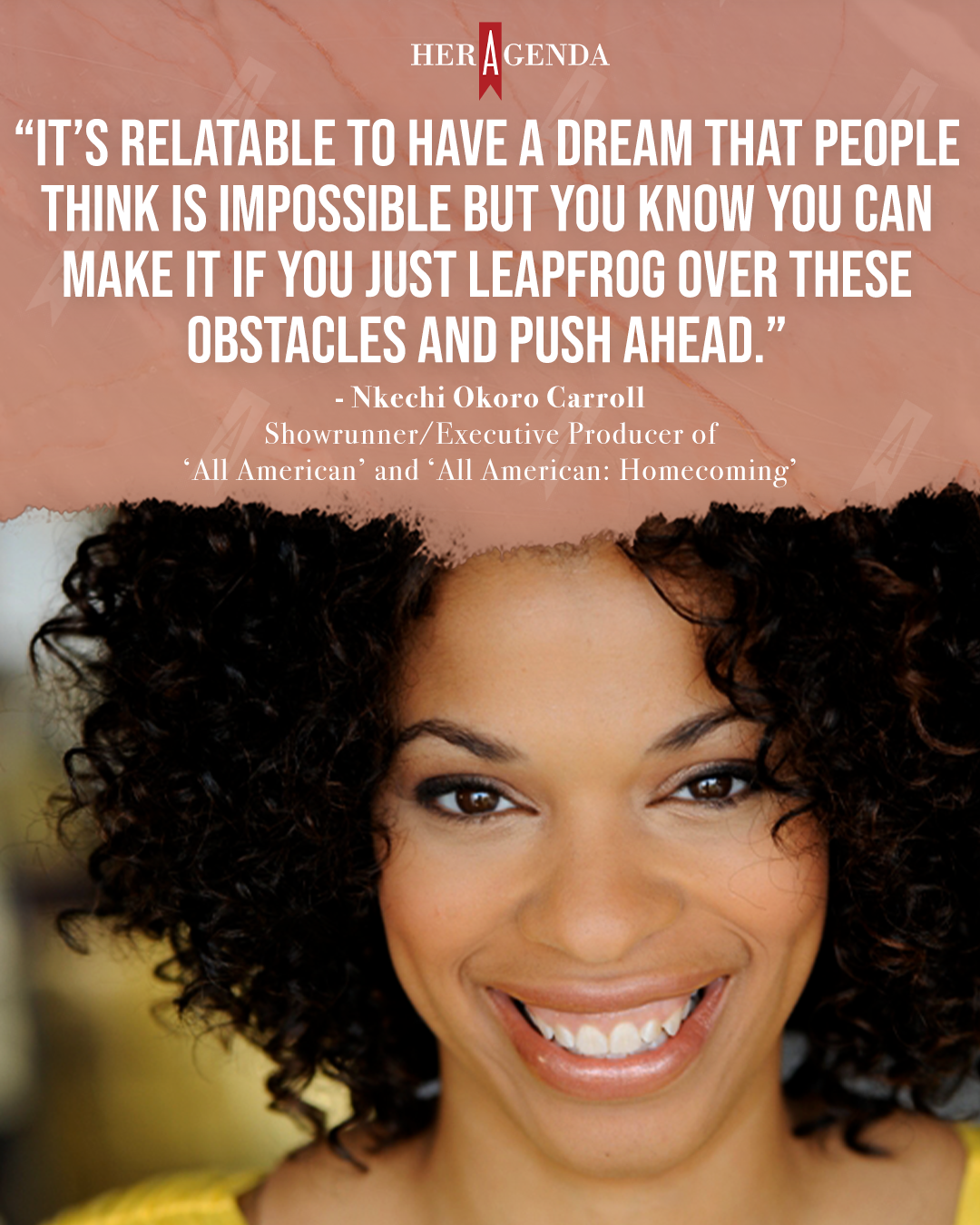 Article continues below advertisement
Her Agenda: What is it about 'All American' that attracts teens and adults alike?
Nkechi Okoro Carroll: We worked really hard in the writer's room to make it a show that's not just a YA football drama. You've got these two families, The Baker family in Beverly Hills and The James family in South LA, that are at the core of all of it all. It's more than just about the teenagers, it's one of those stories that is a study on family, both your blood family and the nontraditional family that you make.
At the heart of the story, the mixing of the kids across the two families has really brought those two worlds together as they kind of melded even into the adult groups. I think the fact that it's not just about teens and love triangles, but it's really about the pursuit of your dream and the sacrifices and the joy that come with the pursuit of a dream that should feel impossible. That is relatable at any age. Whether you're a 10-year-old who swears they're going to be an astronaut for NASA or whether you're a 35 year old like I was when I staffed as a writer on my first show. It's relatable to have a dream that people think is impossible but you know you can make it if you just leapfrog over these obstacles and push ahead. That's what all these kids are doing. They are pursuing a dream in their own light.
Article continues below advertisement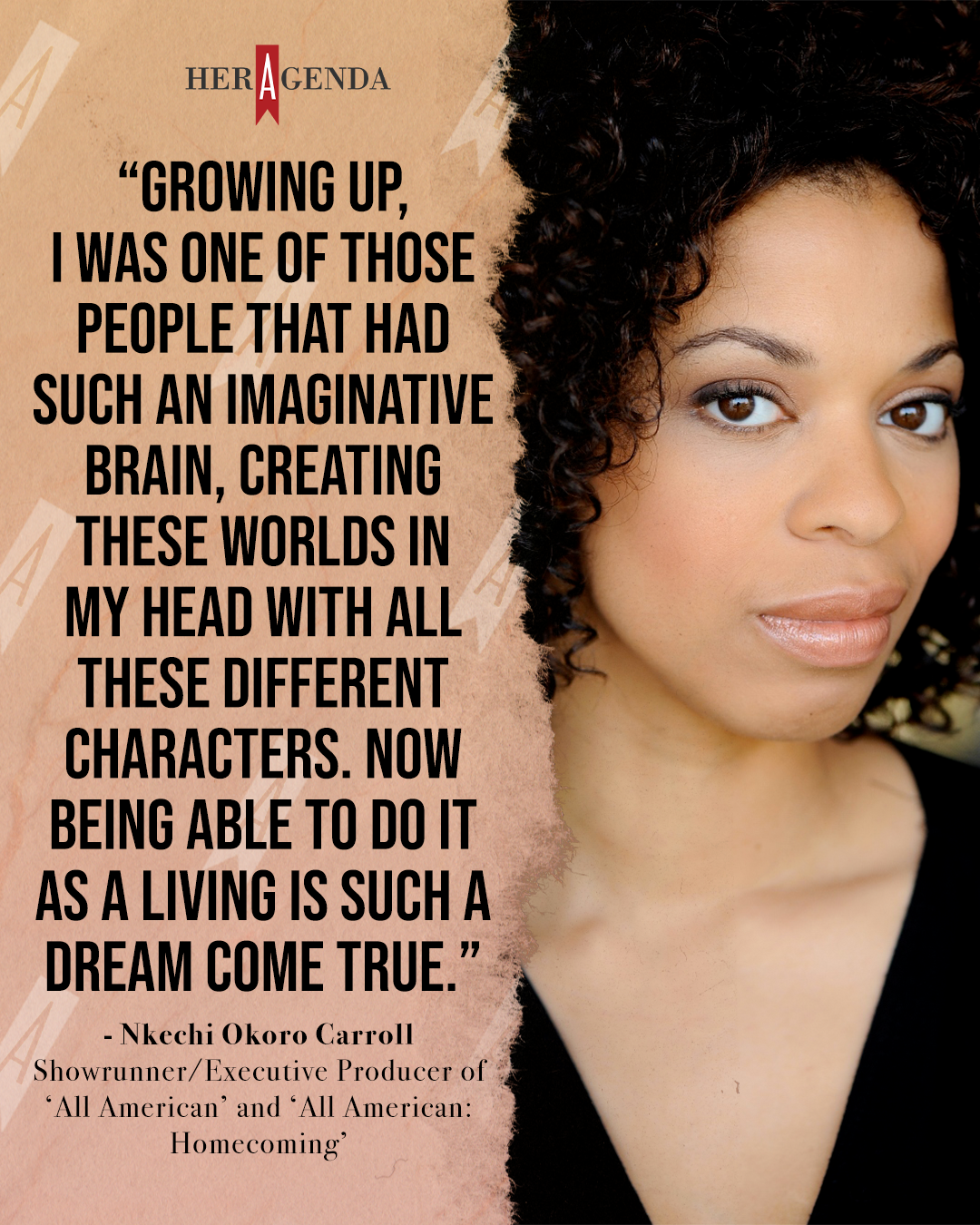 Her Agenda: And now we have All American: Homecoming. Was there always a plan to have a spinoff, especially in the direction of an HBCU?
Article continues below advertisement
Nkechi Okoro Carroll: From the minute I got involved with All American, I always saw it as a universe that could be expanded. How do we keep this lens on Black youth as they transition through the different parts of young adulthood? So it had always been a plan from day one it was just a question on how we would spin off the show in terms of character and what world makes the most sense. It all just kind of came together at the right time where I personally was very focused on increasing people's knowledge on the magic that is the HBCUs–the good, the bad, the ugly. That came together at the right time when I started looking at Simone (played by Geffri Hightower) who was supposed to be just a few episode arcs to further Jordan's story but she was such an incredible actress that it really inspired me to keep writing for her.
As I was wrapping my head around what I would want to do with the spin-off, I thought it would be really cool to look at a different type of college experience that wouldn't take away from where we were going on the mothership show. As I was watching Geffri shine, I realized Simone would be the one to lead the show while she pursues the sport of tennis and that's where the gem of the idea was born.
Article continues below advertisement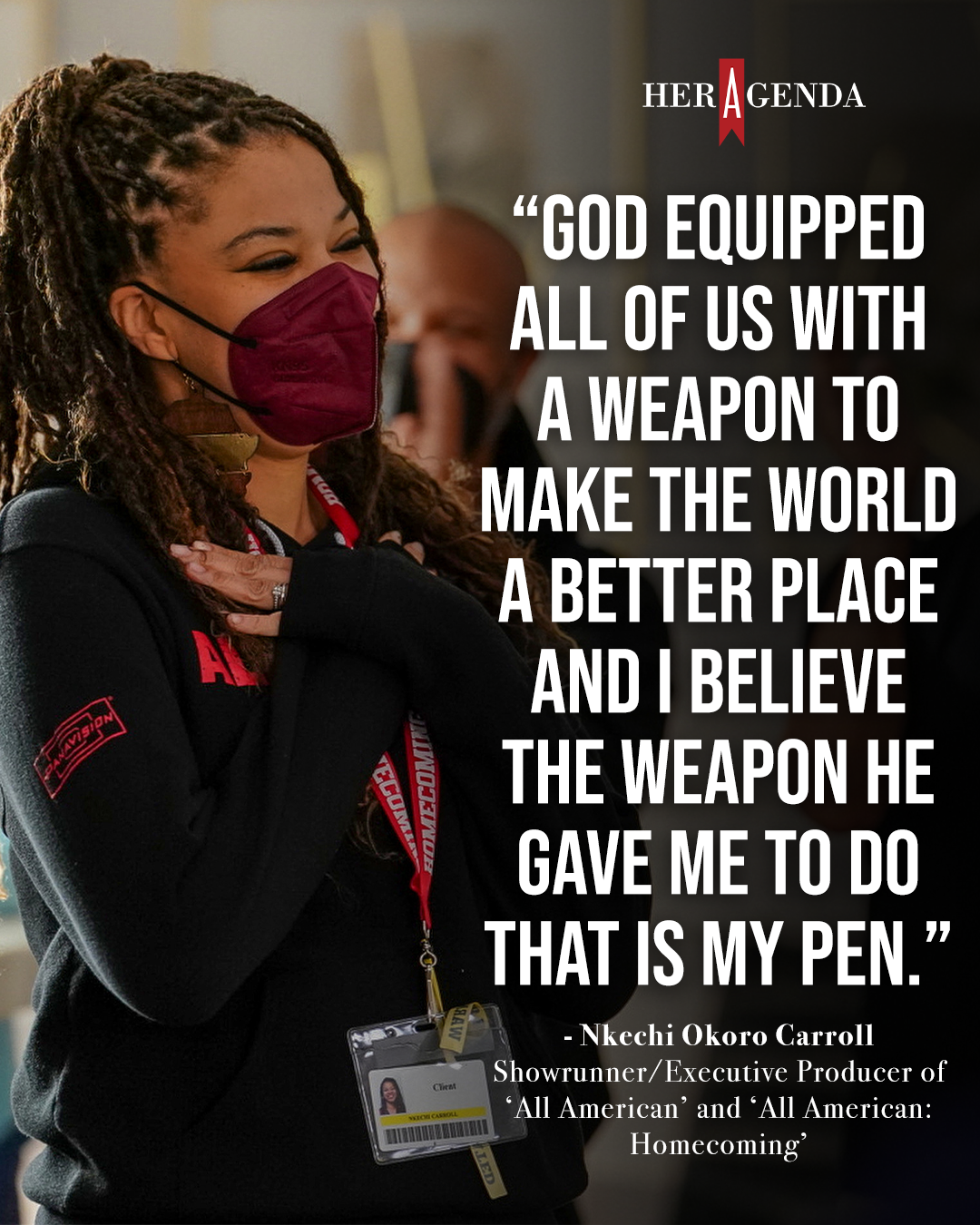 Her Agenda: Now that you have an overall deal at Warner Bros, is there any type of content that you dream of making or that you're yearning to see represented in mainstream media?
Nkechi Okoro Carroll: Growing up, I was one of those people that had such an imaginative brain, creating these worlds in my head with all these different characters. Now being able to do it as a living is such a dream come true. It makes me wonder, 'what's the imprint I want to leave on the world? What legacy do I want to leave for my kids? What programming do I want to put out there that people will look back on and they're like, oh I remember when Nkechi Okoro Carroll did that show and remember how it made us feel?' That's the sort of stuff that excites me.
Article continues below advertisement
I feel like stories about our community as Black Americans and our wider community of the diaspora, there's so much to unpack, so much we can tell there just in terms of diverse genres. There are so many different stories I feel like could center on people that look like us that we didn't traditionally see in media. We have such an opportunity to tell these wide spectra of stories because to be Black in this world is such a huge spectrum, such untapped wonderful stories in every genre to tell.
I tell my kids all the time, God equipped all of us with a weapon to make the world a better place and I believe the weapon he gave me to do that is my pen. I try to make sure that all of the shows I'm doing honor the responsibility where they're all leaving the world a little bit of a better place than how I found it.
Article continues below advertisement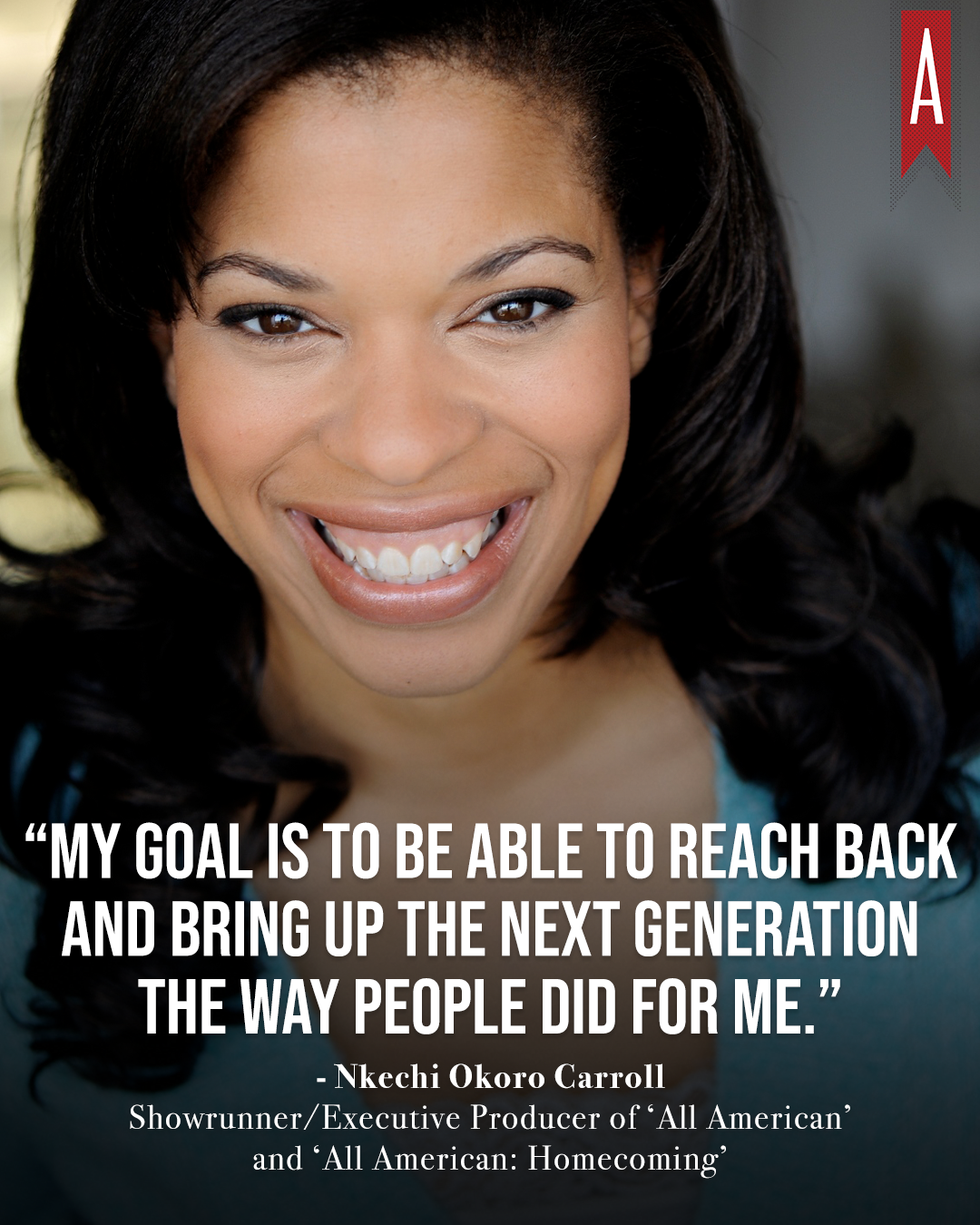 Her Agenda: In 2014, you teamed up with Lena Waite and Erica Johnson to launch Black Women Who Brunch, a group designed to connect Black female writers working in tv/film. What was the driving force?
Article continues below advertisement
Nkechi Okoro Carroll: When Lena, Erica, and I started the group, we had all been very blessed to work as TV writers but we would also be the only Black women in those rooms. We refused to believe there weren't more talented women like us out there. We were determined to find them. That's why we launched the group. It started with 12 of us in my living room. We just had a meeting this weekend and our group is now at 162 Black women in media. Women who are everything from staff writers all the way up to showrunners and executive producers. Everyone's working and we're so incredibly proud. It's about sisterhood and mentorship and keeping each other healthy and whole and creative. I love that these women are getting their moment and their talent has been recognized and rewarded.
My goal is to be able to reach back and bring up the next generation the way people did for me and so on and so forth. Anyone who works on any one of my shows or under my production company knows mentorship is an absolute requirement, it is not a suggestion, it is mandatory. That's how we continue to make a difference in the industry.
Article continues below advertisement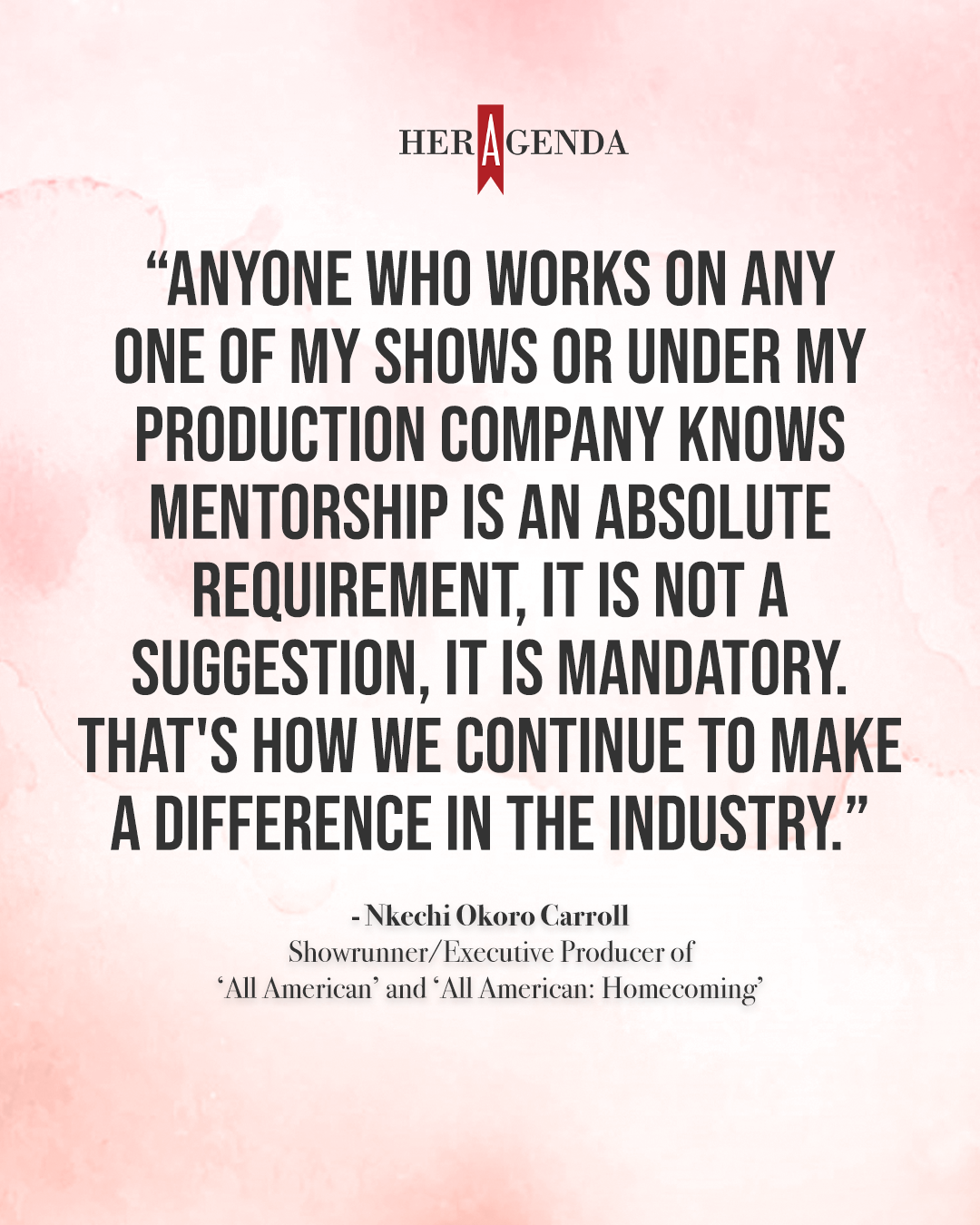 Her Agenda: What is the best most recent advice you've received?
Nkechi Okoro Carroll: I've recently received two good pieces of advice. The first was from my mentor who told me to make sure that I'm not so busy taking care of everyone else around me in my productions and on my staff that I forget to take care of myself.
Article continues below advertisement
The second was to make sure I'm stopping to appreciate the moments and congratulate myself on the milestones that are being achieved. I get so work-focused that sometimes I just move on to the next thing and forget to stop and reflect. Like, 'holy cow, I'm just a little girl from a village in Nigeria who sat around and dreamt one day of being able to tell stories. And I'm now actually doing it!' I literally do a cartwheel every day because I get to come on to one of the oldest, most iconic, studio lots in the business every day and call it my work home. I do not take that for granted but sometimes I get so busy in the pursuit of the dream, I forget to stop and appreciate it. I'm being mindful of that.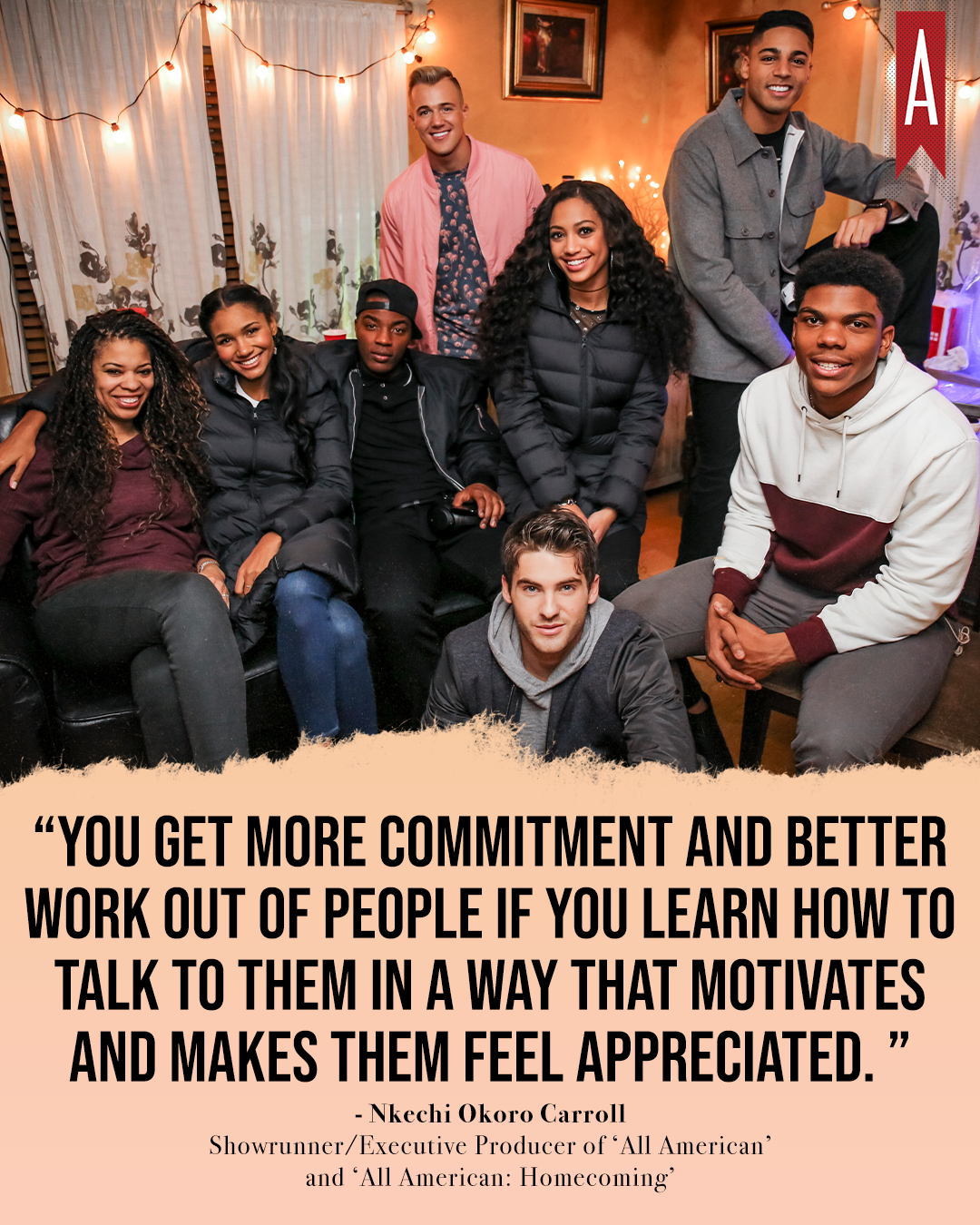 Her Agenda: What's your superpower?
Nkechi Okoro Carroll: Love languages. You get more commitment and better work out of people if you learn how to talk to them in a way that motivates and makes them feel appreciated. In a job like a showrunner, I have many different subsets of groups reporting to me and I cannot talk to all of them the same. Even within the groups, I can't talk to all of them the same way. I think it's so important to learn people's love languages across the board. It makes for better work, better relationships, both personal and professional, it makes for a more empathetic sort of way of living.
[Editor's note: This interview has been edited for length and clarity.]