All The Creative Office Inspiration You Need From Instagram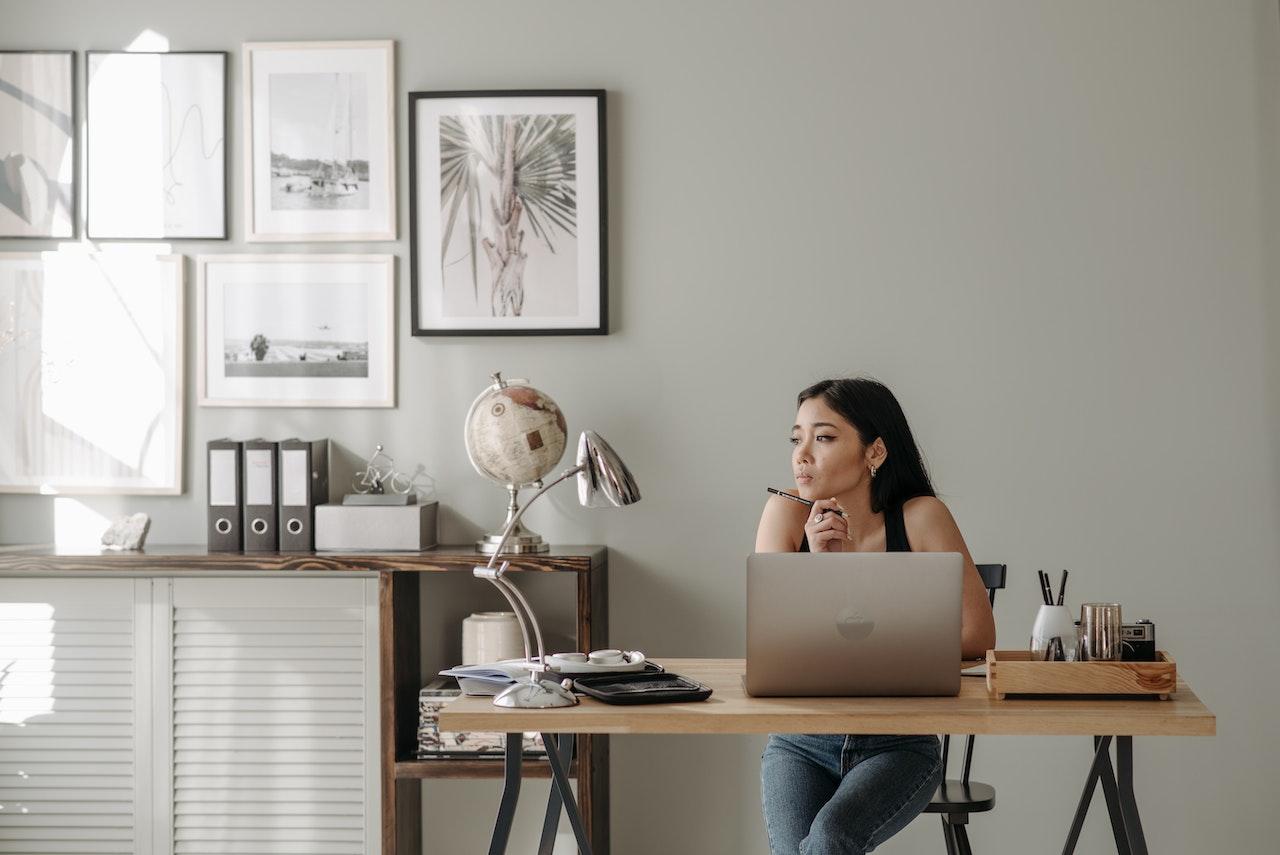 Are you feeling stuck in a rut? Having a hard time getting inspired? Refreshing your environment is a great way to get out of that rut and spark your creative genius. Whether you are into minimalism, modern aesthetic, boho chic, farmhouse, coastal, or all about color there are so many ideas you can draw from.
Enjoy the following aesthetic inspo from these creative women, then get started on your space.
Minimal And Warm By Samantha Brown
Samantha Brown is a home decorator and DIY blogger from Canada, whose warm, elegant, and simple approach invites peace in every room. Less stuff usually means less mental clutter and more clarity. Minimal doesn't have to be cold though, and she is an expert at combining minimalism with warmth. The rich colors, basket storage, strategically placed plants, and soft carpet make this minimalist workspace cozy. The modern décor, closed storage, symmetry of the shelving, and contrast of dark on light make everything feel fresh and clutter free. The cozy chair and simple end table in the corner (not shown in the picture) provide a cozy and simple place to take a break and have some tea by a light-filled window.
Boho Chic By Sabrina Tan
Boho probably brings to mind plants, textiles, prints, and eclectic designs. However, that doesn't have to mean busyness or clutter. This office design by Sabrina Tan is chock full of boho chic ideas that also give space to breath. The organic shape of the overhead light, mix of vintage and boho decorations in the corner shelf, cool coffee cart, soft rugs that bring color, and just the right amount of plants will keep you in the office creating for so long you will lose track of time. The hat and handbag collection also speak to personal inspiration for her – and you can create your own personalized wall of what you love. Sabrina is a blogger of all things home and style.
Article continues below advertisement
Vintage By Shelia Bridges
Shelia Bridges is "an Elle Decor A-List designer, Bridges has also been named "America's Best Designer" by CNN and Time Magazine", per Realhomes.com. One of her most popular spaces she gets questions and comments on is her vintage office nook. The blue wall color itself feels vintage and bright. The oval gold mirror and cream vintage style desk center the space. The gold framed art work and red accessories bring in a personal and creative touch. The antique style chairs with their plush upholstery chair padding invite you to sit and work. If you want more inspiration, she has a fun line of wallpapers, accessories and fabrics called Harlem Toile that mix French inspiration with African American history.
Modern Farmhouse By KariAnne Wood
KariAnne Wood, interior stylist and founder of Thistlewood Farms, is relatable and just fun to follow on Instagram. Her credentials are outstanding too, being recognized as a BHG best design blog and an author of seven books on home decor. This modern farmhouse office makeover is full of inspiration. The blue and white anchoring color palette, wooden desk, plush chairs, hardwood floors, plants, and wicker baskets evoke the farmhouse feel. The plethora of organization in the modern white and glass cabinets, ceramic white accessories, colorful rug, and artwork spark creativity. The natural light also invites you to stay awhile. Such an inviting space for releasing your creative genius.