Opportunities To Work With The Cook Law Group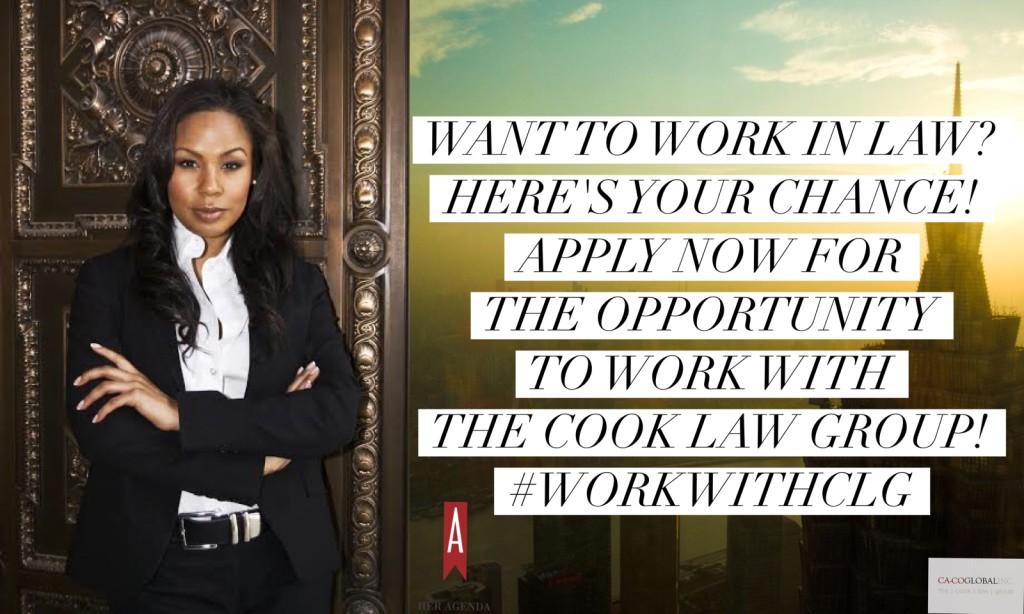 So, you may have read about how amazing, awesome, smart and sophisticated Candice S. Cook is in our Power Agenda feature with her. Well, lucky for you she's on the look out for a few young ambitious go-getters to join her team to work on some exciting projects!
Here's the deal: there are three potential opportunities involving ventures ranging from a book project to talent management. Plus, there's a chance to intern directly with her firm, The Cook Law Group! These opportunities are open to both students and non-students, as long as you are committed to the job and ready to work.
There is an immediate opportunity for three projects:
1. A chance to work on a book project.
2. A chance to aid in the Management of Talent (for those interested in entertainment).
3. The opportunity to work in producing/writing/interning for a documentary.
If you think are interested in any of the positions above, take a look at the description below for more details on the requirements and how to apply:
Seeking a part time intern for research, list development, correspondence, e-mail and drafting to assist in the organization of several media & entertainment ventures.
Must be an EXCELLENT writer with strong research skills and have a thorough knowledge and love for media and entertainment.
Intern will have the chance to attend industry event, work directly with clients on projects in the entertainment field that have both commercial, social, and/or philanthropic value.
Intern will gain skills in business and legal research; writing copy geared towards the business, entertainment, and legal community; developing business strategy; and managing talent
Intern will have the opportunity to connect with/gain experience with professionals in the industry; leading philanthropists and social entrepreneurs; and entertainment professionals.
Click HERE for position requirements and to apply.
Article continues below advertisement
Candice is also looking for interns to join The Cook Law Group!
This internship opportunity for law and journalism students/professionals interested in working at a law firm.
This internship program provides college and law school students with the opportunity to gain experience in the legal and business sector. Depending upon assignment, the interns help prepare cases for presentations, hearings, and trials. Interns may also be staffed on assignments for clients related to publishing, startups, technology, and media.
In order to expose students and young professionals to various aspects of practicing law as an attorney the office conducts a variety of informational programs throughout the summer, including field trips, lectures, webinars, and writing programs. Not only do interns get first-hand exposure to the work of the office, they also have the opportunity to learn about different areas of practice from intellectual property, corporate work, litigation, entertainment, to philanthropic initiatives.
For more information on the requirements, and how to apply, click HERE.
Bonus, these are all potentially paid opportunities!
Good luck! Let us know if you applied and if you have questions with the #WorkWithCLG tag on twitter, or leave a comment below.