As kids, when adults tell us 'we can do anything,' few people truly believe those words. Paige Simpson is a true believer. Currently, the Vice President of Television at 21 Laps Entertainment, Paige has never been afraid to try something new. From being a pre-med student at Spelman to nannying for Academy Award-winning actress Viola Davis, each new title Paige tried led her closer to her true passion, television development.
A Los Angeles native, Paige is a creative visionary and television executive with over a decade of experience in Hollywood. In her current role at 21 Laps, she works diligently to create authentically diverse and binge-able content for Netflix as a part of the production company's overall television deal with the streaming giant. 21 Laps is the brainchild of Director-Producer Shawn Levy and is best known for work on Strangers Things, Arrival, Night at the Museum, Free Guy, and more.
Her Agenda recently spoke with Paige about navigating Hollywood, creating space for more diverse stories on television, and the importance of building your tribe.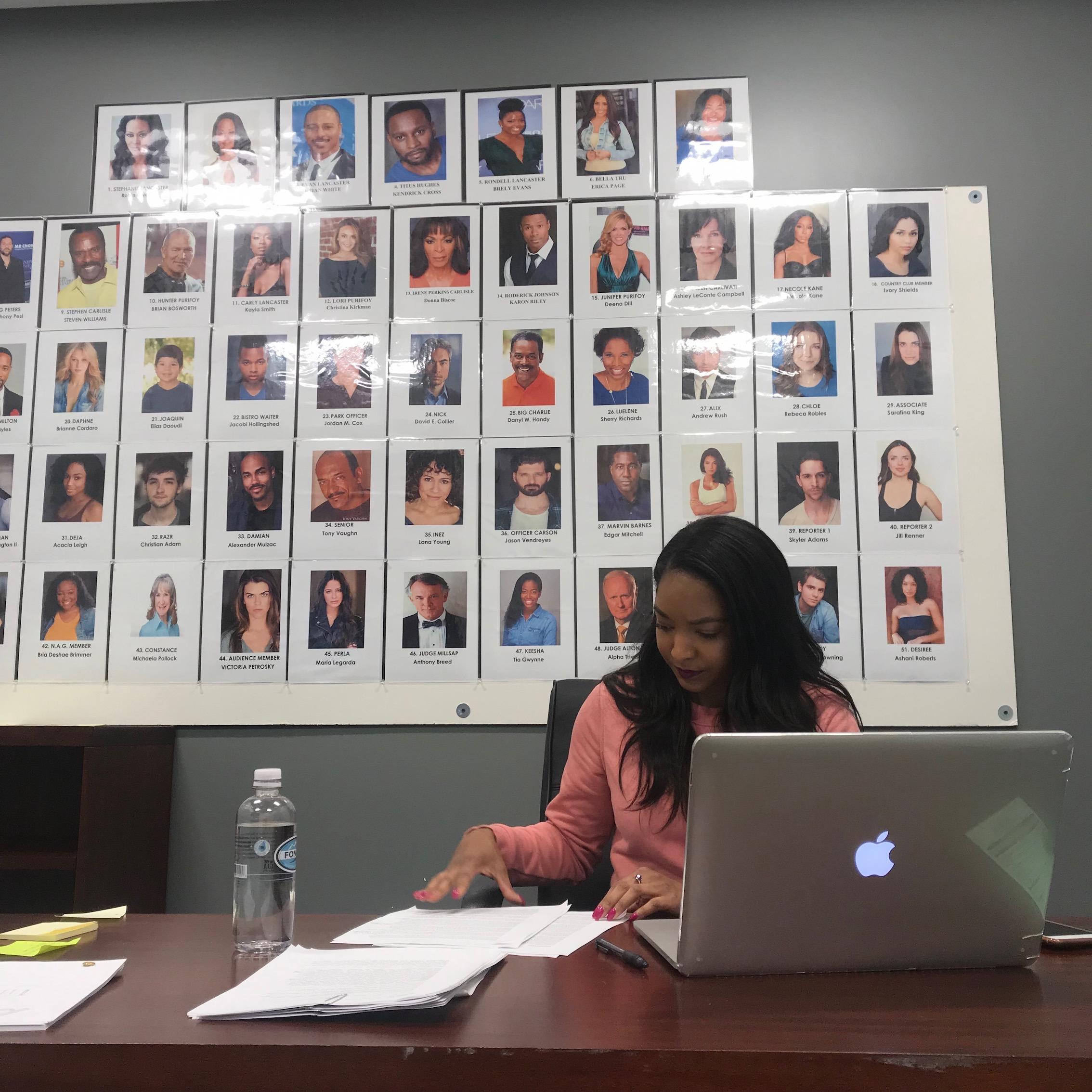 Article continues below advertisement
Her Agenda: You are a Spelman College alumna with a bachelor's in biology. How did you transition from science to entertainment?
Paige Simpson: It was an interesting one. I'm from [Los Angeles] originally, so this is something that has been in my blood for a while. Still, I've always been good at math and science, so coming from a Black family, when you are blessed with being able to understand certain things, they're like automatically, 'You're supposed to be a doctor, you're blessed to do this!' So, I majored in Biology Pre-Med. Before that, I always went to science and math camps and was really indoctrinated into medicine in a real way. I wanted to be an emergency room medicine surgeon, and [having the possibility of patients dying] just did not sit well in my spirit. I was not prepared for that in any way. I don't think any courses told me that this was going to happen, and so I was like, 'Okay, well, that's not it. What can I do?' I thought I could do public health or work for the UN or WHO. So, [while studying for the GRE and preparing to pay for grad school], I was tutoring and nannying. The agency that I was working with called me about this opportunity…long story short, it was for Viola Davis. She had just started a production company and had a 3-year-old at the time and needed somebody who could do all of the things. I started with her as a nanny, party planner, and script reader – I did all the things! That was really fun and I think I started to get the bug of development by reading scripts. I wanted to know more. Coming up in LA, I did a little bit of acting, so I was like, 'I know what actors do. I know what casting does.' I did a casting for Fruitvale Station and when I was on that, I saw Nina Yang, Forest Whitaker, Michael [B. Jordan], and Ryan [Coogler] all talking about story structure and character arcs and all kinds of fun stuff, and I was like I want to do that job! I talked to Nina Yang, and she said I had to start from the ground up. It was a humbling experience, and I learned so much. I started as an executive assistant at Showtime, working for Amy Israel, and then worked my way up.
Article continues below advertisement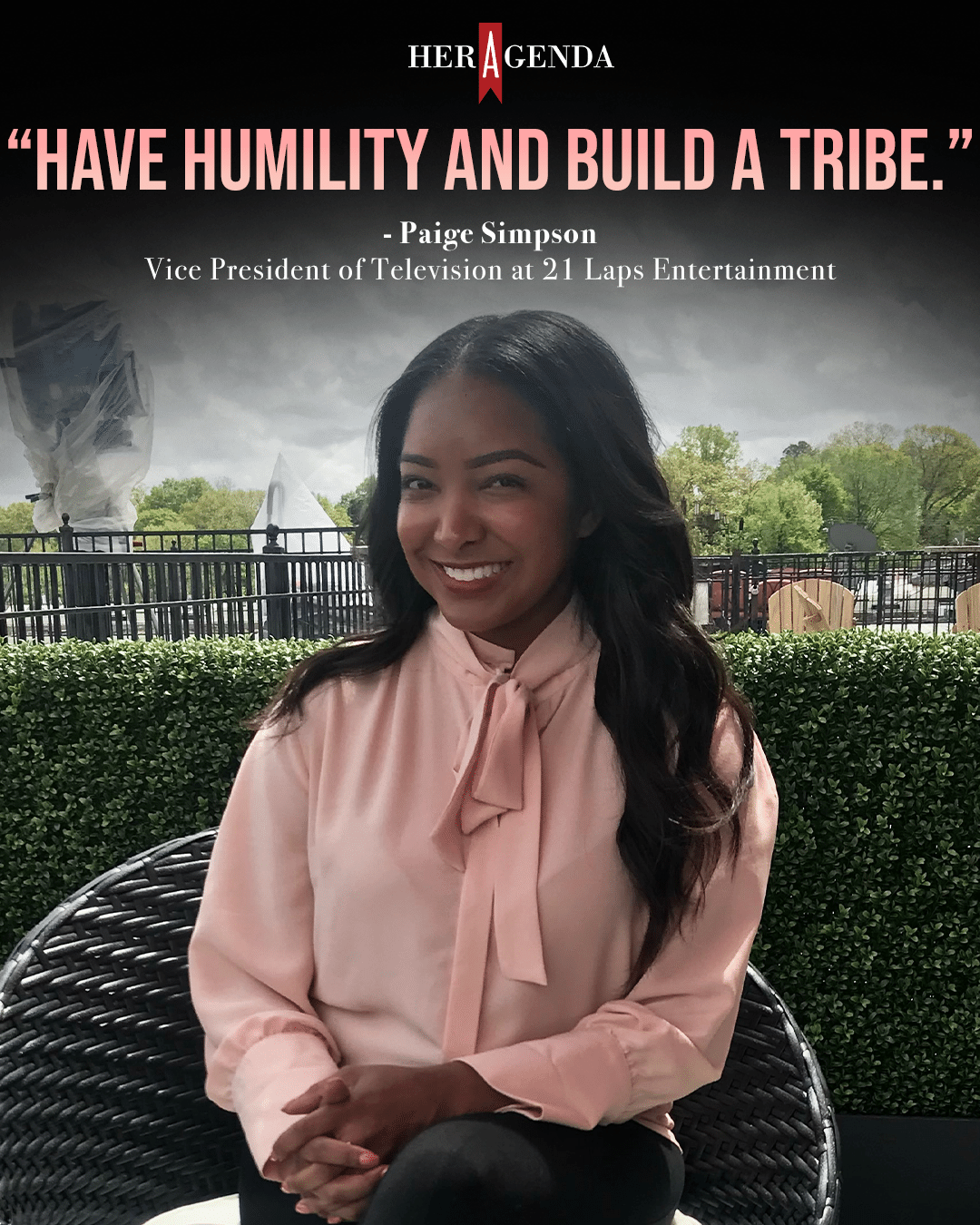 Her Agenda: What advice would you give to someone wanting to break into the entertainment industry post-graduation that may not qualify for internships?
Article continues below advertisement
Paige Simpson: I think the biggest advice is to have humility and build a tribe. It's really important that you surround yourself with people who can bring you positive energy. They don't necessarily have to understand the industry or be in it, but I think there's a lot of discouragement and frustration. In this industry, there's no 'Take this class, you'll get this job' or 'Do that job, and then you'll get this.' There's no set structure, so it is very much who you know and how you know them. It's what you know and how you portray what you know. I think at the end of the day, it's surrounding yourself with people who are like, 'I believe in you. You can get your dreams fulfilled if you just believe in yourself' because some days you won't believe in yourself. You're like, 'I applied for an assistant job, and they won't hire me. I will answer anybody's phone, and literally, I keep hearing no!' Also, I have a very strong faith. l pray. I love God, and I think that my faith got me through. I said, 'Ok, God, you want me to be here, so let's make a way.' I would write things in my Bible. I would write things on paper and stick them in my Bible. That really helped me.
Her Agenda: Being one of very few Black women executives in television, what challenges do you face, and how do you overcome them? How do you navigate the rooms you are in differently?
Article continues below advertisement
Paige Simpson: There are so many challenges. No matter what level I've been at, I always feel a little bit of imposter syndrome and no one ever really talks about it. It's one of the most difficult things I think that we, as a community, specifically Black women, need to overcome. I got the job, they're listening to me, I'm doing the projects that I love, I'm working with the people that I really admire, my company is great, and we're able to make shows that people are watching and really enjoying, but it's this feeling of 'if I don't do this then they're going to see that I'm human.' They know you're human, and you're going to make mistakes, but I think we put so much pressure on ourselves to be perfect that we're always going to fall short of that expectation. You're never going to be perfect. Two weeks ago, I pitched a show, and for the first time, I got a pass. I've never gotten a pass in my entire life. We worked really hard on [the pitch], and the writers were great, and this is a project that I knew people would love, but it just didn't work out, and there's a lot more 'no's' to come in my future. I really felt like my world was caving in, but that's the pressure I put on myself. No one else put that pressure on me because they've been in the industry long enough to know that people passed on Stranger Things, Handmaid's Tale, and Mad Men. People pass for a number of reasons, so it is imperative that we talk about imposter syndrome and know that you're in the right place at the right time. You're going to experience failure, and it's okay. It doesn't mean you're a failure, and it doesn't mean you're not where you're supposed to be. It just means not everything will align the way you want it to, but it's all going to align the way He wants it to.
You're going to experience failure, and it's okay. It doesn't mean you're a failure, and it doesn't mean you're not where you're supposed to be. It just means not everything will align the way you want it to, but it's all going to align the way He wants it to.

Paige Simpson
-
Article continues below advertisement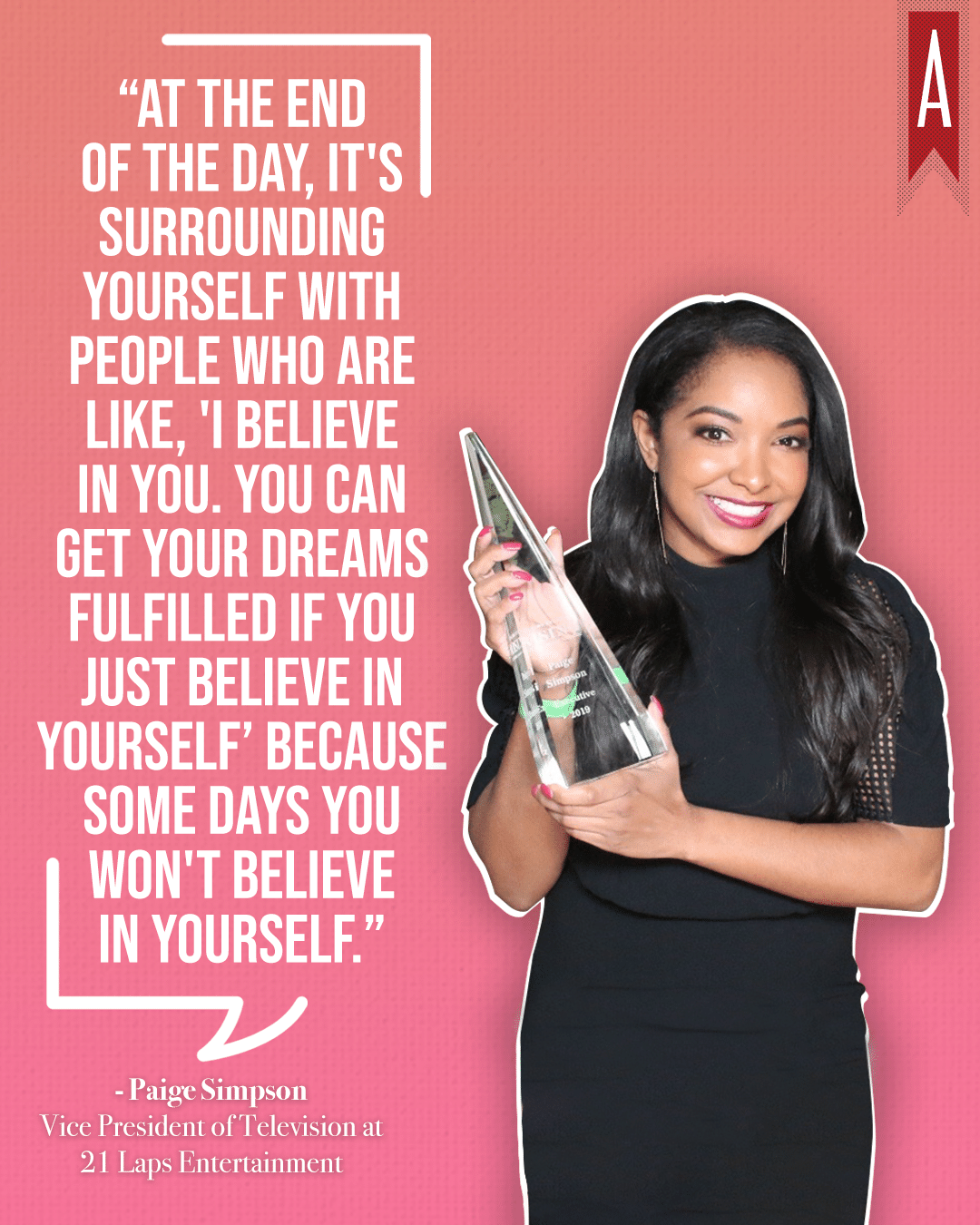 Her Agenda: As the Vice President of Television at 21 Laps Entertainment, how are you using your position to create space for more diverse content on TV?
Article continues below advertisement
Paige Simpson: What's great about 21 Laps is that I have support from people in the industry who are movers, shakers, and game changers. People trust them. Shawn Levy is at the top of his game directing and producing on the film and TV side, and so are our partners in advocating for more diverse representation behind and in front of the camera. So is our president of TV, Josh Barry. I think that because people trust them, and they trust me, it allows me a sense of freedom to really get in there and be like, 'Hey, I want to work with these writers, ' and 'I want to work with these authors,' and 'here's IP that I like.' I have the full support of my team. We're really excited about finding IP and voices that are innately diverse from the seed of the concept. It's important for it to be ingrained in the DNA of the project so there is no question about who can write it, who can act in it, and who can direct it. This is what we've seen has been successful. I think when you dive deep into culture and specificity, people attach to that, and the reception is amazing. We are very intentional with who we're working and partnering with. I'm currently working with Nina Yang and Forest Whitaker on a project. I'm working with Marsai Martin's company, Genius Productions. Their President of TV, Nicole Dow, and I work closely together. She's such a great mentor and partner. I think it's all about your tribe and who you're surrounding yourself with so that you can build those diverse opportunities from the ground up.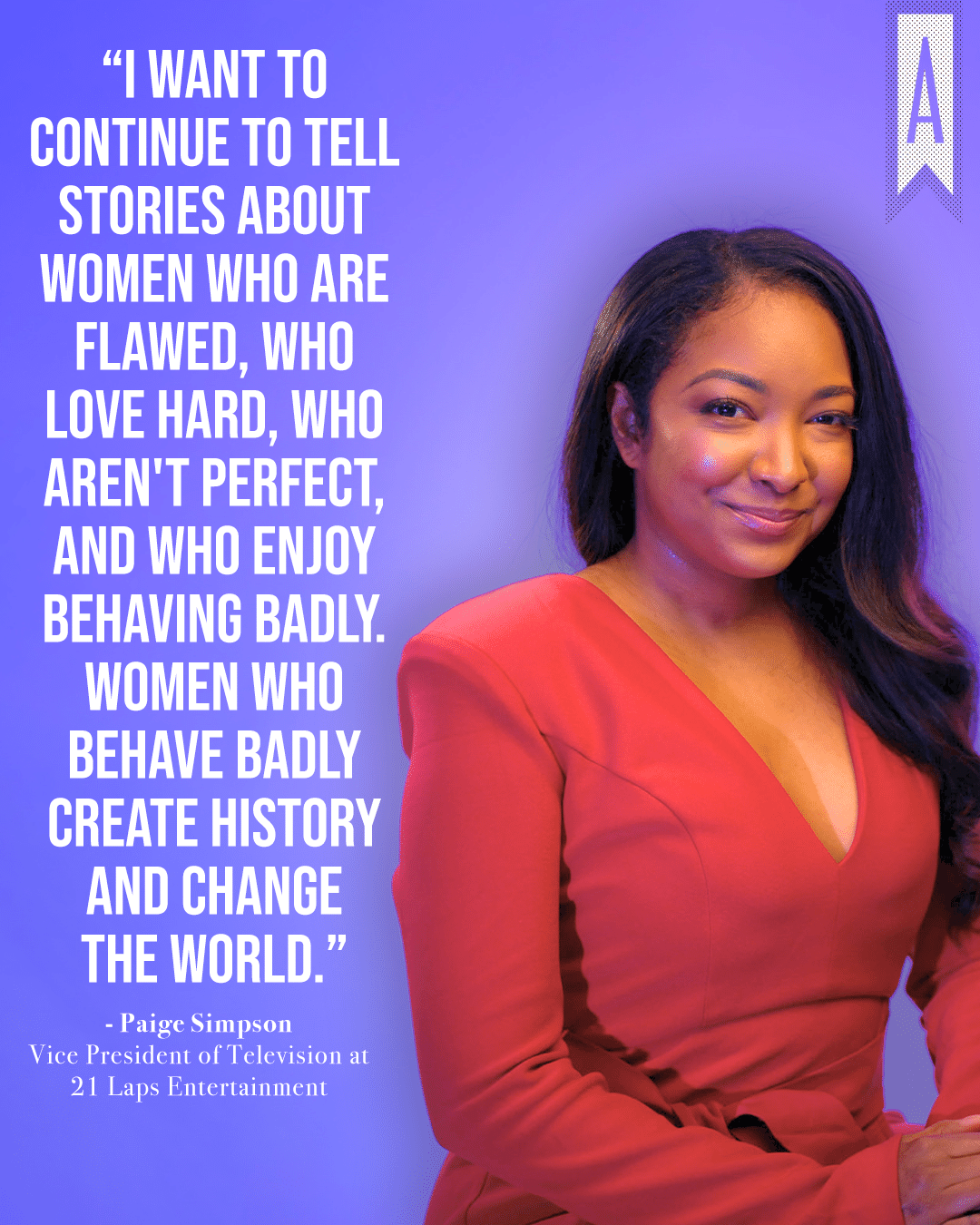 Article continues below advertisement
Her Agenda: What stories are you most passionate about telling?
Paige Simpson: I love women. I love women of color, and specifically, I love Black women. We are intricate, delicate, layered, and diverse within our diverse culture. Going into Spelman and stepping onto campus, I thought there was no way that people could think we're a monolith. That's my sister, and I love her, but we are completely different. There are things that bond us, but there's so much beauty in how different and unique we are. I think that I want to continue to tell stories about women who are flawed, who love hard, who aren't perfect, and who enjoy behaving badly. Women who behave badly create history and change the world. Spelman's motto is 'It's our choice to change the world' and I think I've always been an advocate for change, but I try not to be so radical in my thought process. It feels so obvious to me. Of course, we're different. Of course, we hurt when someone hits us or when we tell a doctor that we're hurting, but we see otherwise with health statistics that show that Black women are not treated as human beings, and our pain doesn't equate to the same amount of pain as other people. I want to continue to tell stories that humanize people of color. I'm not a surgeon, so I can't save lives, but my goal is to influence culture to impact lives, hopefully.
Article continues below advertisement
Her Agenda: Over the past decade, you have worked with major powerhouse brands like Will Packer Media, Showtime, and Scrap Paper Pictures. What are your top tips for picking your next role, and how do you know when it's time to leave a role?
Paige Simpson: That's hard. I think there are different reasons to leave. I think the main one is if you're no longer learning or growing. Another is if you are not appreciated and [thirdly] if you feel like what you bring to the table is not conducive to helping build the [company's] brand, like if whatever you want to develop is not aligned with what that company wants to develop. I think that in my career when I moved from company to company, the move has been based on growth and opportunity and being able to make the biggest change in impact. Going from the Head of Development at Scrap Paper Pictures with Rachel Brosnahan, I love her, and we still work together, and she's an amazing human, but I think the pod itself was just a little smaller than I would have liked it to be. When 21 Laps came along, I knew I had a huge opportunity to move the needle forward. We were just coming out of the pandemic. [The world was just waking up to the fact] that Black lives mattered. We had been sitting at home watching our lives be taken for granted and people had to sit in uncomfortable silence. I thought now was the time that we needed to really act creatively. Now is a time when there are voices of people who are hurt and have stories they need to tell, so where is the biggest platform I can make that impact? That's what led to that change.
Article continues below advertisement
When looking for where to go next, consider what or who can help you align those stars. There are so many things I want to do. There are so many great companies out there. My mom always told me I can do anything I want to do, so I think that is why I try different things. I think who aligns with you morally is very important. What we do as creatives is subjective. There is no right or wrong. Align yourself with a company that shares your goals and aspirations in how you want to influence or impact culture. Do your research and talk to people that work there before you take the job. What I love about 21 Laps is our company's moral values align with mine. All of our shows, movies, and unscripted all have heart. That's what I want to do with our world. I want to bridge that gap. So hopefully, when there's an officer on the street, he's like, 'Oh, this is a human; let me treat him like a real person.' I hope we can do that with our work.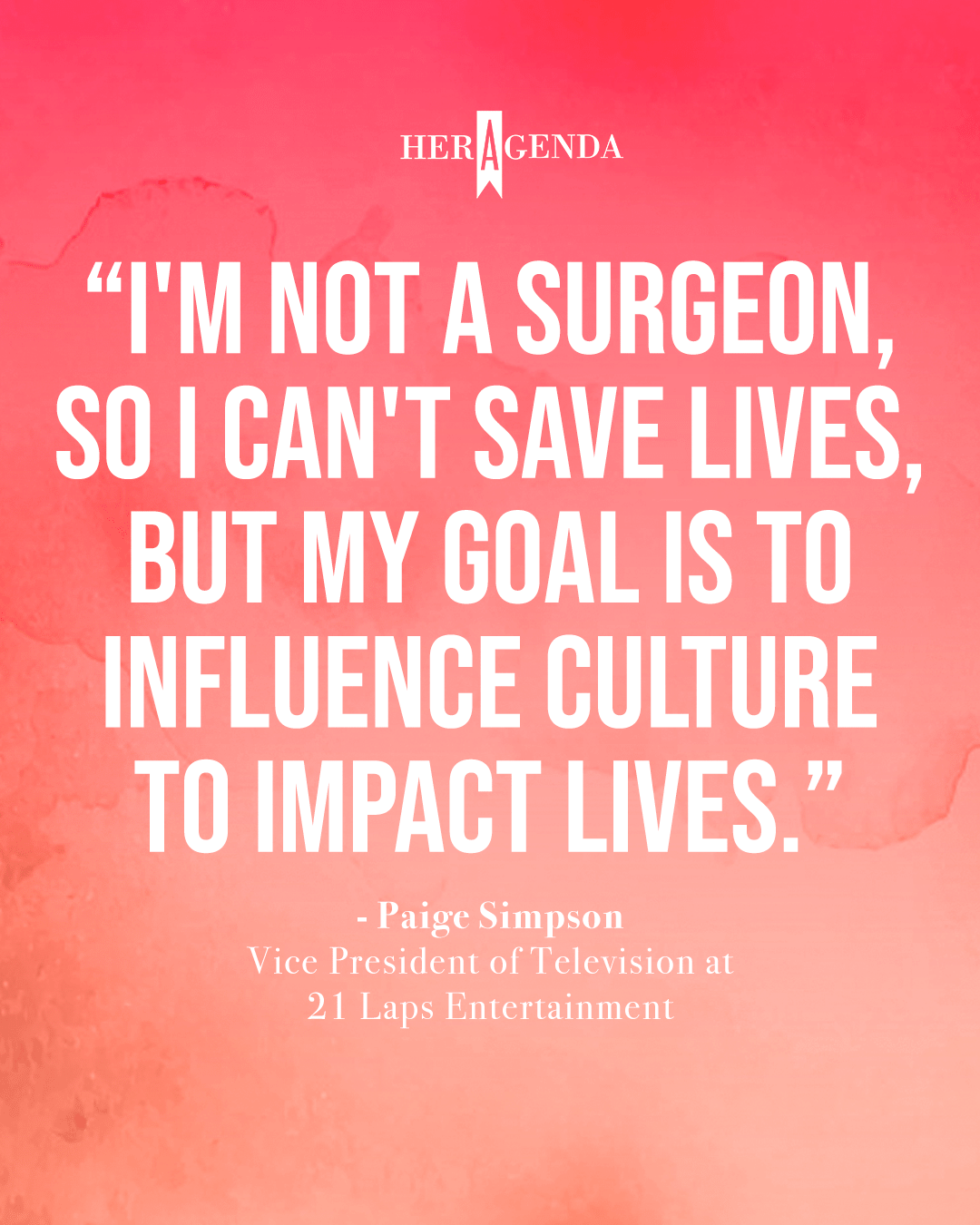 Article continues below advertisement
Her Agenda: You recently celebrated your one-year anniversary at 21 Laps. Can you tell us what you have planned for year two?
Paige Simpson: I hope to sell more shows, open up a few writers' rooms and be in production. We put a lot of effort into our pitches and those often take months. I hope to be selling more, making more, and working with some really cool people. I am excited to further expand my relationship at Netflix and with our agency, William Morris Endeavor, and get to know tons of awesome creatives. Being on set is the goal. We pitch, sell, and develop; the next step is getting [the project] on its feet.
Her Agenda: What can you tell us about the project you are working on with actress and producer Marsai Martin?
Paige Simpson: The project I'm working on with Marsai Martin is called Spikes, and Lenore Coer is writing that for us. My co-worker, Moera Ainai and I have been working on this project, and we're so excited about it! It came in as a spec script, and it is set in the collegiate world of track and field. There's a tragic accident, and our lead now has to rebuild. It follows a close-knit family of color, think the Winslow's of Family Matters, and track and field is the glue that holds them together. So, when she quits, the family is broken. Our lead decides that she needs to get back on the track to find herself and rebuild her family.
Article continues below advertisement
Her Agenda: You are passionate about mentoring the next generation of talented executives. What advice do you have for those actively seeking mentorship?
Article continues below advertisement
Paige Simpson: I would say shoot your shot. It's like dating. You have to reach out. Humility is key. When I wanted to get into this industry, I cold Facebook-messaged somebody. I wouldn't suggest that nowadays, but if you can find someone's email address or their assistant's email address, email them and say, 'Hey, I'd love to get 15 minutes on the books to have a conversation.' Then, come ready with helpful questions and not just 'Tell me about how you got your job.' That's not helpful for somebody not already in a position to do that job. It's also something that you can read about on Google. Instead, be specific in your questions. I can answer [generic types of questions], but I don't know if that's what you want to use your time for, but it's your time, so I'll answer it.
At the end of each conversation, having an action item for you and them is important. For example, 'I want to get into development. Is there a script you read that you love that you wouldn't mind having me read?' This question helps you start to understand what I think a good script is. I sometimes meet with people who just say, 'I want a job.' I'm like, 'Did you apply to any? If you have, are there any numbers or emails you want me to reach out to?' Give some specific action items to your mentors.
Her Agenda: What is your motto?
Paige Simpson: It always works out.