'Party Hat Comedy' Highlights The Importance Of Women-Led Comedy Shows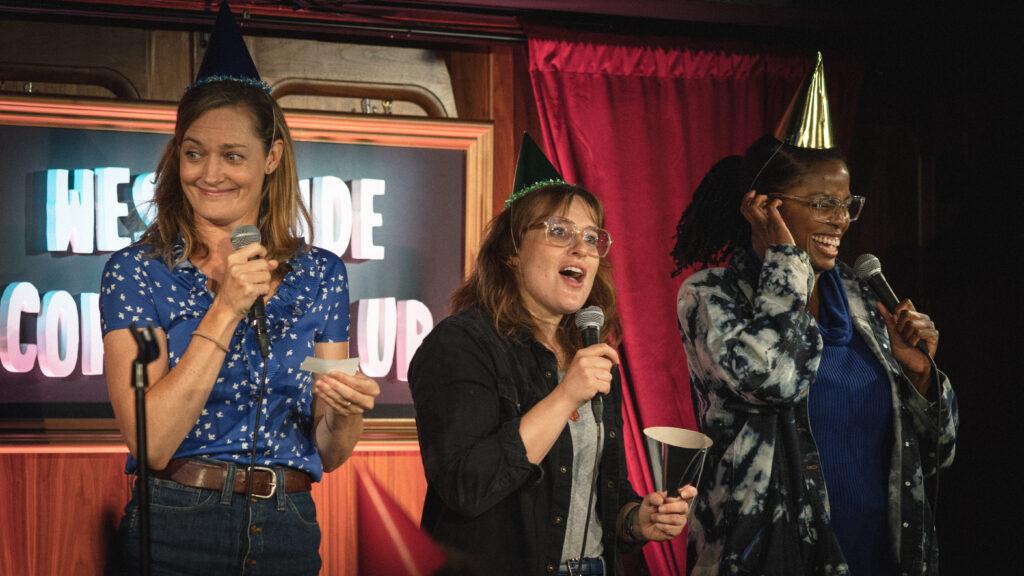 The New York City comedy scene buzzes with comics looking for stage time and connection with other comics. Staffers at "The Daily Show," Stephanie O, researcher and directors, Elizabeth "Zeph" McDonough and Carmen Angelica, have joined forces to bring a monthly party to audiences with their stand-up show, "Party Hat Comedy," opening the opportunity for women to thrive and dominate.
McDonough and Angelica met on their first day in 2021. The two bonded over coffees about not knowing anyone at work yet. "I was so proud of myself because the one thing I knew was how to work the Nespresso machine. I was able to be like, 'Let me help you,' because she didn't know how to use it," McDonough said.
McDonough, an actress, writer, and director, always felt drawn to stand up comedy. To her, it was the most direct way to write and perform in New York City. Getting into the comedy game, however, scared her. Angelica had done open mics while living in Los Angeles, but was also new to the city's stand-up scene. She recruited Angelica, who was new to the city, and the two became open-mic buddies.
"It makes such a difference having a friend to do it with versus trying to do it by yourself. I think it can be really demoralizing very quickly if you're going solo," McDonough added.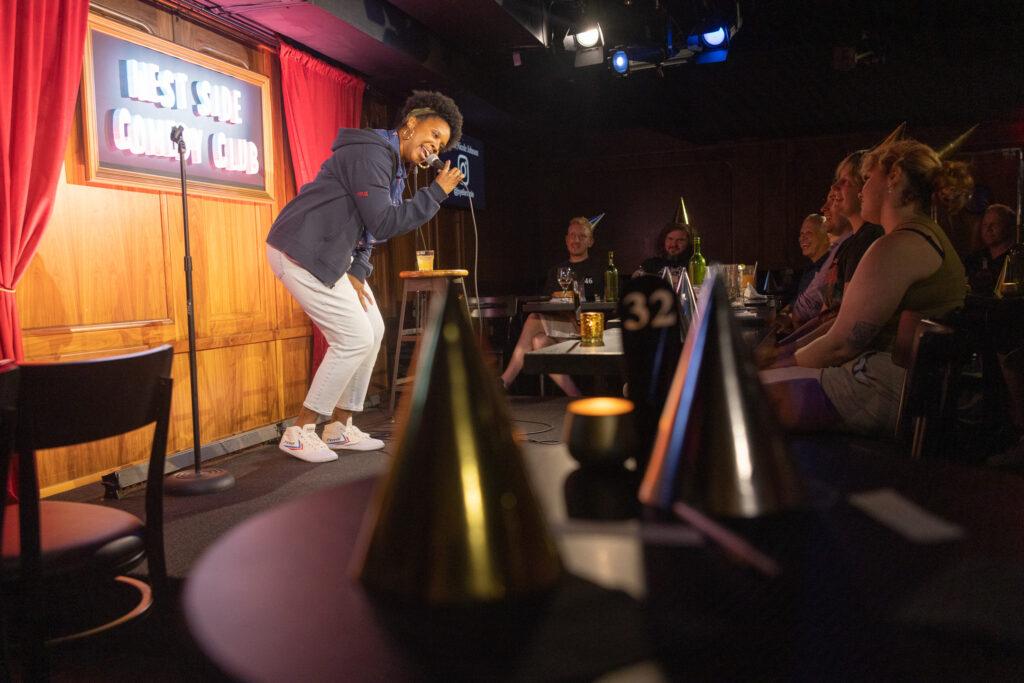 Article continues below advertisement
Bonding Through Stand-Up Comedy
O, who was already a seasoned stand-up comic, received the chance to perform in one of The Daily Show's staff stand-up comedy shows. Although they had met and talked before at staff parties, O and Angelica connected at the show due to their shared excitement for stand-up comedy. They even took pictures of each other while the other performed their set.
O's big personality also attracted McDonough to her. Working in different departments left little opportunity for the two to spend working time together. However, moments spent laughing in the office kitchen helped the two cultivate their friendship.
"In the office when you go into the kitchen when she's in there she'll be, like, holding court on a topic, and it's always entertaining. So I was so charmed by her," says McDonough
The Inception of Party Hat Comedy
O approached Angelica about the possibility of starting a show after they had performed at a couple of open mics together. They brought the idea to McDonough, who had already spoken about wanting to start a stand up show, and the three began to lay the groundwork for Party Hat Comedy.
"I had done shows before and ran my own shows, and it's much more difficult with a single person, especially like a single woman by yourself," O said.
Party Hat Comedy hosts their shows once a month at the West Side Comedy Club. Their run-of-show and choice in comics allows for a party that all audiences can enjoy.
Article continues below advertisement
Diversity And Inclusion In Comedy
According to Zippia, men make up 88.7% of stand up comedians in the United States while women make up 11.3%. The male gaze leads women to think about being attractive enough for the men in the audience to pay attention, but not too attractive so that the men actually listen to their jokes. Years of stand up experience still doesn't stop some men from devaluing a woman's comedic talent.
"Every single moment that I've ever had someone come up completely unsolicited, and critique my jokes, or my writing, or something. Every single one of those persons was a man," O says.
O, McDonough, and Angelica host and perform in their show, putting three women in their line up already. When choosing comics for each show, they make sure to have a diverse representation of not only race and gender, but also sexual orientation, sexual identification, and demographic origins.
Finding An Outlet During The Strikes
Party Hat Comedy has been a coping mechanism for the three hosts. The WGA and SAG-AFTRA strikes paused their day jobs and Party Hat gives them an outlet to create. Their show also offers the opportunity for well known comics like Joyelle Nicole Johnson to practice their material. It also introduces audiences to up and coming comics like Tyrone Thornhill.
"I think a lot of times, you know, the people who are the gatekeepers may not give you the opportunities. So you kind of have to set it up yourself," Angelica said.