Personal Breakthroughs & Career-Defining Moments From The 2016 NYWICI Awards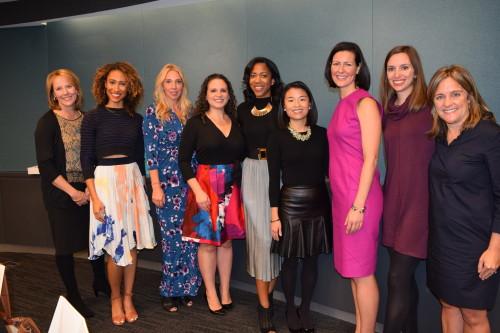 Image: NYWICI/Jan Goldstoff
Success looks and feels different for everyone.
The New York Women in Communications WiCi Awards Honoring Rising Stars in Communications showed that not only is success different for each honoree, but it also proved that career journeys for women are filled with highs, lows and career-defining moments.
The movers n' shakers honored by NYWICI represented numerous industries including, print media, global and brand marketing, public relations, and digital content. Dyllan McGee, two-time Emmy-award winning filmmaker, Founder and Executive Producer of AOL's and founder of McGee Media, a documentary film company served as the emcee.
Throughout the ceremony, not only did McGee focus on the major career plateaus the honorees have crossed, she also focused on their personal lives, adversity, moments of absolute crisis, balancing motherhood, and more. McGee's open-ended questions allowed for the honorees to share helpful, business-savvy tips and major components of their successful day-to-day regimens.
Here's Top Pieces of Advice from the Honorees:
1. On Taking The Leap
"I started ColorComm 5 years ago when I was in corporate America… [ColorComm's Conference is] utilized as a business opportunity. It's been a hard journey." -Lauren Wesley Wilson
Lauren Wilson, President of ColorComm took a leap of faith when she created ColorComm to create a living, breathing community for women of color within the communications industry in addition to networking opportunities and resources for this specific demographic.
Article continues below advertisement
2. On Success
"It's easier to talk about my team… with a dynamic team [things work]… We're here to mean something and have challenging conversations [at Teen Vogue]." -Elaine Welteroth
Earlier this year, Elaine Welteroth was appointed as Editor-in-Chief at Teen Vogue. With this promotion, Welteroth became the youngest person to be appointed to that position at Conde Nast. In true #BlackGirlMagic fashion, she also is the second African-American to hold this title within the company.
3. On Values
"We are too good not to be better… [I] try to add kindness in the world." -Sarah Personette
Sarah Personette, Vice President of Facebook's Global Business Marketing team has an arguably diverse resume. She previously built and led Facebook's Global Agency team and also previously served as SVP at Starcom Mediavest Group.
Article continues below advertisement
4. On She's The First
"It's amazing how something so simple can start a conversation." -Tammy Tibbets
Tammy Tibbets, Founder & CEO, She's the First works on a daily basis overseeing the nonprofit that was created to provide scholarships to girls in low-income countries. As of today, the nonprofit now has 225+ chapters at high schools and universities in the U.S.
5. On Culture
"Culture eats strategy for breakfast. It all comes down to people. Focusing on relationships is important." -Erin Quintana
Erin Quintana, EVP Client Managing Partner, J3 UM has been a part of the marketing and media industries for 16 years. In the past, she has worked with brands like Band-Aid, Neutrogena, Listerine and Johnson's Baby while at .
Article continues below advertisement
6. On Self-Empowerment
"We're not victims in our careers and that's where empowerment comes from. There's always something you can do to make you happier." –Julie Hochheiser Ilkovich
Julie Hochheiser Ilkovich, Co-Founder, Managing Partner and President of Editorial Operations, Masthead Media is a digital content, marketing, and social media specialist. Her past occupations at major companies like Hearst, Warner Bros. and, AOL led to the creation of Masthead Media.
7. On Being Fearless
"I started as an intern… nothing scares me, apply [things] you learn. -Melody Lee
Melody Lee, Director, Brand Marketing, Cadillac is responsible for Cadillac's global brand identity and is in charge of making sure there is a clear and consistent strategy across platforms, channels, and markets. In the past, she was executive Vice President at .