From developing PR strategies to leading urban music at Columbia Records, and now spearheading music industry partnerships at Amazon Music, Phylicia Fant's upward mobility is the result of pure hard work. Despite her place on the executive ladder, Phylicia refused to sacrifice one thing – ownership. She effectively maintains the duality of being a corporate boss and a founder since launching The Purple Agency in 2008, a public relations and lifestyle-marketing firm.
A proud Spelman alum, Phylicia was immersed in the LaFace music renaissance in Atlanta during the late 90s. After witnessing the rising superstardom of TLC, OutKast, and more, Phylicia's destiny went from watching on the sidelines to playing in the field. Though the wheel of life turned her down unexpected routes, the road to success has helped her arrive at her destination of passing the torch to others. The white, male-dominated industry ill-adapted for women to thrive, now has no choice but to make space for women to take charge.
Her Agenda recently caught up with Phylicia to discuss the current state of the music industry, attending Spelman in the 90s, and the power of pivoting.
Her Agenda: What was your experience at Spelman like in the late 90s?
Phylicia Fant: Spelman has always been a place for Black women in academia. My mother also went to Spelman. It was about empowerment. When you are coming from an area where a school is predominately white, then you go to an all Black institution that is designed for you to love yourself and view yourself as anything but less than, that starts to change your mindset.
Article continues below advertisement
During 1996, the Olympics came to Atlanta, so a lot of things happened in the city which brought jobs, gentrification, and a movement that [helped] Atlanta become an international city. I saw how it affected the institution, the neighborhoods around, and the overarching landscape of Atlanta. You also had the emerging music of LaFace records. [It was] a music renaissance which included OutKast, Goodie Mob, Toni Braxton, and the rise of LaFace as a record label. Being there in 1996 [meant] being a part of that renaissance, music, culture, and where you can see yourself as Black and be proud of it. That is really what Spelman is about and I don't think that started in the 90s. It started in 1881 when [Spelman] was resurrected as a place where Black women could love themselves.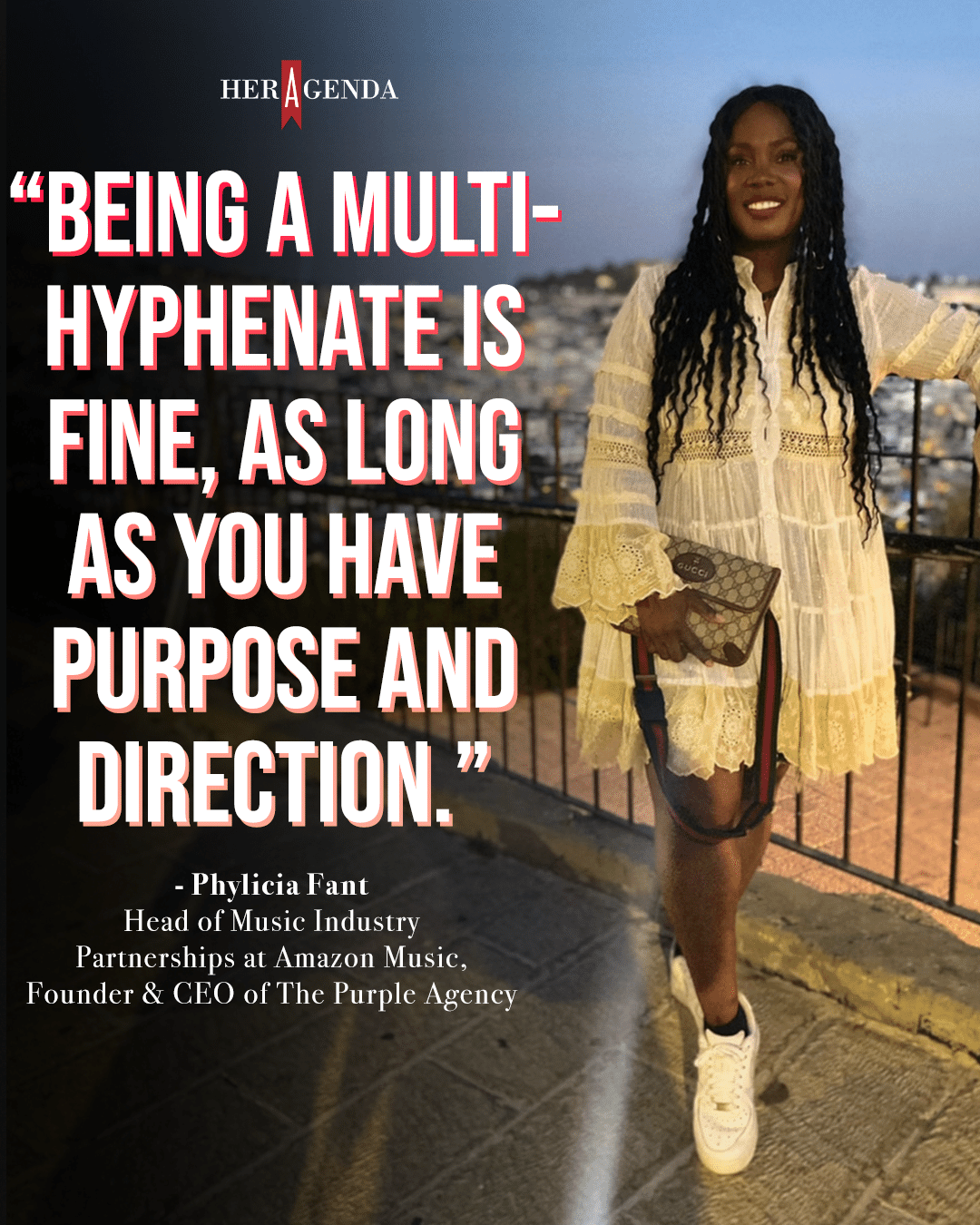 Article continues below advertisement
Her Agenda: I was listening to a podcast that you were on, called Come As You Are, Change the Gameand I am aware of the pivots you took from being a temp to knocking on Terrie Williams door and shadowing her for a week. I think we all have a vision in our heads of how our careers will go, but can you please discuss how things not going in your favor have actually helped you?
Phylicia Fant: [When you're open to] pivoting when things don't go in your favor you [start to see] holes that can be filled. And, if you look to fill those holes it actually helps you expand. Going from publicist, to Head of Music, to now Head of Music Industry Partnerships at Amazon [Music], it's about realizing there are multiple lanes. You don't have to be one thing. This generation has to understand that being a multi-hyphenate is fine, as long as you have purpose and direction. Adding things to your resume just to add them is not great, but if you add them on for the purpose of building your career and shaping your future, [then] pivoting is good. You're not here to do the same things that other people are doing. The whole point of pivoting is that you see that something is missing. There's a skill set that you actually have and can enhance. The more that you understand those layers and how to build talent, that's when you become successful.
Article continues below advertisement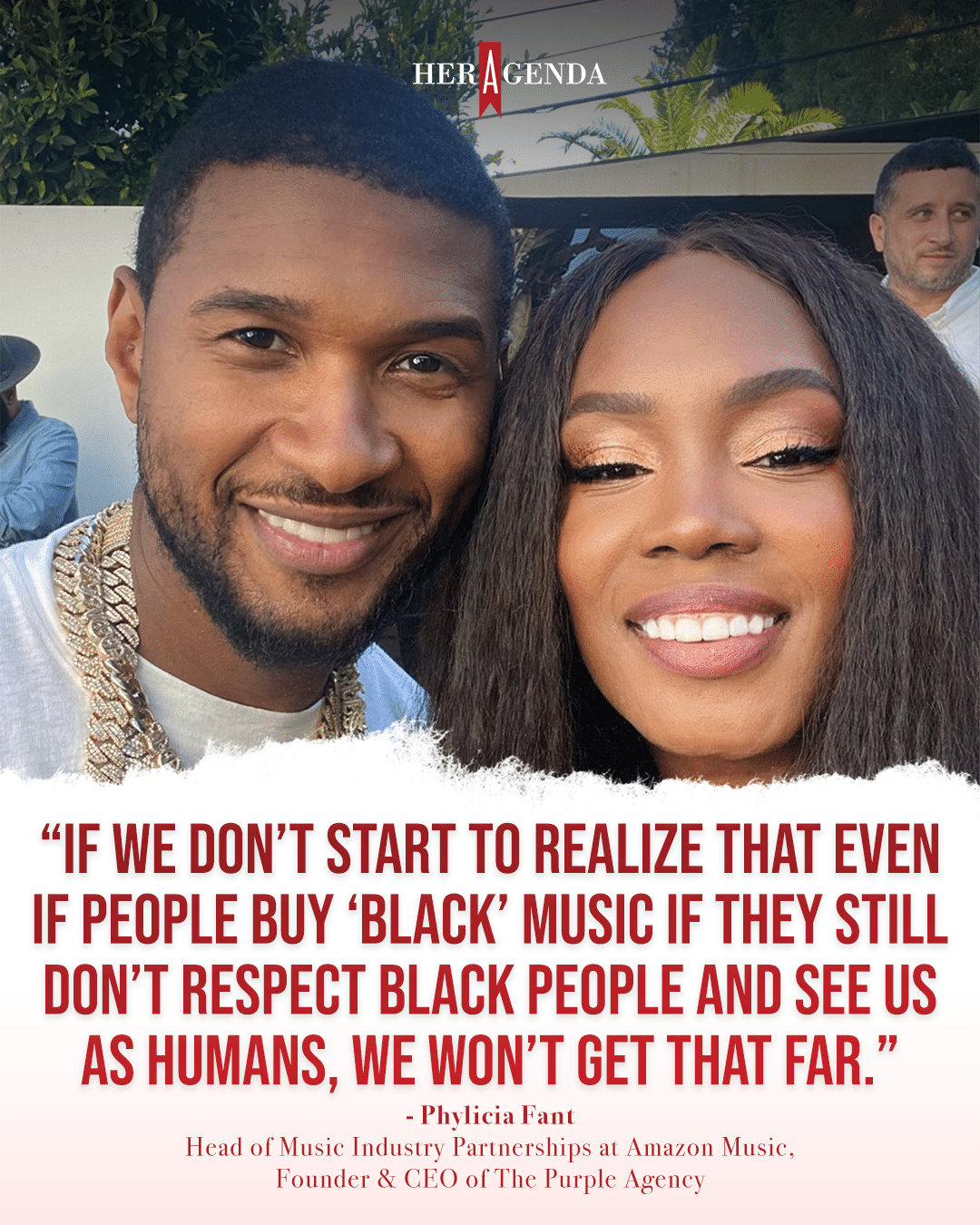 Her Agenda: During your time at Columbia Records, you famously worked to include activism within your artists' campaigns. One of your most famous campaigns was Lil Nas X raising funds for The Bail Project through the Industry Baby music video. Why is encouraging activism within music important for you?
Article continues below advertisement
Phylicia Fant: Activism [was a part] of my career before Lil Nas X. I started activism, probably working with Common and Andra Day. She had a song called 'Rise Up' that changed a lot of people's lives. You recognize that music, even if it's not being played on the radio, can shift people's understanding. Activism became part of my campaigns then, it just extended to Lil Nas X. With [the] George Floyd [protests], people realized that you had to have more of a purpose. If you look at the younger artists, even Lil Baby, he put out 'The Bigger Picture' because everyone realized that there is a bigger picture here. If we don't start to realize that even if people buy 'Black' music if they still don't respect Black people and see us as humans, we won't get that far.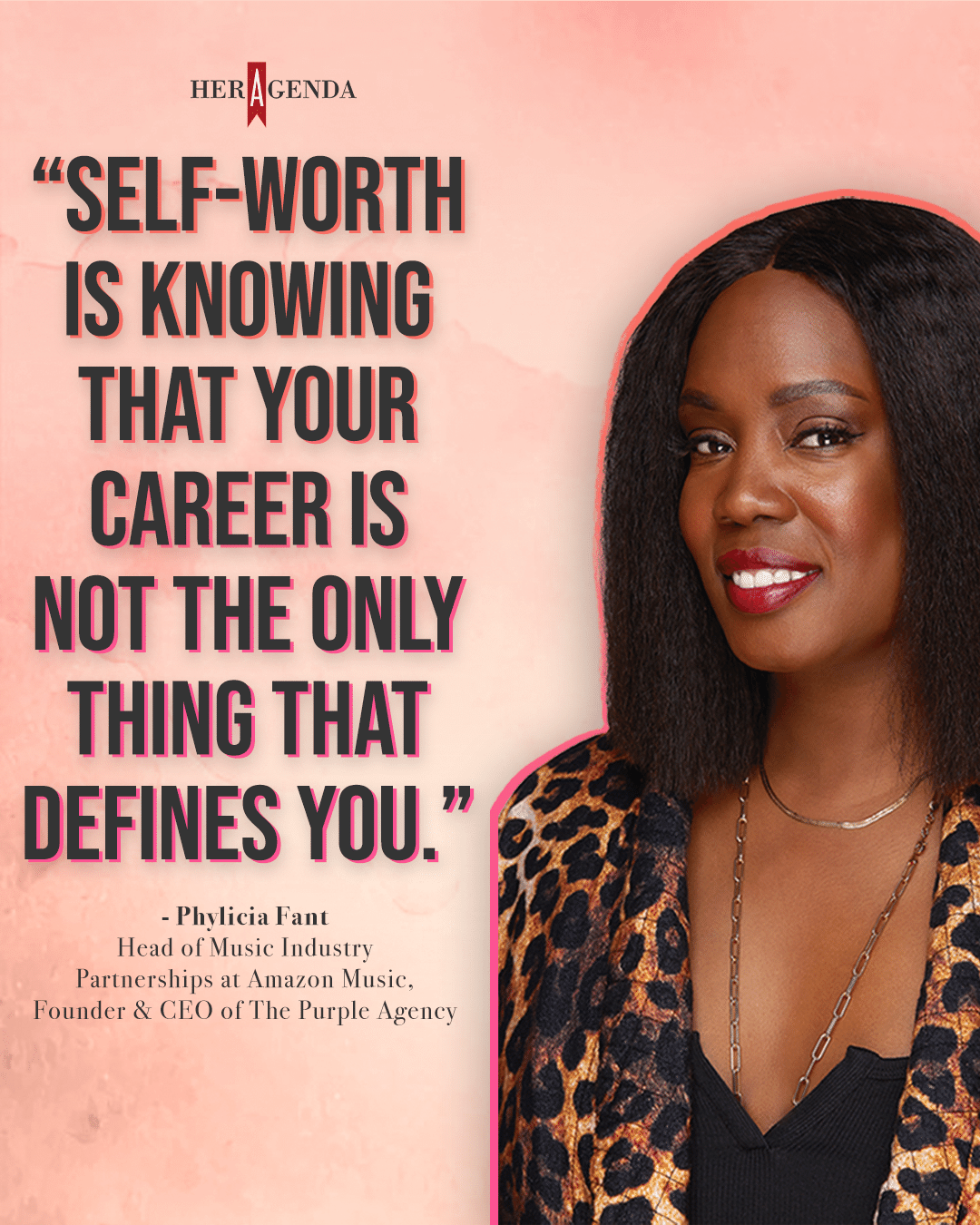 Article continues below advertisement
Her Agenda: I know that as a music executive, so much of your life is dedicated to your career without boundaries. But, how have you been able to distinguish your self-worth from your career?
Phylicia Fant: Self-worth is knowing that your career is not the only thing that defines you. That's how you're grounded. It's only when someone sees their career as their state of mind and state of being, that you can probably get caught up in that. But just because you love your job and work hard, doesn't mean that you lack self-worth. Having self-worth is being able to see what your job can do and how it can influence people [along with] how you can take your job and career to pass back the torch. Having a community at Spelman where we started a mentorship program to bring jobs in entertainment, that's taking your job and passing back. If anything, the purpose of being in these careers is passing back and opening doors to other people. I get my self-worth from knowing that I can open the doors for hundreds of girls who never knew what PR or marketing was, or how to get into the music industry. It continues a cycle of Black women achieving their goals.
Article continues below advertisement
Her Agenda: You are the founder and CEO of the public relations and lifestyle-marketing firm the Purple Agency. Despite being a prominent executive, what made you decide that you wanted your own firm?
Phylicia Fant: Ownership. A lot of people don't have ownership. In the music industry, you are a number just like anything else. They can keep you, they cannot keep you, it doesn't matter how great you are or how good of a job you do. You'll look around the corner and say, 'What do I want to see myself do ten years from now and what legacy do I want to leave?' As you said, your legacy can't just be tied to your job, it has to be tied to what you want for yourself. In starting that firm, I knew that I was able to own something and bring more people of color to this industry.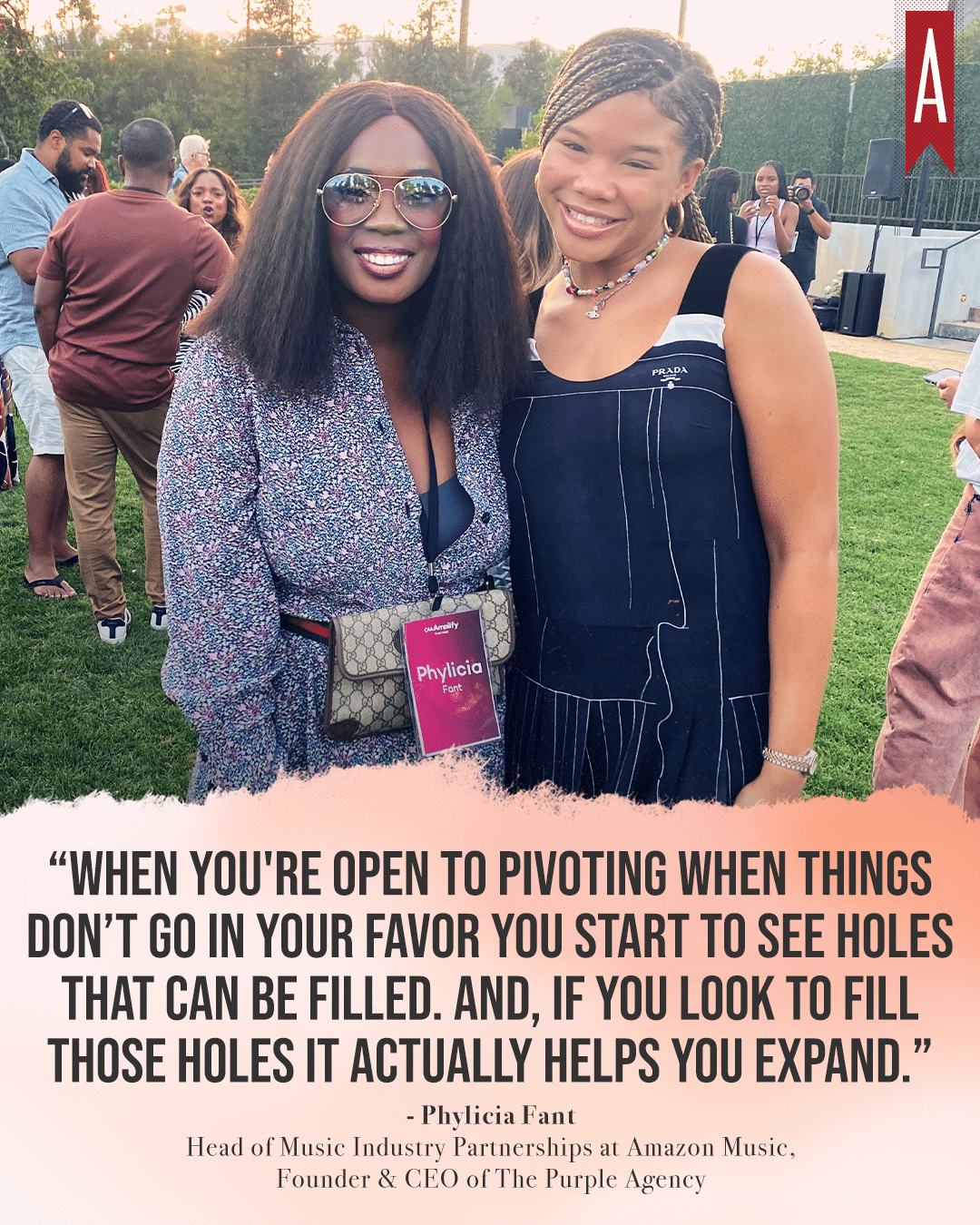 Article continues below advertisement
Her Agenda: Today, it is so common for people to mention how music is missing something. I really want to know, what is your personal opinion on the music landscape and industry today?
Phylicia Fant: If anything, it's a blessing and a curse. The algorithm has determined what music becomes popular. There's a lot of good music out there that just doesn't make it to everyone's consciousness because it's not a part of the algorithm [nor] doing well on TikTok. I think streaming opened the door for a lot of artists of color who weren't at labels, and couldn't afford to tour or be in the eyes of certain people. TikTok is great because it breaks songs and brings catalog artists back who have not been as popular. There are benefits to everything.
Popularity is not always based on what's the best [because] it's hard to find the best music sometimes. There was a system to [doing] A&R that [shaped] the music business. It was about going to the clubs, seeing people perform, and seeing the energy of how people reacted to the music. Not just how they reacted to a streaming platform. There's always going to be a level of humanization that's missing and I think it's harder to break through when you don't have the same opportunities to go out, see the world, and [connect with] people.
[Editor's note: This interview has been edited for length and clarity.]