Post Internship Success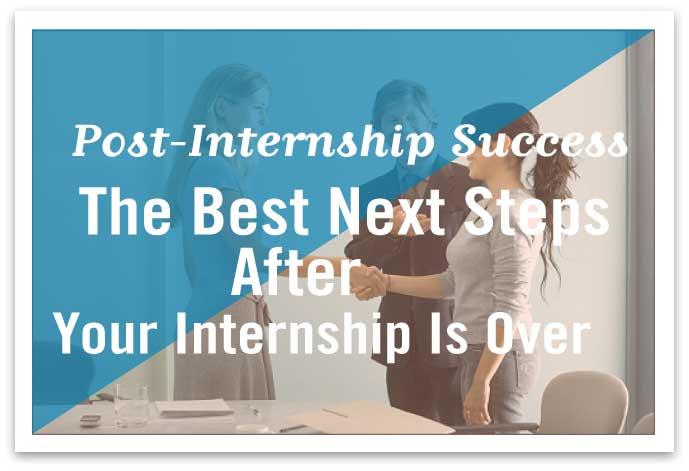 We have reached the end of the summer and it's safe to breathe a sigh of relief because your internship is over!
Congratulations on a job well done in the office, but there is still work to be done over the coming months. I like to divide interns into two large groups, then smaller subgroups within that.
Before addressing the two groups, I want to discuss final intern projects. Almost every internship I have ever heard of culminates at the end of the summer with a capstone project that is shared with your manager and stakeholders who helped you along the way or will use whatever you created in the future after you have gone back to school. If you haven't been working on this presentation all summer, do not fret because there's a quick way to do this:
First, create an outline citing all the projects you want to highlight and how in depth you would like to go.
Next, create more slides than you know you'll actually need so you can pare everything down. Be sure to fact check any data you include as everyone in the room likely knows more about the topic you're presenting on than you do because they live it every day at work.
Third, start creating a script if you're nervous, or some general points to address for each slide. Time yourself as you do it to make sure you're stressing the right areas of your summer and not highlighting those of lesser importance.
Lastly, practice this for everyone you can! The worst thing you can do is show the people evaluating your presentation that you are unprepared in any way. Be confident and find comfort in the fact that you know the material since you spent your summer working on it. Once this presentation is over, decisions will be made regarding whether or not you will return to the company in the future, bringing us back to our two different types of interns.
Let us first address one large group: undergraduates who are not rising seniors. Your internship experience was certainly valuable, but definitely not the end of the road in terms of summer experience within your field.
Article continues below advertisement
There are a few questions you should be asking yourself: Is this the field for me? Did I enjoy the work I did? Can I see myself working with these people every day and not just for 3 months during the summer? Do you love the internship but not the company?
The last question is important if you are asked to return for a follow up internship. If you were in love with it, by all means return because you could make things a lot easier senior year if you get a full time job offer as you enter your last year of college.
Next let's talk about the second category of interns, who are looking to start their full time jobs after graduation. Think long and hard about the company you spent the summer at before accepting or declining an offer. Just because you do not want to go through recruiting in the fall is not a good enough reason to accept an offer. Is the compensation comparable to other companies in the same field? Do you care about location? Are you looking to stay with the company for more than 1-3 years?
Article continues below advertisement
If you do not receive a full time offer, do not think of it as the end of the world, even if you were in love with the company. Think of it as a blessing in disguise if you do not receive an offer. Would you want to work with a group of people every day who thought you weren't measuring up? I know I wouldn't. Ask what mistakes you made on the job so that you can actively begin making those changes for the future. When you're asked in the interviews you will have in the fall why you didn't go back to "XYZ" Enterprises for full time you can answer by saying it was not a good fit and you are looking to begin your career in an environment where your skills match the needs of the organization.
Things to remember once your internship has ended: keep in touch with your connects! You (hopefully) spent the entire summer networking with people in your field of interest so what better way to find more opportunities in the same field than by leveraging the connections you already made?
Now, this is a good idea if you already know you are not getting an offer to return and looking to get a jump start on the fall recruiting season. Everyone you met this summer can help shape your future, so be sure to leave a positive last impression!
Be sure to thank your co-workers for a great learning experience this summer and update your resume to include your internship!