Quinta B. Stars And Produces New Original Series For The Broke Millennial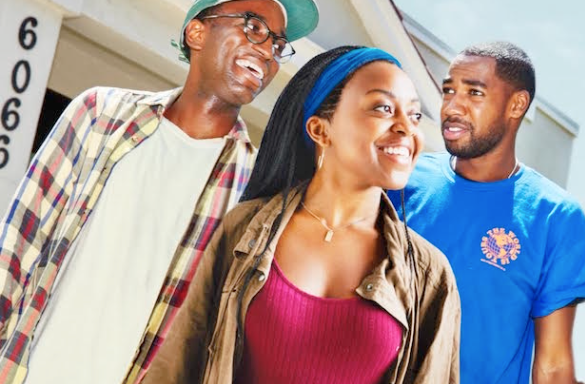 Quinta Brunson, better known as Quinta B, produces and stars in the most funny and memorable clips on the Internet.
After her viral "He Got Money" videos went viral, she brought her talents to Buzzfeed and continued to grow from there. Now she's creating her own series. Brunson, 26, will write and star in two new upcoming comedy shows. The first series, "Broke," premieres today on YouTube Red.
The Temple University and Second City alumna may have grew her following primarily through Buzzfeed but her talent will not be limited to the media company's short-form video content.
Brunson, a Philadelphia native, is one of seven development partners selected by BuzzFeed Motion Pictures to lead the studio's efforts to break into Hollywood. These seven partners have an exclusive two-year deal to create content for BuzzFeed Motion Pictures. While Brunson's face has become synonymous with the BuzzFeed brand to many, "Broke" is her first venture into the world of show running and executive production.
Brunson's "Broke" is an 11-episode scripted comedy series that gives voice to the broke millennial. The series originated from short sketches developed for Buzzfeed. After the short sketches quickly gained popularity, Brunson saw an opportunity to expand in the world of digital video and developed the series in partnership with YouTube Red.
"Working with YouTube to create big, global shows makes perfect sense to us," Matthew Henick, BuzzFeed Motion Pictures' head of development, said in a statement. "Our talent has been building loyal fan bases on the platform for years."
BuzzFeed talent and producer Brunson has built a loyal fan base indeed including over one million supporters on Facebook and over 700,000 Instagram followers alone.
Article continues below advertisement
Brunson's new series centers on the lives of three recent college graduates played by Brunson, Maurice Williams and Paul Dupree. As the dynamic trio follows their dreams in the city of angels, they are met with the day-to-day emotional and fiscal obstacles of being a broke millennial. From battling the fickle job market to selling lemonade to neighbor squirrels in order to make ends meet, the series is hilariously relatable to today's economically challenged millennial. Though faced with a lack of funds, the three roommates and friends manage to find optimism and maintain deep bonds.
Brunson's other new series, "Adopted," focuses on the lives and experiences of four women who volunteer in a pet adoption clinic on weekends. "Adopted" will debut on Verizon's go90 in the winter.
Watch episode one of Broke below: