The role of a storyteller is not limited to one's ability to use words. Rather, it's about painting a picture, and Raeana is no stranger to art and the many ways to use it.
Raeana's gift for art emerged as a child and evolved into a talent for fashion and styling. That evolution was nurtured by her education and training at top institutions including Parsons School of Design and The Saga Furs Design Centre. As her career unfolds, the common thread through it all is her skill of communicating a message that permeates deeper than words. To her, fashion is emotional.
The first story of hers to take the world stage is a moment to remember. Under a spotlight, in an arena full of thousands of fans, rapper J. Cole entered the space being led by men dressed as police officers. J. Cole donned an orange prison jumpsuit with the words Property Of and a blank space below. This was in 2017 during the Your Eyez Only Tour. Cole's team tapped Raeana to create a custom jumpsuit that sent a powerful message on prison reform. Now, as the Design Director at Dreamville, she continues to create custom looks for talent taking center stage across the world, is responsible for the rebranding and growth of Dreamville's apparel, and leads key collaborations with brands like Daily Paper.
In her latest chapter, Raeana brought her Anthropoda line to life in her debut showing during Paris Fashion Week. The collection consists of public favorites like The Jewel Beetle Dress and The Caterpillar Dress. Raeana the brand is "a vehicle for curating narratives inspired by nature, through unique prints, textures, and silhouettes."
Although she has accomplished a number of milestones like working with legendary talent, leading collaborations, and now building her own line, Raeana is just getting started.
Her Agenda recently sat down with the designer and stylist to discuss working in fashion, honoring yourself as a creative, and creating memorable style moments.
Article continues below advertisement
Raeana Anaïs: Music, in general, is like fashion in terms of communication. It crosses language barriers. You have artists who tour and they're in a non-English speaking country, but [fans] know every lyric. The beauty of art is that it brings people together. The impact that music has had on fashion is it fuels the designers because we are all inspired by the music.
We're listening to music when we're creating. And then, that inspiration comes full circle when you have moments where the artists perform and these amazing garments become a part of that performance. Hip Hop specifically has driven so many trends and juxtapositions within fashion. I think Hip Hop has driven streetwear. I think Hip Hop should get a lot more credit for trend-setting than it does.
Her Agenda: Your IG handle is @Behindthelabel and I wanted to know what exactly a day in your life looks like behind the label.
Article continues below advertisement
Raeana Anaïs: It depends on the day. I have days that are in the field where I'm going to factories, or I'm going to showrooms, or I'm shopping for my client, and/or I'm on set. It really depends on what is happening at that time and then on my more clerical days, I'm on emails [and] calls all day. My days can literally look like [having] calls from 9:00 AM until 6:00 PM, or later. And then there are days where I'm running all over the place. Every day is different for the most part.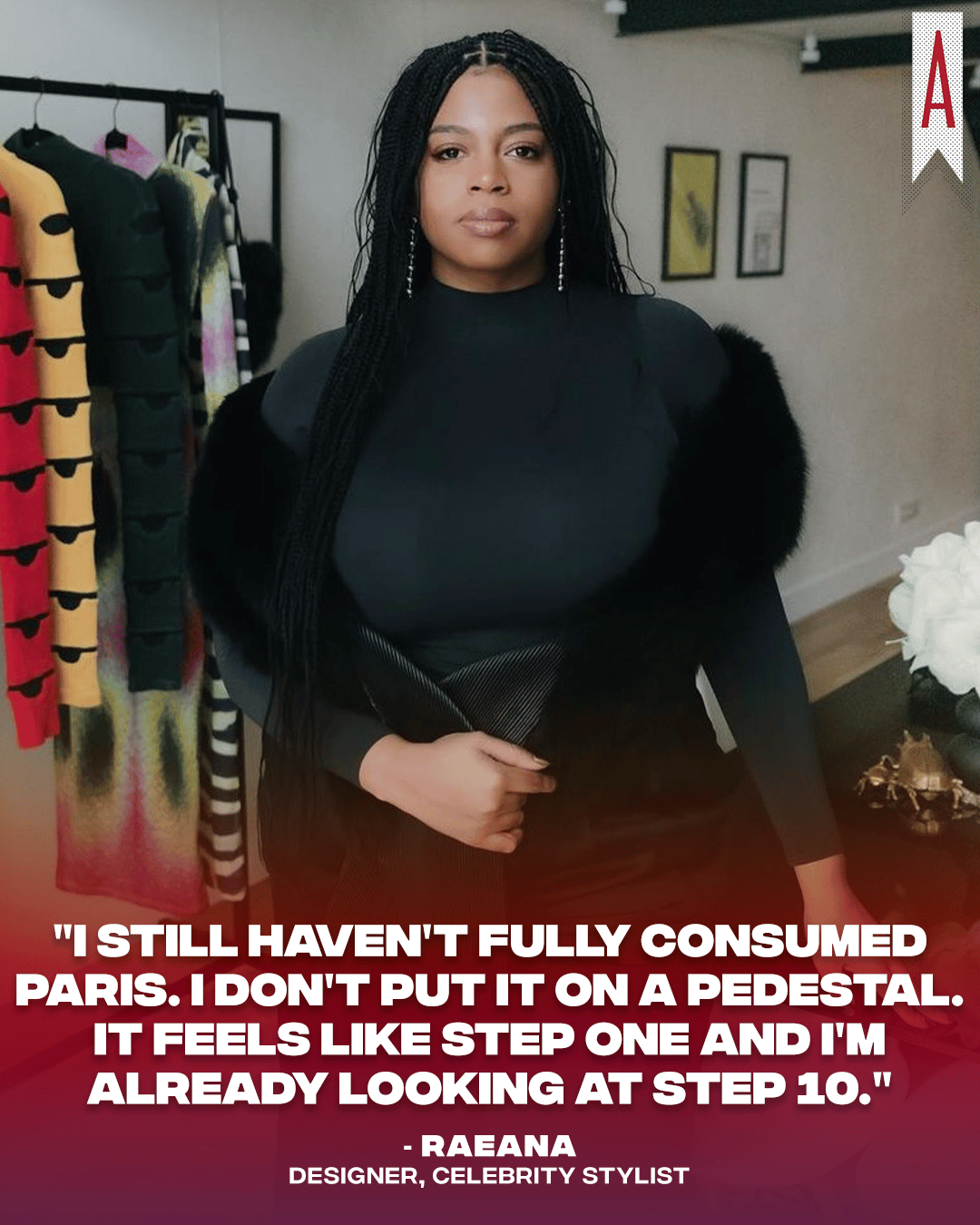 Article continues below advertisement
Raeana Anaïs: For the longest, that was my story. I went to Parsons and I was one of five Black students in the BFA program, that's not okay. I was very aware of being the minority in that environment. I think that support and community are a huge part of success, especially for creatives. When you feel isolated and you don't feel super supported, you don't see community. It can make it even harder. Now, I see so many Black designers. I see more Black editors. I see Black photographers.
[Black people in fashion] are [showing up in the industry] beyond just creating, we're in the decision-making rooms. It takes a village and I feel like just wanting to see more Black designers almost isn't enough. We need more diversity as a whole in the industry, but right now I think there's more work to be done, but it's better than I've experienced. I'm finding new brands every day that are awesome, and then I find out that it's a Black designer, and it's a great feeling. I'm really happy to see diversity now more than ever.
Article continues below advertisement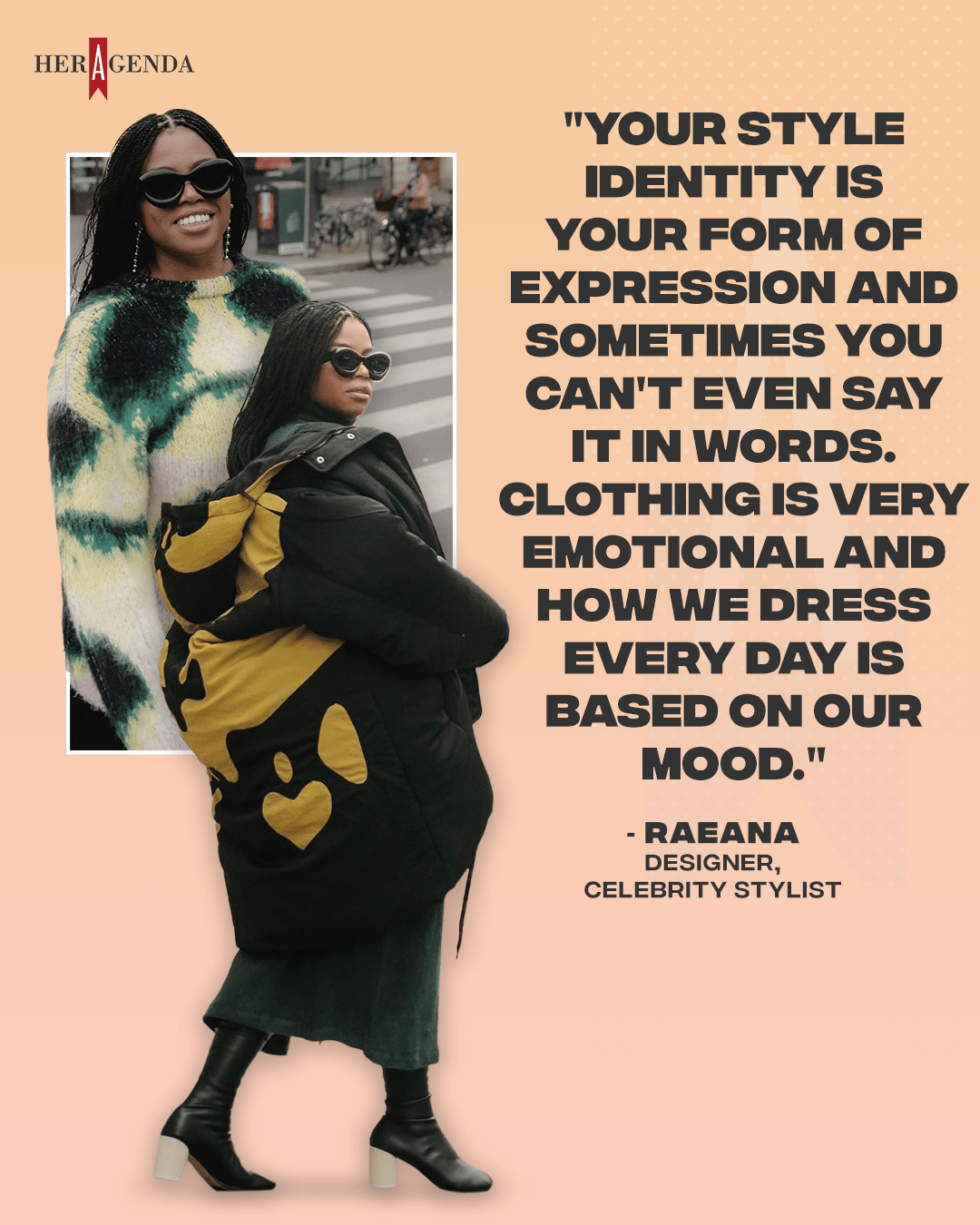 Her Agenda: Something that I've noticed is with the rise of fast fashion, a lot of designers of color have been getting their designs copied. What do you do to protect your work as a designer and as someone in fashion?
Article continues below advertisement
Raeana Anaïs: That's kind of tricky because, now in the era of the internet, we don't own anything we put out. Even if you delete it, it's been out, and it could have been screenshotted. It could have already been circulated. Once it's out there in the world, you kind of have to let go of that fear, otherwise, you're never going to share it. You just have to know [that] people will come to you for a reason. I don't worry about that too much because If someone were to do something that I've previously put out, I'm already onto the next version of that. I'm already thinking about what is next.
[So my advice would be to keep] thinking forward and try not to get too caught up in the fear of sharing. If you hold yourself back, then you might not be sharing and giving people the opportunity to stumble upon your work in a positive way.
Article continues below advertisement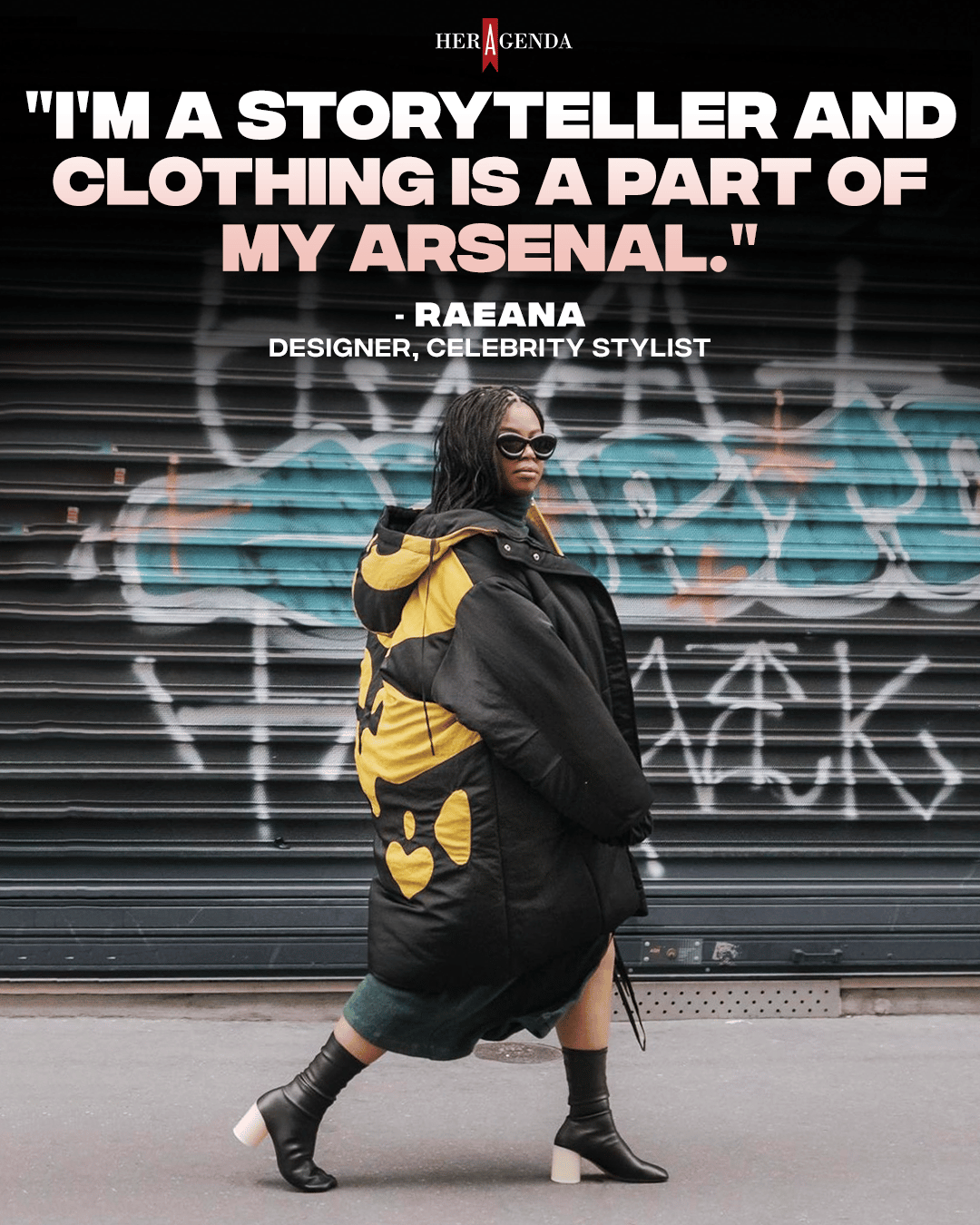 Her Agenda: You recently presented your collection at Paris Fashion Week. Do you feel pressure from the industry to perform at a higher level once you reach a certain milestone? Or, do you feel like you constantly have to outdo yourself?
Article continues below advertisement
Raeana Anaïs: Yeah, but it's not even pressure from the industry. It's my personal goals and my vision. I still haven't fully consumed Paris. I don't put it on a pedestal. It feels like step one and I'm already looking at step 10. I'm grateful for the experience and the support. It has given me confidence but I still put more pressure on myself probably than the industry could ever put on me. I decided that I wanted to do [this] and that was very important for my brand to connect with the market there. I also think once you are consistently performing in a certain way, there are expectations that are developed. I know people are counting on me to deliver. I don't want to let myself down, but I can't let the people who support this brand down as well.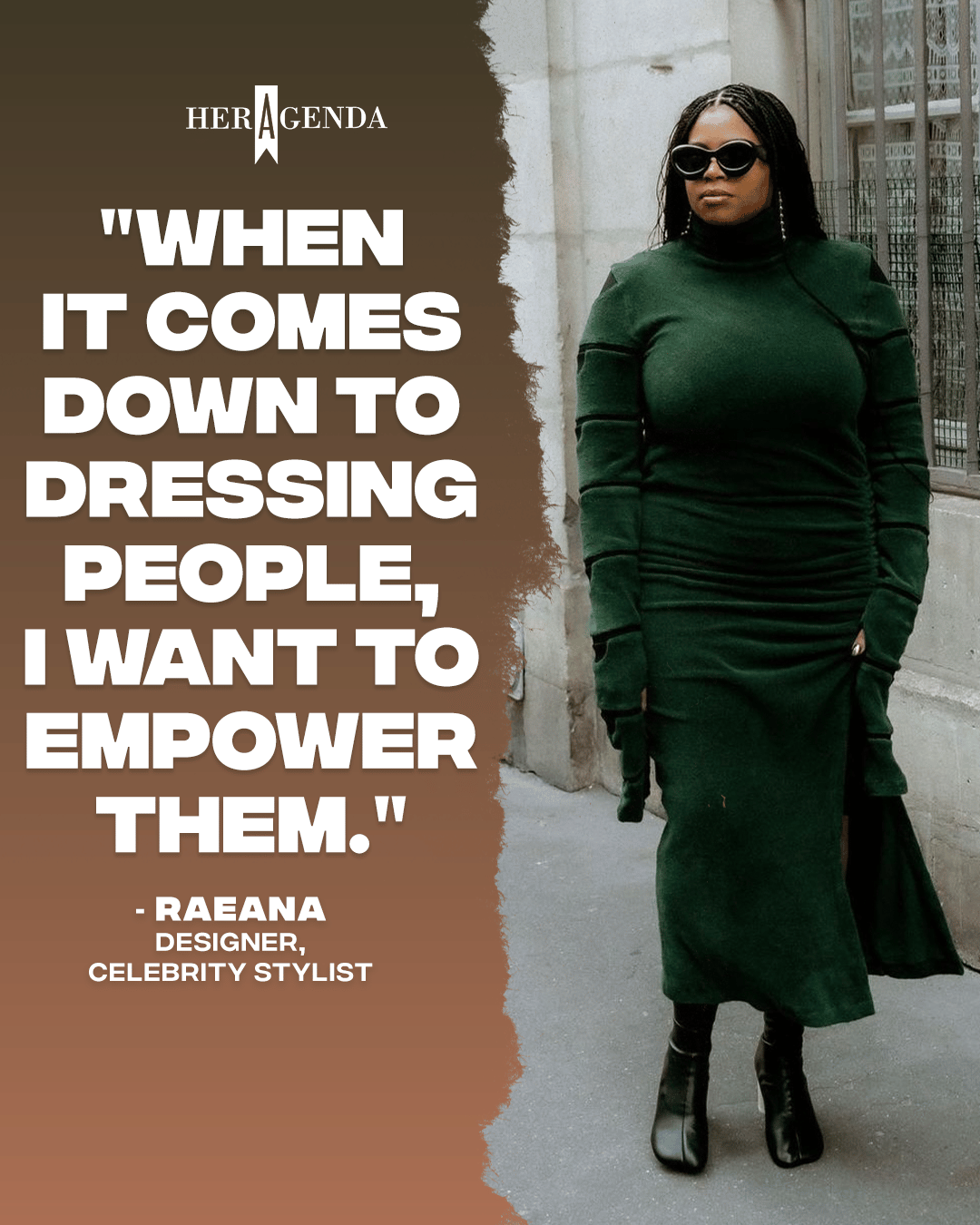 Article continues below advertisement
Her Agenda: As the Design Director at Dreamville, your work is legendary. When you're working with someone like J. Cole, how do you translate their persona into fashion?
Raeana Anaïs: It's this unspoken language. It's really hard for a client in some cases to explain [their] vibe. You have to come in and gather that DNA through trial and error. I notice when [a] client responds really well to this cut, fit, or fabric. Then you're building together. Your style identity is your form of expression [and] sometimes you can't even say it in words. Clothing is very emotional [and] how we dress every day is based on our mood. I think working as a stylist has helped me understand the emotion behind getting dressed more than anything. As a designer you can kind of sometimes live just in this fantasy space of what you want to build and what you wanna see. And, as a stylist, you can put a look together that looks great in theory to you [but] your client is just not comfortable in it. Or, everyone else could say you look good and you don't like how the [outfit] looks. It doesn't matter how anybody else feels, it's about how you feel. That's part of the reason why I love fashion and I wanted to design because there's so much power in getting dressed.
Article continues below advertisement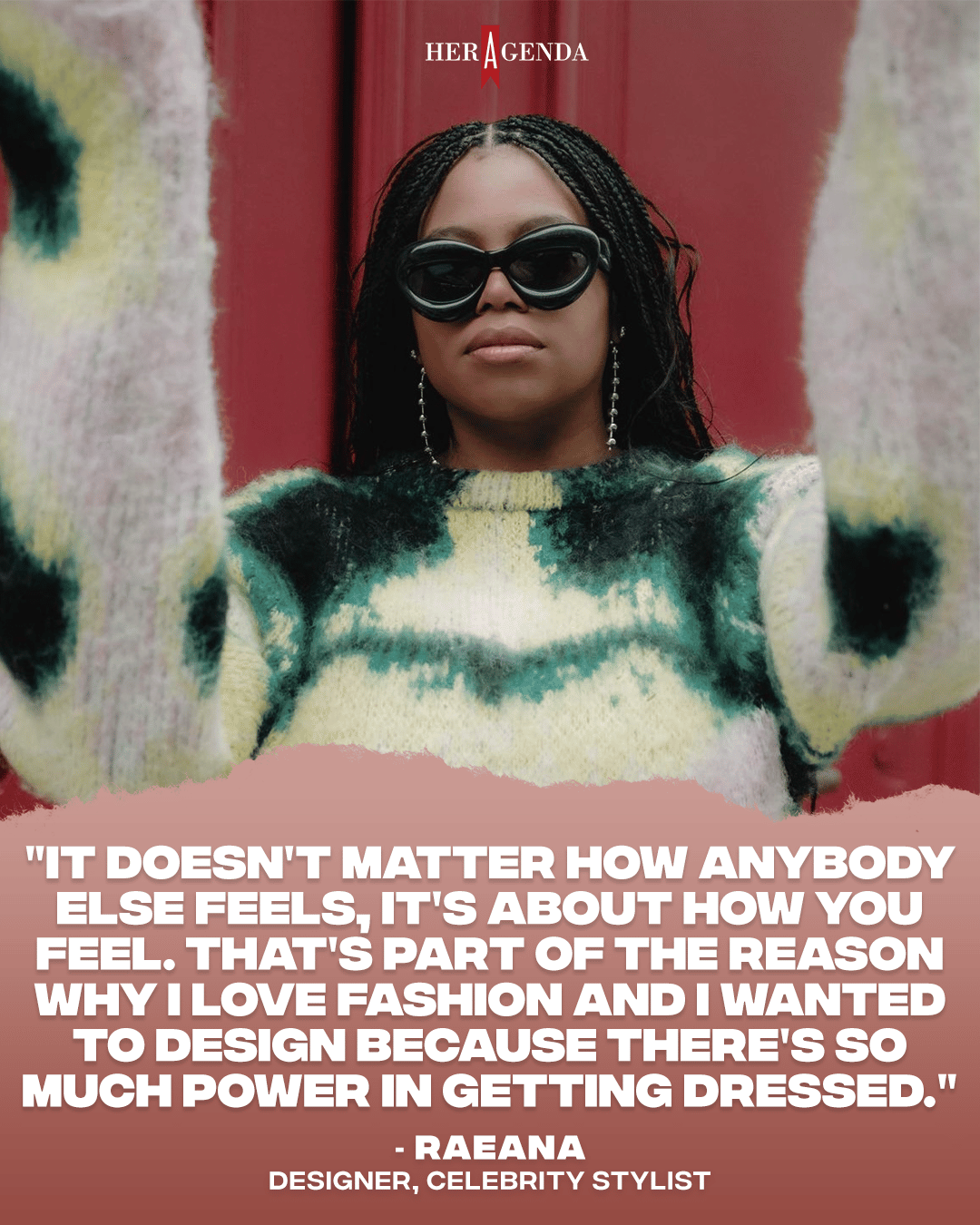 Her Agenda: One of your most famous designs is the jumpsuit that J. Cole wore during the 4 Your Eyez Only World Tour. Tell us about the creative process and how you reached the finished product.
Raeana Anaïs: That was a quick-fire piece. I knew from my good friend, Felton Brown [Dreamville's VP of Creative Services], that Cole had the tour coming up and I knew the theme. I knew some of the directions that they were loosely thinking, and I had maybe 48 hours to come up with something. I sketched, and I was looking at prison uniforms, but [thought] 'How do I make it his?' I didn't want to mimic a prison jumpsuit by putting something on there that almost diminishes the message of his tour. I respect and understand what he did with prison reform. So, how do we kind of pay homage to that?
Article continues below advertisement
And, 'Property of,' and leaving it blank just came [to] mind. I remember us kind of going back and forth with that, and he wasn't sure if he wanted to keep it blank, so I made [it] snap off so he could change [it]. The entire process of working on that jumpsuit went from zero to 100. Being flown out to LA literally 24 hours later, meeting with Cole at rehearsal, having a fitting, and then delivering two jumpsuits in five days for the Arizona show.I remember the first show when [Cole] came out, and I saw the stage and the lighting. It was just such a beautiful moment and I was like, 'I want to do so much more of this.'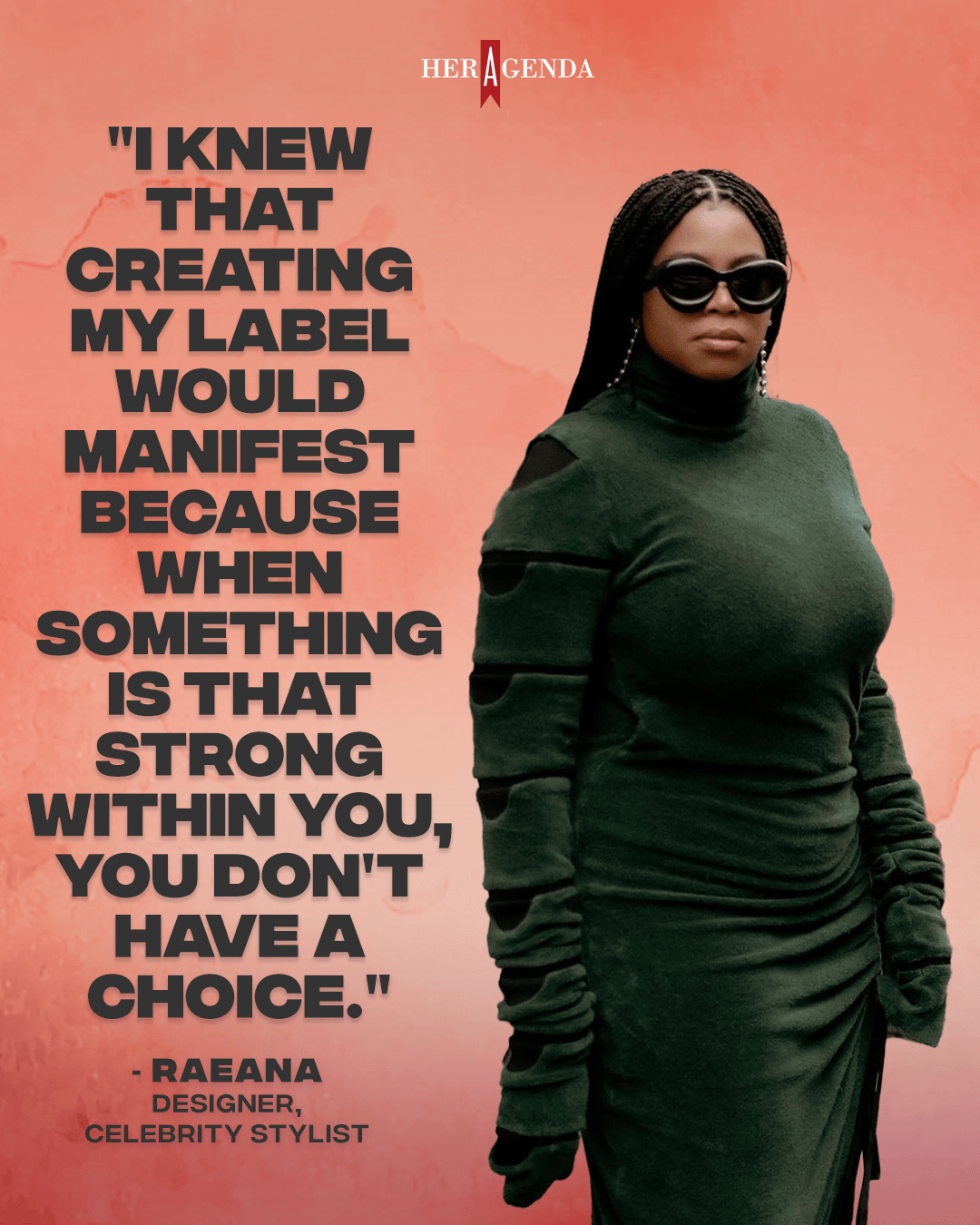 Article continues below advertisement
Her Agenda: What do you think is the overall role of the fashion designer within society? Because as you mentioned, clothes can change your confidence and your day.
Raeana Anaïs: I'm a storyteller and clothing is a part of my arsenal, it's part of my toolkit [and] it's how I'm telling these stories. When it comes down to dressing people, I want to empower them. I want people to put on the things that I make and feel good, strong, and confident, specifically women. Sometimes all it takes is putting on a red lip and eyelashes. There are really specific decisions that we make [with] how we wanna show up in the world. I think clothing can be armor.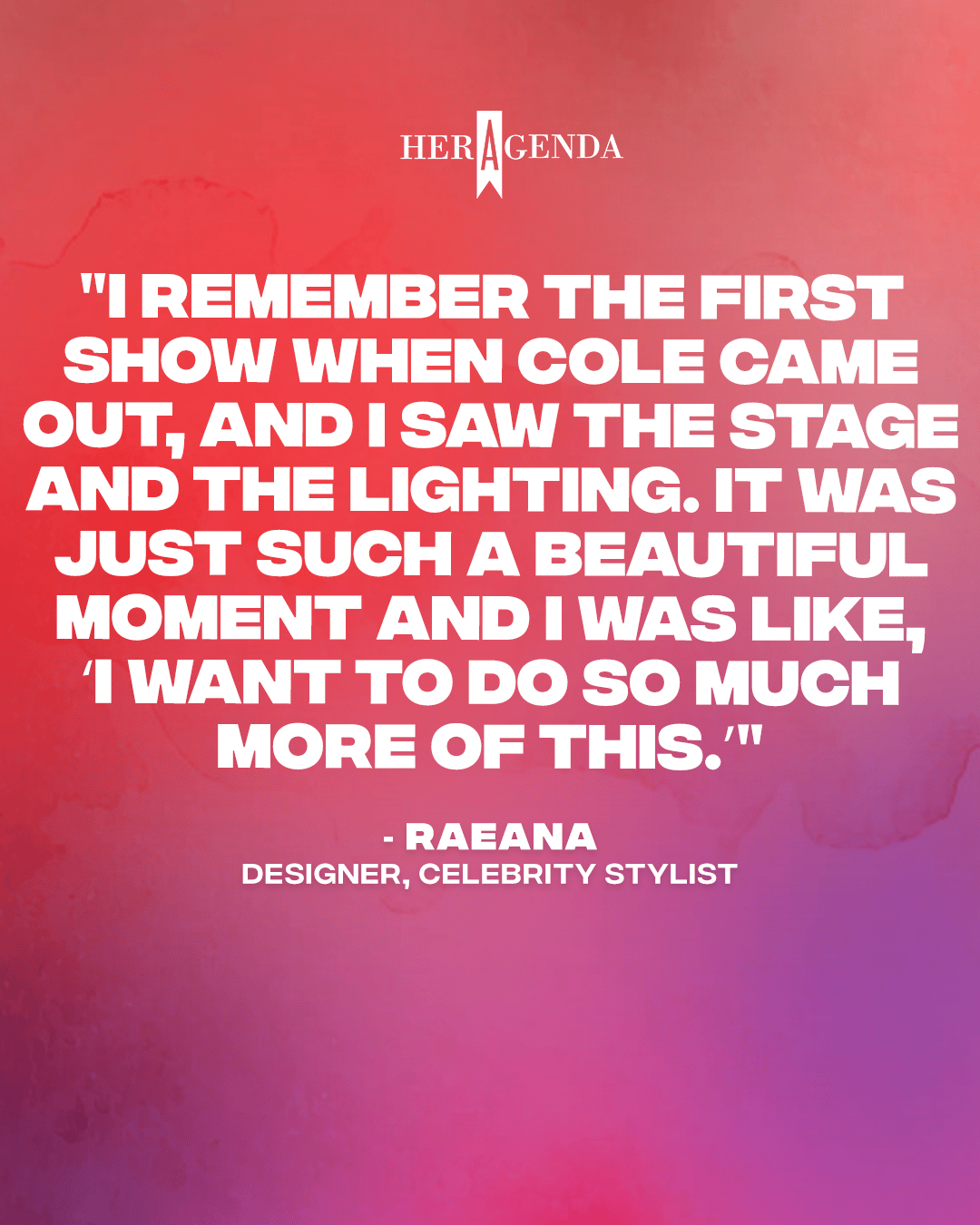 Article continues below advertisement
Her Agenda: Can you please tell us about your collection and what you are most excited about? Do you have a favorite piece?
Raeana Anaïs: It's hard to choose a favorite because it might change depending on my mood. But, if I have to pick it would be my caterpillar pants because I've been wearing them a lot and I just love them. I'm dressed but it's effortless at the same time. So, I really enjoy that because comfort is really important to me.
This collection is all inspired by beetles and the title of the collection is Arthropoda. It's really important for me to use my brand as this platform to tell stories through the clothing. Arthropoda is one of many stories that I want to tell and I will revisit this concept often. I hope that people who follow the brand and people who shop the brand, develop more of a mentality of collecting. I'm genuinely inspired by this concept and [had] to stop myself and put ideas to the side because I just wanted to keep making it. There are millions of beetles, some of which haven't even been fully identified yet. So, I can literally work on this for the rest of my life, and I still wouldn't have made a dent in all of the beautiful beetles and arthropods.
Article continues below advertisement
The discovery process for me is the most exciting. I get excited when I find new beetles that are inspiring. I'm in awe of what God has made and what is produced from the earth that is untouched, untapped by man. That's pure beauty. Even as humans, we all are so diverse, with many variations of beauty.
Her Agenda: Why did you decide to create your own label as opposed to joining a fashion house as a designer?
Raeana Anaïs: That was the only thought I ever had. I have a lot of respect and admiration for many designers, but this was always my goal. Regardless of whether I worked for different companies or not, this vision was always there. I knew that [creating my label] would manifest because when something is that strong within you, you don't have a choice. It was destined.
[Editor's note: This interview has been edited for length and clarity.]