After Losing Parents To Domestic Violence, 23-Year-Old Dajahnae And Her Siblings Finally Get A Fresh Start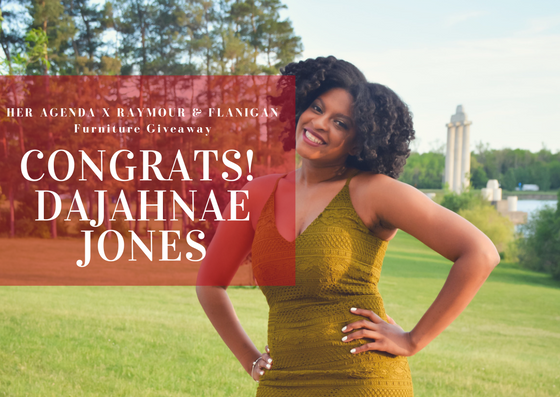 23-year-old Dajahnae Jones was only 18-years-old when her mother was tragically murdered at the hands of her step dad. The domestic violence homicide made headlines. But what didn't make headlines, was the load that now fell onto a young college student's shoulders. Following the loss of her parents, she suddenly became responsible for raising and caring for her two younger siblings.
We learned of Dajahnae's story after opening up a call to nominate a woman in need to receive furniture sponsored by Raymour & Flanigan to create #HerSancutuary. The nominations for Dajahnae came pouring in.
"Since [the tragedy] she has supported herself, while also preparing herself for the day when she could bring herself and her siblings together under one roof. Home," shared none nominator. "Dajahnae is in the process of closing an apartment that will be just that for her and her two younger siblings. A home that the three of them have yearned for since the death of their mother. This furniture would go a long way towards creating a new home for their family."
Many who submitted Dajahnae describe her as the strongest woman they know. It's clear from the testimonies we received that despite her circumstances she's continued to persevere while simultaneously making an effort to reach to others who have experienced similar loss or circumstance.
"She's been [her siblings'] glue ever since despite being miles away away at school. Now that they are reunited she's taking the steps to give her younger siblings stability and a place to call home after having to move around to different family members over the past five years," shared another nominator.
Dajahnae graduated from the University of Buffalo this past Spring. She's moving forward, not letting anything stop her from her goal of keeping her family together and making a home for them, a home they haven't been able to have since 2012.
"She is constantly met with seemingly impassable obstacles, but somehow she always finds a way to overcome them and keep pushing forward."
Article continues below advertisement
Genuine, deserving, compassionate, resilient, loving, empathetic, determined, strong minded, caring – these are the words that Dajahnae's friends, and supporters who nominated her used to describe her. We at Her Agenda are incredibly honored to help Dajahnae create the home for her and her siblings that they never had.
"I just want to give them everything I can. Their lives were changed so abruptly and I know that it will never be 'normal' again, but whatever I can do to make it as close as possible I will. I have just graduated, so I have debt that I need to pay back and I work for a non-profit to give support to youth that are out of school/work so I am definitely low money wise. This would be such a huge blessing for my babies. They deserve more than I alone can ever give," shared Dajahnae when we asked why she should be selected.
Congrats Dajahnae! We will follow her journey and update you with before and after photos of her new home. Stay tuned. In the meantime, watch her acceptance video below.
Article continues below advertisement