RBG's Life Is A Legal Love Letter To Women's Sovereignty
There are few figures in politics – even within their own political parties – who command undisputed universal respect from their political peers. Ruth Bader Ginsburg was one of those leaders. Ginsburg's battle with cancer – a fight she waged for over two decades – was succumbed to today.
The Rise Of Ruth Bader Ginsburg
Weighing less than 100 pounds and barely above the five-foot mark, Ginsburg was known for her immense toughness and persuasiveness while also maintaining an uncanny ability to build congenial relationships with colleagues from all sides of politics. She was also one of the pivotal champions of women's rights, crusading the legal cause at vital points in American history.
Ruth Bader Ginsburg grew up in Flatbush, Brooklyn. She was born to an immigrant father who owned a small shirt-making store. Her mother, a New York native, was a fervent advocate for her education, having been denied the opportunity to further her own education as a child. Having battled cancer throughout Bader Ginsburgs' life, her mother died the night before Bader Ginsburg's high school graduation.
Bader Ginsburg went on to attend Cornell University, where she graduated as the top female within her class. She married fellow classmate Martin Ginsburg the day after their graduation, whom she went on to have two children with. Bader Ginsburg attended Harvard Law, eventually transferring to Columbia Law School when her husband moved to New York City. She tied for first in her class.
Article continues below advertisement
Women's Rights Was Her Calling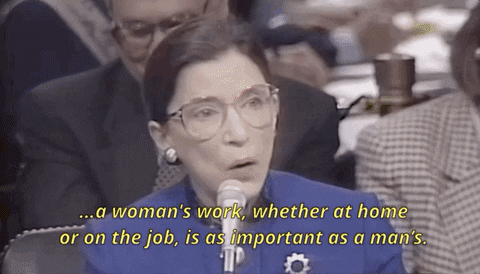 Ginsburg gained prominence as a lawyer through her focus on social justice – with particular emphasis on women's rights. She felt the weight of injustice against women within American culture first hand when she was rejected from multiple job opportunities for being a woman, a wife, and a mother.
After being rejected as a law clerk (Bader Ginsburg was eventually able to obtain another appointment), she held a position as a university researcher. In the 1970s, RBG went on to co-found the Women's Rights Project within the American Civil Liberties Union. The WRP -ACLU undertook over 300 women's rights cases with Bader Ginsburg as its director. Within three years, RBG argued six cases in front of the Supreme Court, winning five in total.
RBG's Government Appointment
Jimmy Carter gave Bader Ginsburg her government break in 1980 when she was appointed to the United States Court of Appeals for the District of Columbia. After a successful tenure at that level, the next democratic president in line, Bill Clinton, elevated Bader Ginsburg to become the second female Supreme Court justice.
For the majority of her first 20 years in the Court of Appeals and as a Supreme Court Judge, Bader Ginsburg was considered moderate – a conservative-liberal at best. This position gained her notoriety amongst her peers as a collaborator and helped to ensure her further appointments within the government.
Article continues below advertisement
However, after Justice Sandra Day O'Conner retired in 2006, Bader Ginsburg became far more outspoken on the bench, in large part, due to her position as the only liberal woman. Her forceful public dissents gained notoriety, pushing her into the American limelight as a champion for women, change, and human rights.
Initially thought of as the Thurgood Marshall of the women's rights movement in the 1970s, Bader Ginsburg ended her career sky-rocketing into pop-culture stardom. She unequivocally claimed her own namesake (along with concurring nicknames), as an icon amongst social justice leaders.
The Future of Ruth Bader Ginsburg's America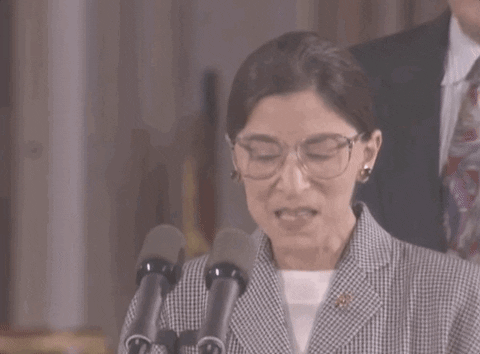 Prior to her passing earlier today, Bader Ginsburg was reported to have said to her granddaughter, "My most fervent wish is that I will not be replaced until a new president is installed."
In February 2016, Republicans denied then sitting President Barrack Obama the right to nominate the next judicial nominee when Supreme Court Justice Anthony Scalia suddenly passed away. With a heated upcoming election, Republicans demanded the next sitting president be allowed to nominate the new judge.
Article continues below advertisement
"We're going to fill it," Republican Wyoming Senator John Barrasso stated earlier this year.
"They're not troubled by inconsistencies," Virginia Democratic Senator Tim Kaine went on to explain. "It would be completely inconsistent with everything that was said [in 2016]. But we knew when (the Republicans) were saying it they didn't mean it. We knew that was a situational answer."
Bader Ginsburg made no secret of her desire to live until the next (Democratic) president was voted into power, thus securing the next judicial seat for a liberal Supreme Court Judge. Heated demand for Bader Ginsburg's replacement has already been made clear by Republican party leaders just hours after her death.
One Step At A Time
"Real change, enduring change, happens one step at a time," Ginsburg is infamously quoted as saying.
There will be no greater tribute to the memory of Ruth Bader Ginsburg, then taking that one step to vote in this year's presidential election.