RECAP: Her Agenda's Panel on Developing Multiple Revenue Streams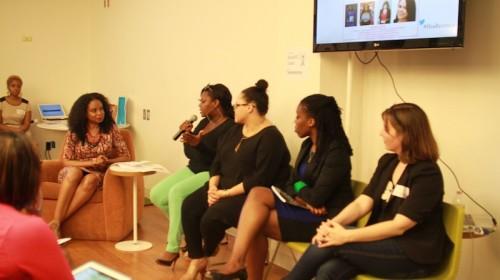 In a word, last night's Her Agenda panel was simply inspiring.
The four dynamic women who were invited to share their stories put everything out there, the good the bad and the ugly of creating streams of income.
"Entrepreneurialism is not for everyone, if you can't miss 2 checks then it is not for you!" advised Tionna Smalls, author and star of the new MTV show "Girl Get Your Mind Right" when discussing the struggles of money when building a business. Other panelists offering their expertise and advice throughout the evening included Steph Auteri, freelance editor and writer, Tiffany the Budgetnista author and personal finance expert and Johnica Reed an entrepreneur and consultant.
"Never put all your eggs in one basket. You never want to rely on one income stream," added Auteri, which of course was the inspiration for the event.
Moderated by Janell Hazelwood Associate Producer of the panelists touched on everything from valuing what you have to offer, branding, and the importance of networking and leveraging relationships.
"Sometimes as women we diminish our skills because we don't think people will pay for it," explained Hazelwood when discussing the importance of charging for your skills and work.
The final words of wisdom focused much on branding and the presentation of your digital self online to leverage relationships, and entice potential jobs and opportunities.
"Build your online brand so that the first time people meet you it feels like their second and third time," advised Tiffany the Budgetnista.
We also were able to raffle off two great prizes. sponsored three free months of their beauty box. Also the influence building & branding agency nu | glo marketing sponsored a branding consultation for one of our attendees.
To view all the tweets from the event check out our storify:
[<a href="//storify.com/HerAgenda/her-agenda-panel-herrevenue" target="_blank">View the story "Her Agenda Panel: #HerRevenue" on Storify</a>]
[<a href="//storify.com/HerAgenda/her-agenda-panel-herrevenue" target="_blank">View the story "Her Agenda Panel: #HerRevenue" on Storify</a>]