Ratchetness is running rampant all over TV screens across America and it's being labeled as reality. But the reality is most of the top rated shows on networks like VH1 are portraying an image that distorts and damages the image of black women.
A few weeks ago, WEEN hosted a panel to discuss the impact reality TV has on women of color and what we can do about it. The variety of opinions are just as extreme perhaps of the behavior put on display in front of millions.
"This is high drama, conrtoversial television, competitive tv. It has our interest," explained one panelist in the opening moments of the panel.
The panel featured WEEN co-founders Valeisha Butterfield – Jones, Kristi Henderson and Sabrina Thompson, also the runner-up on CBS' Survivor. Also speaking on the panel, Emily B, Mashonda, Somaya Reece and Yandy Smith (formerly of Vh1's Love and Hip Hop) Adrienne Bailon of the Style Network's Empire Girls, Andrea Kelly of Vh1's Hollywood Exes, Meeka Claxton formerly of Vh1's Basketball Wives, and anti-domestic violence activist Sil Lai Abrams. Celebrity host Amanda Seales moderated the discussion.
Article continues below advertisement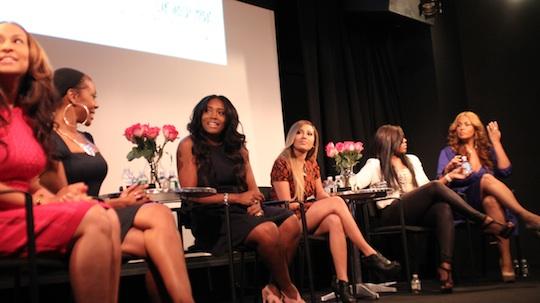 Shows like Basketball Wives, Love and Hip Hop, Real Housewives of Atlanta, Bad Girls Club and other top rated reality programming generate millions of viewers. Love and Hip Hop recently ranked as the number 1 reality series of the summer with 3.6 million viewers. Much of the content of these programs feature women with a dependency on men, women throwing drinks at other women, and women throwing fists at other women, all the while throwing out any slither of positive images of black women.
So, with all the progress made by women and especially black women today, why are millions continuing to tune in? "It kind of highlights our own shallowness you could say," said one of the WEEN Academy graduates when speaking on a pre-panel of young women reflecting on their impression of reality TV.
Article continues below advertisement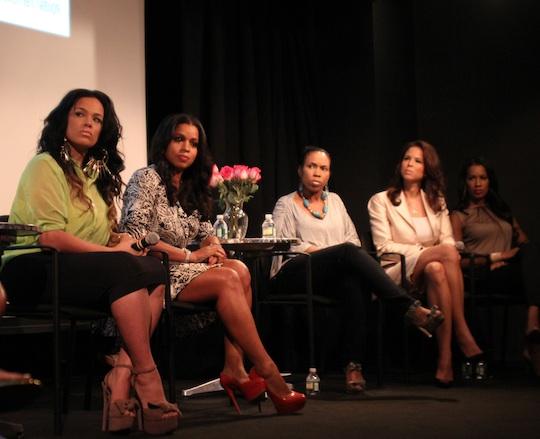 Lauren Lake, a co-founder of WEEN, delved into the impact these shows have on young women. "You can watch the show all night long and think its hilarious but then when you see little girls emulating it and now they don't know how to talk out a difference they just think they have to go to fighting…but it doesn't matter as long as I have on the latest shoes, and the latest bag, and my hair is done right and my weave is in good it doesnt matter my life is still good."
Article continues below advertisement
The discussion remained passion fueled and heavy throughout the evening, but the host Amanda Seales provided light comic relief when it was needed the most. "Everyone has different opinions on why there's a problem with reality TV and some people don't think theres a problem at all. I had a make up artist yesterday who was like 'WHAT theres nothing wrong with reality tv, raise your kids!'"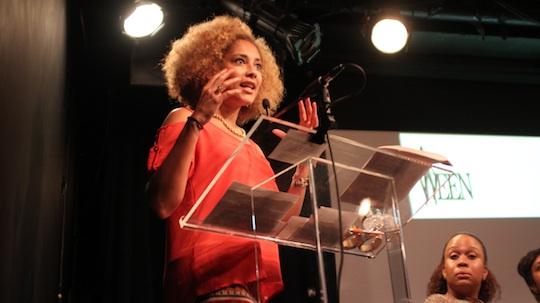 Article continues below advertisement
While the laughter was welcomed, it was clear through the direction of the discussion that this is a serious issue. One young woman in the pre-panel said she'd participate in a reality TV show without any type of boundaries on what they would or would not do. This is the impact of putting these reality stars on a pedestal for their ratchet and outrageous behavior.
Sil Lai, who is a writer and motivational speaker, remained the most vocal against the existence of these reality TV shows. "I'm sorry, I'm a single working mother, I don't choose to spend my Monday nights laughing about black women who are being abused emotionally and sexually by their partners, and pretending that there's no issue."
Andrea Kelly, ex-wife of R&B singer R. Kelly and famous choreographer touched upon the responsibility of the stars of the shows who choose to step into the spotlight as a reality TV personality. "People say oh, I never meant to be a role model, that makes as much sense as saying I wanted to have a baby but I dont want to be a mother, it comes with the territory."
Much of the blame for the existence these images fell on the producers of these shows who were painted throughout the discussion as vindictive, maniliputive, puppet masters forcing these women to behave in this matter or risk getting cut from the show. But as Andrea Kelly points out, you can't show what wasn't already put out there.
Article continues below advertisement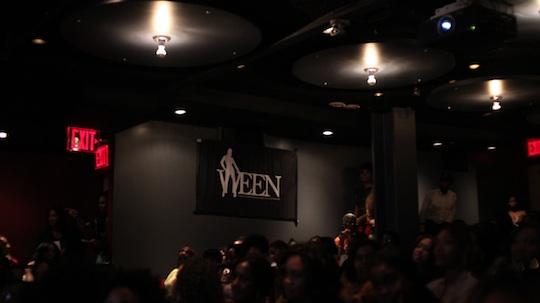 "They can't show a fool or edit a fool if I don't give them a fool," said Kelly. "we have to be very conscious, if you dont want to be a role model, if you dont want to be responsible dont get on TV."
While Kelly put the spotlight on the stars of the shows, Abrams says the networks are to be held responsible because there are black women in the world doing positive and amazing things–but you never see that on the top rated shows.
Article continues below advertisement
"I'm on the board of governors for the national council on family violence, I just got back today from speaking to the FBI for their World Equality Day, and I say that not to say 'ooo look at me,' [but] just because you have a history, just because you've been disenfranchised you have certain issues, doesn't mean that you cant choose a different path. And I hold the network responsible, that they're targeting black women."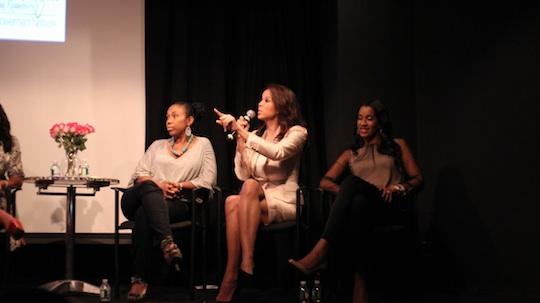 Article continues below advertisement
Mashonda, who was featured on a season of Love and Hip Hop right after going through a very public divorce from her husband Swizz Beatz following a very public betrayal was shaky as she explained her take of what the root of the issue is with the images on reality television.
"I feel all of the issues that you come across on the shows, they all start with mental, inner problems. You get to see these women actually play out their regular lives and everything that they have inside of them comes to the surface."
Bringing a rare behind the scenes truth to the surface, WEEN founder Valeisha Butterfield gave very personal story of her encounter with reality TV producers after they attempted to recruit her for the show Basketball Wives. After entertaining the conversation briefly, she was immediately turned off once she saw their true agenda, and she made a plea to the audience– mostly made up of what appeared to be viewers/fans of these shows.
"Why are we portrayed like that on tv, and I know we contribute to it, but the Kardashians are businesswomen..like really think about that."
Article continues below advertisement
"Yes we can be positive people like Andrea and everyone else on this panel but at the end of the day what they are putting out and what we are buying is women of color acting a fool. And my thing is, the Kardashians, again nothing to lose, they can flip a sex tape, with Ray J, into an empire, and that's where I want to go with this.
Others on the panel continued to place blame on the show's producers. Somaya Reece of Love and Hip Hop explained "You guys have seen me on my show, I didn't know I was signing up for a show where everybody was going to be fighting me."
But within the conversation, there were glimmers of inspiration, and hope for the portrayal of positive images on reality TV. Yandy Smith said the reason she decided to join the cast in the second season was to show a different perspective and show viewers that not every woman living a successful glamourous life had to attain that success through a husband, or a boyfriend. She wanted to serve as an example of a woman who made it on her own merits and work ethic.
"I decided to come on the show, one, to show young women, to show older women to show men, boys, you can do this on your own, if you do these certain things, and thats the story that I really wanted to get out there–that I work hard, that I went to school, that I don't necessarily mix business with pleasure."
Article continues below advertisement
"And I felt like that's a story that needed to be told as well, because I felt like you could have a nice car, you can go to these great events, you can wear the nice clothes, the shoes the this the that, but you worked for it, and you didn't get it from your man."
Smith also revealed an interesting tid bit about the humble beginnings of the show which she was involved in pitching to the network. "In my business, I represent artists, and when I first pitched, actually the show was originally called 'Keeping up with the Joneses,' and um, when I went into VH1 to pitch it, I thought of it as a way to build my brand, build my clientele and also help promote jim and his family because I thought they were hilarious. From that point it turned into a bigger thing once Mona (Scott) got involved and it became Love and Hip Hop."
Article continues below advertisement
Also serving up some inspiration and hope was the discussion around shows like the Style Network's Empire Girls. The show's aim is to promote a more positive image of women aspiring to have it all without taking shortcuts — but unfortunately these shows don't do as well in the ratings as the ratchet programming. Even still, Adrienne says she and Julissa want to keep the show on a positive note to show young women there are no shortcuts to success–even in the entertainment industry.
"They don't know that I came up from very humble beginnings, my mom still works at Cornell hospital, like I come from a very normal family, and I wanted to be able to show girls that –we almost felt like our show was the opposite of your Paris and Nicole"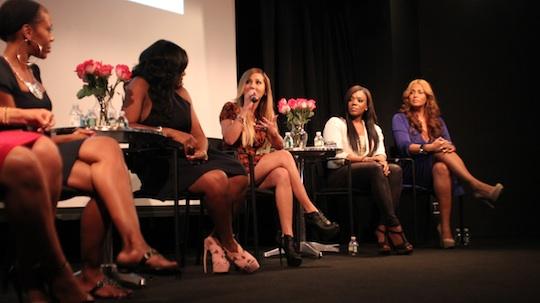 Article continues below advertisement
Her show features the ups and downs of two young women working to make a name for themselves in the entertainment industry and it doesn't miss a beat showcasing their highs and lows and revealing the uncertainty of it all. "I don't come from a celebrity family, I come from a very humble beginning, I went to a random audition for 3LW and got into it and went on to Cheetah Girls and for me it was important to show that- that for us was important."
Showing the hard work, the humble beginnings and the slow and steady growth of a career is important, as Dr. Michelle explained. "So one of the things we can do is to teach them what their other options are because as long as they feel that this is the short cut to the life —yea lets fast forward and look at these people 5 years from now."
The aim to inspire doesn't exist in many of the reality programming consumed in the main stream today, and what we end up seeing is the ratchet behavior wrapped up in a glamorous bow. But Mashonda warns — from experience– to think twice before signing up for that life. "If you dont have something to sell, or a bigger picture in your mind, don't do reality tv. Fame is really not that great. You really need something to go along with it."
In the end, many opinions and questions were posed regarding what to do next and how we can make change. WEEN has yet to put out a formal call for a boycott or anything along those lines, but Lake left the audience with these final words: "When the movement happens, move with us. Okay!"
Article continues below advertisement
BONUS- Check out Mashonda explaining her reason for doing reality TV. Also, Valeisha explains the moment she was approached by producers of Basketball Wives.