RECAP: Women Interactive's "Women Talk Tech"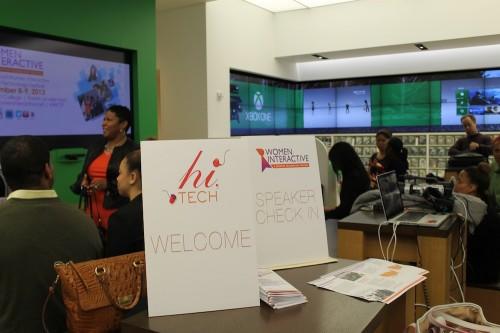 You could barely contain all the excitement buzzing around the room as women gathered on Friday, November 8th at the Microsoft store in Atlanta's Lenox Mall for Women Talk Tech.
Hosted by the Women Interactive Creative Technology Festival, the Woman Talk Tech panel served as an in-depth discussion with women who work, play and create in the technology space. Panelists included: Danielle Joiner-Mcpherson, Director of Jabian Consulting, Jannet Walker, Vice President of CH2M Hill and Vicki Hamilton, Founder/CEO of The Wright Answer and Senior IT/Operations Executive.
The discussion was led by Women Interactive Creative Technology Festival (WICTF) co-founder, Sabrina Henry. Jumping right into a very candid and informative discussion on working in tech, Henry posed the question "Is there a direct academic path?"
"No! You have a multitude of wonderful opportunities to see what that feels like." Jannet Walker answered, "Take advantage of those behind the scenes and mentoring opportunities so you can see what theses titles really mean." Danielle Joiner-McPherson agreed adding, "Be adventurous don't count anything out."
Article continues below advertisement
As the conversation continued each panelist shared advice on the importance of maintaining balance in both your personal and professional life. Vicki Hamilton reflected deeply during this conversation, and expressed the importance of finding and understanding the balance for yourself.
"I worked 24/7" she shared, "I didn't have balance so I didn't have fun. When I went to college I went to one party and worked my way through school but it's just as important to network and socialize. I had to realize that working hard doesn't always mean you're going to get a reward and I learned that the hard way."
These inspirational nuggets were just a few of the many that preceded the WICTF that took place at Spelman College on Saturday, November 9th.
Her Agenda was able to conduct an interview with the WICTF founders to learn more about the festival as well as the future of the movement for women in tech.
Article continues below advertisement
Her Agenda: What inspired you to create the Women Interactive Creative Technology Festival?
Sabrina & Ashia: We were inspired to create Women Interactive Creative Technology Festival because we saw that there was a need for technology events that focus on women, especially women of color. We see that there is a lack of women who are actively involved in the technology space and we want to encourage more women and women of color to be a part of those industries.
Her Agenda: It's absolutely incredible and inspiring to see the work accomplished by this organization. When reading your website there is a strong emphasis on the word "we", how important do you feel it is to use words and push initiatives that unite women while they are discovering their roles as leaders?
Article continues below advertisement
Sabrina & Ashia: One of the issues we noticed in the tech space was that the women who are involved in it are very isolated from each other. While networking and attending different tech events, we met some great women who were often lone islands in offices filled with men. We want to encourage the creation of a community of women who work in technology and content creation and are interested in technology and content creation.
Her Agenda: As leaders what has been your most challenging moment thus far?
Sabrina & Ashia: Women Interactive is a labor of love for both of us. We are financing the festival ourselves and executing it as well. We do have a lot of support from our partners like Spelman College, Digital Moving Image Salon and Dr. Ayoka Chenzira along with our wonderful event staff but it's up to us to drive the train that is Women Interactive. Starting out we had no real idea that this event was wanted by the community and we often had to convince people that it was important. Although we've gotten a great response so far we're still a young festival that's working to build and grow.
Her Agenda: Although you usually do the work of organizing the event, do you ever learn new things about technology during the festival?
Article continues below advertisement
Sabrina & Ashia: Yes. We learn about new apps and technology to make planning easier and more seamless every year. Also our speakers and workshop facilitators often introduce us to new apps that they may be using for their presentations. We have an Interactive Atrium where we invite tech companies to present and demo their new products. There is usually a company or two presenting some new form of technology we haven't heard of yet.
Her Agenda: You've got some great workshops planned! How do you develop the discussion topics?
Sabrina & Ashia: The first year we really just created programming that we wanted to experience as women in technology ourselves. But after the festival last year we did ask for feedback from attendees and women in tech who were interested in attending and incorporated their opinions in the programming this year. We want to make sure our attendees are experiencing programming they find valuable. Some of the topics we're covering this year were extremely popular last year so we brought them back.
Her Agenda: What's one myth about women working in technology that you'd like to debunk?
Sabrina & Ashia: We want to debunk the myth that there are no women working in technology and that women aren't interested in pursuing careers in the tech and content creation spaces.
Article continues below advertisement
Her Agenda: What is some advice you'd like to leave with our readers? And how can we support your imitative?
Sabrina & Ashia: Women Interactive is designed to introduce more women to technology and content creation because it's important for them to have a voice in those areas. It's actually important that women use their voice in general. We want to encourage your readers to use their voice and not be afraid to speak up and speak out.
We also think it's important to point out that tickets to Women Interactive are $25 for students and $50 for nonstudents. We have made a conscious decision to keep the ticket prices as low as possible for as long as possible. One of the issues in technology is that the cost to attend festivals and events with the type of information we're providing is often somewhat high as it relates to many people's budgets. We want to make our festival accessible to everyone interested in being involved.