Reflections From The Inaugural Riveter Summit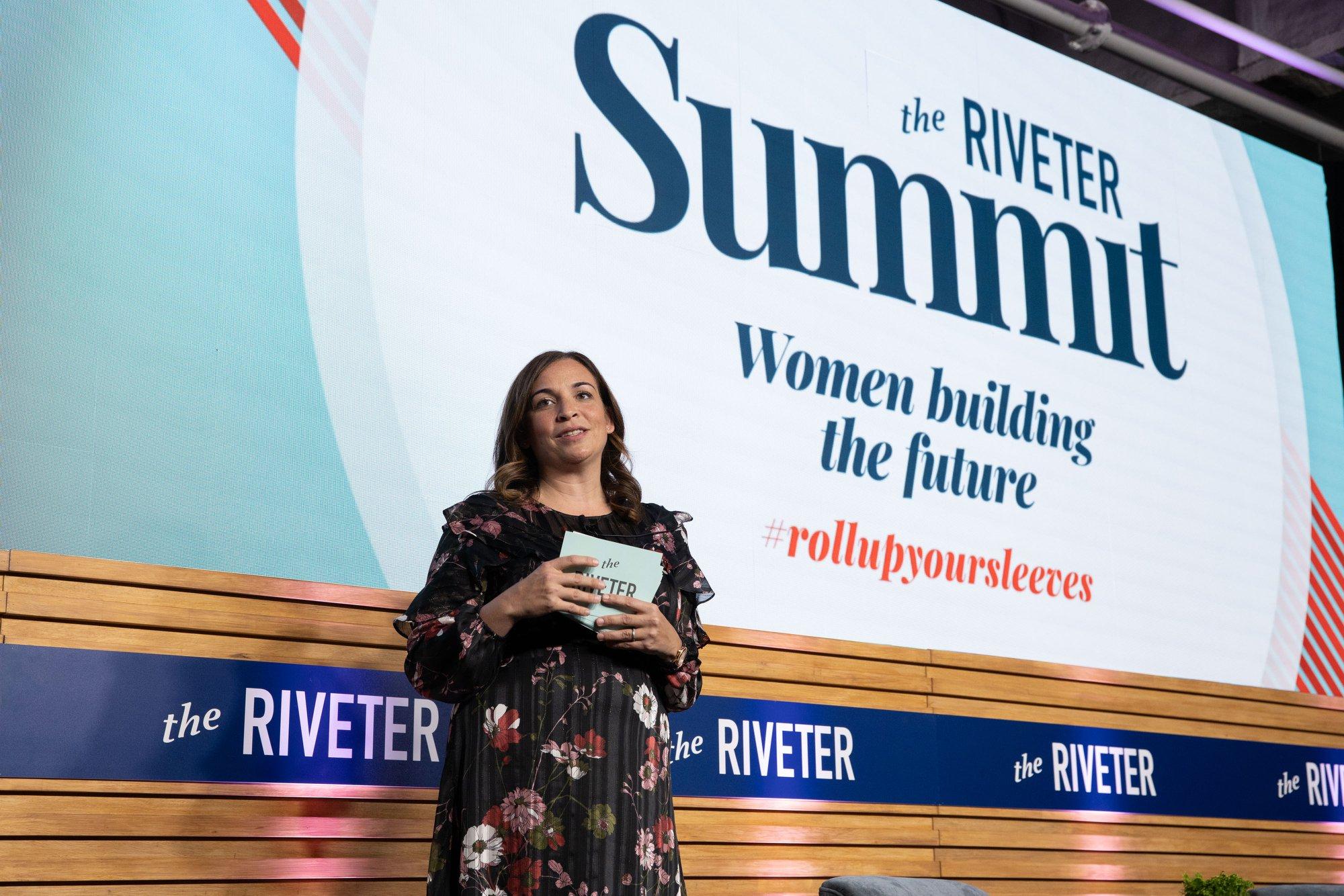 If the future is female, then the 500 women who took to New York City to take part in The Riveter Summit: Women Building the Future are on a mission. Women from across the United States, including Los Angeles and Washington, D.C. and internationally (Brazil!), had the opportunity to get motivated, educated, supported, and glammed up.
I got to The Riveter's inaugural conference, toward the end of Cindy Robbins and Abby Wambach's conversation. I settled in the back and listened as the audience of women asked earnest questions about ambition and their career, and everything in between. By the end of the keynote presentation, Abby Wambach got a standing ovation and pretty much the tone of next few hours was set.
It was about being heard and seen, plus all the other feels as a woman in a safe space. Miesha Baker, who handles PR for The Riveter shared, "The Riveter Summit was built to equip women — and all who think the American workplace can, and should, look different — with the inspiration, information, and tools to drive progress forward. We were energized by the crowd of our first-ever, sold-out Summit, and can't wait for next year's event."
Following the keynote, I was thrilled to watch Stacy London and Arlan Hamilton speak. And yes, "watch" is the appropriate word because it felt more like a TV segment than a discussion. It was an unexpectedly fun pairing. I'm familiar with both–Stacy from her What Not To Wear days and Arlan from her VC work in Silicon Valley. Even amidst the banter, these two brought out the gems including getting fired at some point in your career.In response to an audience member, Stacy said that being fired at 30 from Mademoiselle was, "the best thing that ever happened to me". She even encouraged the crowd to get fired at least once. "You do need doors to close."
Article continues below advertisement
As someone who does not go to networking events or professional conference regularly, I was reminded that intentionality is important when and how you connect with people. The major takeaway for me was when Arlan said, "You need to build your network before you need it."
Stacey Abrams, Abby Wambach, Robin Roberts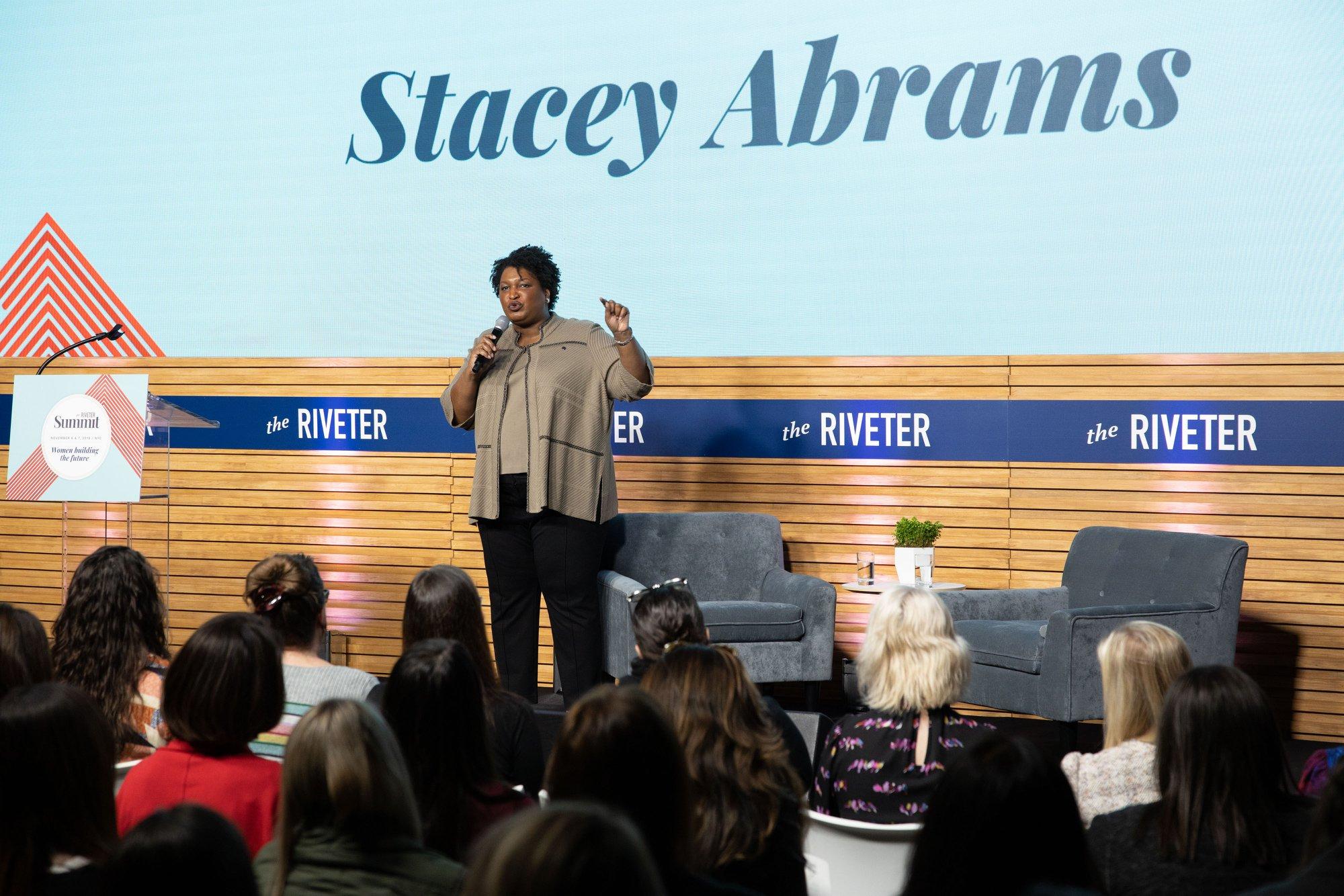 Yes, all three of those names were a part of the very name-drop worthy lineup for The Riveter's first conference. Women from all walks of life and careers–politics, media, tech, real estate–graced not just the main stage, but breakout sessions as well. I didn't see Stacey Abrams, unfortunately, but checked the #rollupsleeves for the recap. What stuck out to me the most from her comments was her passion to change the narrative about the pain of losing a gubernatorial race. "My name is Stacey Abrams and I am not the Governor of Georgia. The pain matters. It reminds us to wake up and try again. The pain makes us stronger." It's easier to dwell on a loss but the desire to try again should be more powerful than the pain.
Article continues below advertisement
Breakout Sessions Worth Attending
Selecting my breakout sessions in advance really piqued my interest for the type of content and information I might get. My two favorites that provided actionable steps were Negotiating to Lead and Rebranding Motherhood at Work. Ironically (or not), I had my one-year old in attendance for the latter and was even encouraged by the audience to stay around even when my little one was fussy. I wish there was male representation on that panel, since the burden of parenthood and workplace tends to fall onto women. A few of my favorite takeaways from the sessions and keynotes include:
'Rejection is sometimes protection.' – Robin Roberts
Find mentors and sponsors who can vouch for you when you are in the room. As business executive, Nina Vaca put it, "Who's carrying your water for you?"
"Not being vulnerable means your emotions are controlling you, not that you're in control of your emotions." – Liz Plank
"Everything is practice. I am not what I haven't learned to do yet." – Ashley C. Ford
For mothers and caregivers in general, "Identify your support circle early. Ask for what you need and expand your capacity to receive it." – Latham Thomas
Article continues below advertisement
Robin Roberts' closing keynote was amazing, not only because of her story but her presence as well. She was gracious in answering questions and sharing details about her family and childhood. Plus, she's just fun and down-to-earth. Her message about optimism as a muscle resonated with me. "People need to know that when you're thriving you're not happy every day. I'm grateful that I've learned that optimism is a muscle that gets stronger with use."
A Room You Belong In
I was bit surprised at the number of attendees. I assumed it would be a larger audience but I came to realize that the smaller crowd was intentional and a good fit for their venue, the Highline Stages. There was an intimacy and comfortability with interacting not only with speakers but other women.
Article continues below advertisement
When I followed up with one attendee, Diana, about her experience she told me, "Attending The Riveter Summit motivated our team to think bigger. When you work in a nonprofit, prioritizing professional development isn't always possible, so being in a space with so many empowering and inspiring women reminded us that we're a part of the world of work too. We're excited to carry our learnings and inspiration into our reform efforts – and we'll do so encouraged by the many women leaders we met at the summit who are putting a social justice lens to their work." Diana and I bonded over a conversation about women and mass incarceration. Go figure.
A Professional Conference That Supports Moms
Attending The Riveter Summit was a big deal for me. As a first-time mother, I had to figure out childcare ahead of the conference to ensure I got the most out of it. I also had to mentally prepare myself and be open-minded about the entire experience since I had not been to a professional conference in more than a year. I reached out to someone on the leadership team to inquire about childcare support. I was told that childcare would not be provided on-site (though they did try). In lieu of onsite childcare, the summit offered attendees 20% discount registration via SitterCity, an online marketplace for finding a local caregiver. The summit as a whole was "baby-friendly" in that women could bring their children. I spotted at least one baby during the summit. Additionally, a mother's room was provided on the third floor.
Article continues below advertisement
I happened to have to a registration for another caregiver platform but was thankful for that attention to detail. I did use the mother's room briefly on the second day of the summit for my baby's nap. Though helpful and equipped with baby essentials, the room was a bit isolating. There was no TV live streaming any of the sessions. FOMO set just a little.
A Conference Swag Bag With Intention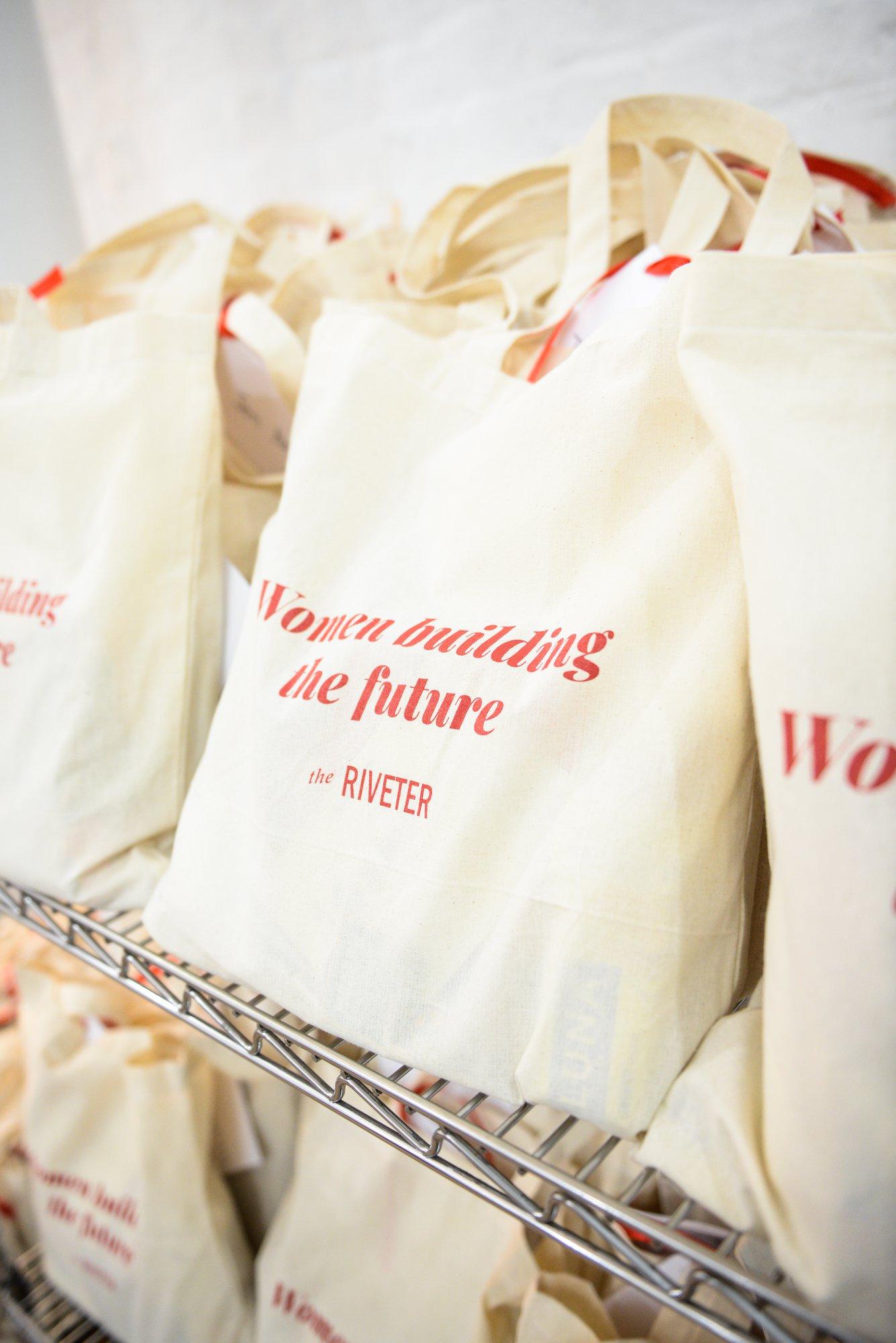 Who doesn't like conference freebies? The Riveter Summit swag bag, powered by Dough was both plentiful and purposeful. Often times, conference bags are full of sponsor junk that are not entirely useful. Through the swag bag, which was actually a box of goodies, I was introduced to brands I was unfamiliar with or vaguely knew from their Instagram. The items varied too, from Blume's paraben-free deodorant to sunscreen to tumeric tonic blend courtesy of GOLDE. All the items were produced by women, a few of whom are Riveter members. Two men on the work crew told me that guests were looking to take not just one but five. Can you blame them? I'm not sure how non-locals traveled with their box. I wish I could've kept mine but knew it wasn't practical for the trip home.
Article continues below advertisement
A Worthwhile Conference For Professional Development
Attending The Riveter Summit was an investment of time, money, and energy. Thankfully it was worth it, especially the content. I appreciated the refreshments and subtle touches of care in the bathrooms (facial spray? yes) and the focus on highlighting their members. I thought their production team was brilliantly coordinated, in their dress and attention to helping attendees. It was extremely helpful to have a live stream of the main stage on the first floor, which also included a resting area and charging station. If I had time, I would have taken advantage of the makeup and hair refresh sponsored by GLAMSQUAD.
Being surrounded by curious, ambitious women over two days was uplifting and encouraging. I even got the chance to talk to Stacy London, Ashley C. Ford, and the founder of The Riveter, Amy Nelson. I respect all these women and know their presence at the summit mattered.
The Riveter's motto is 'built by women, for everyone.' As a growing company, I believe they are on the right track for creating experiences and opportunities that benefit all.