Renowned Chef Turns Injury Into Impact, Bringing Culinary Accessibility To The Forefront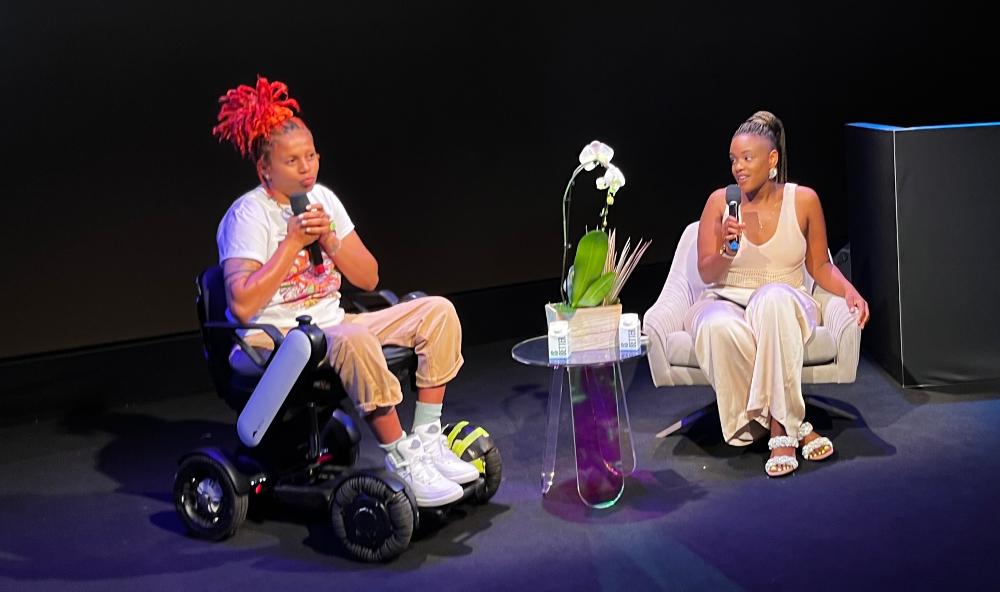 "Resilience," is defined as the capacity to withstand or to recover quickly from difficulties. It's the only word that came to mind as I sat across from Chef Lay Alston at her "Food and Friends" tasting, hosted by Samsung 837, in New York.
For 30 uninterrupted minutes, I had the pleasure of interviewing Alston, owner and head chef of Soul & Wheel, a mobile Afro-Asian and Caribbean-inspired restaurant concept that also focuses on highlighting culinary-related accessibility issues and helping to create solutions.
We talked about her profound professional culinary journey, her remarkable recovery from a spinal cord injury, and her work as an accessibility advocate within the culinary space.
Alston, whose fondest memories are centered in her grandmother's kitchen, noted that she committed her life to honing her craft as a preteen, believing that her passion for cooking and tenacious attitude would set her up for a bright future.
"I grew up in an environment where the most common thing was to find yourself in some trouble," she said. "I saw myself going down the same rabbit hole. I didn't know anyone who attended college or even graduated high school for that matter, and I wanted to change that narrative. I always imagined immersing myself in something so deeply that it would change the trajectory of my life, and the cooking class I attended at 12 solidified that culinary arts would, for sure, be the thing [to change my life]."
Article continues below advertisement
Fast forward 10-plus years, and Alston was right. Becoming a chef changed her life in all the ways she'd imagined and then some. She became a James Beard Fellow, traveled the world with renowned chefs like Marcus Samulson, opened restaurants abroad and became a culinary educator, mentoring and teaching others–– but that was all disrupted in the summer of 2020 when she experienced a life-altering spinal cord injury that resulted in her being paralyzed from the waist down.
"After my injury, my perspective shifted in many ways," she said. "As a Black woman, I've had my challenges navigating this industry, and my injury certainly emphasized that. For a while I had doubts about getting back into cooking and reaching the goals I set out for myself prior. I thought about all the obstacles that would be in my way, [and] then, one day, I thought to myself, 'How about I build out a space that would allow me to continue with my passions to feed people and build community.' "
Article continues below advertisement
She shared that the most important part of this journey is being able to help others who have experienced injuries or persons with disabilities, navigate their culinary journey as well.
"Don't get me wrong, the experience as a whole was life altering for sure, and some days are harder for me than others," she added. "But everyday I'm reminded of the importance of this work."
Alston, who also teaches students at her alma mater, Monroe College, added that she's excited about the impact she's making with Soul & Wheel. Alston continues to strive to meet people where they are, keeping the restaurant mobile simply due to the ability to, "Pull up wherever people want food."
"The vision for Soul & Wheel is the best of both worlds—a vessel that looks, feels and tastes like a restaurant and has limitless options to where we will be able to serve," she said. "We haven't seen this done before, but pushing the envelope in the hospitality space has been something we are very passionate about. We believe we're positively impacting the lives of so many people just by showing up for ourselves at Soul & Wheel."