Review: And Just Like That, We Can't Stay The Same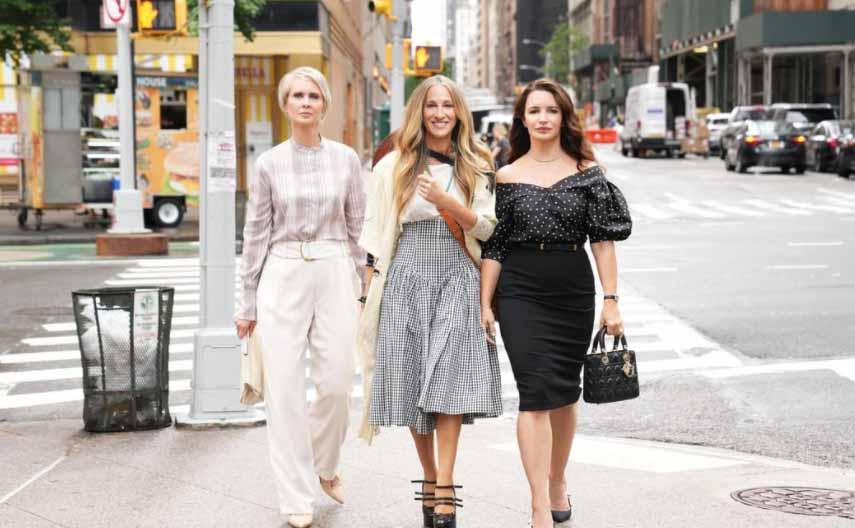 We can't stay the same, as Carrie says just a few minutes into 'And Just Like That.' Yet, we want some things to stay the same. That is the paradox of the first two episodes, a paradox that leaves me feeling conflicted.
The original 'Sex and the City' was an escape from real life. The new one feels like a deep dive into the complexities and messiness of reality. Both are necessary at different times in our lives. Can the one that started as the escape become the one that helps us navigate through complexities?
The title change itself indicates that this new show is not about frolicking fun but the upheavals of life. Carrie, Miranda, and Charlotte will struggle with holding onto some semblance of sameness while dealing with everything seeming to slip and change. Can we go along with them or do we want to stay the same? Your answer to that may determine how you feel about 'And Just Like That.'
Article continues below advertisement
And Just Like That, Big Shocker
Let's rip the bandage off right away, Big dying was a shocker and hard to process. The first question is why? In an interview with People, showrunner Michael Patrick King explains "It was a story decision. It was really about creating something that was bold that would shift the landscape for Carrie Bradshaw…" In their first scene together, their chemistry was better than ever, they lit up when they saw each other. Their tradition of dancing, drinking wine, and listening to music while making dinner reminded us why we all rooted for them. Did he have to die for Carrie's landscape to shift? Maybe, nothing meant as much to her except her friendships. Surprisingly, after processing it, I feel it makes sense for the show to go in this direction. Explanation to come.
And Just Like That, There Were Three
Opening with the ladies brunching at a hot NYC restaurant was a welcome start, whisking in memories of their hilarious and thought-provoking conversations, that few of us were brave enough to have, during the original series. Even knowing there would only be three, the absence of Samantha still felt like a letdown. Friendships do shift as life changes, so seeing how being a trio instead of a quartet impacts their dynamic is intriguing. The first brunch was some usual bantering, except it included more career and kid struggles than sexual exploitations– the first hint that this is not 'Sex and the City.' The explanation of Samantha going off to London and cutting them off because Carrie quit using her as her publicist feels like a betrayal. Samantha would never put business above friends, and she would have come when Big died.
Article continues below advertisement
And Just Like That, They Aged
It is refreshing that the series is not shying away from aging. Miranda's and Steve's grey hair, Carrie's fine lines, all of them wearing reading glasses, and Steve being hard of hearing all portray their age. Charlotte seems to be trying to stay the same though, as she begs Miranda to cover her grey. Presumably, this is for Miranda's sake, but as Miranda pointed out it is more to make Charlotte feel better about aging. Charlotte is still about being proper and appearances while retaining her big heart, so maybe some things do stay the same. Let's face it they are still fantastic, and age doesn't change that.
Article continues below advertisement
And Just Like That, New Friends
While there were always new love interests and peripheral friends passing in and out of 'Sex and the City,' few became regulars. 'And Just Like That' seems to promise that new friends will stay around. Fortunately, 'And Just Like That' is growing beyond their rich white woman circle. An article by People states, "…they are being very, very conscious about understanding that New York has to reflect the way New York looks today." The show quickly steps into the foray of occasional discomfort when talking about racism. The approach via Miranda's encounters with her professor Dr. Nya Wallace, played by Karen Pittman, is so awkward that it is painful. It feels forced and like the show is trying too hard to make a point. Dr. Wallace is so patient with her stumbles, that you truly feel why Black Americans are exhausted.
Will Dr. Wallace become more than the person who has to educate her White friends and students? Lisa Wexley, played by Nicole Ari Parker, a new mom friend of Charlotte's is charming and fun. Finally, Che Diaz, played by Sara Ramirez, is a comedian that shares a podcast with Carrie. Che will push Carrie out of her comfort zone. Even though Carrie's column was called 'Sex and the City,' her focus was romance. Che gets right to the raunchy sex, and the character's role in the friend group seems like it will spread beyond Carrie to a potential connection with Miranda. Dr. Wallace, Lisa, and Che are a spark, so let's see what fire they bring.
Article continues below advertisement
And What's In-Store?
In an interview with Elle magazine, Sarah Jessica Parker stated what we're all thinking. "You know, who are they in this world now? Have they adapted? What part have they played? Where have they fallen short as women, as friends, and how are they finding their way?" The first two episodes start to give us a glimpse into the answers. Carrie's story and what's next for her is the most interesting, not just because of Big, but also because she is starting a new chapter in her career and friendships.
Article continues below advertisement
The biggest question is what is going on with Miranda? She quit her lucrative legal career to start over in school and the humanitarian field. Another transition from the familiar to the uncomfortable, a leap too few are brave enough to take. Miranda for once seems unconfident, awkward, and a bit lost, which we can all relate to. It extends further though, with hints of a drinking problem. Charlotte's life still seems blue blood perfect with her adorable puppy, amazing penthouse, rock-solid marriage, and two daughters. It is hard to tell from previews where her story goes. I do sense, a potential struggle with accepting both her daughters equally. This answer to how are they finding their way is the most compelling reason to watch.
And This Will Linger, The Shadow of Death
The 50s is unfortunately when people sometimes start losing loved ones, parents most commonly. When Carrie walks in on Big in the shower having a heart attack and dying, Parker plays the anguish so real it carried right into our hearts. It is the most genuine moment of the first two shows. This is why I am not mad at the show's direction.
Article continues below advertisement
The reactions to Big passing were unfortunately typical, and a bit too over the top at times. Who would send a bear singing Good Times in that situation? This is where Carrie, Miranda, and Charlotte's personalities start to show through as expected. At first, it struck untrue that Carrie would be so calm, and of course look so put together, right after Big died. Wouldn't most of us be a sobbing mess in sweatpants and unwashed t-shirts? When he didn't show up for the wedding in the first movie, she didn't get out of bed or eat for days. Expecting her to have the same reaction is unfair though. Her going quiet, controlling, and drawing into herself is not surprising – it is how many need to get through the most horrible times. Nor is it totally out of character; during the series, she would sometimes withdraw when processing hard things. Miranda showed her practical take charge side with wanting to jump right in and help Carrie take care of necessities. Charlotte plunged into the emotion, becoming so overwhelmed Carrie had to put her in an Uber to go home and rest.
I am intrigued how all of them, especially Carrie, will navigate the hole left by Big, and how it will alter them and their friendship. Grief is a journey that changes over time, and the show has an opportunity to honor and reflect that. I worry it might be glossed over and jump into Carrie's single life too soon, which again creates a conflict of wanting the escape part and the messy real-life stuff.
Article continues below advertisement
The previews of the upcoming season do hint at the sparks and laughter that we are used to from the trio we love. The quirks of their personality are a welcoming feeling the show needs.
"And just like that, after all the years, and all the changes, you're still you," Carrie says in the trailer. That is the hope, that and fabulous shoes, for this new show and our beloved Carrie, Miranda, and Charlotte.
Despite conflicted feelings, I am hooked, so creating a paradox between the old and new seems to be working.