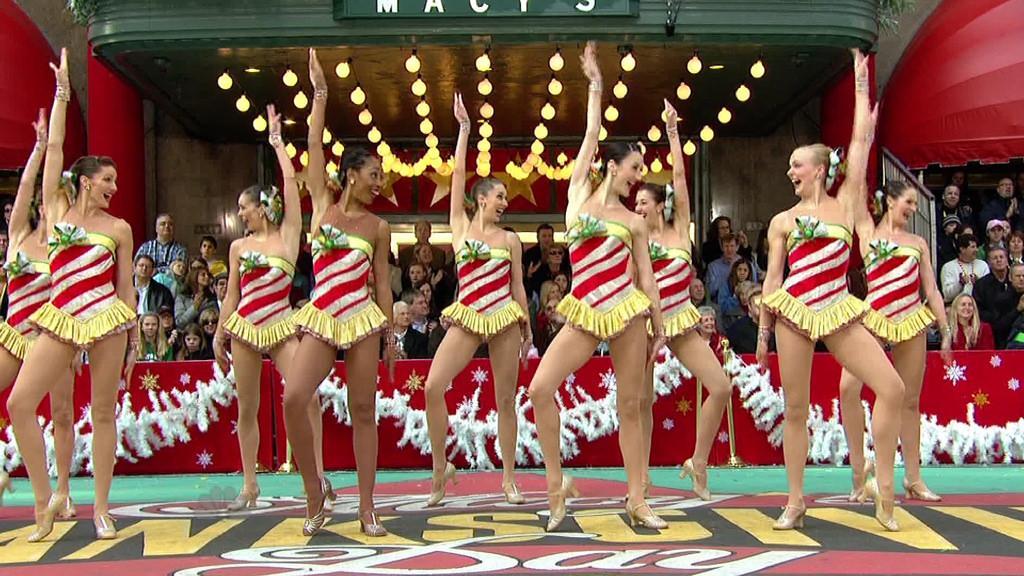 Rockettes Being Forced To Perform At The Inauguration
By
Shanthi Blanchard
Dec. 23 2016, Published 10:25 a.m. ET
Rumors have long been circulating that the incoming president was having a hard time finding performers willing to participate for his inauguration day celebration. Everyone from opera singer Andrea Bocelli to Washington D.C. area high school marching bands have turned down requests to perform for the president-elect.
As of yesterday however, it appears the Rockettes – a precision dance company performing out of New York City since 1932 (and you know, a staple American pastime) – have been given a mandate to perform for president-elect Trump or lose their jobs. One Rockette member, Pheobe Pearl, turned to her private Instagram account to make a bold statement,
"I usually don't use social media to make a political stand but I feel overwhelmed with emotion. Finding out that it has been decided for us that Rockettes will be performing at the Presidential inauguration makes me feel embarrassed and disappointed. The women I work with are intelligent and are full of love and the decision of performing for a man that stands for everything we're against is appalling. I am speaking for just myself but please know that after we found out this news, we have been performing with tears in our eyes and heavy hearts. We will not be forced! #notmypresident."
In response to the multiple members resisting participation, the American Guild of Variety Artists – the union overseeing the Rockettes -sent an email earlier this week to the performers. It reads:
"We have received an email from a Rockette expressing concern about getting 'involved in a dangerous political climate' but I must remind you that you are all employees, and as a company, Mr. Dolan obviously wants the Rockettes to be represented at our country's Presidential inauguration, as they were in 2001 & 2005. Any talk of boycotting this event is invalid, I'm afraid."
Article continues below advertisement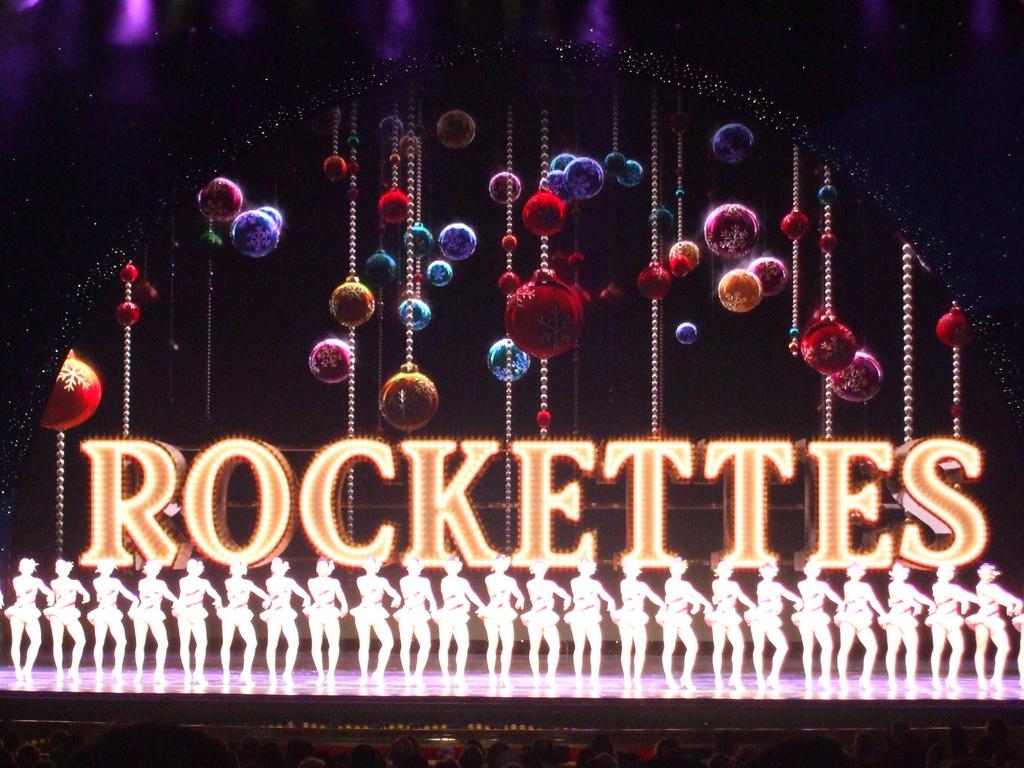 The email continues, outlining various reasons supporting this initial stance, but then gives an ultimatum to the dancers. In bolded, underlined font, the email states:
"If you are not full time, you do not have to sign up to do this work. If you are full time, you are obligated."
In other words, the Rockettes have to make a choice – either perform at president-elect Donald Trump's inauguration, or lose their jobs.
Article continues below advertisement
It's easy to view this controversy as an issue of doing your job vs your political ideals. However, due to the president-elects history of treatment towards women and the looming threats against women's health programs in our country, this makes the forced participation of the Rockettes particularly controversial.
As Vogue writer Alessandra Codinha stated, "The Rockettes seem to be the first victims of the administration's feelings about women's rights to choose what to do with their bodies."
Another painful point of irony Vogue noted, was that Trump's team, undermined the decision power of a union leader just weeks before, yet this week, is relying on unions to use that same power over their members for his personal gain.
Reactions across the nation have drawn heated conversation about the ethics behind this event:
"It's perfect, actually. What could be more fitting for this inauguration than forcing a group of women to do something with their bodies against their will?" says Amanda Duarte, an artist living in New York City. The latter part of her statement also denoted Trumps long, controversial history in his treatment of women.
Former Star Trek actor and current activist Goerge Takei stated on his twitter that;
The members of the Rockettes and the Mormon Tabernacle are like all of us: Forced to go along with something horrible they didn't choose.
Article continues below advertisement
Yet others have taken a more activist stance, asking those who support the Rockettes political choice to email and call the company in charge of the Rockettes and voice concerns directly to the producers of the dance group.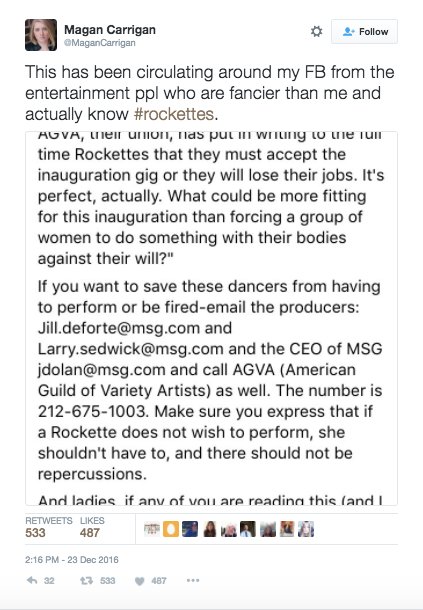 What are your thoughts? Talk to us on twitter and let us know!