Sabrina Peterson Founder of Glam University on Mentorship and Women Empowerment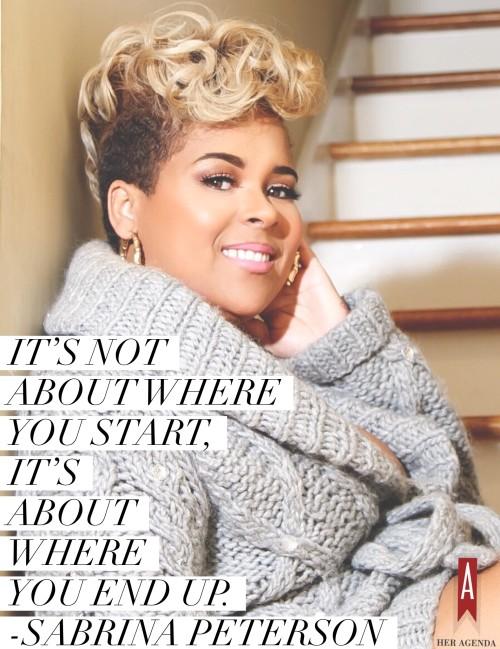 Sabrina Peterson is a tech entrepreneur who is the founder Glam University , Girl Power Sleep Over and Glam U Apps. Each of these projects centers on mentorship opportunities for young women. The most recent entity to Sabrina's portfolio is Glam U Apps which she saw as a major move since small businesses can sometimes miss out on technological advancements due to the pricing of mobile applications. Her affordable rates offer small businesses the opportunity to access mobile tech, which is monumental in this day and age.
Sabrina chatted with HerAgenda.com about what obstacles she has overcome, the skills she has which have allowed her to be successful and more.
Her Agenda: What specific problem did you seek to change by creating GLAM U APPS and Glam University?
Sabrina: Glam U was created to show that a woman can be in the [business industry] and still be herself. I teach business in a way that a toddler can understand it in 'layman's terms.' Glam Apps was first [created] out of the need of if you're a woman in business to have several different brands that aren't just mom n' pop brands. Glam Apps is the first step into creating innovative technology.
Her Agenda: Where did you find the inspiration to create the Glam University Girl Power Sleep Overs?
Sabrina: I feel as though the brand is necessary because no one is speaking to women [about this]. Glam U gives girls a voice. The motive and motivation behind my brand is, it's not [about] where you start it's [about] where you end up.
Article continues below advertisement
Her Agenda: What specific obstacles or tribulations have you had to overcome within your journey through going after your passions?
Sabrina: Self-control and time management. Making my 24 hours be effective and count. Controlling myself, controlling my time, controlling my budget. Everything that you are in the business world shows or mirrors in your personal life.
Her Agenda: What do you think is the most important skill you have that has allowed you to be successful?
Sabrina: My most important skill I have is knowing my role. I believe in business and life knowing your role is the biggest skillset you have… I'm never too prideful to take any role, knowing my role has helped me become successful in every facet of business. When I'm in a room with women who are smarter than me I shut up and listen. When I'm in a room with women who I may know more then I'll be the teacher. Knowing my role has been a huge part of my success. Dominating rather than competing. Also, thinking outside the box.
Article continues below advertisement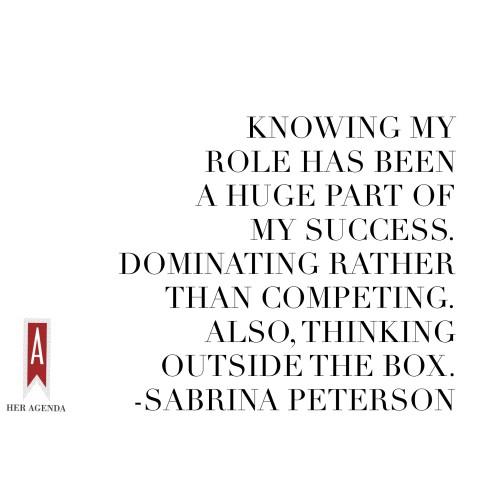 Her Agenda: How important do you think it is for young girls and women to be mentored and guided?
Sabrina: I think mentoring is the smartest thing to do. If you don't have a mentor or someone who has gone down, it's much easier to get to a point on the map with direction. Mentors, classes and seminars guide you, they're like a business GPS. Mentorship is like a hand in business—someone who can take you to [different levels].
Article continues below advertisement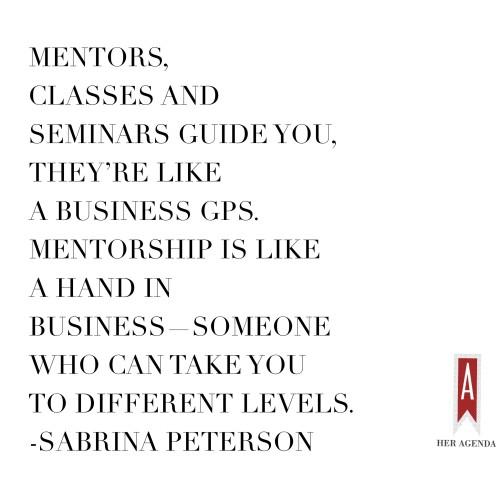 Her Agenda: What about what you do is the most inspirational to young entrepreneurs?
Sabrina: I lost everything and I went to prison and came back in 12 months. I [rebranded] and turned around. A lot of people said, I inspired them to keep going. Through severance and a prayer of saying: Lord please grant me triumph through adversity. That's the biggest thing to keep going. Everything that can happen will happen, the point is to keep going.
Article continues below advertisement
Her Agenda: Do you believe more millennial women should begin thinking about creating and running their own businesses? Why?
Sabrina: I think people should do what they're passionate about. Think ahead. Is what I'm going today going to feed me 50 years from now? Any time you're pursuing your passion, pursue for passion, not for entrepreneurship.
Her Agenda: What words of advice do you have for budding women entrepreneurs?
Sabrina: Make sure what you're doing you're filling a void, disrupting the industry, and that whatever you're going to do [will] make things easier, cheaper and faster for people. Make sure you're putting something in place that's disrupting and has a cutting edge.