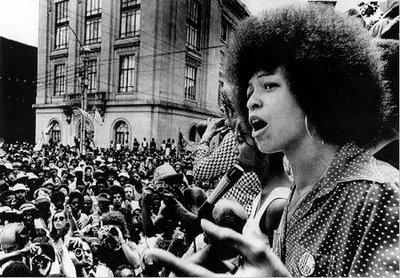 Salute To Iconic Women: Angela Davis
By Melody B

Feb. 28 2013, Published 11:09 a.m. ET

"I think the importance of doing activist work is precisely because it allows you to give back and to consider yourself not as a single individual who may have achieved whatever but to be a part of an ongoing historical movement." – Angela Davis
Occupation: American political activist, scholar, author
How she made her mark: Angela Davis is one of many powerful names associated with the civil rights movement during the 1960's in America. Known as a radical activist with ties to the communist party and the black panther movement, Davis was a threat to the status quo in America. Growing up in Alabama with two college educated parents she was availed two distinct experiences: the segregated and oppressive negro south, and a tangible understanding that advanced education allows African Americans to succeed.
Article continues below advertisement
Most known for her passion for prisoner rights Davis, like many other civil rights activists went through many tribulations. She was labeled a threat and terrorist by Richard Nixon, spent time in jail for a crime she didn't commit, and was fired from job as a professor early on in her career. As we celebrate women's history month, Angela Davis represents a powerful woman and inspiration to us all. With her iconic face and full afro, she has continued the civil rights movement from the 1960's to the present day. She continues to teach at the university level ensuring that the minds of tomorrow not only do not repeat the past – but influence a better tomorrow.