Salute To Iconic Women: Susan B. Anthony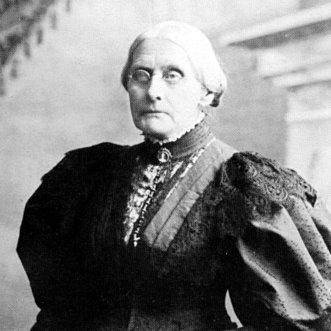 "I declare to you that woman must not depend upon the protection of man, but must be taught to protect herself, and there I take my stand." –Susan B. Anthony
How she made her mark: Historical feminist Susan B. Anthony made her mark as one of the first voices of the women's rights and suffrage movements. She is known for her lifelong dedication to the causes of women, up until her death in 1906.
Raised as a Quaker, Anthony was closer to her mothers and sisters, all of whom become vested in women's rights issues. Forced to end her college education due to the financial hardships during the Panic of 1837, Anthony went on to teach at Eunice Kenyon's Friends' Seminary. Susan then went on to Canajoharie Academy in 1846, where she became the Director of the Female Department. That position inspired Susan B. Anthony to fight for equal wages for women. It was while working there that she discovered her male counterparts were earning four times as much as her.
Ultimately, Anthony quit her position in order to pursue activism further. Her time teaching and in an executive position showed her the inequality between men and women. It started in the workplace, but she began to see the imbalance in society as well. With this new perspective on life, Anthony left the Quakers and chose not to have any kind of religious affiliation at all. As a child, Anthony had insecurities regarding beauty, grace, and fitting into society. All of which she overcame through her involvement in the women's movement.
Article continues below advertisement
In her youth, Anthony was very self-conscious of her appearance and speaking abilities. She long resisted public speaking for fear she would not be sufficiently eloquent. Despite these insecurities, she became a renowned public presence, eventually helping to lead the women's movement.
She took an active and prominent role in the National Woman Suffrage Association, helping collecting petitions that opposed slavery. Through her involvement in the Daughters of Temperance, she spoke against alcohol abuse.
Susan B. Anthony's dedication to these two organizations brought her into the national spotlight. Anthony used her new-found fame and spotlight as a platform to bring the issues she was so passionate about to the forefront.
Along the way she became friends and partners with other social rights activists, from Frederick Douglass to Elizabeth Stady Canton. She toured abroad, spreading her thoughts and insight on equality for all to the varying cultures, religions, and societies around the world. She was persistent and bold in her efforts.
Which iconic woman from history inspires you?