Savannah Campbell Is Infusing Jamaican History & Culture With Caribe & Co.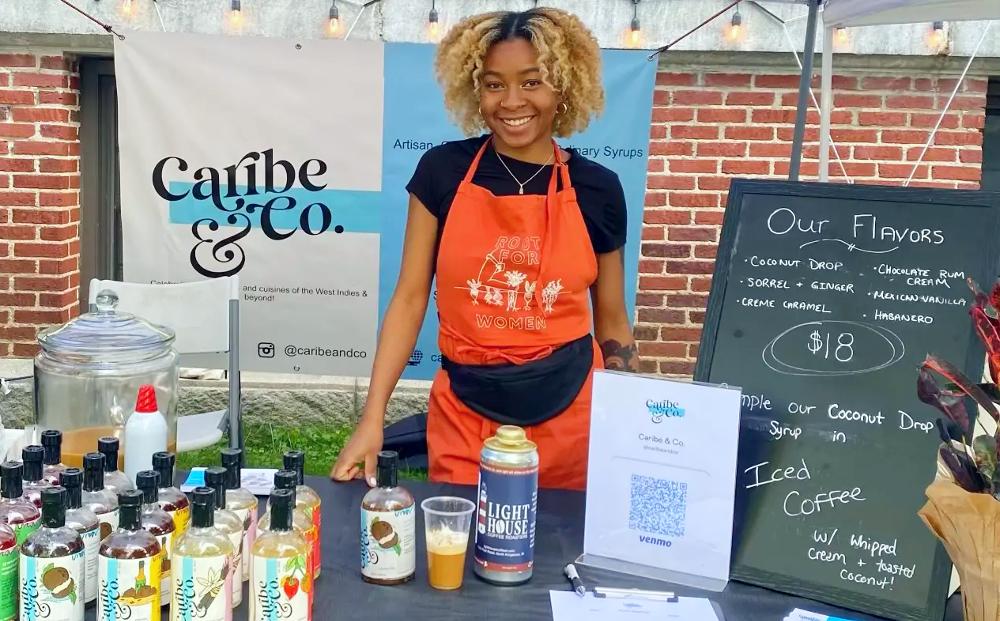 Who doesn't love coffee and cocktails? One entrepreneur who is dedicated to elevating your everyday culinary experience in that regard is Savannah Campbell.Mixing her culinary expertise and her Caribbean heritage, she figured the best way to create something unique is through food with her startup, Caribe & Co.
The brand specializes in syrups, with island-specific flavors like Coconut Drop and Sorrel & Ginger, that you can use in your coffees, cocktails, and food. After noticing a gap in the market, Campbell wanted to bring forward a different perspective to the latest sought-after product.
Her Agenda reached out to her to learn more about meshing history and culture with a market need and how she was able to build a consumer base: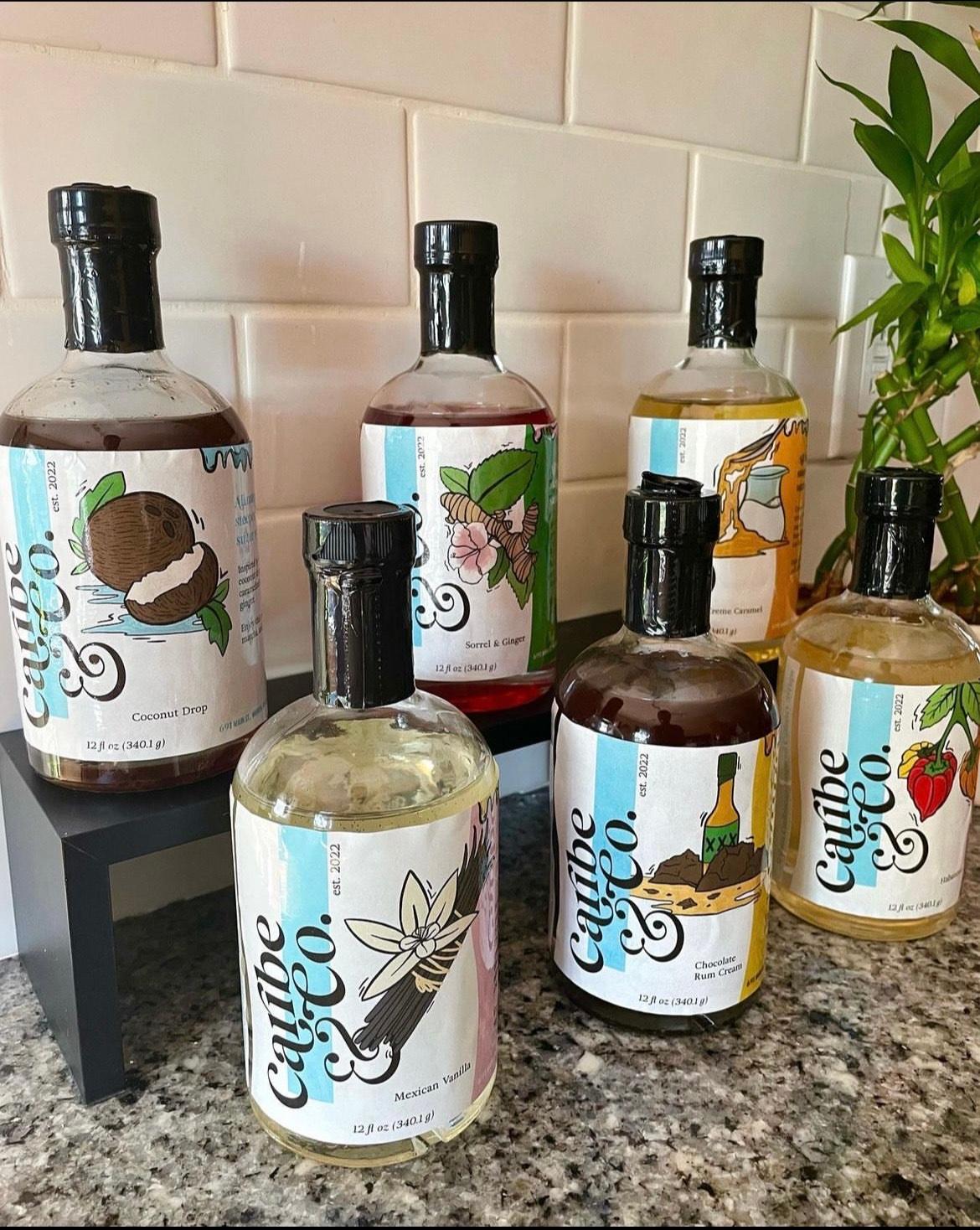 Her Agenda: What are your most popular flavors and which is your favorite?
Savannah: My favorite is Coconut Drop, and it's also one of my biggest sellers. It's based off of Jamaican coconut drops, a candy or treat with chunks of coconut and ginger all caramelized in brown sugar. I took all of those flavors, using all-natural fresh ingredients in my products, and created a liquid form so that you could use it in coffee, cocktails, and even pour it over your pancakes. That's where the inspiration for that one came! My No. 1 seller is Sorrel & Ginger.
Article continues below advertisement
I think sorrel is very universal, even if people don't think they're familiar with it at first. It's just something that people love. People also love ginger, so it's been something that's gone over very easily, even for the people who aren't Caribbean. But when the Caribbean sees that, they're just like, "Oh my Gosh, you have Sorrel and Ginger!?" and I go "Yes, I have sorrel and ginger!" [laughs]. I also have flavors likeChocolate Rum Cream, I have Mexican Vanilla, which, I think, another important thing with my products, is to bring a little bit of my kind of tagline celebrating the cultures and cuisines of the West Indies and beyond.
Along with that comes a little bit of history and a little bit of education, and it's how kind of the Caribbean got its flavors as well and where they came from. Mexico borders the Caribbean as one of the first places where vanilla was cultivated. It got to the rest of the world via trade routes in the Caribbean. There's history behind Caribbean cuisines and culture as well. I think that's important for me to showcase in my products as well.
Article continues below advertisement
Her Agenda: Tell us more about who you are and how your brand came about.
Campbell: I'm a chef by trade. I went to Johnson & Wales University, where I studied culinary arts and I got my bachelors [degree] in food and beverage entrepreneurship. I've dreamt of owning some kind of food-related business for a long time. You know, I started cooking very young with my mom in the kitchen so I wanted to own a food truck, catering company, a restaurant, pretty much anything you could think of! Since graduating, I've been working at restaurants in hotels, so I've always had a passion for food.
Article continues below advertisement
Last year I had an idea and something that I've learned in college is that it doesn't have to be something that is absolutely revolutionary in order for you to start your business. Sometimes it's just something that can feel like a gap in the market, like bringing people something that is unique from a different perspective. So it's not always revolutionary, I just thought it was interesting to be able to pair Caribbean flavors in a very approachable way that everyone can really enjoy.
Her Agenda: Why did you choose to infuse culture into your products?
Campbell: I'm Jamaican-American. My dad is from Jamaica. I grew up with a lot of Jamaican flavors. I've been a foodie from a very young age, so food has been a big influence on me and I feel like it's my strongest connection to my roots. Pretty much, every business that I wanted to have has been Caribbean-influenced, with a very heavy emphasis on Jamaican food especially. A lot of the flavors that I feature now with Caribe & Co. are inspired by things that I grew up eating. I have Sorrel, which is very big in the Caribbean. I also have Coconut Drop, one of my favorite snacks growing up. I've also pulled a lot of other things that are big in the Caribbean, but the rest of the world might not be too keen too. I'm like, 'This is a great way to bring it to the rest of the world, you know?' [Laughs] Coffee and cocktails. Who doesn't love that?
Article continues below advertisement
Her Agenda: How were you able to reach your target audience in the saturated goods market?
Savannah: I say that the way that I do that was in the formulation of the brand itself. I was saying before, I've wanted to have a Caribbean restaurant, Caribbean food truck, whatever the case may be. I feel like the easiest way for some people to explore new flavors is through something that they're already familiar with.
Article continues below advertisement
People that are coffee drinkers, make little cocktails at home, or if they're baking at home. For me, to take these very culturally significant flavors and deliver them to people in a way that's very easy for them to digest, was a very easy way for me to develop a niche market. And then of course, even deeper than that, I feel like a representation of Caribbean flavors, just draws who I was making the products for in the first place. It just draws that crowd in.
Her Agenda: You've had a few TikTok videos that went viral. What is the specific return on investment that your social media has brought when promoting your brand?
Savannah: Just this past week has been the craziest since my business has started for sure. The sales and the traffic to my website have been through the roof! It's been overwhelming, [laughs] but I'm so grateful for that recognition. I think this has opened a new door. I've always sold online, but this has definitely opened a new door [and] opened me up to a new set of people. I think that I'll quickly see how important that stream of income through online sales can be for my business. I believe that it's very near in the future, but of course businesses take time to really make money.
Article continues below advertisement
As the brand continues to grow, Campbell hopes that within the next two to five years, Caribe & Co. will be in specialty good stores, handcraft artisan shops, mixologists getting their hands on the product and seeing what cocktails they can make, and of course, expanding her online presence by creating more social media content, such as food and drink recipe videos for consumers to follow.
To learn more about Caribe & Co., be sure to head to their website, Caribeandco.com. For recipes to make while using the specialty syrups, check out their Instagram and TikTok.