Self-dubbed, 'The Queen of a Pivot' Shaleeta Pendleton, better known as SheShe, is a force within the creative industry.
From fashion styling to creative directing, her expertise has expanded to A-list celebrities including Erykah Badu, Bela Hadid, Offset and his family, and luxury companies, such as Marni, Lanvin, Maison Margiela. The styling industry is one of the toughest markets to break into. SheShe credits the power of gratitude and betting on herself, for helping her get to where she is today.
Outside of her hustle, she's a proud Philly native who values quality time with loved ones and serenity after working in such a high-intensity career. The diligent creative spoke with Her Agenda to tell us more about who she is personally, how she got her start in the business, and her dope business accomplishments thus far.
Her Agenda: How did you get into your field of work?
SheShe: I got into my field of work by taking a chance on myself. I'm a first-generation entrepreneur, and I'm the first person in my family that's pursuing a career in fashion and music. It's always been a passion of mine since I was younger. But it took a lot for me [to build] a solid foundation and a name for myself. I started investing in myself at an early stage with my little paychecks from my retail jobs. I started traveling at age 17 to different places around the world, building my catalog and studying and taking different opportunities in different places as a stylist, as a creator, and as a brand strategist.
Article continues below advertisement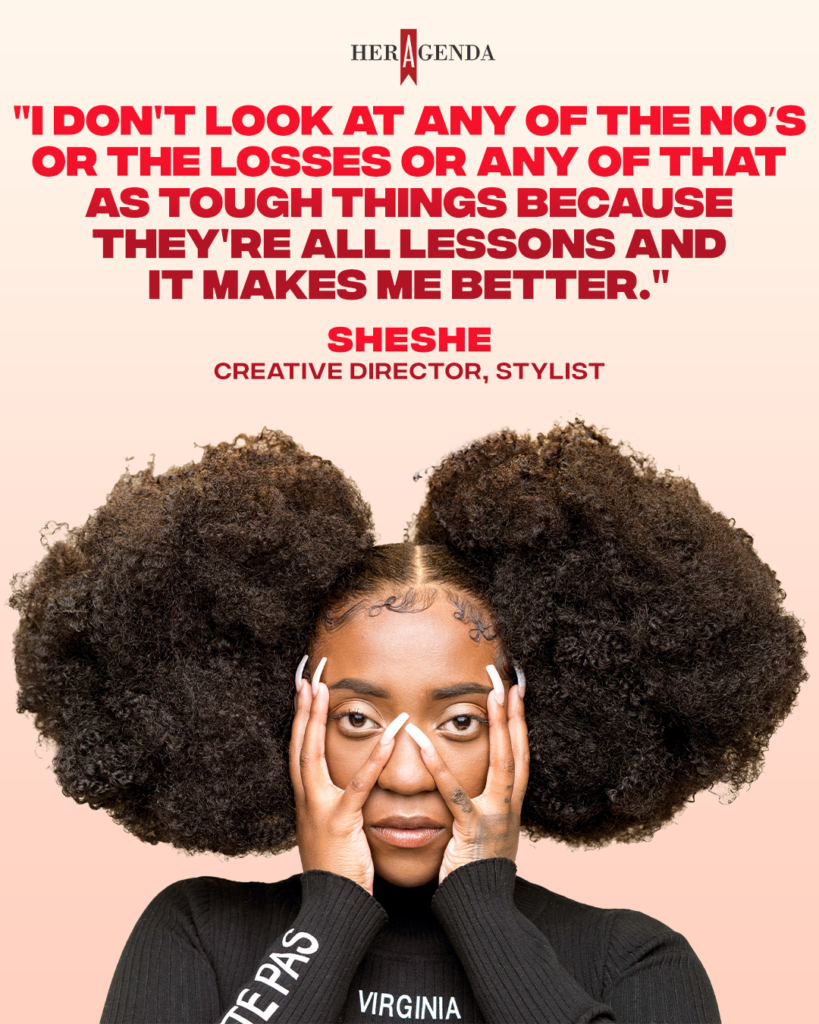 Her Agenda: I definitely resonate with you on being first generation, and especially taking on a career that is non-traditional. You talked about, betting on yourself and creating your own opportunities, what were some emotions that you felt in that moment when you had to go on that journey of self-discovery?
Article continues below advertisement
SheShe: I'm forever on that journey. I'm still learning as I go. I think of it like any creator, and any entrepreneur, if you continue to be a student, then you're always going to be on this journey. So for me, the initial feeling was, overwhelming, and super scary. So every single time that I feel overwhelmed or scared when a new opportunity approaches, I think back to the first time I felt like that, and stay in it. [And I just,] I just stay in it. I know that whenever I feel overwhelmed or scared something good is coming.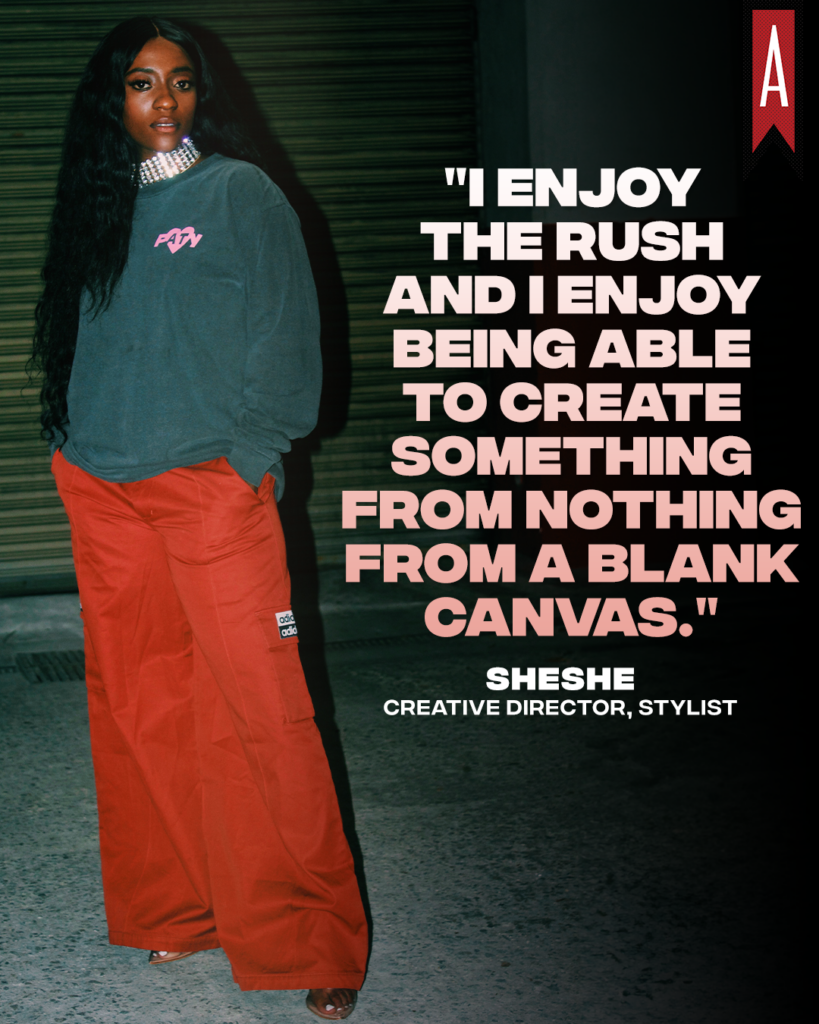 Article continues below advertisement
Her Agenda: So what is it that you enjoy most about it?
SheShe: I enjoy the rush. I'm always doing something last minute. Or I'm always given a major major task to accomplish within no time. That's what sets me apart from other people in my lane because I'm executing at a very, very high level with no time. And I really operate the best under stress. I know that sounds weird, but I enjoy the rush and I enjoy being able to create something from nothing from a blank canvas and coming up with ideas and being able to execute them.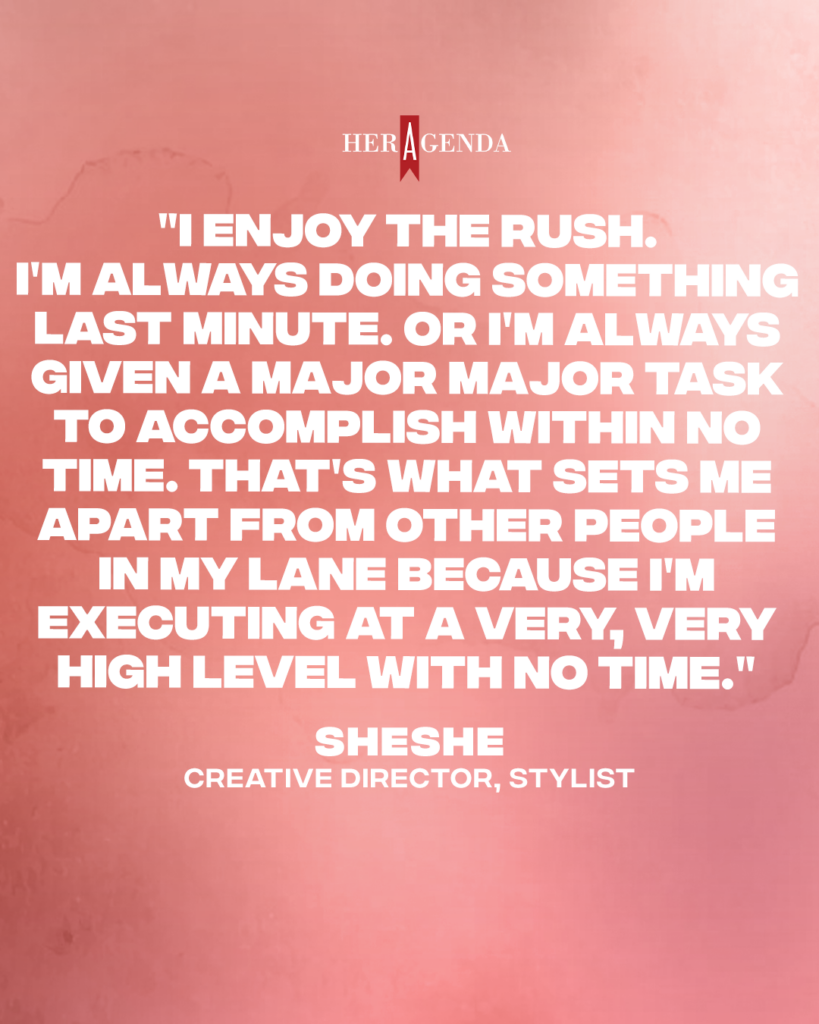 Article continues below advertisement
Her Agenda:As you know, with careers, there are some highs as well as there are some lows. So what would you say is a tough part of your job as a creative director and a stylist?
SheShe: The toughest part for me is not being able to fully take care of myself. Personally, I'm such a family person. I don't have time for my family and friends all the time. The toughest part is emotional. But I don't look at any of the no's or the losses or any of that as tough things because they're all lessons and it makes me better.
Her Agenda: What do you do when you try to make the time for yourself to decompress or pour back into yourself when things get overwhelming for you?
SheShe: I call my friends, I go to museums, I'll travel back to Philly, I'll sit in my grandma's living room and just watch Family Feud with her. I really center myself and bring myself back to the ground so that I can breathe because a lot of the time, I'm working in a high-stress, high-intensity industry so I'm always on the go. I'm always needed for something. I'm always thinking about a lot of things. My mind races so much so the best thing for me is being able to just call my friends and see my family and talk to my mom every single day.
Her Agenda:How important is it for you as a Black woman dominating in the creative industry?
Article continues below advertisement
SheShe: It's super important, I didn't have a role model or, a direct role model, there are definitely people that I look to and look up to. But I [also] look at myself and put pressure on myself to just be better in this space. Because if I am walking around with my skin tone, my braids, and my hair and really dominating the space that I'm in, I know it's going to inspire other people. It doesn't matter what color they are, but because I'm the only person and the first person in most of these spaces it's definitely going to inspire somebody. So I love that the most. People are able to look at my accomplishments, and really think that they're accomplishable [because they've seen me do it.]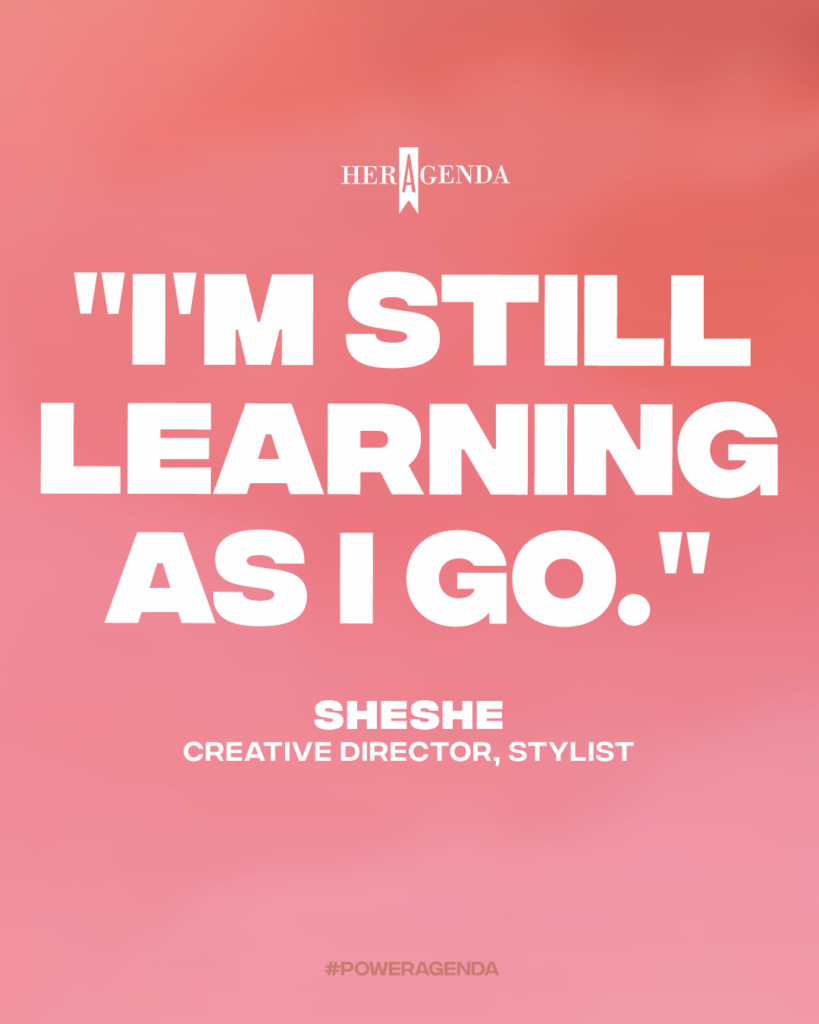 Article continues below advertisement
Her Agenda: I hope that you're reminded and celebrated for those accomplishments as well!
SheShe: I thank God every single day that I have a really strong support system. They call me and they tell me. I was just randomly getting tacos the other day in LA, and somebody walked up to me and was like, 'Are you SheShe? I love your work!' And I'm like, 'Oh, my God,' like, it gave me a little anxiety because I don't understand my reach sometimes. But, I'm starting to understand it more and starting to understand why God has put me in a certain position. So I'm excited about it. And I'm happy to be that person.
Her Agenda:You're walking in your purpose! I think that's one of the most rewarding feelings that you can have, especially when you're doing something that you're passionate about.
SheShe: Yeah, I'm excited. I'm still nervous because there's so much more for me to do and so much more for me to accomplish. I haven't even done anything yet in my mind. But I do recognize the impact that I have so far.
Article continues below advertisement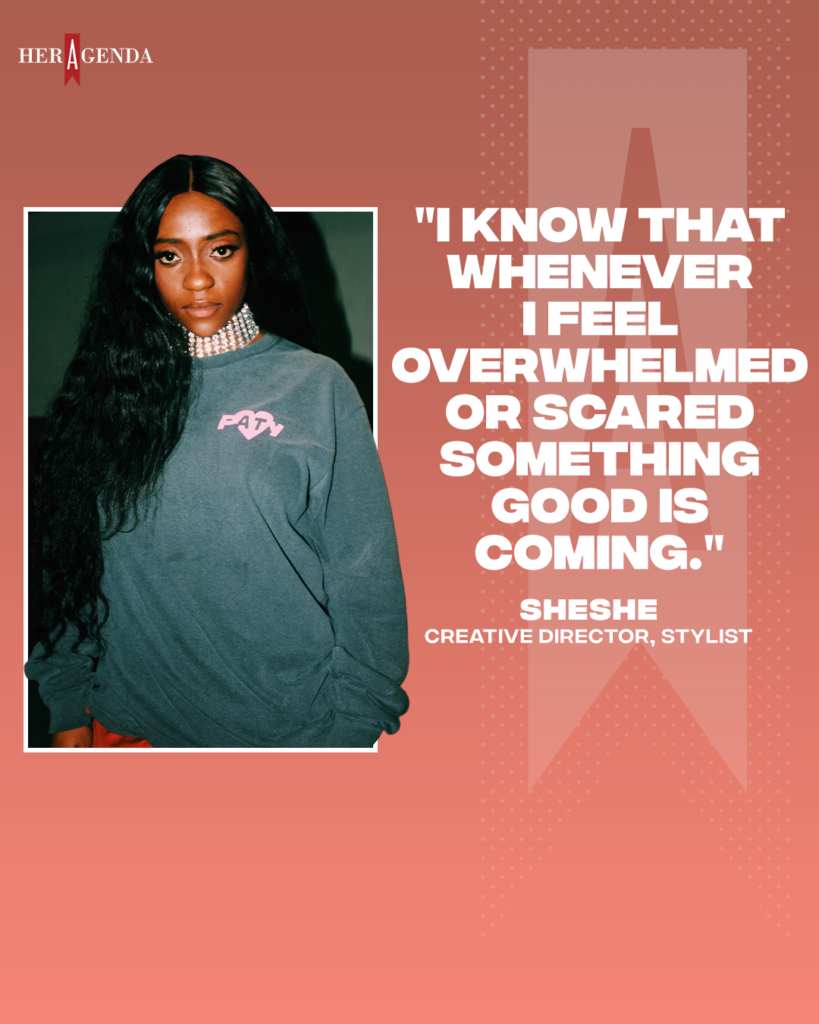 Her Agenda:What would you say, is your proudest moment thus far working in your industry?
SheShe: Hmm. It's so hard for me to pinpoint that. I think other people always answered this question better. For me, I think my proudest moment would be…[pauses] ah it's so hard! Because I do new things like every week, I feel like my recent proudest moment is being an executive producer and a director role for visuals. That is something that I've always done on a smaller scale, but doing it on a large scale. And having a major impact is something that I'm super proud of right now.
Article continues below advertisement
Her Agenda: How do you navigate on set challenges? For example, you had an idea you brought to the client and they're just like, 'Nope! I don't like it. I want you to change everything completely.' What's something that SheShe would do to fix an issue on the spot?
SheShe: I tell people all the time, that I'm the queen of a pivot. I already got the next one [idea] down. I bring options whether I'm styling or creative directing. I go all out with the options because I never want to be left [feeling like there's no plan] when they don't like the first pitch. I always bring something I know the client is gonna like and love, something that I think is next up [that client may like], what I love, and then I bring a wildcard. In each one of those categories, there are 10 different things. Now, when I was younger, just starting [as a stylist], I'd bring three, or four options and if the client didn't like anything I used to get so defeated. But over time, I just learned, that I'm pulling up with the whole store. I'm creating a whole boutique for you at a fitting, because I'm not going to be caught outside taking a loss, ever!
Article continues below advertisement
Her Agenda: I love that! Stay ready, so you don't have to get ready!
Her Agenda:Lastly, at Her Agenda we always ask our interviewees what is their motto. So for you, SheShe, what is your motto?
SheShe: My motto is to stay genuine, stay real and the blessings will follow.