Six Inspiring Women Who Work At NASA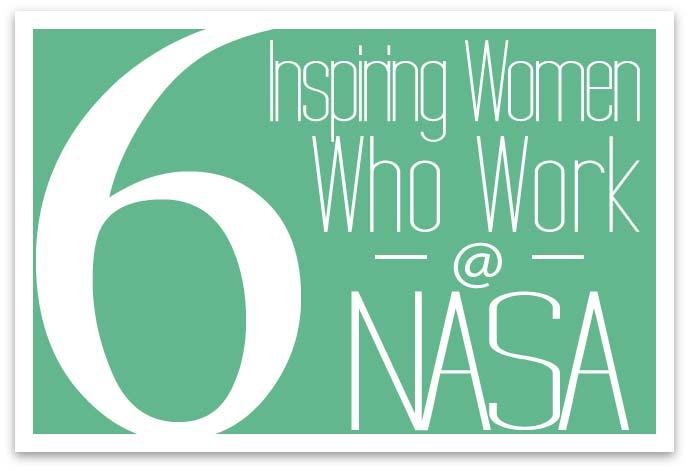 When one hears the acronym "NASA," also known as the National Aeronautics and Space Administration, most people picture figures in large spacesuits, spaceships launching into the atmosphere, or man taking his first steps on the moon. We all know Neil Armstrong's famous words, "one small step for man, one giant leap for mankind," but what about the women? And what key roles do they play at NASA?
Dr. Valerie Meyers, a scientist at NASA, writes, "The visible part of NASA may be the crewmembers, but there are a host of people who are absolutely critical to making a mission happen, and every single one of those people must do their part in order to make the mission come off successful."
I guess what I am trying to say is that there are several career opportunities at NASA, and there is no one single path to getting there! Even for those of us who have not chosen to go down the path of math and science, there are women who are doing extraordinary work in the field of space exploration and deserve to be recognized.
Here are some inspirational women who work at NASA today:
Stephanie Wilson, Astronaut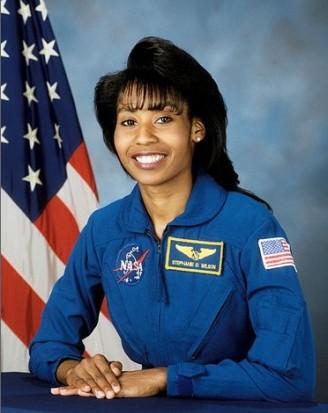 Article continues below advertisement
Stephanie Wilson was the second out of three black women who have ever gone into space. Wilson first became interested in astronomy when she interviewed an astronomy professor, Dr. Jay M. Pasachoff, for a school assignment; she was only thirteen years old. Wilson went on to earn a Bachelor of Science degree in engineering science from Harvard University in 1988. She worked as a Loads and Dynamics engineer before pursuing a Master of Science degree in aerospace engineering from the University of Texas. Wilson continued to advance her work experience by taking a job at the Jet Propulsion Laboratory in Pasadena, California for four years. However, her dream of working for NASA never left her.
Of the 2,500 people who applied to NASA's space program in 1996, only thirty-five Americans and nine international applicants were chosen; Wilson was one of those few, selected candidates. Wilson trained at the Johnson Space Center for two years before becoming a mission specialist. Throughout her time with NASA, Wilson has traveled to space a total of three times. In her most recent expedition, which occurred in 2010, Wilson launched into space aboard the space shuttle, "Discovery." The goal of the mission, STS-131, was to transport a Multi-Purpose Logistics Module packed with supplies and equipment to the International Space Station.
Valerie Meyers, Scientist
Article continues below advertisement
Dr. Valerie Meyers grew up around discussions about NASA; her uncle took part in developing simulators that helped to train astronauts. By the fifth grade, she had decided she would get a college degree in Chemistry and someday work for NASA.
Dr. Meyers went on to obtain a bachelor's degree in chemistry from Texas A&M University and a doctorate in pathology from the University of Alabama at Birmingham.
Article continues below advertisement
Today, she works at the Space Toxicology Office at Johnson Space Center in Houston, where they assess the toxicity levels of all the chemicals that are needed on missions and create safety precautions for potential leakages onboard. As a part of NASA, Dr. Meyers has also been able to participate in cool opportunities, such as a simulated Martian mission on an uninhabited island in the Canadian arctic. She is a representative of the American Board of Toxicology, was selected as representative for the 2013 American-German Young Leaders Conference, and has won several awards including, Space Camp Hall of Fame inductee in 2011 and the JSC Director's Innovation Group Achievement Award in 2012.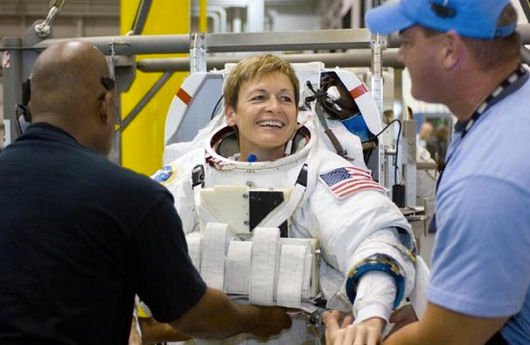 Article continues below advertisement
Peggy Whitson is a biochemistry researcher and has broken many firsts for women in NASA. Whitson earned her Bachelor of Science degree in biology and chemistry from Iowa Wesleyan College in 1981. She then went on to earn her Doctorate in biochemistry from Rice University in 1985. She was chosen as an astronaut candidate in 1996.
In 2002, Whitson launched into space as a part of the Expedition 5 crew; they were aboard the ISS (International Space Station) for a total of six months. In 2007, Whitson became the ISS Commander for Expedition 16 and spent another six months in space. During this time, she became the first female commander and was announced as the female astronaut with the most EVA (extravehicular activity), aka spacewalking, time in NASA history. In 2009, Whitson was elected as Chief of the Astronaut Office- the highest leadership position for active astronauts. She is the first woman and mission specialist to become chief.
Article continues below advertisement
Sabrina Thompson, Mechanical & Aerospace Engineer
Article continues below advertisement
Sabrina Thompson didn't start to think about college until her senior year of high school. While Thompson almost considered pursuing art, several of her teachers suggested that she pursue the sciences. When she sought guidance from one of her science teachers about pursuing a career in engineering, he tried to steer her away from it; he said that math and science would be too difficult for her at the college level. It was those very words that drove her to seek engineering even further.
Thompson went on to earn a bachelor's degree in mechanical engineering from the State University of New York and a master's degree in aerospace engineering from Georgia Institute of Technology. She was the first person in her family to attend college, let alone a master's degree. Thompson writes, "Growing up in the poorest town on Long Island, New York and receiving a second-class education did not hinder me from achieving success in endeavors I pursued." Today, she works at the Goddard Space Flight Center, where she is part of NASA's safety and health division. She foresees a PhD in her future, and of course- becoming an astronaut. In her free time, she has also taken on the titles of freelance artist and avid basketball player.
Megan McArthur, Astronaut
Article continues below advertisement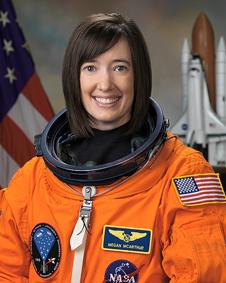 Several factors contributed to Megan McArthur's progression to becoming an astronaut. Her father was a naval aviator, and during high school, she lived at the Moffett Field Naval Air Station where astronauts would come in for training. McArthur earned a bachelor's degree in aerospace engineering from UCLA in 1993. Towards the end of college, she got involved in a human submarine project and became a certified scuba diver. It was at that time that oceanography began to call her name- the time in which she also refers to as her "wandering years." She took on a job with an ocean engineering company, which designed underwater robots, and then moved on to Ireland where she worked in a dive shop. McArthur eventually took the plunge and earned a PhD from the Scripps Institution of Oceanography at UC San Diego in 2002.
Article continues below advertisement
In 2000, McArthur joined NASA as a mission specialist. After completing her two years of training, she took on jobs in the Shuttle Avionics Integration Laboratory, the Space Station/Space Shuttle Mission Control Centers, and served as a Crew Support Astronaut for the Expedition 9 Crew during their six-month mission aboard the International Space Station. In 2009, McArthur finally got her chance to fly; out of the seven astronauts chosen for the STS-125 mission, McArthur was the only woman and also the lead robotics crew member. The goal of their mission was to do the final servicing of the Hubble Space Telescope.
Some sources believe that McArthur resembles Sandra Bullock's character, Dr. Ryan Stone, in the Academy Awarding-winning movie, "Gravity." Can you see the resemblance? Just like McArthur, Stone goes on her first mission to repair one of NASA's machines in space…except things take a turn for the worst (*cue the horror music*).
Article continues below advertisement
Anne Mills first discovered her love for NASA when she was chosen to intern in NASA's procurement division; she was only sixteen years old.
She enjoyed the experience so much that she went on to intern with NASA for a total of four summers. Even with this experience under her belt, Mills decided to stick to the subject she had enjoyed most throughout school- history.
Article continues below advertisement
At one point, her boss had even asked her if she would be interested in changing her major to business and take a full-time job with NASA. Mills responded, "It was difficult, but I knew I had to turn him down. As much as I loved NASA and adored the people I worked with, my interest didn't lie in business. I knew I had to follow my heart, be true to myself and trust that if NASA was where I was meant to be, it would be!" She went on to earn a bachelor's degree in history from Baldwin-Wallace College and a master's degree of Library Science from the University of Maryland at College Park.
Well it must have been fate, because NASA continued to call her name! At the same time that Mills was looking for jobs in graduate school, NASA happened to have an open position in archives and records management. Mills now holds the title of Records Manager and History Officer at Glenn Research Center. She writes:
"I have seen the shuttle launch, met astronauts, run on a zero-g simulation treadmill. But the real highlights of my career have been the times that I have had a chance to make a difference to others – connecting families with information about their relatives, who worked at NASA that they never really knew, sitting with a retiree and listening to their NASA story, or organizing charity events through the Combined Federal Campaign."